Found November 04, 2012 on Giants Kickoff:
PLAYERS:
Kevin Gilbride
,
Tom Coughlin
,
Dez Bryant
,
Victor Cruz
,
Hakeem Nicks
,
Martellus Bennett
,
Plaxico Burress
,
Philip Rivers
,
Eli Manning
TEAMS:
Pittsburgh Steelers
,
New York Giants
,
Dallas Cowboys
,
San Diego Chargers
TweetThe New York Giants lose week 9 against the Pittsburgh Steelers (24-20) in large part due to Offensive Coordinator Kevin Killdrive Gilbride's conservative play calling. Gilbride's title needs to be changed to Field Goal Coordinator! The Giants defense has as many touchdowns as the offense the last 2 weeks! Under Gilbride this team has always been horrendous in the red zone. Every game New York plays seems to come down to the wire. History of Bad Play Calling By Kevin Gilbride For any of you who have followed my blog, you know I'm not one to jump on a bandwagon to fire coaches and I'm not suggesting that now, but I am complaining. Last season when everyone was asking for Tom Coughlin to be fired I wrote an article defending him. Kevin Gilbride drives me crazy though, he has a history of making horrible play calls during games. Last week he was extra conservative with around 4 minutes to go against the Cowboys, he pretty much played for the Field Goal. It almost came back to bite the Giants in the butt if it were not cause of Dez Bryant's infamous fingertip. His run, run, throw mentality when he has a lead is predictable. Lets be honest our running game is decent but the Giants aren't going to run over most teams especially one like the Steelers who have a top knotch defense. Last season I wrote "Kevin Gilbride's Predictable, Conservative Play Calling Hurts the NY Giants". A year later we find the GMEN in the same position. No imagination in the red zone on a team with incredibly talented offensive players like Victor Cruz, Hakeem Nicks, Martellus Bennett, Bradshaw and even Hixon. Where is the fade route to Hakeem? I know he isn't Plaxico Burress when it comes to size  but he has proven capable of catching that pass! He also is a great target in the red zone with his ability to box out (using basketball analogy) smaller secondary players. Every season is the same story under Killdrive. Here is a 2009 article discussing the same issue against San Diego "NY Giants Shoot Themselves in the Foot vs Chargers". He played it conservatively (for a FG) and Philip Rivers ended up driving the length of the field and beating the Giants with seconds left. In that game, despite the Giants being positioned close enough to score a TD not one of the last 3 plays were throws into the end zone. Eli Manning finds himself having to try and bail the Giants out on 3rd downs constantly. I have said this in the past, Kevin Gilbride wants to force a running game even when he doesn't have the personnel or the match-up to succeed with such a plan. Sometimes you can open up the run with your passing attack! Week 9 Giants Vs Steelers I can't completely blame Kevin Gilbride for the loss. The defense played well for the most part but wore down in the 4th quarter. They had some lapses which cost the team but in all fairness they spent a lot of time on the field. The Giants time of possession for this game was 24:45 compared to the Steelers 35:15. Eli Manning did not have a great game but he only threw 24 passes (completed 10). Many fans were tweeting Eli will win it in the 4th quarter. If you really believe this man can just turn it on every 4th quarter you are delusional. Kevin Killdrive needs to come up with better plans of attack, it's unbelievable that this team is not capable of scoring touchdowns in the red zone. Again it isn't a 2012 thing, it's been that way throughout his career. He only opens up the playbook when the Giants find themselves down. If they have a lead he will Run, Run, Throw and defenses are ready for it. Kevin "Killdrive" Gilbride has officially created the Field Goal Coordinator position in the NFL!
Original Story:
http://giantskickoff.com/2012/11/04/k...
THE BACKYARD
BEST OF MAXIM
RELATED ARTICLES
The New York Giants will be relatively healthy this Sunday as they prepare to take the field against the Pittsburgh Steelers. Although the Steelers have yet to release their final injury report, the Giants look to be in good shape this weekend, save for a few injuries to the linebacker core. Without further delay, here is Big Blue's final injury report of the week. OUT ...
Uh oh, here comes the New York Giants second half swoon right on schedule.  The tell-tale signs have been there for weeks but, come Game 9 every season, it becomes official. On Sunday against the Pittsburgh Steelers, the Giants hoped to create a three hour diversion to Hurricane Sandy for Giants fans dealing with the aftermath of the storm.  Looking back, Big Blue's fans mostly...
Just when the New York Giants appear to be the class of the NFC something like Sunday happens. The Pittsburgh Steelers came into Met Life Stadium and handed the Giants a 24-20 loss. Defensive end Justin Tuck is hoping the Giants get back to their winning ways. "Let's not (repeat) history," Tuck said, via Newsday. "Unless it's going to end up how it did last year. For us...
There's no replacement refs to blame for the poor officiating in the Steelers-Giants game. Ryan Clark was flagged for unnecessary roughness on a big hit that seemed clean according to NFL rules. Eli Manning threw an ill-advised pass directly at a Steelers' defender, which was followed up by Clark lighting up Giants receiver Victor Cruz. Clark didn't...
EAST RUTHERFORD, N.J. -- In a game billed as the battle of two first-round quarterbacks from the Class of 2004, the Steelers' Ben Roethlisberger outlasted the Giants' Eli Manning by copying Manning's fourth-quarter comeback act to steer Pittsburgh to a 24-20 win over New York at MetLife Stadium. The Giants (6-3) saw their four-game winning streak end, and Manning'...
Several teams in the NFC East had the opportunity to record signature wins – and one still does heading into the Monday Night game – but at the end of the day on Sunday, all that those teams had to show for their efforts was major disappointment.With the Philadelphia Eagles (3-5) in desperate need of a win against New Orleans tonight, here is what happened with the other three...
NFL News

Delivered to your inbox

You'll also receive Yardbarker's daily Top 10, featuring the best sports stories from around the web. Customize your newsletter to get articles on your favorite sports and teams. And the best part? It's free!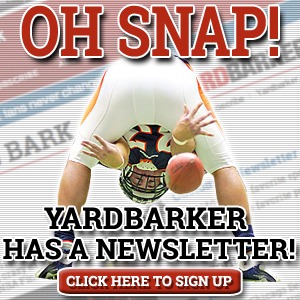 Latest Rumors
Best of Yardbarker

Today's Best Stuff

For Bloggers

Join the Yardbarker Network for more promotion, traffic, and money.

Company Info

Help

What is Yardbarker?

Yardbarker is the largest network of sports blogs and pro athlete blogs on the web. This site is the hub of the Yardbarker Network, where our editors and algorithms curate the best sports content from our network and beyond.