Found August 28, 2012 on Fox Sports North:
EDEN PRAIRIE, Minn. Minnesota Vikings punter Chris Kluwe has never shied from sharing his opinion on a wide variety of subjects via his Twitter page, @ChrisWarcraft, and last week he took aim a sensitive subject in the NFL: replacement officials. Four days later, Kluwe wasn't backing away from his tweets regarding poor officiating in last Friday's preseason game against the San Diego Chargers. The regular referees have been locked out by the NFL with the league using replacements to officiate the preseason games. "It's one of those things where you just look out there and it's like the difference between having a high school guy play in the NFL versus an NFL guy playing in the NFL," Kluwe said Tuesday. "The speed's totally different. Those guys are trying hard, but they're just not used to the speed of the game and they're missing a lot of stuff." Kluwe was especially upset after Friday's game, when replacement referees seemingly missed a few calls, including some obvious turnovers that had to go to replay to have the original calls reversed. Not long after the game, Kluwe shared his stance on the ongoing referees' lockout and the replacements. "I'm sure they're trying hard, but they're just not good. So many blown calls tonight in both directions," Kluwe tweeted. "The NFL really needs to kiss and make up with the refs. These replacements are horrible. Frankly, it's kind of embarrassing." With so much riding on each game in a 16-game season and the potential of one call to swing the outcome a game, Kluwe says the league can't afford mistakes. "Look at last year, the Giants, the eventual Super Bowl champions, they were one game out from not making the playoffs," Kluwe said. "So if you get one bad call that takes a game the complete other way, the entire season's different. It's much more of a sprint in the NFL, as opposed to other sports where it's a marathon. So I don't think the league can afford to have a mistake like that because then one of those playoff bubble teams might not get in." Kluwe's criticism has been rare among players. Even though the quality of the referees has been noticeably down in the preseason, few players have been complaining on the record. "It was more recommended that we don't talk about it," Kluwe said. "It wasn't a flat-out, Hey don't talk about this or we'll fine you.' At this point, like how when we put film out there everyone can see it, well the refs have put film out there and I think everyone has seen it. Hopefully they can get something done in the next week or so." Minnesota coach Leslie Frazier knows Kluwe is outspoken and has talked with the sometimes controversial punter in the past. In regard to the officials, Frazier isn't too concerned with Kluwe's opinions yet. "He definitely has his opinion about things, and he tends to share those," Frazier said. "But we've had some discussions, and for the most part he's adhered to some of the things we've talked about and he's handled himself pretty well over time. I don't want to speak too soon. I don't know what the next hot topic will be in our country that has to be spoken about. For the most part, we've been on the same page with some things and we'll just have to see how things go forward. But he does a good job at his job, and that's important." Kluwe's Twitter comments do run the gamut. After tweeting about the refs on Friday, Kluwe showed his displeasure for San Diego rookie Melvin Ingram leveling Vikings returner Jarius Wright on a punt in which Wright faked a catch. Ingram was penalized on the play. During training camp, Kluwe tweeted often about the less than ideal conditions for the players in the Mankato dormitories. This week, he was offering up inside information about the happenings at Winter Park, the team's home in Eden Prairie. "Second blackout of the day at Winter Park. I think we get running water installed on Friday," Kluwe tweeted. Tuesday, he also spilled the beans on a prank, writing on his Twitter page, "Greatest locker room prank ever. A RB listed one of the other RBs' truck on Craigslist for sale with his number. He's had 5 calls so farNo name or ID, just a well crafted story about how he needs to ditch the truck for 6k. It's a very nice truck.26inchrimsyeahboooooooyeee" It's just more of the same for Kluwe, the resident pop culture commentator and social media star for the Vikings. "That's just kind of me," Kluwe said. "I tend to speak out on whatever I'm going to speak out on. I do try to make sure to not make the Vikings look bad. That's the one line I try not to cross." Follow Brian Hall on Twitter.
Original Story:
http://www.foxsportsnorth.com/08/28/1...
THE BACKYARD
BEST OF MAXIM
RELATED ARTICLES
The Minnesota Vikings are getting closer and closer to the beginning of the regular season and their date with the Jacksonville Jaguars on Sept. 9.  However, they still need to select who will be their nickleback, or third string cornerback. As of right now, the two starting cornerbacks are Chris Cook and Antoine Winfield.  Cook had legal issues last year that cut his season...
The Minnesota Vikings will wrap up their preseason with a trip down to Houston to face the defending AFC South champion Houston Texans on Thursday at 6:00 CT.  The Vikings are 1-2 this preseason while the Texans are 2-1.  The final preseason game is usually the one that decides who the remaining back ups will be and who will be cut.   There is a very good chance that none...
EDEN PRAIRIE, Minn. A look at the rushing leaders for the Minnesota Vikings through three preseason games and the big namesdon't lead the list. Adrian Peterson, of course, is easing his way back in after major knee surgery in December. Toby Gerhart, Peterson's effective backup the past two years, has taken the reps of a No. 1 running back in the preseason, having his chances...
EDEN PRAIRIE, Minn. The Minnesota Vikings felt they were going to shape the future of their roster with the 10 players they acquired in April's NFL Draft and Minnesota wasn't planning on waiting long into the future for contributions. The Vikings drafted two immediate starters in the first round in left tackle Matt Kalil and safety Harrison Smith. They gave the kicking...
EDEN PRAIRIE, Minn. Running back Adrian Peterson is taking his first hits in practice with the Minnesota Vikings in his continued recovery from major knee surgery. Coach Leslie Frazier said that Peterson, who had surgery on Dec. 31 to repair two torn ligaments in his left knee, has begun taking his from defenses during team drills in practice Monday. Peterson returned to practice...
Jarius Wright showed his explosiveness Friday night with a 24-yard punt return, but the Vikings still have concerns about his ability to consistently field punts outside.
EDEN PRAIRIE, Minn. The Minnesota Vikings offseason youth movement will show in the final 53-man roster. Once one of the most veteran teams in the league, Minnesota could be among the youngest after Fridays final cutdown to the 53-man regular season roster. With several spots still undecided, any close calls could come down to a matter of which player is the youngest and offers...
McLeod Bethel-Thompson is scheduled to get the most playing time of the Vikings' quarterbacks Thursday night and the "door is not shut" on his roster opportunity. Plus, clarity on Jerome Simpson's suspension, the battle for the final receiver spots, a health update and more.
The Vikings believe Jerome Simpson will be a legitimate deep threat when he returns from suspension, but the fourth preseason game will be a big test for other receivers looking for an early contributing role.
Vikings running back Adrian Peterson took contact from his defensive teammates Monday for the first time since tearing his ACL and MCL in his left knee Dec. 24.
EDEN PRAIRIE, Minn. Leslie Frazier is a quiet, unassuming gentleman; strong in his faith, considerate of others and genuinely considered one of the nicer men walking the sideline in the NFL.None of that is under dispute, but Frazier's track record as the head coach of the Minnesota Vikings is a different matter. After 21 tumultuous months in charge first as an interim coach...
NFL News

Delivered to your inbox

You'll also receive Yardbarker's daily Top 10, featuring the best sports stories from around the web. Customize your newsletter to get articles on your favorite sports and teams. And the best part? It's free!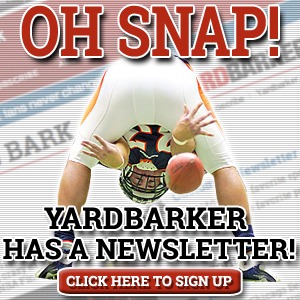 Latest Rumors
The Backyard

Today's Best Stuff

For Bloggers

Join the Yardbarker Network for more promotion, traffic, and money.

Company Info

Help

What is Yardbarker?

Yardbarker is the largest network of sports blogs and pro athlete blogs on the web. This site is the hub of the Yardbarker Network, where our editors and algorithms curate the best sports content from our network and beyond.