Found November 16, 2012 on State of the Texans:
PLAYERS:
Blaine Gabbert
,
Justin Blackmon
,
Matt Roth
,
Andre Branch
,
Daryl Smith
,
Clint Session
,
Bob Bratkowski
,
Chad Henne
,
Rashad Jennings
,
Maurice Jones-Drew
,
Cecil Shorts
TEAMS:
Jacksonville Jaguars
,
Houston Texans
As week 11 and a second matchup versus the Jacksonville Jaguars looms, we reach out to our favorite Jaguars blog, @BlackandTeal, more specifically, editor @LukeNSims. Luke looks at QB Blaine Gabbert's performance, top 2012 draft pick Justin Blackmon, and the Jaguars bright spot of a disappointing 2012 season… go ahead and read below to find out what that pleasant surprise is for the dedicated fans. As always, we welcome your questions for our guest bloggers. Please use the hashtag #KnowYourOpponent (or #KYO if you're short on space) along with your question, and @theclairebear23. Your question will be in consideration for a special shout on the State of the Texans website. Thanks for participating. We love you all.   What is responsible for the Jags' rushing defense woes, and can it be fixed before Sunday? (@txbobbumman) The Jaguars have struggled mightily on defense is more than just rush defense.  You can point to injuries, but the truth is that the play simply isn't living up to how good the unit was last season.  Not keeping Matt Roth in the offseason and replacing him with Andre Branch is a big part of it in my opinion.  Not having Daryl Smith all season is a major problem, as is losing Clint Session.  To be honest, I think the problem is the talent on the roster.  I sincerely doubt it can be fixed by Sunday.   What are Jaguars fans thinking about Blaine Gabbert's ceiling? Most other fans seem to concur he won't work. Do Jaguars fans blame the offensive line or do they also believe Gabbert may not be the guy to lead them? (@qtab) As a lot of Jags fans will tell you, we have more than a quarterback problem.  We have an everything problem.  While the offensive line is certainly not doing Gabbert any favors, he is still growing.  Excuses from bad O-line play to bad receivers are made for Gabbert, but he isn't getting the job done.  Is this his ceiling?  I sincerely doubt it.  I wasn't a fan of Gabbert coming out of college because I like more polished players up front.  Gabbert is no where near being polished but is making strides.  If he wins one or two more games this season, whoever takes over as GM (assuming Gene Smith is not retained) should keep him around.   Does Jacksonville have any matchups to exploit in this game versus the Texans and do you see any way they can pull out an upset? That's really a tough one.  I can't see any outright matchups that the Jags will be winning in this game.  If there's an upset it will have to be a "greater than the sum of its parts" type thing because on paper it's pretty bad.   Is the no-huddle going to be featured more prominently going forward, or only if Gabbert can play? It should be featured more regularly.  Whether OC Bob Bratkowski decides that's a good idea or not is another matter.  Chad Henne is an ex-starter and can run the no huddle, so I don't think there will be much drop off no matter who is under center.   Has Justin Blackmon's lack of production been due to effort or the quarterback play? I really believe it's been due to lack of experience.  Blaine Gabbert hasn't trusted him as much as his other receivers because his other receivers demonstrate that they can get the ball and do more with it.  The rapport simply hasn't developed.  As Blackmon learns the game and gets more integrated into the NFL he will develop.  Blackmon is catching less than three passes a game while his fellow receivers are more productive.  That isn't what you look for in a starting wide receiver, but I think he's trying and he will learn.   What is happening with RB Rashad Jennings lack of production? He had some promising moments early on. Jennings was supposed to be great.  His 2010 season was very good, but he has failed to replicate it in 2012 after missing all of 2011.  We expected more from him (especially since he was supposed to make the Maurice Jones-Drew holdout irrelevant).  He just isn't on the same level as Jones-Drew and requires better blocking to make plays on the ground.   If the Jaguars end up picking early in the 2013 NFL draft, in what direction do you see them going? The Jags will pick early in the 2013 draft.  If we're not in the top five picks then everything I've been writing will suddenly be wrong.  Unfortunately there isn't a consensus top player coming out for 2013 and the Jags aren't even certain about whether they like their roster or not and who will be deciding those things in April.  I would like the Jaguars to spend a first round pick on a defensive end that can be relied on for years to come.  There's a lot of pressure for a new quarterback but I don't see anyone worth an early first rounder right now.   There has to be a bright spot for the Jacksonville Jaguars half way through the 2012 season. What is it?  I'd have to go with Cecil Shorts III.  The guy has been stellar lately and could be the Jags' first 1,000 yard receiver since 2005.  He has a knack for big plays, has sure hands, and he has been able to run his routes well during the middle part of the season.  It may be too early to call it, but he may be a receiver to stick around for years.   Thank you to www.BlackandTeal.com for letting us borrow the brain of editor Luke Sims. We are grateful for his insight and look forward to seeing the best from the Jaguars on Sunday.
Original Story:
http://www.stateofthetexans.com/?p=9202
THE BACKYARD
BEST OF MAXIM
RELATED ARTICLES
The 2011 rushing champion Maurice Jones-Drew held out of training camp, lobbying for a new contract. New owner Shad Khan balked, and never budged. Jones returned late in camp, but the damage was already done. All he had left as a negotiating tactic was to put up the same type of numbers that won him the rushing title before. Well, his plan came to a screeching halt as soon as he...
Jaguars QB Blaine Gabbert (shoulder) is probable for Week 11 against the Texans.Fantasy Spin:Gabbert left late in last Thursday's game against the Colts but we suspect it was more of a precautionary measure than something serious. As it stands, Gabbert will try to play the rest of the season with a torn labrum in his non-throwing shoulder. The Texans held a healthy Gabbert to...
JACKSONVILLE, Fla. (AP) -- Greg Jones, meet Greg Jones. The Joneses crossed paths for the first time this week in Jacksonville's locker room, the veteran fullback nicknamed "The Bull" exchanging pleasantries with the second-year linebacker probably best known for proposing to his girlfriend on the field after the Super Bowl. The meeting was a little strange, and being...
Maurice Jones-Drew has been sidelined with a sprained foot.  He was hoping to return by next week, but as of Thursday, Jones-Drew's own assessment of his timetable was foggy.  He hopes to return in a couple weeks, but there is no exact date for his return. According to an interview Jones-Drew did on Fox Sports Radio, Jones-Drew confirmed the injury isn't the type to end...
Jacksonville Jaguars defensive tackle Terrance Knighton was fined $25,000 a helmet-to-helmet hit against Indianapolis Colts quarterback Andrew Luck last Sunday. It was the second time Knighton has been fined this season for the infraction, according to NBC Sports' Pro Football Talk. Knighton was penalized for the hit, which negated an Aaron Ross interception. Jaguars safety...
Last week: 32 (+0) Record: 1-8 Still the worst team in the NFL. I think the Chiefs are more likely than they are to win another game the rest of the way. They rank dead last in both yards per play differential and rate of sustaining drives differential. In yards per play differential, they are at -1.1. No one else is worse than -0.9. In rate of sustaining drives they are -14.8%,...
NEW YORK (AP) -- Jacksonville defensive tackle Terrance Knighton has been fined 25,000 by the NFL for making helmet-to-helmet contact with Colts quarterback Andrew Luck, who was defenseless at the time. The hit came in Indianapolis' victory Nov. 8 at Jacksonville and negated an interception by Aaron Ross. Jaguars safety Dawan Landry was fined 10,000 for a fourth-quarter hit...
The Jacksonville Jaguars are staggering in for round two. In round one at EverBank Field the Jaguars' got smacked around by the Texans. The final score was 7-27. The Jaguars managed 117 total yards.  While the Texans' running back Arian Foster had 110 yards and one touchdown.On the defensive side, soon to be Player of the Year, J.J. Watt had 1.5 sacks with three quarterback...
Other than a few die-hard Jaguars fans, no one expects Jacksonville to put up much of a challenge this week for a hard-hitting Houston team coming off a big road win in tough conditions.Still without their star running back, Maurice Jones-Drew, the Jaguars are averaging just 14.1 points per game and have gotten little help from Blaine Gabbert or this year's first-round draft...
Jacksonville Jaguars (1-8) at Houston Texans (8-1) This week, when the Jacksonville Jaguars go to Houston to play the Texans it will be the latest a 1-win team has played a 1-loss team since 1990, when the Patriots played the Bills, also during week 11, How long ago was that? Well, here's a clue. The Patriots were the 1-win team and the Bills were the 1-loss team. The Bills won...
  In this week's episode, we check in with Twitter favorite and Jaguars fan everydude, Andy Willis. Andy is as diehard as diehards come. We have a Twitter bet for (apparently) every Texans/Jaguars (not Jags – seems they don't like that) match-up. It's an avatar wager and if I win, he gets this.           If he wins, I get… I don't know. Does it matter? It seems...
NFL News

Delivered to your inbox

You'll also receive Yardbarker's daily Top 10, featuring the best sports stories from around the web. Customize your newsletter to get articles on your favorite sports and teams. And the best part? It's free!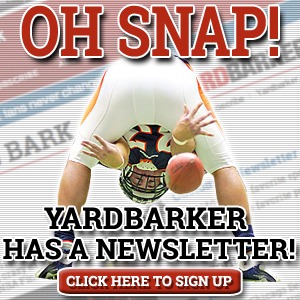 Latest Rumors
Best of Yardbarker

Today's Best Stuff

For Bloggers

Join the Yardbarker Network for more promotion, traffic, and money.

Company Info

Help

What is Yardbarker?

Yardbarker is the largest network of sports blogs and pro athlete blogs on the web. This site is the hub of the Yardbarker Network, where our editors and algorithms curate the best sports content from our network and beyond.