Found December 03, 2012 on Fox Sports Arizona:
PLAYERS:
Kevin Kolb
,
Ryan Lindley
,
Alex Smith
,
Colin Kaepernick
,
Aaron Rodgers
,
Jay Cutler
,
Jason Campbell
,
Russell Wilson
,
Max Hall
,
John Skelton
TEAMS:
Arizona Cardinals
,
San Francisco 49ers
,
Green Bay Packers
,
Chicago Bears
,
Seattle Seahawks
TEMPE, Ariz. At the risk of stating the obvious, the Cardinals need quarterback Kevin Kolb to play. Now. Not to save the season; thats already gone. To save morale. To save coach Ken Whisenhunts job. To keep alive whatever shred of hope remains for this franchise. We have no idea how much pain Kolb is still experiencing. He just smiles and repeats the same vague answers when we ask. Weve never had ribs detach from our sternum, and were pretty sure we never want to experience it in the interest of building our knowledge base. We also have no idea if Kolb will be ready this week. I sure hope so, Whisenhunt said at his Monday press conference. After watching Ryan Lindley on Sunday, can we get an amen? Were not suggesting Kolb should come back if the body isnt willing. We dont pretend to understand another persons pain threshold or the inherent risks of such a move. But in case you hadnt noticed, the Cardinals have lost eight straight games. The NFC West is leaving them in the dust, and there is real danger that the local attitude toward this team is about to go full-blown retro. We, the people, are ready to conclude that those two years of Kurt Warner-orchestrated magic were a statistical anomaly for a franchise that has resumed business as usual. We have suggested in the past that the Cards need to see Kolb this season to evaluate whether they want to go forward with him, especially considering hes due to make about 10 million next season. But in poring over what looks to be a quarterback-weak 2013 draft class and in glancing at the underwhelming crop of potential free agents, were not sure there will be a better option available than Kolb. Maybe the Cardinals make a call to the 49ers to see if theyd be crazy enough to trade Alex Smith to a division opponent. Maybe Alex Smith will be the 49ers starting quarterback again by the time the phone rings especially if Colin Kaepernick has another game in which he looks like what he is: a second-year quarterback. Besides, remember how good it felt when Kolb played earlier this season? Remember the buzz in the Valley? Remember how we were all talking playoffs? Playoffs! And now the Cardinals are just trying to win a game. Thats the problem with Kolb, of course. Just when you think hes in a groove, he dons a ballcap on the sidelines with a head, foot or chest injury. Is that because hes injury-prone? We dont know. We know what the vast majority of folks out there think, but we also know what rigorous, time-tested scientific methodology would say about basing your conclusions on a handful of examples. Maybe Kolb is cursed, which would make sense with this franchise. But if the Cards can rework that hefty sum hes due to make next season and they should be able to, because who else is going to make a part-time QB a big-money offer? Kolb is their guy going forward, for better or for worse. As many issues as the offensive line has had, as many injuries as the running backs have suffered and as many times as youve taken Mike Millers name in vain, this league comes down to quarterback play. Warner masked deficiencies because of his superlative ability to read defenses quickly and execute plays with elite accuracy. Aaron Rodgers has the leagues highest passer rating and the Packers in first place behind an offensive line that has allowed him to be sacked a league-high 39 times. Bears QB Jay Cutler never garnered much respect until the nation saw what his line looked like with Jason Campbell standing behind it. We all get it now. Take a look at the Cardinals' own division. The 49ers may have two legitimate quarterbacks, making them, in our view, the only team in the league that can say that. And where are they? In contention for a Super Bowl. Seattle rookie Russell Wilson just led two late drives at Soldier Field against one of the leagues best defenses, putting the Seahawks in position for a wild-card berth. Even St. Louis has clawed back to within a half-game of .500 thanks to a 4-0-1 record in the division, terrific defense and the improved play of QB Sam Bradford. Take a look at the 12 teams that would make the playoffs if the season ended today. Eight have QBs ranked in the top 10 in passer rating. Thats no coincidence, people. Sitting at No. 14 in those same rankings, after all this time, is Kolb with an 86.1 rating. Hes still the best chance the Cardinals have, and hes better than a whole lot of other teams options. Is it crazy to go into a season with a guy whos missed about half his Cardinals tenure? Sure, its crazy. But there are descending degrees of crazy. And we can all agree that Derek Anderson, Max Hall, John Skelton and a rookie are much farther down the insanity slope. Besides, as we mentioned before, the options are severely limited. So get well, Kevin. A coach, a franchise and a city are on hanging on your every labored breath. Follow Craig Morgan on Twitter
Original Story:
http://www.foxsportsarizona.com/12/03...
THE BACKYARD
BEST OF MAXIM
RELATED ARTICLES
TEMPE, Ariz. Todd Heap wont get a chance to write a final, storybookchapter to his football career in Arizona. The Cardinals released the injury-plagued local icon on Tuesday, ending his tenure with the Cardinals just shortof two seasons -- and well short of expectations.The Cards replaced Heap with tight end Kory Sperry, a former San DiegoCharger who was released at the end of training...
The Arizona Cardinals started out 4-0 and it looked as if the red birds had arrived. However, 8 straight losses has sent the feel good story to an almost tearjerker. "You gotta laugh to keep from crying,"
ESPN's Adam Schefter reports that the Arizona Cardinals have released TE Todd Heap. Heap, 32, has been inactive for 10 straight games, despite the fact that he's no longer dealing with issues related to a previous knee injury that he suffered. Heap apparently hasn't been able to practice at full speed, which is why the team had held him out of game-action. It's hard to imagine...
Former Baltimore Ravens TE is now a former Arizona Cardinals TE as well. Reports are out today that the Cardinals are parting ways with the two-time Pro Bowler in the midst of the their downward spiral. Heap was selected in the 1st round of the 2001 NFL draft by the Baltimore Ravens, where he played until signing a two-year deal with the Cardinals just beofre the 2011 season.
When asked about the Arizona Cardinals offense, Larry Fitzgerald told the Arizona Republic, "I have no words, I have to laugh to keep from crying."While the defense has played well this year, the offense has been abysmal and it doesn't seem like there is any improvement coming anytime soon.  Forgetting about their quarterback play, their offensive line can't even block...
The Arizona Cardinals offense has been bad this season, but never worse than it was on Sunday. Its performance in the 7-6 loss to the New York Jets was among the worst in the team's history, and that's saying something for a franchise that's had a lot of bad Sundays. The team had five first downs, tied for fewest in franchise history, was 0 for 15 on third-down conversions...
Arizona safety Kerry Rhodes has confirmed he had a run-in with teammate Darnell Dockett at the end of Sunday's game against the New York Jets. Rhodes says in an email released by the Cardinals that there was an on-field ''disagreement'' but emphatically denies a report that Dockett spit in his face and says the two have agreed to move on. The dispute reportedly...
Arizona Cardinals coach Ken Whisenhunt considered a quarterback change before sticking with the struggling Ryan Lindley. The argument for a switch - as the New York Jets did with Mark Sanchez - was compelling during the Cardinals 7-6 loss on Sunday, their eighth straight defeat. Lindley had a miserable game: 10 for 31 for only 72 yards, one interception and a dismal 28.0 quarterback...
  The New York Jets and Arizona Cardinals are engaging in a game to see who can score the least amount of points in the most embarrassing way. Mark Sanchez actually threw I decent ball (I couldn't believe it either) but that wasn't enough for Arizona's cornerback Patrick Petersen to snatch it right out of the New York Jets' wide receivers hands. Petersen, formally of LSU...
Before the 2010 season, the New York Jets traded safety Kerry Rhodes to the Arizona Cardinals for a pair of late-round draft picks. Jets coach Rex Ryan later called Rhodes "selfish" in his book.Rhodes was plenty selfish Sunday against his former team. Rhodes intercepted Jets quarterback Mark Sanchez twice and forced a fumble in the Cardinals' 7-6 loss. He also had six...
NFL News

Delivered to your inbox

You'll also receive Yardbarker's daily Top 10, featuring the best sports stories from around the web. Customize your newsletter to get articles on your favorite sports and teams. And the best part? It's free!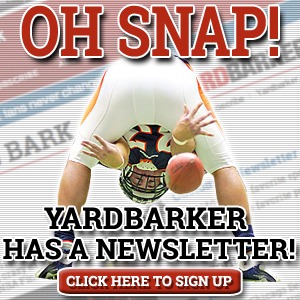 Latest Rumors
The Backyard

Today's Best Stuff

For Bloggers

Join the Yardbarker Network for more promotion, traffic, and money.

Company Info

Help

What is Yardbarker?

Yardbarker is the largest network of sports blogs and pro athlete blogs on the web. This site is the hub of the Yardbarker Network, where our editors and algorithms curate the best sports content from our network and beyond.