Found August 14, 2012 on Kissing Suzy Kolber:
PLAYERS:
Zooey Deschanel
,
Kyle Orton
,
Romeo Crennel
,
John Kuhn
,
Aaron Rodgers
,
Jeff Saturday
,
Anthony Hargrove
,
Graham Harrell
,
Mason Crosby
,
Tramon Williams
,
Cedric Benson
,
Nick Perry
,
Scott Wells
,
Chad Clifton
,
Nick Collins
,
Ryan Grant
,
Jermichael Finley
TEAMS:
Green Bay Packers
,
St. Louis Rams
,
Kansas City Chiefs
The Pack was an awe-inspiring juggernaut through the regular season last year, save for one unfortunate run-in with Kyle Orton and Romeo Crennel's defense. Recent history, however, is not kind to the team that finishes with the best regular season record in the NFL and so too was it unkind to the Packers, who were beaten quite decisively in the divisional round of the playoffs by the Giants. Many derisive Discount Double Check jokes were made.
Five Fast Facts About the Packers:
- John Kuhn has formally apologized to the one black Packers fan for the all the uncomfortable cheering.
- Aaron Rodgers thinks Jeff Saturday has the ideal center ass. A few appreciative trips to Hawaii and Saturday just might give it up.
- Anthony Hargrove will miss the game against the Saints due to his suspension for the bounty scandal. Probably for the best, as the Saints coaches still know all the physical cues to get him to dive at Aaron Rodgers' knees.
- The biggest training camp battle is between Graham Harrell and Mason Crosby over who has the most upper crusty white kid name.
- Tramon Williams still brings laser pointers to movie theaters.
Notable acquisitions: Cedric Benson, Nick Perry, Jeff Saturday, Anthony Hargrove
Notable departures: Matt Flynn, Scott Wells, Chad Clifton, Nick Collins, Ryan Grant
Vegas win total over/under: 12 wins
KSK verdict: OVER
Fantasy player you'll want to dig at with rusty hooks: Jermichael Finley
Finley may be less less of an infuriating fantasy disappointment this season than he's been in years past, just because most people have accepted that he won't be the top-tier tight end he's been made out to be leading up to the past few seasons. That Finley's number would be that much better if he couldn't be counted on to drop two or three passes per game will ensure he'll find a way to irritate Packers fans and fantasy owners alike.
Fan forecast, by Griffin Gotta:
The Green Bay Packers ended last season getting punked out of the playoffs at home. That loss to the eventual champions, however, was not one huge, unforeseen disappearance of what we thought we knew about the Packers, like your local mom-and-pop being there on the corner one day, then closed, bulldozed and wiped away entirely by a slab of cement the next. No, Green Bay's screws were slowly slipping loose weeks before that, even weeks before their only regular season loss to the Kansas City Chiefs. As the point totals kept climbing and an offense that struck with a deadly quickness continued connecting on those pinpoint strikes, their best weapon — Aaron Rodgers and the whirring passing game — distracted critical eyes by the shininess of all those pretty plays.

Everyone saw the blatant problems on defense; the disappearing running game; the tendency towards uneven, sometimes sleepy, play, but that aerial attack just wouldn't allow you to see, or maybe accept, the flimsiness of the rest of the Packers' situation. And much like the electricity in Jurassic Park, Green Bay didn't know how much they truly relied upon Rodgers being surgically right on every read, the offensive line holding up just long enough for him to flick that wrist, the receivers to break, look, and catch at exactly the precise moment, the true intricacy of all that working together at once, until it was all gone. In that NFC Divisional against the Giants, it went fast, and when it did little else seemed even close to passable, as far as Super Bowl contenders go.

It was a grim bow to tie on an otherwise electrifying, if in hindsight a bit ominous in its foreshadowing, season of football in Green Bay. But that was last year, and as ridiculous as it felt to see the Packers go down in flames in their first playoff game, it was just as insane to see them on top of the football world two seasons ago, when everything looked decidedly less optimistic, before the hottest streak at the perfect time rewrote all our memories forever. Make no mistake: The Packers should be freaking good this season. After a draft full of addressing both a tattered secondary that was worsened by a wheezing pass rush, and the return of pretty much everyone on that ready-to-detonate offense, the Packers picked up from last year exactly how you'd want them to: Like it was lots of fun but ultimately a major disappointment because of all the fun we had.

I'd expect the Packers to mix their "we know it what takes to win a Super Bowl" chemicals with some newly acquired "we embarrassed ourselves when it mattered most" elements to form a very eager, uber-talented squad that should battle for home field advantage in the NFC and beyond. In the NFL these days, though, a team's true colors should be forming and improving throughout the season, rather than acting as some consistent standard to maintain throughout. More importantly, for a potential contender like Green Bay, the best must be saved for last, where, if we're lucky as fans, we won't wind up knowing what was possible or not until the very end.
Original Story:
http://kissingsuzykolber.uproxx.com/2...
THE BACKYARD
BEST OF MAXIM
RELATED ARTICLES
Based on last years statistics, we looked at the average points per game each teams position scored and compared it to how each teams defense fared against opponents by position.  We will break down the best and worst possible matchup and tell you which week they play each other so you can edit your roster accordingly.   Quarterback Matchups The Green Bay Packers QB Aaron...
There have been some happenings in Packers camp the past couple of days so I saw it as a chance to write up a summary of what is going on so people are aware. It seems the injury Desmond Bishop suffered during the Packers pre-season game against the Chargers was a bad one.  Bishop will be out for the season.  This is a big hit to the Packers defense that was already struggling...
Rookie quarterback B.J. Coleman has all the physical tools needed to play in the NFL The Green Bay Packers haven't opened a regular season with three quarterbacks on the roster since 2008, but that could change come September. If seventh-round draft pick B.J. Coleman continues to develop, there's a chance he could join starter Aaron Rodgers and backup Graham Harrell on the final...
I don't normally criticize things the Packers do, but this really seems like the Packers are buying high. Lang only has one year of starting experience and it's not like he was an elite guard or anything last year. Making 15 starts, including playoffs, he graded out as ProFootballFocus' 19th ranked guard. He's better in pass protection, where he ranked 6th at his position...
GREEN BAY, Wis. -- When the Packers' defensive linemen are playing cards inside the locker room, Aaron Rodgers sits down to deal a hand. When undrafted rookies are added to the team, Rodgers makes it a point to greet them, welcome them to Green Bay and get to know more about them. When offseason acquisition Anthony Hargrove wants to joke around on the field during practice, Rodgers...
Green Bay halfback back James Starks is suffering from turf toe and his status is considered "week-to-week."Fantasy Spin:Second-stringer Brandon Saine is out with a hamstring injury and Alex Green has been dealing with knee issues, so right now the Packers are looking pretty banged up at running back. All of that is good news for Cedric Benson, who signed with the Packers...
Chanting Green Bay Packer fans could be heard throughout Qualcomm Stadium on Thursday, even over the booing of the home crowd. All the support of their fans however, was not enough for them to secure a win. The Packers may have lost their season opener to the Chargers, but preseason games are the closest you [...]
New running back Cedric Benson arrives with questions about his hefty career workload, ball security and off-the-field issues. Nonetheless, the Packers went with Benson over Ryan Grant.
Starting center Jeff Saturday is one of the oldest players in the NFL There's a reason former Packer and current Ram Scott Wells will be paid nearly twice as much as Jeff Saturday this season – he's a better player. But after carefully watching all of Saturday's snaps from last Thursday's game against the Chargers, I came away feeling pretty good about Green Bay's new...
Mike McCarthy and his assistants have plenty of young players to watch in the Green Bay Packers' preseason game against the Cleveland Browns on Thursday. They'll also be monitoring another relative unknown: The changing wind patterns at Lambeau Field. In the middle of a major expansion project, Lambeau has sprouted a massive superstructure with a giant video board in the...
AP Photo One of the most important skills that an NFL running back must learn is how to pass protect and pick up the blitz in order to keep their quarterback upright. The reason the Green Bay Packers ended up having to sign free agent Cedric Benson is because it became clear to them that James Starks wasn't going to give them much more in terms of on the field production and he...
Antonio Freeman was one of Brett Favre's greatest weapons. Sure, throughout his Green Bay career there was Donald Driver, Bill Schroeder, Corey Bradford, Bubba Franks, Javon Walker, and Robert Ferguson. But it's Freeman who is the most underrated out of all of them. Freeman played football at Virginia Tech, he caught 93 balls for 1,534 yards and 16 touchdowns through his junior...
NFL News

Delivered to your inbox

You'll also receive Yardbarker's daily Top 10, featuring the best sports stories from around the web. Customize your newsletter to get articles on your favorite sports and teams. And the best part? It's free!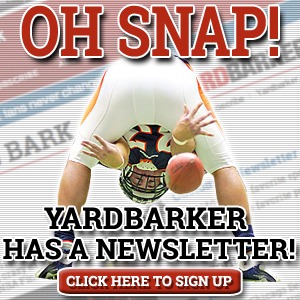 Latest Rumors
Best of Yardbarker

Today's Best Stuff

For Bloggers

Join the Yardbarker Network for more promotion, traffic, and money.

Company Info

Help

What is Yardbarker?

Yardbarker is the largest network of sports blogs and pro athlete blogs on the web. This site is the hub of the Yardbarker Network, where our editors and algorithms curate the best sports content from our network and beyond.