Found August 30, 2013 on Fox Sports:
Kyle Larson cannot get enough seat time behind the wheel of a race car. And that's a good thing. The 21-year-old Earnhardt Ganassi racer -- who was officially introduced Friday as the driver of the No. 42 Target Chevrolet for 2014 -- will run for Sprint Cup points next year while continuing in the Nationwide Series with Turner Scott Motorsports. Larson currently is eighth in the Nationwide Series points after 23 races. With six top-fives -- including a season-best second place at Bristol in the spring -- and 13 top-10 finishes, his rookie year so far has been a success. But even though Larson won 30 races while running 123 events in 12 different series last year, team owner Chip Ganassi thinks Larson's best years are ahead of him. "Obviously, the guy is ready," Ganassi said. "Some of the smarter people in the sport have said that maybe a Cup car is more like his style than a Nationwide car. It wouldn't be the first time that's happened. Time will tell, but the guy is ready." Before the season began, Larson tested a Cup car at Rockingham Speedway with EGR's R&D team led by former No. 42 crew chief Jim Pohlman. Larson said he took an instant liking to the Cup cars. "I enjoyed the Cup cars quite a bit at that test," Larson said. "I told people I think they're going to suit me better than the Nationwide cars." Larson believes his greatest challenge will be the level of competition within the Sprint Cup Series. Although he's had the opportunity to race against Cup drivers in Nationwide races, it's a whole new world competing against full-time efforts at NASCAR's top level. "It will be an even bigger step than Nationwide," Larson said. "The cars are different -- more horsepower. There's a lot I have to learn, but I think the competition level is probably going to be the toughest part." Ganassi confirmed on Friday that he would keep the current No. 42 team intact -- with crew chief Chris Heroy at the helm. But Larson, whose race schedule extends far beyond the Nationwide Series already, said he's only had time to touch base with Heroy by phone. "I race so often I don't have a chance to go by either shop," Larson said with a laugh. "I talked to him earlier this season -- but not much recently. I like him. You can tell he's really focused. I think me and him will work well together." Larson, from Sacramento, Calif., likes the look of Heroy. "You can tell he's a Californian -- he's got the long hair and stuff,'' Larson said. "I think we'll work well together. He's really smart. He's pretty young, too. We'll be good together." Larson will have teammate Jamie McMurray to lean on as well. Since McMurray was thrust into the spotlight to fill in for an injured Sterling Marlin at Ganassi in 2002, the 37-year-old veteran has raced eight of his 12 years in Cup with that team and knows the systems. McMurray said he welcomes the role as mentor to Larson. "If I were in Kyle's position, I would like someone like me to be that guy," McMurray said. "I say that because I'm very honest about everything and I don't know that everyone in this garage is always honest. Most of them are, but not all, and I hope Kyle views me as someone [he] ... can trust and knows if he asks me a question, he's going to get an honest answer." As for freshman expectations, Larson remains realistic. He will be satisfied if he can initially run within the top 15 as he adapts to the nuances of the series. "Throughout the year I'll learn a lot, so if I can run in the top 15 most of the time and contend for top-fives and wins, I think that would be a successful rookie season," Larson said. "I think their cars are good enough to make the Chase -- it isn't out of the question. "But If I don't make the Chase, I won't be too disappointed, because it is my first season in Cup and it's probably the toughest series out there. I don't plan on lighting the world on fire, but I'd like to run good." So when would Larson like to make his Cup debut? "Next weekend at Richmond would be great," Larson said with a chuckle. "The sooner the better. But any time. Any time I'm in a Cup car will only make me better. "I don't get excited about a lot of stuff. I don't show too many emotions. But I'm definitely excited about this and grateful for the opportunity."
Original Story:
http://msn.foxsports.com/nascar/story...
THE BACKYARD
BEST OF MAXIM
RELATED ARTICLES
Kyle Larson was introduced as the new driver of the #42 Target Chevrolet for Earnhardt Ganassi Racing Friday afternoon at the Atlanta Motor Speedway. Larson is competing in his first full season in the Nationwide Series and has impressed many during this season. At age 21 Larson has many accolades[...]
This is really sad news if you're an avid viewer of "Hard Knocks" like myself. According to ESPN, Cincinnati Bengals defensive end DeQuin Evans has been suspended for eight games for violating the league's policy on performance-enhancing drugs. This was reported on @ESPNNFL Twitter account: THIS JUST IN: NFL announces 8 game suspension of Bengals DE DeQuin Evans for violating...
The Bengals have picked Josh Johnson as their backup quarterback, waiving John Skelton as they got down to the 53-man roster limit on Saturday. They placed linebacker Emmanuel Lamur on injured reserve with an injured right shoulder, which he dislocated during the final preseason game against Indianapolis on Thursday night. Reserve offensive tackle Dennis Roland also was released...
Cincinnati Bengals defensive end DeQuin Evans has been suspended for the season's first eight games. Evans violated the NFL policy on performance-enhancing substances for a second time, the NFL announced Friday. Evans, 26, who served a four-game suspension in 2011, hasn't played yet in the regular season for Cincinnati. He is eligible to return to the Bengals on Oct. 28...
The NASCAR Nationwide Series will run the Great Clips/Grit Chips 300 on Saturday night from Atlanta Motor Speedway. Kyle Busch won the pole for the event and will be joined on the front row by Austin Dillon. Forty drivers will take the green flag at the 1.54 mile oval located in Hampton, GA. Atlanta Motor Speedway first opened in 1960 and has been holding Nationwide Series races...
Cincinnati Bengals defensive end DeQuin Evans has been suspended for the season's first eight games. Evans violated the NFL policy on performance-enhancing substances for a second time, the NFL announced Friday. Evans, 26, who served a four-game suspension in 2011, hasn't played yet in the regular season for Cincinnati. He is eligible to return to the Bengals on Oct. 28...
Andy Dalton's 4 minutes on the field were so satisfying that he didn't need more. Dalton led the Bengals to a touchdown in his only drive, and Josh Johnson threw for another in his bid to win the backup job on Thursday as Cincinnati ended the preseason with a 27-10 victory over the Indianapolis Colts. The Bengals (3-1) played most of their starters on offense and defense...
A couple days ago I made the Cincinnati Bengals my Super Bowl Champs pick for 2013. And I'm not the only one embracing the Stripey Wotsits as your next NFL champs. Other league pundits are talking about this idea, if not agreeing with it. Maybe the Cincinnati Bengals are the sexy 2013 NFL champs prediction. Like Sarah Jones level sexy. NBC Sunday Night Football Analyst Cris Collinsworth...
Andy Dalton felt good after his only pass was completed and his only drive ended in a touchdown. The Colts? They just wanted to get off the field without getting hurt. Cincinnati's 27-10 victory over Indianapolis in the final preseason game Thursday night sent both teams into their final days of roster cutting with a reason to feel good about how they stack up overall. --...
Sometimes, fans and players are more akin than they care to realize.Although the life of Tom Brady bears very little similarity to that of your typical nine to five football fan, they've likely shared many of the same thoughts over the past few weeks. And no, that's not a reference to Gisele Bundchen. Get your mind out of the gutter.The communal sentiments we're concerned about...
Bengals News

Delivered to your inbox

You'll also receive Yardbarker's daily Top 10, featuring the best sports stories from around the web. Customize your newsletter to get articles on your favorite sports and teams. And the best part? It's free!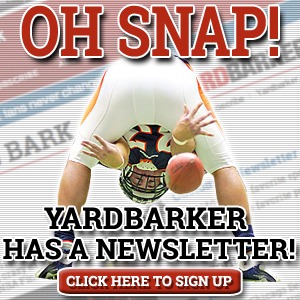 Latest Rumors
The Backyard

Today's Best Stuff

For Bloggers

Join the Yardbarker Network for more promotion, traffic, and money.

Company Info

Help

What is Yardbarker?

Yardbarker is the largest network of sports blogs and pro athlete blogs on the web. This site is the hub of the Yardbarker Network, where our editors and algorithms curate the best sports content from our network and beyond.