Found September 09, 2013 on Fox Sports Florida:
PLAYERS:
Lavonte David
,
Jonathan Casillas
,
Geno Smith
,
Nick Folk
,
Dekoda Watson
,
Drew Brees
,
Tom Brady
,
Mason Foster
,
Josh Freeman
,
Doug Martin
,
Akeem Spence
TEAMS:
Tampa Bay Buccaneers
,
New York Jets
,
New Orleans Saints
,
New England Patriots
TAMPA, Fla. -- The day after, no Tampa Bay Buccaneers defender worried about linebacker Lavonte David's frame of mind. They had witnessed his reaction to one of the opening week's most inexplicable penalties -- "He was definitely upset, and you could see that on him," linebacker Jonathan Casillas said but there was no concern about how the second-year player would react to his next test. No worry that what resulted from a light shove of New York Jets quarterback Geno Smith on the sideline in the closing seconds Sunday would carry into Week 2. No worry that the image of Nick Folk's 48-yard field goal sailing through MetLife Stadium's uprights would stay with him. No worry that this mistake, painful and prominent in the Jets' 18-17 victory, would linger to stunt his potential. If not for the shove, talk about David would have been much different Monday. He would have been praised for his eight tackles (two for a loss), one sack and one interception. Bucs coach Greg Schiano calls him one of Tampa Bay's "finest players," and it's easy to see why. Inches and better discretion separated the Bucs from a 1-0 start and a less sour Sunday evening for David. There's no way around it: This mistake was puzzling, even more so because the young player has such a strong reputation in Tampa Bay's locker room. But here was David, whom Bucs linebacker Dekoda Watson calls a "future Pro Bowler," at the center of a gaffe that gifted the Jets an unlikely victory. "I don't know what to say," David told reporters Sunday. "They called a flag. I guess I hit him out of bounds. Everybody told to me to keep my head up. All the guys in here were very supportive." The support continued Monday at One Buc Place, and given NFL life's breakneck pace, that's no surprise. The Bucs value David, as they should. They need him in top condition -- both physically and emotionally -- if they are going to recover from this loss to New York with matchups ahead against Drew Brees and Tom Brady. By all signs, David has promising upside. He led the Bucs with 139 tackles last season, 34 more than the second-place finisher, linebacker Mason Foster. Just last Thursday, defensive coordinator Bill Sheridan praised David's performance last season and spoke about pushing him to reach another level: Double-digit tackles consistently, tracking the ball in the passing game, swatting down throws. "A lot of people want to sit here and point fingers and say, 'Oh, he did this, he did that and he lost the game,' " Watson said. "Come on. He messed up one time. ... Did anybody forget that he got an interception? Did anybody forget that he got a sack?" Watson went on. "But as a team, we've got to all play our part. People looking outside, people who don't know football or want to point fingers and don't know exactly what's going on, it's easy to do that." The reality is part of life for David and others, though. This was a team loss by the Bucs, plain and simple, but David's play was a made-for-highlights blunder. Still, Tampa Bay committed a host of errors that contributed to the result: Josh Freeman's lukewarm play, Doug Martin's inability to break free, a bizarre safety in the first quarter when Freeman kicked a botched snap out of the back of the end zone. The Bucs almost escaped MetLife Stadium undefeated despite it all. On offense, this was an overall sloppy effort, and it can't be repeated if they hope to contend with the New Orleans Saints on Sunday. The defense, however, played well enough to win: Smith was sacked five times and intercepted once. David was a centerpiece of Tampa Bay's resistance. "He cares," Schiano said. "The guy is a great player and a great teammate, and he cares. He feels like he made a mistake that cost the game. I told him, 'It's one play. We had plenty of opportunities to win that game.' Am I pleased with the play? Is he pleased with the play? No, but he's one of our finest players. We fully expect Lavonte to rebound. That's the fighter he is. He will be fine." And who knows how many would have reacted differently if faced with the same scenario? "I can't really say he made a mistake, because I didn't see it as a mistake," said Bucs defensive tackle Akeem Spence, who thought the penalty was questionable. "But he looks fine. He looks like he's ready for our next game next week. We're all backing him hard. Nobody is saying anything negative about it, so that's big. He's a great player, so we can't make one bad thing that he did reflect on the game he had." The one bad thing hurt David. He was upset leaving the field, but by Monday, teammates saw he had recovered in time. "Who wouldn't be in that situation with a play like that?" Casillas said. "As a man, you're going to take responsibility for your actions. ... He's a young kid. He has a high, high ceiling. He'll be able to correct his mistakes and move on." The process of moving on for David began Monday, the day after, the sting of his mistake present. There was nowhere else to go but ahead, past the memory of an odd end to an otherwise successful afternoon, with hope that next Sunday will be better. You can follow Andrew Astleford on Twitter @aastleford or email him at aastleford@gmail.com.
Original Story:
http://www.foxsportsflorida.com/nfl/t...
THE BACKYARD
BEST OF MAXIM
RELATED ARTICLES
Tampa Bay Buccaneers linebacker Lavonte David committed a critical error in the final seconds of Sunday's season opener against the New York Jets that cost his team a victory. With seven seconds left and the Bucs holding a 17-15 lead, Jets QB Geno Smith was running out of bounds just past midfield. However, as Smith stepped out of bounds, David unnecessarily pushed him down...
The New York Jets were expected to be one of the biggest jokes of the NFL season, but they managed to pull out a victory in their first game. They can thank Tampa Bay Buccaneers linebacker Lavonte David for the assist. David pushed Geno Smith after the Jets quarterback had already stepped out of bounds […]
Lavonte David sat on a stool in front of his locker, his head down, trying to make sense of what just happened. A couple of Buccaneers teammates came over and patted the linebacker on the back. None of it did anything to make his huge mistake go away. Nick Folk kicked a 48-yard field goal with 2 seconds remaining after David's personal foul on Geno Smith following a big run...
Lavonte David probably cost the Buccaneers a win. David had a late hit penalty on Jets QB Geno Smith with seven seconds left in the game. The penalty put the Jets in field goal range where kicker Nick Folds drilled a 48-yarder for the 18-17 win.  Oh my. This one will hurt.
Today is a day that Lavonte David and the Tampa Bay Buccaneers would like to forget. Week 1 of their fresh season is in the books; and if the books had a box labeled "ugly," it would be checked off. The Bucs started the game as if they were stuck in the preseason.During their first six-play possession, they were flagged three times. On their second possession, quarterback Josh...
EAST RUTHERFORD, N.J. (AP) -- Nick Folk kicked a 48-yard field goal with two seconds remaining after Lavonte David's personal foul penalty kept New York's drive alive, and the Jets pulled out an improbable 18-17 victory over the Tampa Bay Buccaneers in the season opener for both teams Sunday. With the Jets trailing 17-15 and time running out, rookie Geno Smith scrambled for...
The Tampa Bay Buccaneers are unapologetic for playing what they describe as good, tough, physical football. They just want to get better at it. Three members of the team's defense were penalized for hard hits during an 18-17 season-opening loss to the New York Jets, and coach Greg Schiano reiterated Monday that although he wants players to comply with NFL rules he also doesn...
Geno Smith rolled right, darted down the sideline and stepped out of bounds, knowing he and the New York Jets needed some major help to pull off a comeback victory. Then came a sudden shove in his shoulder. Smith hit the ground, and so did a few yellow penalty flags. Lavonte David was called for a personal foul for his late hit on Smith, and Nick Folk kicked a 48-yard field goal...
Nick Folk kicked a 48-yard field goal with 2 seconds remaining after Lavonte David's personal foul penalty kept New York's drive alive, and the Jets pulled out an improbable 18-17 victory over the Tampa Bay Buccaneers in the season opener for both teams Sunday. With the Jets trailing 17-15 and time running out, rookie Geno Smith scrambled for 10 yards - and was shoved while...
After seven months of being chewed up and spit out by anyone who has ever watched a football game, the New York Jets came out and beat the Tampa Bay Buccaneers. While most are focusing on the late penalty by Lavonte David that aided in setting up the game winning field goal, the Jets deserve to be praised for what they did for the other 59 minutes at MetLife Stadium. On offense,...
NFL News

Delivered to your inbox

You'll also receive Yardbarker's daily Top 10, featuring the best sports stories from around the web. Customize your newsletter to get articles on your favorite sports and teams. And the best part? It's free!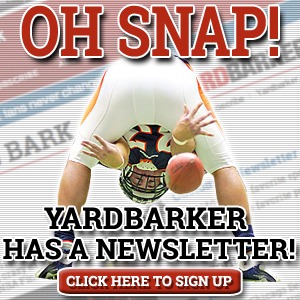 Latest Rumors
The Backyard

Today's Best Stuff

For Bloggers

Join the Yardbarker Network for more promotion, traffic, and money.

Company Info

Help

What is Yardbarker?

Yardbarker is the largest network of sports blogs and pro athlete blogs on the web. This site is the hub of the Yardbarker Network, where our editors and algorithms curate the best sports content from our network and beyond.