Posted July 29, 2012 on AP on Fox
Terrance Knighton's vision is nearly back to normal and his waistline is smaller than it's been in years. Both are encouraging signs for the Jacksonville Jaguars. Although Knighton remains on the physically unable to perform list, the run-stuffing defensive tackle has been a pleasant surprise for the Jaguars in training camp. The player nicknamed ''Pot Roast'' showed up weighing ''sub-330 pounds'' and with vision that is closing in on perfect. ''I feel great and I'm just ready to get out there now,'' Knighton said. That's welcome news since there were serious concerns about his health just three months ago. Knighton injured his left eye while trying to break up a bar fight in early April. Knighton was hit on the top of his head with a bottle, which shattered, and a piece of glass cut his eye. The lineman needed staples in his head and stitches in his eye. He temporarily lost vision and required a second eye surger...
Original Story:
http://msn.foxsports.com/nfl/story/Le...
THE BACKYARD
BEST OF MAXIM
RELATED ARTICLES
The Jacksonville Jaguars are imploding before the season begins in a very unremarkable fashion. The franchise has a new coach, new owner, a new group of receivers, a young quarterback that is trying to forget the year 2011 ever happened and are missing the draft pick they gave up the world for and their one ray of light that refuses to show up without a raise. So who should the...
Two weeks ago, Jaguars kicker Josh Scobee broke the bank (as far as kickers go), squeezing in a four-year contract extension. The new deal included $4.75 million in guarantees so, like most pro athletes, he immediately tapped into some of the new-found wealth by purchasing his dream ride, a silver Aston Martin. Though, despite having his own James Bond car, one problem remains...
Jacksonville, FL (Associate Press) - The Jacksonville Jaguars have placed running back Maurice Jones-Drew on the reserve/did not report list, an indication they don't expect their star player to show up to training camp anytime soon. The Jaguars signed fullback Will Ta'ufo'ou to take his spot on the 90-man roster. Ta'ufo'ou has spent time with Chicago, Cleveland...
Let's start off with the best part…the Jaguars new locker room (courtesy of its new owner Shad Kahn) is SWANK AS HELL! I mean truly amazing. Kahn really has some good taste. Let's get into it. The main area has a big Jaguars logo on the ceiling. There are also lots of leather chairs. If you've ever been to the strip club King of Diamonds in Miami this design will look familiar...
JACKSONVILLE, Fla. -- The Jacksonville Jaguars want to keep injury information in house. And they're ready to levy a stiff penalty for anyone caught breaking the rules. Coach Mike Mularkey told players during a team meeting Thursday night that talking publicly about injuries could result in a hefty fine. Cornerback Rashean Mathis, the team's NFLPA representative, said Friday...
The Jacksonville Jaguars placed running back Maurice Jones-Drew on the reserve/did not report list, Scout.com reported Saturday. The Jaguars can fine Jones-Drew $30,000 for each day of camp he misses, under the NFL collective bargaining agreement. The team has said it will not renegotiate Jones-Drew's $31 million contract it agreed to three years ago. Jones-Drew has already...
Maurice Jones-Drew officially became a holdout on Thursday by not reporting for the first day of Training Camp. MJD is underpaid, making just 9.3 million combined over the next two seasons and at age 27, he's wise to hold out for one last big payday, especially since it looks like he'll be stuck on a losing team for at least another year. However, the Jaguars still say they have...
- The Jacksonville Jaguars placed a great emphasis on individual drills today. The most interesting event was when Jerry Sullivan verbally smote WR Taylor Price after messing up on a route-running drill. Price took his lumps and went back in line to perform his routes again. - The PUP list is still intact, but here are a few updates. Terrance Knighton is actually 330 pounds, he...
One of the positives from the Jacksonville Jaguars offseason work was a noticeable improvement in the passing game. Quarterback Blaine Gabbert was throwing the ball with more confidence, accuracy and zip than he showed as a rookie. A receivers group that included free-agent signees Laurent Robinson and Lee Evans, coupled with No. 1 draft pick Justin Blackmon, was significantly better...
Apparently, James Harrison doesn't remember Super Bowl XI or Ken Stabler's career for that matter. Steelers GM Kevin Colbert says the last offer to Pittsburgh's Mike Wallace is off the table. Eagles tight end Brent Celek sprained his MCL. The Eagles claim they are fine at tight end (rolling eyes…) and claim they don't need Jeremy Shockey…for now. A NYT season...
Hot News for RB Maurice Jones-Drew
First-year head coach Mike Mularkey has informed his Jacksonville Jaguars players that he doesn't want them discussing injuries in public. If players do discuss their injuries outside of the Jaguars facility, it could lead to a hefty, $10,000 dollar fine. Although NFL Players Association representative CB Rasheam Mathis told reporters that players have no issue with the possibility...
Jaguars News

Delivered to your inbox

You'll also receive Yardbarker's daily Top 10, featuring the best sports stories from around the web. Customize your newsletter to get articles on your favorite sports and teams. And the best part? It's free!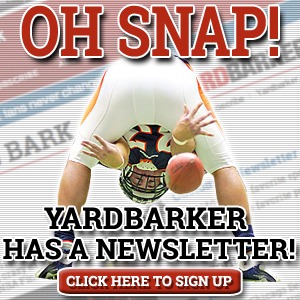 Latest Rumors
Best of Yardbarker

Today's Best Stuff

For Bloggers

Join the Yardbarker Network for more promotion, traffic, and money.

Company Info

Help

What is Yardbarker?

Yardbarker is the largest network of sports blogs and pro athlete blogs on the web. This site is the hub of the Yardbarker Network, where our editors and algorithms curate the best sports content from our network and beyond.