Found September 15, 2013 on Boston's Bettah:
Happy Sunday without Patriots football! It might sound weird, but all it means is that there is no undue stress this Sunday as a result of the New England Patriots. In the words of Chris Parnell and Andy Samberg, it is a "Lazy Sunday". Go ahead and wake-up in the mid-afternoon if you want to. So let's talk about former Patriots and what they think of the current Patriots. Most notably, let's talk about Tedy Bruschi on Tom Brady. If you were living under a rock for awhile, Tedy Bruschi is a former New England Patriot line-backer and three-time Super Bowl Champion with the team. That's the short story because Bruschi is significantly more important as a humanitarian, an inspiration and a leader for the Patriots of the 2000′s. I'm not going to go into it now, but let's just say that those things are a big important part of his legacy. He also works for some company called ESPN now covering sports. This also means he shows up on their studio shows and says some things from time to time. Boy, did Bruschi have some things to say about Tom Brady and the New England Patriots offense! "Tom Brady is holding them to a standard that they can't maintain, and that's Tom Brady's standard. He expects them to be perfect because at times he rarely makes mistakes," Bruschi said. "He has to lower his standards for these receivers right now. The defense is good and will buy him some time. "I remember back in 2001, we had a quality defense and we had to pick up our weight a little bit more, pick up the slack, because we had a young quarterback by the name of Tom Brady. We had to wait for him. Now he has to wait for them." To an extent, Bruschi is right. Tom Brady may have been holding his high receivers to too high a standard on Thursday night, especially when the situation was two games in five days and the Patriots did not hold full practice. Brady's outbursts were a story-line and fuel for a national debate about whether or not Tom Brady was out of place berating his receivers in such a public manner. They are only kids! Except comparing Tom Brady to the entire Patriots defense in 2001 certainly has major issues. For one, each individual defensive player isn't as dependent on each other as a quarterback is with their receivers. Yes, certain schemes are designed to make it easier for certain players to make tackles and such but overall I would not be wrong in saying that a defensive player can hold themselves more accountable. Tom Brady, on the other hand, is incredibly dependent on how his receivers play and the fact that Tom is a perfectionist and has been playing with smart, veteran receivers for most of the past half decade who know what Tom wants and when. The Patriots offense has plenty of option routes and Tom Brady has come to expect certain guys to be in certain places at the same time. While it is true that the receivers aren't where they should be yet, they should be better then some of the performances that they showed on Thursday. It isn't all timing either. Aaron Dobson, who was the target of many of Tom Brady's death stares, played his  first game on Thursday night, and he already leads the NFL in drops with four. That has little to do with Tom Brady and a lot to do with Aaron Dobson dropping balls. At some point, Brady is going to show his frustration because he isn't a defense. Bruschi has said a lot of things since he left the Patriots about the organization and plenty of them have been good, but it also seems as if he has been the teams most critical pundit. Basically, if something is not how they "used to do it" then it is not right. Did the Patriots defense get openly frustrated with Brady in 2001? No, but guess what Tedy? Times change. The fact of the matter is that the Patriots are at the end of a window. Tom Brady isn't going to play forever and the Patriots did sortofkindof screw him by restructuring his contract and then doing nothing with the extra money. They expected him to play with rookies and make them better, and in return they would get better week to week. There were signs during week one, but everything regressed in week two and that is frustrating. I still think the timing will come and I still think the Patriots will be at their best come playoff time. Everyone is quick to compare this team to the 2006 version, but I believe this team is more talented than that one. It will come and frustrations will be there, especially when factoring in the drops and the miscommunication between receiver and quarterback.  
Original Story:
http://www.bostonsbettah.com/?p=6337
THE BACKYARD
BEST OF MAXIM
RELATED ARTICLES
  The Patriots may have won their first two games of the 2013 season, but the most played images of the Pats two victories was Tom Brady's disappointed gestures, directed at his inexperienced receiving corps.  Brady went on Boston radio Monday to let everyone know all the blame shouldn't be place on his young receivers. "I'm not making all the right plays, either," Brady...
Tom Brady hasn't often been through the kind of night he endured Thursday night and still won the game. The 2011 AFC championship comes to mind. But this Patriots team is a long ways from that and Brady knows it. The Patriots quarterback was 19-of-39 for just 185 yards and did throw a touchdown pass that extended his streak of games with a touchdown pass to 50. The Patriots beat...
Tom Brady and Bill Belichick are digging into their leadership bag of tricks as they try to get New England's young wide receivers up to the Patriots' level of expectations as quickly as possible. Brady got a lot of attention Thursday night when he was seen shouting on the sideline after a few rough plays. He's been patient before, but with the Patriots putting up their second...
    It wasn't easy to watch, but the Patriots got the job done in their home opener Thursday night against the New York Jets.  New England edged out a 13-10 victory over New York in a game riddled with offensive miscues from both teams.  The key to the game ended up being the Patriots' ability to avoid letting their mistakes result in turnovers.  New York on the other hand...
With the Patriots offense not meshing as well as they would have hoped, it has been the defense that has been a pleasant surprise. Throughout the first couple games of the season, the defense has come through in the clutch and has arguably out-performed the Tom Brady led offense. Granted Brady doesn't have much talent around him, but that is still saying a lot since the defense...
There have been quite a few horrible receivers or it's probably more appropriately to say horrible receiving performances. But the masterpiece in poor receiver play that the Patriots receivers put together last night has to rank near the top. Tom Brady hit those guys everywhere except the bottom of their feet and they struggled mightily to make plays. The receivers Aaron Dobson...
KSK...Tom Brady As Miley Cyrus Is A Thing [by the great Ape of Christmas] **Follow us on Twitter, View via Our Mobile Site, or Return to BobsBlitz.comFollow us on Twitter. Subscribe or Return to Bob's Blitz.
I don't know what possesses people to do these things, but Tom Brady has now gotten the Miley Cyrus Wrecking Ball video treatment.  This video is creepy to say the least. [YouTube]
Washington Redskins (0-1) at Green Bay Packers (0-1) I've flip-flopped on this one so many times because it's tough to know what to expect from Robert Griffin. Robert Griffin threw 4 interceptions all last regular season. Now he has 4 interceptions in his last 2 games combined, including the playoff loss to Seattle. It's worth noting that Tom Brady had one of the worst seasons...
Welcome to the Weekend Warrior, your web-based congregation for water-cooler discussion. We will get you up to speed on what you missed over the past few days and what's on this weekend's itinerary. At worse, this will give you a five-minute respite from being productive at work or school. Our sporting culture is infused with high-end contentions: LeBron versus Kobe. Should...
A week is in the books and it's time to absolutely freak out.  Tom Brady is horrible, time to drop him for Terrelle Pryor! Like a GOP reaction to Obama having his foot on the Oval Office desk, then the subsequent overreaction to the jokes about overreactions, there's been a lot of drama to overreactions.  Chill out people!  It'd be like a biologist getting all angry because...
                       In April during the NFL draft season Aaron Dobson was known for his amazingly reliable hands at Marshall. Now that is in question after he went 3/9 for 56 yards and a touchdown during the home opening win at Gillette stadium. Dobson said after the game, "that's definitely not acceptable to drop the ball". "I'm a receiver, so...
Patriots News

Delivered to your inbox

You'll also receive Yardbarker's daily Top 10, featuring the best sports stories from around the web. Customize your newsletter to get articles on your favorite sports and teams. And the best part? It's free!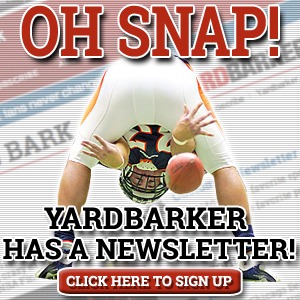 Latest Rumors
Best of Yardbarker

Today's Best Stuff

For Bloggers

Join the Yardbarker Network for more promotion, traffic, and money.

Company Info

Help

What is Yardbarker?

Yardbarker is the largest network of sports blogs and pro athlete blogs on the web. This site is the hub of the Yardbarker Network, where our editors and algorithms curate the best sports content from our network and beyond.