Found October 21, 2012 on Fox Sports Detroit:
PLAYERS:
Nate Burleson
,
Matthew Stafford
,
Joe Montana
,
D.J. Moore
,
Lance Briggs
,
Stephen Tulloch
,
Dominic Raiola
,
Jim Schwartz
,
Devin Hester
,
Nick Harris
,
Kyle Vanden Bosch
TEAMS:
Detroit Lions
,
Chicago Bears
Coming off a season-saving, confidence-building overtime victory at Philadelphia, the Detroit Lions head to Chicago to take on the Bears in a Monday Night match-up between bitter rivals. Here are five storylines to watch: 1. Perceptions change so rapidly in the NFL. After a shaky Week 2 loss to Green Bay, the Bears were getting ripped and downgraded. Now theyre back up to No. 4 in FOX analyst Brian Billicks weekly power rankings. A week ago, the Lions were being written off following their 1-3 start. Now they can put themselves back in the playoff conversation with a second straight road victory. We havent played our complete game yet, receiver Nate Burleson said. Thats going to be really exciting to watch. We still have a great game to show everybody whos waiting for it. It is coming. If it comes Monday night, the Lions could create a logjam in the NFC North Division by bringing the first-place Bears (4-1) back to the pack. It would be great, not only for us to be .500 but everybody in our division would be within a game of each other, Lions quarterback Matthew Stafford said. Its definitely a big one. 2. Chicago's Soldier Field has been a house or horrors for Stafford, who hasnt won there in three tries. He injured a knee in a 48-24 loss as a rookie in 2009, separated his right (throwing) shoulder in a 19-14 loss in the 2010 season opener and then threw four interceptions while playing with a broken finger on his throwing hand in a 37-13 loss last year. Stafford scoffed at any Windy City jinx factor. He said he just tries to put those negative experiences out of his mind. This season has been a tale of two halves for him. He has no touchdowns, five interceptions and a 53.6 passer rating in the first half of five games. In the second halves, he has four touchdowns, no interceptions and a 97.3 rating. His passer rating goes from 48.1 in the first quarter to 58.7 in the second quarter to 80.1 in the third quarter to 103.9 in the fourth quarter to 118.8 in overtime. Former NFL quarterback Ron Jaworski, now an ESPN television analyst, said that Stafford couldnt hit water if he fell out of a boat for the first three quarters last week at Philadelphia. But when the fourth quarter came around, I thought Joe Montana was on the field for the Detroit Lions, Jaworski said. I obviously want to play like Joe Montana all four quarters, Stafford, who has rallied his team to eight fourth-quarterovertime comeback victories in his 34 NFL regular-season starts, said with a grin. But just doing whatever it takes to win, thats what Im all about. 3. The last time these teams met, there was an altercation between Stafford and Bears cornerback D.J. Moore that led to both benches clearing. Chicago linebacker Lance Briggs came out this week and said that these division rivals simply dont like each other. Many of the Lions agree that there's bad blood between the two teams. I would say thats fair, Detroit defensive end Kyle Vanden Bosch said. Everybody knows what happened last year when we went there. It got pretty heated. Theres something there, Lions linebacker Stephen Tulloch said. When we get out there on the field, theres a lot of words being exchanged. Center Dominic Raiola added: Whenever we play anybody in the (NFC) North, theres no love lost. They dont like us, we dont like them. Thats how it goes. Vanden Bosch isnt too concerned about how the Lions are viewed in Chicago. I dont know if anybody likes us as a team, he said. Were not trying to win any congeniality contest. We dont really care. Neither do the Bears, which is going to make this a slugfest from start to finish. 4. The Bears defense has scored as many touchdowns and it has allowed (five each) in the first five games. Chicago is tied for first in the NFL in takeaways with 17 (13 interceptions, four fumble recoveries) and tied for fourth in sacks with 18. During a three-game winning streak, the Bears have outscored the opposition 98-27. They have returned five interceptions for touchdowns during that time. Theyre a very opportunistic bunch, Lions coach Jim Schwartz said. Its a tough assignment right now for Stafford. You cant play tentative, he said. Youve got to be aggressive. Were an aggressive offense by nature. Were going to go out there and do what we do. At the same time, you definitely have to be conscious that these guys have a lot of confidence right now on defense. 5. The Lions punt and kick return coverage units made some progress last week. At least they didnt give up any touchdowns after allowing two punt and two kick returns for scores in the previous two games. But this is going to be a severe test. Chicagos Devin Hester has scored 12 touchdowns on punt returns in his career, five on kick returns and one on a missed field. He ranks third in NFL history with a 12.6-yard average on punt returns, the best in more than five decades. Hes the best at his position ever, Lions punter Nick Harris said. Hesters numbers actually are down this year, though. Hes averaging 7.8 yards per punt return with no touchdowns. His longest has been 23 yards. Jacksonville held him to eight yards on four returns plus one fair catch in the Bears last game. In other words, he's due to break one soon. Evaluate him at the end of the year, I think youll see hes probably the same guy, Harris said. Under the circumstances, the best strategy for the Lions might be to punt the ball completely out of bounds and just not risk it. You don't spit into the wind and you don't put the ball in Devin Hester's hands if you don't have to.
Original Story:
http://www.foxsportsdetroit.com/10/21...
THE BACKYARD
BEST OF MAXIM
RELATED ARTICLES
After Matthew Stafford proudly displayed his "new shirt" during a Monday Night Football commercial that aired earlier in the year, ESPN has once again used the Lions QB in a new commercial that is set to air during tonight's Monday Night Football broadcast. In this new commercial Stafford walks in just after the bulldog mascot for the University of Georgia (Stafford's alma...
Ouch, that ain't pretty. The Chicago Bears took it to the Detroit Lions on Monday Night Football in a brutal NFC North battle, winning by a score 13-7 that doesn't adequately illustrate just how dominant of a performance the Bears put on under the Monday night lights. Lions quarterback Matthew Stafford did go 28 of 46 [...]
Despite a gutsy come-from-behind win that puts the Detroit Lions at 2-3 on the year, the biggest concern coming out of the game and heading into Monday Night is quarterback Matthew Stafford and his altered throwing motion. Even though the … Continue reading →
As a huge Detroit Lions fan I always get excited to see them getting publicity and being in commercials, but the more that these come out and the more games the Lions lose I start to wonder if they should be practicing more and shooting commercials less.Either way here are two new and funny "This is Sportcenter" commercials starring Matt Stafford and Georgia Bulldogs Mascot Hairy.
Detroit quarterback Matthew Stafford had another disappointing performance Monday against the Bears but once again threw a late TD pass to somewhat salvage the game for fantasy owners.Fantasy Spin:Stafford picked up 73 yards and a touchdown on the team's final drive with Chicago leading 13-0 and finished 28-of-46 for 261 yards, one TD and one INT in a 13-7 loss.
It's not often that a region responds with angst to its team winning a football game, but that is exactly the case in New England. Despite the Patriots slipping past the Jets with a 29-26 overtime victory on Sunday, there are plenty of Pats fans panicking, particularly because New England's defense -- especially the secondary -- continues to be an issue...
Let's take a look back at some of the things that stood out from Week 7 in the National Football League! Welcome back Chris Johnson to the NFL. I look forward to most Fantasy owners starting him next week and for him to run upwards of 20 yards…for the entire game.
In July I was enjoying a long weekend in Vegas and wandered into Harrah's to take a look at the Super Bowl odds and I remember looking up and seeing the Lions were at 18-1 odds.I couldn't believe what I was seeing because going into this season; I felt that the Lions had a great shot of getting to the Super Bowl. I didn't bet on them because I am a Bears fan and that would...
Bears and Lions. Doesn't exactly have the same aura as Bears and Packers but in this day the rivalry is just as big, if not bigger. Although the Bears players have taken the high road when asked about their hatred toward the Lions it no secret there is no love lost here.This Lions bunch has been labeled dirty -- no matter how much fourth-year quarterback Matthew Stafford wants...
Hard feelings? Bad blood? The Chicago Bears and Detroit Lions for the most part did their best to downplay the idea leading into their game on Monday night. It wasn't exactly an easy sell. The way emotions boiled over the last time they met at Soldier Field, it's safe to wonder if sparks might fly this time, too. If they do, players and coaches insisted it'll be because...
Detroit Lions @ Chicago BearsDetroit:  The Detroit Lions come off a gritty come-from-behind victory over the Eagles in Week 6, and now go back on road to visit division rival Chicago on Monday Night Football.  Matthew Stafford turned in a respectable stat line of 318 total yards and 2 TDs with 1 INT; unfortunately, he plays against the #1 defense in the league this week, that will...
What follows isn't a ranking or rating of any kind, but a list. I'll let you decide for yourself which NFC North QB, the leader of the Chicago Bears, Green Bay Packers, Minnesota Vikings, or Detroit Lions, landed the best arm-candy. Matthew Stafford's gorgeous former University of Georgia cheerleader who made sports blog "news" (do they make air quotes strong enough for...
NFL News

Delivered to your inbox

You'll also receive Yardbarker's daily Top 10, featuring the best sports stories from around the web. Customize your newsletter to get articles on your favorite sports and teams. And the best part? It's free!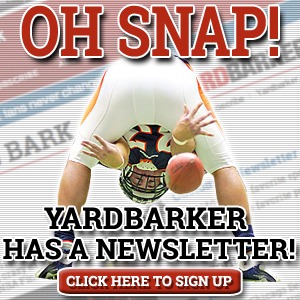 Latest Rumors
The Backyard

Today's Best Stuff

For Bloggers

Join the Yardbarker Network for more promotion, traffic, and money.

Company Info

Help

What is Yardbarker?

Yardbarker is the largest network of sports blogs and pro athlete blogs on the web. This site is the hub of the Yardbarker Network, where our editors and algorithms curate the best sports content from our network and beyond.