Found December 09, 2012 on Fox Sports Detroit:
PLAYERS:
Tony Scheffler
,
Joique Bell
,
Matthew Stafford
,
Calvin Johnson
,
Mike Daniels
,
Jim Schwartz
,
Ndamukong Suh
,
Jason Hanson
,
DuJuan Harris
,
Kris Durham
,
Ryan Broyles
,
Titus Young
,
DeAndre Levy
,
Ricardo Silva
,
Louis Delmas
,
Corey Williams
,
Scott Mitchell
TEAMS:
Detroit Lions
,
Green Bay Packers
,
Rice Owls
The Detroit Lions had just scored to take atwo-touchdown lead early in the second quarter on a snowy night Sunday at Lambeau Field in Green Bay. Maybeit would be the end of two long decades of road losses to the Packers. Tony Scheffler was celebrating his touchdown with teammate Joique Bell. They looked as if they were pretending to shovel snow off of the Frozen Tundra. What they really did was dig their own grave. Thats how its going for the Lions this season. Theyve been finding ways to barely lose, and they continued that trend in a 27-20 defeat. Scheffler and Bell were called for a 15-yard unsportsmanlike penalty for excessive demonstration. That forced the Lions to kick off from their 20-yard line. Call it the beginning of the end. Call it bad karma. Call it stupidity. The Packers ended up starting the next drive at their 38, which led to a 49-yard field goal to help them get on track. Less than five minutes later, the game really turned when Lions quarterback Matthew Stafford tried to throw a quick screen pass to Calvin Johnson. The ball slipped out of Staffords hand and the fumble was returned 43 yards for a touchdown by Mike Daniels, a reserve defensive end, to cut Detroits lead to 14-10 with 6:15 left in the half. Lions coach Jim Schwartz called it a freak play. We had a great chance on that play, Schwartz said during his postgame radio show. If we get that ball out to Calvin, were going to have a big play. You knew at halftime the Lions potentially were in trouble. They had totally dominated the first half. They ran 41 plays to Green Bays 16. They had 218 offensive yards to the Packers 94, including a 117-42 edge on the ground. Butthe lead was still only four points. The Packers had the Lions, a team that cant finish games, right where they wanted them. Not surprisingly, the lead was wiped out in a little more than three minutes on the Packers first possession of the second half. Rodgers, on third-and-4, escaped a near-sack and ran 27 yards forthe touchdown. Discipline was again part of the problem for Detroit. Defensive tackle Ndamukong Suh was called for a foolish roughing-the-quarterback penalty when he took a couple extra steps and shoved Rodgers to give Green Bay a first down at the Lions 31-yard line. Despite all the negative headlines, it was actually only Suhs second penalty all season and his first personal foul. But it was a costly one and an unnecessary one. The Lions dont have much room for error, not on the road, certainly not against the Packers. Their mistakes became magnified in the end because they helped wipe out all that early momentum. The game ultimately came down to the fourth quarter. After Jason Hanson missed a 51-yard field goal for Detroit, Green Bay got the ball at its 41 and totally shredded the Lions defense witha running game that really isn't that strong. The Packers went 59 yards on seven straight runs, taking a 24-17 lead on DuJuan Harris 14-yard dash with 10:45 remaining. Weve got to get it stopped, lets put it that way, Schwartz said when asked about his defenses inability to stop the run in that sequence. The Lions' offense, meanwhile, was shut down for most of the second half, including just 18 yards rushing. We just couldnt get into a rhythm in that second half, Schwartz said. It showed on the scoreboard. What had looked so promising early on for the Lions fell apart once again down the stretch. That makes it 21 straight regular-season road losses to Green Bay (18 at Lambeau and three in Milwaukee). The streak is 22 overall, including a playoff game. During a postgame television interview, Rodgers called it an ugly win for the 9-4 Packers. Ugly wins are better than tough losses, Rodgers said. The Lions (4-9) only seem to know lately about tough losses. Theyve dropped five straight, the last three after blowing leads of at least 10 points. Eight of their nine losses have been by eight points or less. Maybe they can get an ugly win next Sunday at Arizona. The Cardinals have lost nine in a row and are coming off a 58-0 embarrassment against Seattle. But as dreadful as Arizona is right now, theres no guarantee for a Detroit team that simply has been doing whatever it takes to lose these days. MEGATRON UPDATE Johnson caught 10 passes for 118 yards, giving him 1,546 receiving yards for the season. He needs 141 yards in the final three games to break Herman Moores club record (1,686) and 303 yards to break Jerry Rices NFL record (1,848). EXTRA POINTS Receiver Kris Durham, Staffords former teammate at Georgia, set up the second touchdown when he reached out with his right arm and made a spectacular 27-yard reception. But later in the first half, Stafford threw an interception and motioned with his hand that his buddy hadnt run the route properly. Durham, who finished with four catches for 54 yards, was elevated from the practice squad last week after Ryan Broyles and Titus Young were placed on injured list. Bell, linebacker DeAndre Levy, safety Ricardo Silva went through pregame drills on the field with no shirts. It was about 30 degrees. Safety Louis Delmas (knee) and defensive tackle Corey Williams (knee), both listed as questionable, were inactive for Detroit. After scoring on a 4-yard bootleg, Stafford is tied for the most rushing touchdowns in a season by a Lions quarterback since Scott Mitchell also had four in 1996.
Original Story:
http://www.foxsportsdetroit.com/12/09...
THE BACKYARD
BEST OF MAXIM
RELATED ARTICLES
Detroit Lions WR Kris Durham was promoted from the practice squad this week to replace WR Ryan Broyles and WR Titus Young, both of whom were put on the injured reserve this week.Durham certainly made his case to stay on the roster for next season with this catch.  He laid out for this ball and reeled it in with such ease, that it rivals Calvin's one-handed catch from last week...
ALLEN PARK, Mich. -- Detroit Lions coach Jim Schwartz has consistently praised reserve running back Joique Bell this season. Those days might be changing, at least for a while. Bell was the one responsible for the Lions getting a 15-yard penalty for celebrating their second touchdown, when they took a 14-0 lead early in the second quarter. The penalty was enforced on the kickoff...
THE LION IN WINTER
Kris Durham has just five career receptions in the NFL, but his second catch this season may be one of the best of the year. Durham made a one-handed diving catch on a Matthew Stafford throw against the Packers on Sunday Night Football. It was just his second catch with the Detroit Lions — his first came earlier in the game. Durham was signed off the team's practice squad on...
 Watch as Detroit Lions receiver Kris Durham lays out to make an outstanding grab during the second quarter of Sunday Night Football. The man who threw him the ball was none other than Durham's college teammate and roommate at the University of Georgia, Lions quarterback Matthew Stafford. Via Bleacher Report.
The weather conditions at Lambeau Field wreaked havoc on Lions quarterback Matthew Stafford on Sunday.Watch as Detroit's signal caller gets an untimely case of butterfingers midway through the second quarter against the Packers. The ball seems to slip out of Stafford's hands like a of bar soap when he drops back to pass on this play. One would assume that the snow and cold...
Matthew Stafford scored on a 4-yard bootleg, and the Detroit Lions had a 7-0 lead over the Green Bay Packers after the first quarter Sunday night. The Packers are playing with only four defensive lineman, and the Lions wasted no time taking advantage. Using big tackle Riley Reiff as an extra blocker, they ran the ball nine times on the first drive. The Packers managed to stop Mikel...
Looking to end two streaks Sunday night in Green Bay, the Lions head into Week 14 looking relatively healthy with only a few question marks. Corner back Louis Delmas continues to be hampered by an injured knee and was limited all week during preparation which is a step above what could be said about Corey Williams. The Lions veteran defensive tackle also has been bothered by a knee...
The Detroit Lions travel into historic Lambeau Field Sunday night to do battle with the Green Bay Packers. The Frozen Tundra has been a house of horrors for The Detroit Lions as they continue to battle ghosts of the past and present. Detroit hasn't won in Green Bay since George H. Bush was President all the way back on December 15th, 1991 by a score of 21-17. This Packers team...
Detroit jumped out to a 14-point lead, then proceeded to give it away in a highly Lions fashion. The worst of the surrendering of points happened when Matt Stafford spluttered the ball out of his hands on an attempted screen pass that ended in a FAT GUY TOUCHDOWN. In terms of dominance from the line of scrimmage, the Lions controlled the first half. Of course, such things mean jack...
Green Bay stuck with its nickel and dime packages, even while being gashed by Lions running backs Mikel Leshoure and Joique Bell. The second half was a different story, as the Packers slammed the door on the run game and made the Lions one-dimensional.
So it seems the NFL doesn't flex bad games out of the Sunday night slot anymore. This the second straight week of having lackluster contests in what is tacitly accepted as the league premiere timeslot. Wait, Monday night has the best game of the week? What is this, 2005? Because the Bears lost today, even if Detroit somehow pulls the upset on the road, it won't affect the current...
All this week we've heard about the tremendous losing streak the Lions have had at Lambeau Field. December 15th, 1991 was the last time the Lions beat the Packers in Green Bay by a score of 21 to 17. Whats pretty remarkable though about that game is the fact that two of the longest tenured players for each team weren't even playing and I'm talking about Jason Hanson for the...
NFL News

Delivered to your inbox

You'll also receive Yardbarker's daily Top 10, featuring the best sports stories from around the web. Customize your newsletter to get articles on your favorite sports and teams. And the best part? It's free!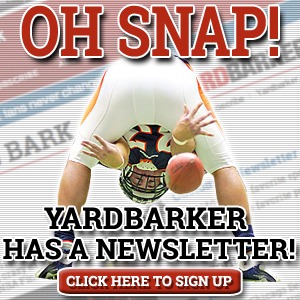 Latest Rumors
The Backyard

Today's Best Stuff

For Bloggers

Join the Yardbarker Network for more promotion, traffic, and money.

Company Info

Help

What is Yardbarker?

Yardbarker is the largest network of sports blogs and pro athlete blogs on the web. This site is the hub of the Yardbarker Network, where our editors and algorithms curate the best sports content from our network and beyond.