Found December 15, 2011 on Fox Sports:
PLAYERS:
Chad Pennington
,
Matthew Stafford
,
Ndamukong Suh
,
Calvin Johnson
,
Richard Seymour
,
Tommy Kelly
,
John Henderson
,
Marcus Stroud
,
Dominic Raiola
,
Jahvid Best
,
Kevin Smith
,
Brandon Pettigrew
,
Tony Scheffler
TEAMS:
Miami Dolphins
,
Detroit Lions
,
Oakland Raiders
Each week, Chad Pennington breaks down a dynamic NFL playmaker or scheme, devises a game plan and discusses a strategy for success. This week, Pennington looks into how Matthew Stafford and the Lions offense will attack an aggressive Raiders defense in Oakland. By all appearances, this should be a good week for the Detroit Lions to face the Oakland Raiders on the road. Ndamukong Suh returns from his two-game suspension, and the Raiders have surrendered a combined 80 points the past two games. But playing in Oakland is no easy task. Actually, it's just what the doctor ordered for the struggling Raiders, and this contest could prove to be the biggest game of the year for both teams. The Raiders are difficult to beat at home. The Lions must have the right mindset and realize the last two Raiders losses mean absolutely nothing. Quarterback Matthew Stafford led Detroit to a 34-28 victory in Week 14 against the Vikings, but the offense did receive a "hall pass" from its defense that created six turnovers. The Lions also squandered a 17-point halftime advantage and have taken some heat for failing to take advantage of their best offensive weapon, play-making receiver Calvin Johnson. This week, Stafford and the Lions face a Raiders team that is remarkably similar to them at this point in the season. Both teams are injury-depleted at running back and have been forced to throw the ball quite often. Both bring aggressive pass-rushing defenses that have been compromised by surrendering too many rushing yards (the Lions are 27th in the NFL against the run, the Raiders 29th). Each team also has committed 27 personal fouls, which gives them the dubious honor of being tied for the NFL lead. This is a huge game for Stafford, and it is a challenge for me this week with my assignment: game-plan for the Lions offense against the Raiders' disruptive defense. Although the Lions are playing on the road, Matthew Stafford and his offense must use the snap count to their advantage. The Raiders committed numerous offsides penalties against the Packers last week. First- and second-down plays will be the downs for this tactic, depending on crowd noise. Using the snap count is a good way to get cheap yardage and to slow down the opponent's pass rush. The Raiders have always been very athletic on defense. Even when their stats are bad, they always have phenomenal athletes, especially on the defensive line. Slowing down the pass rush is key. Secondly, pass protections have to be sound. Most importantly, the Lions must control the four-man pass rush of the Raiders. If an offense can't protect against the simple scheme of a four-man rush, it will be a long day. Defensive coordinators do not have to rely on blitz schemes to pressure the quarterback and can focus on secondary coverage schemes instead. I believe the key to controlling Oakland's pass rush begins inside with Richard Seymour and Tommy Kelly. At 6-foot-6, 300-plus pounds, these two guys can be monsters inside. Kelly and Seymour can push the interior of the pocket into the quarterback's face, creating vision problems for Stafford. I remember playing against the Jaguars when they had John Henderson and Marcus Stroud inside. I couldn't see anything across the middle of the field. It was like playing in the Redwood Forest! Ideally, the Lions need to have double teams on Kelly and Seymour. This is accomplished with center Dominic Raiola helping one offensive guard while the running back helps the other guard. After checking his blitz responsibilities, the running back is taught to insert into the line of scrimmage through the "B gap" between the guard and tackle. The guard can protect his inside gap, the "A gap," while receiving help from the running back in the "B gap." This scheme will allow the Lions to have two double teams on each side of the ball. Unfortunately, Detroit has been without top running back Jahvid Best since late November, after the team placed him on season-ending injured reserve because of ongoing concussion problems. With running back Kevin Smith also banged up, you may be asking why the Lions would want to risk another running back injury in pass protection. Good point. But Stafford and the Lions don't necessarily have to use the running back in pass protection. Tight ends can also be used with this double-team concept. Detroit likes its two tight-end sets. Brandon Pettigrew can be used in the route schemes to create favorable matchups, while Tony Scheffler can help in pass protection. At 6-5, 255 pounds, Scheffler can help handle these monsters inside. If the four-man rush is controlled, the Raiders will be forced to use multiple blitz schemes to pressure Stafford. Typically, most blitz schemes are comprised of "free safety" coverages in the secondary. When there is one safety in the middle of the field, one-on-one matchups are created between defensive backs and wide receivers. Double teams on receivers are limited. With single coverage, guess who gets to come to the party? Megatron! Calvin Johnson can then feast on single coverage, which is an idea that he would find more than welcome. After an amazing start to the season, teams have been using multiple double-coverage schemes to defend Johnson. Although we have addressed the four-man pass rush, the Lions still must have answers for two-safety coverages and double teams on Calvin Johnson. Obviously, it's important for the Lions to get the ball to Johnson. Detroit does a good job of moving Johnson within the formations and placing him at different positions. I know he only has one touchdown catch in his past five games and matched a season low for receiving yards with 29 against the Vikings last week. We're going to fix that. The Lions and Stafford can attack the Raiders in their combination and matchup zones. Even when the Raiders play a zone defense, they use man techniques and don't just drop to specific spots on the field. It's similar to playing matchup zone in basketball where defenders play "man" defense on the player in their area. To attack combination coverage, an offense must use motions and stack formations. A stacked formation involves two or three receivers aligning close together or one behind another. These formations can cause a defense to loosen its tight coverage. Defensive backs will back off and try to "pass the receivers" to each other depending on the direction each receiver goes. Calvin Johnson and company can get free releases into the secondary with no obstruction and gain leverage on defenders. I am impressed with Johnson's versatility. Watching him against Minnesota, he has the ability to catch underneath routes and create yards after the catch. He doesn't necessarily have to run 20 yards down the field to have a 20-yard completion. This versatility is unique considering he stands at 6-5 and 236 pounds. Stafford's completions average only 5.82 yards, which ranks him 27th in the NFL. But I would be careful in saying the Lions' passing attack is too conservative. When an offense has lost its top running back for the season, and your running game is simply not as effective, you must use your short passing game as an extension of the running game. I would imagine that offensive coordinator Scott Linehan has had to use these short passing concepts to create positive yards on first and second down. Typically, these would be situations where the running game would be used. However, if the running game is ineffective due to injury, you must create other ways to compensate for the loss. Remember, the definition of insanity is doing the same thing over and over and expecting a different result. If Detroit can control the pass rush and get Johnson the ball, Raider fans will be the only ones acting insane.
Original Story:
http://msn.foxsports.com/nfl/story/de...
THE BACKYARD
BEST OF MAXIM
RELATED ARTICLES
Here's a transcript of the Lions defensive tackle's first meeting with the press since returning from a two-game suspension.
Detroit Lions running back Kevin Smith missed yet another practice as he recovers from a high ankle sprain.
Defensive backs Eric Wright (hamstring), Louis Delmas (knee) and Aaron Berry (shoulder), linebacker Justin Durant (hamstring) and defensive end Lawrence Jackson (thigh) also remain out for the Lions.
Sammie Hill hasn't put up eye-popping numbers the past two weeks -- five tackles and half a sack -- but the third-year lineman has played some of his best football with the Lions shorthanded.
Things have not gone particularly well for the Detroit Lions since their 5-0 start. They lost a winnable game to San Francisco after which their coach came totally unhinged, which has been followed by the team coming intermittently unhinged while going 3-5 over the last eight games. The playoffs still look like a good bet, but forgive Lions fans if they aren't taking anything for...
It doesn't seem like all that long ago the lockout was in full effect and I took a step of faith to check in on all the teams the Lions on the Lions 2011 schedule. During that Q&A with Raiders blogger Chris Shellcroft of Just Blog Baby suggested that both the Lions and Raiders would be fighting for a playoff spot when time for the game finally arrived. Turns out he was right...
When I sit down and begin typing each article, I set a goal to try and write in a way that makes the reader want to finish the entire piece.  That said, this article was one of the more challenging ones to do so. Chris Houston will return to the Lions lineup Sunday The reason wasn't because this game is not important, because it certainly is.  This weekend marks a must win for...
Detroit Lions running back Kevin Smith is expected to start in Sunday's game against the Oakland Raiders. Smith missed last week's game against the Minnesota Vikings with a high ankle sprain suffered against the New Orleans Saints in Week 13. Smith was acquired by the Lions after running back Jahvid Best suffered a concussion in Week 6. He's rushed for 229 yards and three...
The Lions got a bunch of defensive players back at practice on Friday, which could mean that the team is close to full strength when they face the Raiders in Week 15. It seems like a sure thing that they will have running back Kevin Smith back in the lineup. He practiced for the third…
Ndamukong Suh is returning from the suspension he earned with a Thanksgiving Day stomp, but he wasn't willing to talk about the aftermath (or his car accident) to Mike Valenti and Terry Foster during his weekly interview on 97.1 The Ticket, the Lions' flagship station in Detroit. More »
Preparing for Sunday's game, I did a Q and A with Levi Damien of Bloguin's Oakland Raiders blog, Thoughts from the Dark Side. Levi's answers to my questions are below, and I'll post a link to mine when they go live at TFTDS.  TWFE: The Raiders fans base has a Ndamukong Suh-like reputation, especially the infamous Black Hole. Is the reputation deserved, or overblown...
NFL News

Delivered to your inbox

You'll also receive Yardbarker's daily Top 10, featuring the best sports stories from around the web. Customize your newsletter to get articles on your favorite sports and teams. And the best part? It's free!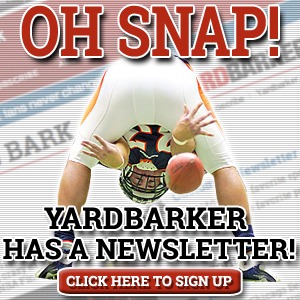 Latest Rumors
The Backyard

Today's Best Stuff

For Bloggers

Join the Yardbarker Network for more promotion, traffic, and money.

Company Info

Help

What is Yardbarker?

Yardbarker is the largest network of sports blogs and pro athlete blogs on the web. This site is the hub of the Yardbarker Network, where our editors and algorithms curate the best sports content from our network and beyond.