Found November 18, 2011 on Fox Sports Detroit:
PLAYERS:
Matthew Stafford
,
Jim Schwartz
,
Aaron Rodgers
,
Tom Brady
,
Dominic Raiola
,
Jeff Backus
,
Rob Sims
,
Cam Newton
,
Ron Rivera
,
Steve Smith
,
Chris Houston
,
DeAngelo Williams
,
Angelo Williams
,
Jonathan Stewart
,
Greg Olsen
,
Brian Billick
,
Kurt Warner
,
Jim Mcmahon
TEAMS:
Detroit Lions
,
Green Bay Packers
,
New England Patriots
,
Carolina Panthers
,
Minnesota Vikings
Matthew Stafford is the latest Lions quarterback to learn that there is no protective pocket after having a bad game. The phone lines on sports-talk radio have been burning all week from callers who suddenly perceive Stafford as the problem, not the solution, in the Lions recent struggles. The Lions are 1-3 in their last four games, and Stafford had one of his worst games as a pro in last weeks 37-13 loss at Chicago. He had four interceptions, and two were returned for touchdowns. Coach Jim Schwartz has no concern that last weeks game was anything but an aberration, or that there will be any lingering effects in Sundays crucial game against the Panthers at Ford Field. The least of our worries is our quarterback, Schwartz said. Staffords record this season indicates he will have a bounce-back performance against the Panthers. My prediction: Lions 23, Panthers 17. It doesnt cover the seven-point spread but keeps the Lions on course to make the playoffs. When it comes to rating Stafford, and professing that the Lions have a better option at quarterback, people have short memories, selective memories or no memories. Last weeks game must have wiped clean the memory of Staffords performance in the first eight games 19 touchdown passes, four interceptions. Through eight games, only the Packers Aaron Rodgers was better than Stafford with a 24-3 ratio of TD passes to interceptions. Windy conditions at Soldier Field and playing with a broken index finger on his right (passing) hand contributed to Staffords poor play last week. And so did the inevitability that even the greatest quarterbacks have bad games. The Patriots Tom Brady had 4 TDs and 4 interceptions in a loss to Buffalo earlier this season. Stafford played only three games in 2010 because of injuries to his right shoulder, but since opening day of 2010, the Chicago debacle was the only one in which Stafford had more interceptions than touchdowns. Thats a span of 12 games. Even Rodgers hasnt done that in his last 12 regular-season games. He had an interception without a TD pass in a 7-3 loss to the Lions in Game 13 last year. Rodgers was knocked out late in the first half with a concussion and did not play in the next weeks loss to New England. Here is the Fox Sports Detroit Lions-Panthers Breakdown: Lions spotlight: Raiolas 150 Center Dominic Raiola has been more than just a feisty presence in 11 seasons with the Lions. Hes been a durable, reliable player. Hell start his 150th game with the Lions, and its his 166th game overall since coming to the Lions in 2001 as a second-round draft pick in 2001. Raiola has missed only four games, all in a row in 2008 because of a thumb injury. Ive always prided myself on showing up every day and trying to stay as healthy as possible, and showing up to work as prepared as I can be, Raiola said. That would be my role on the team. Thats what I can bring. Its just how I was raised, the gym I was raised in, throughout my career. You cant get hurt. Theres no time for being hurt. Left tackle Jeff Backus was a first-round pick in 2001 and has started every game. Sundays game will be No. 170. Backus was a starter as a rookie. Raiola was a backup and did not start until opening day of 2002. Its amazing, guard Rob Sims said of the durability shown by Raiola and Backus. Its nothing short of amazing. Those two guys came to work every day for 11 years. Panthers spotlight: Cam Newton The rookie quarterbacks statistics have declined since his fast start, but that was expected and do not detract from what hes accomplished. In a short time, Newton has become the face of the franchise and silenced the predraft critics in every way -- passing, running, maturity and leadership. Newton started the season by passing for 422 yards in a loss to Tampa Bay and did even better the next week, throwing for 432 in a loss to the Packers. For the season, Newton has completed 60.2 percent of his passes with 11 TDs, 10 interceptions, 374 yards rushing and 7 rushing TDs. Its given us most certainly hope, and thats probably a big word people use around here, said Panthers firstyear coach Ron Rivera. But what hes done is, hes given a little bit of swagger as well. Theres an air of confidence about the young man. Hes got a tremendous amount of belief in who he is as a football player and as a person, and it kind of rubs off on these guys. You guys (the Lions) are in a great situation with Matthew Stafford. You guys have someone whos becoming your franchise quarterback. Well, thats what Cams becoming for us. Lions key matchup: Panthers WR Steve Smith Smith is short at 5-9, but he still plays a big game in his 11th pro season, all with Carolina. Smith has been Newtons go-to guy, with 51 receptions for 951 yards and 4 TDs. Defenses cant concentrate solely on Smith, though. Theyve got play-makers everywhere, said Lions cornerback Chris Houston. The Panthers have a triplethreat running attack, with three players with more than 300 yards rushing DeAngelo Williams (398), Newton (374) and Jonathan Stewart (350). Tight end Greg Olsen chips in with 34 catches and 4 TDs. QB Gloves: The controversy over Matthew Stafford wearing gloves last week was heightened in part by FOX network analyst Brian Billick harping on it during the game with no knowledge on Billicks part that Stafford wore the gloves to get a better grip because of a broken index finger. In his weekly appearance on ESPNs Mike & Mike show, Billick acknowledged that his comments were made without knowledge of the broken finger. Wearing gloves isnt new for quarterbacks. Super Bowl winners have done it most recently Kurt Warner of the Rams, Giants and Cardinals, and Jim McMahon, who played for the Bears in the 1980s. McMahon wore gloves in the playoffs for the 1985 Bears team that went 15-1 and won the Super Bowl. It was widely thought that McMahon wore the gloves in games at Soldier Field to keep his hands warm. McMahon said later that he wore them to get a better grip on the ball. I even threw some spirals, McMahon was quoted as saying at one point. I may wear them the rest of my career.
Original Story:
http://www.foxsportsdetroit.com/11/18...
THE BACKYARD
BEST OF MAXIM
RELATED ARTICLES
Matthew Stafford was drafted first overall in the 2009 NFL draft for a reason: he has a cannon for an arm and has all the makings to be a great quarterback in the NFL.  However, Lions fans have been frustrated over the last five weeks with his scared, and quite frankly bad, play on the field. Stafford has certainly drawn the ire of Lions fans before, this is nothing new, but in...
(By Ron Green Jr., rgreenjr@charlotteobserver.com) Before there was Cam Newton, there was Matthew Stafford.In 2009, Stafford was the No. 1 overall pick in the NFL draft, a Georgia quarterback ordained by the Detroit Lions as the player around whom a franchise would be remodeled. He joined a team that had gone winless the previous season and, now in his third season, Stafford and...
Lions quarterback Matthew Stafford will wear a glove on his passing hand for the second straight game on Sunday against the Panthers, but this time he says not to expect a repeat of his four-interception performance against the Bears. Instead, Stafford said, he has practiced with his glove on and is now comfortable passing with…
Four Detroit Lions, including quarterback Matthew Stafford, and two Chicago Bears have been fined by the NFL for incidents in their game last Sunday. Stafford instigated a scuffle when he grabbed the helmet of Bears defensive back D. J. Moore and threw him to the ground. Stafford has been fined $7,500, while Moore is hit for $15,000 for striking back at Stafford and being ejected...
Matthew Stafford and Calvin Johnson took part in practice on Wednesday, leaving little doubt to the availability of the Lions' biggest stars.
NEW YORK (AP) -- Four Detroit Lions, including quarterback Matthew Stafford, and two Chicago Bears have been fined by the NFL for incidents in their game last Sunday.
Cam Newton and the Carolina Panthers will square off against Matthew Stafford and the Detroit Lions on Sunday at Ford Field. Who will come out on top? Jason Horowitz and NFL.com's Pat Kirwan break down this upcoming matchup. … [visit site to read more]Video: CBS Sports Previews Carolina Panthers at Detroit Lions - SideLion Report - SideLion Report - A Detroit Lions Fan Site ...
A confrontation between Lions quarterback Matthew Stafford and Bears defensive back D.J. Moore that set off a brawl on Sunday has resulted in fines for both men. Stafford was fined $7,500 for throwing Moore to the ground while Moore was blocking him following an interception. That led to Moore retaliating after the play by running…
After a couple of lean years, the Detroit Lions have assembled a legitimate playoff contender centered around quarterback Matthew Stafford. The Carolina Panthers are in the process of attempting to construct one of their own to surround Cam Newton.
Seeing as the main reason for Detroit's brutal offensive performance in last weekend's lopsided loss was gusting winds - that is, according to Jim Schwartz and Matthew Stafford - the Lions shouldn't have much trouble offensively over the next month. Facing a struggling Carolina Panthers defense also could help the unit get back on track. Opening a stretch of four straight...
Lem Barney could only laugh and wonder what his old gang of Lions teammates and coaches would have said if a defensive back complained that a quarterback was too aggressive in hitting him. Its almost unthinkable for the Hall of Fame cornerback who played 11 seasons with the Lions (1967-77) with such flair and style that he was dubbed The Supernatural. But that happened in the Lions...
Cam Newton and the Carolina Panthers take on Matt Stafford and the Detroit Lions in midseason football. One team looking to rebuild and the other looking to take the next step.
NFL News

Delivered to your inbox

You'll also receive Yardbarker's daily Top 10, featuring the best sports stories from around the web. Customize your newsletter to get articles on your favorite sports and teams. And the best part? It's free!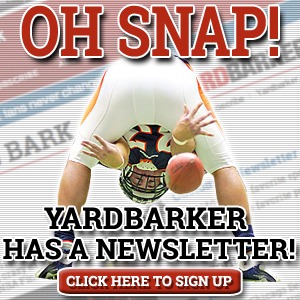 Latest Rumors
The Backyard

Today's Best Stuff

For Bloggers

Join the Yardbarker Network for more promotion, traffic, and money.

Company Info

Help

What is Yardbarker?

Yardbarker is the largest network of sports blogs and pro athlete blogs on the web. This site is the hub of the Yardbarker Network, where our editors and algorithms curate the best sports content from our network and beyond.