Found August 08, 2013 on Fox Sports Detroit:
PLAYERS:
John Bonamego
,
Sam Martin
,
David Akers
,
Stefan Logan
,
Micheal Spurlock
,
Mike Thomas
,
Patrick Edwards
,
Steven Miller
,
Dylan Gandy
,
Jake Scott
,
Larry Warford
,
Jason Fox
,
Corey Hilliard
,
Kris Durham
,
Corey Fuller
,
Chaz Schilens
,
Matt Willis
,
Terrence Austin
,
Ashlee Palmer
,
Tahir Whitehead
,
Travis Lewis
,
Ron Bartell
,
Darius Slay
,
Reggie Bush
,
Glover Quin
,
Jason Jones
,
Israel Idonije
,
Devin Taylor
,
Willie Young
,
Kellen Moore
,
Shaun Hill
,
Thaddeus Lewis
,
Jim Schwartz
TEAMS:
Detroit Lions
,
New York Jets
,
Appalachian State Mountaineers
Are you starving for some football? Evidently so. Ford Field in Detroit, with a capacity listed at 65,000, is sold out for Friday's preseason opener between the Lions and the New York Jets. That's the Lions, who lost their final eight games in 2012 and finished 4-12, vs. the Jets, who were 6-10 and probably won't be any better this year. The stadium certainly isn't expected to be full. There will be no-shows, typical of the preseason. Much of the reason behind the sellout is the NFL's requirement that season-ticket holders pay for these exhibitions. But still - let's say it again for emphasis - it's a sellout for a Lions-Jets preseason game! Go figure. Here are five storylines to follow: 1. The Lions have completely overhauled their special teams, starting with a new coordinator in John Bonamego, who has 15 years of NFL coaching experience. There's also a new punter (fifth-round draft pick Sam Martin), new kickers (David Akers and Youtube sensation Havard "Kickalicious" Rugland) and new return specialists (goodbye, Stefan Logan). Martin has a strong enough leg to help flip field position, but will he be consistent and can he be a weapon on pooch punts? Does Akers still have enough leg strength and accuracy to bounce back from a bad season following hernia surgery? And how will the lovable, Norwegian-born Kickalicious, who unquestionably has a powerful leg, handle kicking in the first football game of his life? Perhaps the most intriguing part of this preseason, however, will be the competition to return punts and kicks. It's not something that can be evaluated in training-camp practices, where there's little to no hitting on special teams for fear of injuries. It's going to take these exhibition games to sort it all out. Make Micheal Spurlock the favorite to win a dual role because of his background. He returned both a punt and a kick for touchdowns last year with San Diego. But there are other options, including Mike Thomas (replaced Logan on punt returns in season finale), Patrick Edwards (practice squadinjured last year) and undrafted free agent Steven Miller, a 5-foot-7 speedster from Appalachian State. 2. Starting jobs and other key roles are also up for grabs on offense and defense. Will the offensive line click better with Dylan Gandy, Jake Scott or third-round draft pick Larry Warford at right guard? The same goes for the right-tackle competition between Jason Fox and Corey Hilliard. The No. 4 and 5 receiver spots are open. Edwards appears to have the edge, but he had a strong training camp last year and then disappeared in the preseason games. Others battling for a roster spot include Spurlock, Thomas, Kris Durham, sixth-round draft pick Corey Fuller, along with free-agent additions Chaz Schilens (Oakland), Matt Willis (Denver) and Terrence Austin (Washington). How each player also fits in on special teams could be decisive. Over on defense, Ashlee Palmer, Tahir Whitehead and Travis Lewis are fighting for a starting position at left outside linebacker. Meanwhile, eight-year veteran Ron Bartell is trying to hold off youngsters such as Darius Slay (second-round pick this year) and Bill Bentley (third-round pick last year) for the right cornerback job. Bentley apparently is the leading candidate to be the nickel back (fifth defensive back in passing situations). 3. High-profile newcomers such as running back Reggie Bush, safety Glover Quin and defensive end Ezekiel "Ziggy" Ansah, the team's first-round draft pick, are expected to make their Detroit debuts. Bush's appearance could be brief, but the Lions need to get Ansah as much experience as possible. Ziggy is part of the makeover at defensive end that features two veteran free agents, Jason Jones (Seattle) and Israel Idonije (Chicago), and another rookie, fourth-round pick Devin Taylor. Willie Young, who returns for his fourth year, is also part of the rotation. Ansah has been decent, not spectacular in practices, but don't forget that he impressed no one in the Senior Bowl workouts and then totally dominated the game as his draft stock skyrocketed. Maybe he's just one of those guys who turns it on for game day. 4. The Lions should have one of the stronger quarterback rotations during the preseason, provided the improvement shown so far by Kellen Moore carries over. Shaun Hill is one of the top No. 2 QBs in the game. Moore, the winningest quarterback in college-football history, is in his second year in the system and appears to have better arm strength. But is he improved enough to deserve a spot on the 53-man roster for the second straight year? And then there's Thaddeus Lewis. How many No. 4 quarterbacks have started a regular-season game in the NFL, much less the season finale the previous year? Lewis did that for Cleveland and completed 22-of-32 passes for 204 yards with one touchdown and one interception against Pittsburgh. 5. The Lions are 12-4 in the preseason in Jim Schwartz's four years as coach (3-1 in 2009, 3-1 in 2010, 4-0 in 2011 and 2-2 last year). Don't be surprised if they have another strong August. There should be a little more incentive to win these games, meaningless as they are, to start getting rid of the bad taste those season-ending, eight straight losses left behind. PREDICTION: Lions 20-17
Original Story:
http://www.foxsportsdetroit.com/nfl/d...
THE BACKYARD
BEST OF MAXIM
RELATED ARTICLES
CLOSE ENOUGH
Chaz Schilens has struggled to latch on to a team in the NFL since being selected in the 7th-round of the 2008 Draft. He signed with the Lions just prior to training camp, and he has a very small chance of making their active roster. Regardless, while teammate Calvin Johnson is the greatest player on the team, Schilens has the most amazing tattoo on the team, and quite possibly the...
The friendship between Detroit Lions safety Louis Delmas and tight end Tony Scheffler goes back to their college days when they were teammates at Western Michigan. Delmas is black, Scheffler white. They have an unconventional relationship, which they discussed with the Detroit News' Terry Foster. "Me and (Scheffler) have a relationship many people do not have - both black...
Lions wide receiver Chaz Schilens got a tiger tattoo that covers his entire back. Larry Brown Sports has the story. According to Paula Pasche of The Oakland Press, the tattoo took 24 hours total to complete and had Schilens in the tattoo parlor on three separate occasions. While I don't really understand the significance of the jungle-themed ink, I suppose it's a good thing...
Welcome to our 2013 Lions Team Preview. To get a better understanding of what each NFL team might be up to this season we are asking local team bloggers to answer a few questions for us.  We talked to Zac Snyder the NFL Editorial Director for fansided.com, and Lions blogger for Side Lion Report, to get the inside scoop. Follow him at @ZacSnyder and check out his work.   1. Matthew...
Detroit Lions wide receiver Chaz Schilens recently got a massive tattoo on his back, and the only things missing are Mowgli and Baloo. We have to assume he was going for a "The Jungle Book" theme, because he opted for a tiger over a lion and we hope he's not showing support for the Cincinnati [...]
Who knew they ever had Lions earrings? I thought the one earring fad was over, but maybe not. Yes, Nate Burleson is wearing a lion earring. pic.twitter.com/Oi7WfQTTZ7 — Pride Of Detroit (@PrideOfDetroit) August 10, 2013
Herman Moore was my favorite wide receiver growing up. Calvin Johnson gets the nod for all-time favorite wide receiver nowadays, but Moore will always have a special place in my heart. That's why it was especially neat to see him catch a touchdown pass from my favorite Lions quarterback Matthew Stafford during training camp this past week.  See for yourself:  Moore...
Darius Slay is a rookie cornerback for the Detroit Lions, and even though he's young enough to not know the full history of the NFL, he has some football knowledge. Robert Klemko of TheMMQB has a hilarious story about Slay's youth giving everyone in a Lions film session a laugh for the ages. Packers offensive game film was being watch by Lions defensive backs, when the veterans...
Having trouble learning English? Step to the Wu. Detroit Lions kicker Havard Rugland is Norwegian, and discovered he could learn English by listening to the Staten Island-based rap outfit The Wu-Tang Clan (caution; this is a rap video, so proceed accordinly). "The first day we're hanging out in the hot tub, right?" guard Rob Sims told The Detroit Free Press . &quot...
Riley Cooper's recent racist outburst has brought a significant amount of attention to the issue of racism in the NFL this month. Many fans and players are outraged over his use of the N-word, while others have expressed a willingness to forgive Cooper and move on. For some, it is the way Cooper used the [...]
Chaz 'who' Schilens -- who had a breakout 2 TD, 29 catch year every year...ripped by Al Dukes. **Follow us on Twitter, View via Our Mobile Site, or Return to BobsBlitz.com.Follow us on Twitter. Subscribe or Return to Bob's Blitz.
These two teams struggled last year and they're trying to improve big time this year. It will take some time to find out if that happens, but there is a chance for them to show us a preview this Friday.As the New York Jets march into Ford Field to go up against the Detroit Lions for their first preseason game, there will be five things to look out for.First thing to look out for...
NFL News

Delivered to your inbox

You'll also receive Yardbarker's daily Top 10, featuring the best sports stories from around the web. Customize your newsletter to get articles on your favorite sports and teams. And the best part? It's free!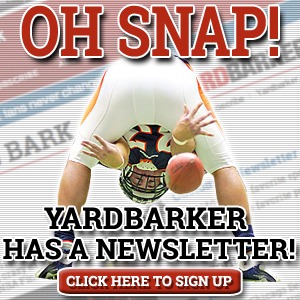 Latest Rumors
The Backyard

Today's Best Stuff

For Bloggers

Join the Yardbarker Network for more promotion, traffic, and money.

Company Info

Help

What is Yardbarker?

Yardbarker is the largest network of sports blogs and pro athlete blogs on the web. This site is the hub of the Yardbarker Network, where our editors and algorithms curate the best sports content from our network and beyond.