Found June 13, 2012 on Fox Sports Midwest:
PLAYERS:
Chris Long
,
Jeff Fisher
,
Kendall Langford
,
Robert Quinn
,
Michael Brockers
,
Steven Jackson
,
James Laurinaitis
,
James Hall
,
Leonard Little
,
Steve Spagnuolo
,
Kyle Vanden Bosch
TEAMS:
St. Louis Rams
,
Miami Dolphins
,
Detroit Lions
,
Tennessee Titans
,
Chicago Bears
,
New Orleans Saints
ST. LOUIS Chris Long is in transition. Not long ago, the St. Louis Rams premier defensive end was a rookie fascination. Not long ago, he was the second-overall pick in the 2008 NFL Draft with famous family ties to complement his promising size and speed. He was Chris Long, the unproven-but-gifted son of Hall of Famer Howie Long. He was Chris Long, the consensus All-American from Virginia who called the moment the Rams selected him the best of his life. He was Chris Long, the low-risk pass rusher whom then-St. Louis coach Scott Linehan viewed as a no-brainer to pick the night the Santa Monica, Calif., native became a centerpiece of the Rams future at defensive line. Long remains so only hes more seasoned after 64 games with 149 tackles and 30 sacks for his career. On Tuesday after a minicamp session, he looked toward an empty practice field at Rams Park and considered the passing of time. In three months, St. Louis will begin a season of renewal, and hell be trusted to provide veteran leadership in the Rams first campaign under coach Jeff Fisher. It reminds you that time flies, Long said of becoming a veteran. Honestly, it has been a blur more luckily than anything, because we have lost a lot. So its not a bad thing that time has flown by. But it also reminds you that you have to make the most of every opportunity. Yes, Longs wiser with each flip of the calendar, and he has evolved into someone whos known for production rather than potential. This fall, at age 27, hell be the oldest member of a skilled line that includes free-agent pickup Kendall Langford, a defensive tackle formerly of the Miami Dolphins, and fresh faces like defensive end Robert Quinn and defensive tackle Michael Brockers both first-round selections from the past two years who represent promise like he once did. For Long, though, his outlook has changed. The future has arrived. Before I know it, hopefully if Im lucky, Ill be an eight-year guy, he said. Ill be looking back like, Where did the last four years go? I have to work hard and take advantage of all my opportunities. Small moments have marked large change within the Rams this offseason. Thats important to remember when understanding how Long has moved on from last season, when he earned a career-high 13 sacks. Theres the command Fisher projects at Rams Park as a 17-year veteran. Theres the message sent from locker-room leaders when speaking about the new staff, like when running back Steven Jackson said Tuesday, You can definitely tell a difference in leadership, a difference in confidence. Its not so much of on-the-job training. Theres the credibility that came with Fishers hire, an announcement that helped Long focus on continuing his growth. It feels good to know if we handle our business as players, hes definitely going to handle his business as a coach, because he has been doing it for so long, and he has exhibited he knows how to do it, Long said of Fisher. Its a reassuring thing that youre going to get an honest shake at it. The feeling is mutual. Fisher has compared Long to Kyle Vanden Bosch, a defensive end for the Detroit Lions who played for the Tennessee Titans from 2005 to 2009. Like Vanden Bosch, Long has earned a reputation for being relentless, and it shows in the 6-foot-3, 270-pound players steady improvement as a pass rusher: Long had 4 sacks as a rookie, 5 in his second year and 8 in this third before the breakout season last fall. Meanwhile, he has 122 solo tackles for his career. I think Chris has been more comfortable with who he is as a player, said Rams linebacker James Laurinaitis, who had 105 tackles and three sacks last season. I think he realizes what his strengths are, and hes focused on perfecting those things. You can see it in the limited numbers of opportunities he had to pass rush last year with how much we were behind in games. He took advantage of them. Last year, he didnt sneak up on anybody. He got even better. I think thats a testament to his work ethic. In the NFL, youre either getting better or youre getting worse. Hes gotten better every year, and I hope he continues to do so. With that improvement, though, comes knowledge that he must continue growing to preserve his future in the league. Its part of the NFLs cycle: Long learned how to be a trusted professional by observing former Rams stars James Hall and Leonard Little. Veterans mentor the young, youth always replaces the old, and the evolution continues for each player until retirement. Now, Long finds himself on the opposite side of that maxim. He has become an example to young players like Quinn and Brockers. Its a role Long has tried to embrace while keeping ambitious goals for himself. My bar is always high, Long said. I want to get better and better. Whatever I did last year, I want to play a lot better football. Im not talking about from a numbers standpoint. Im talking from a football standpoint. At the end of the year, hopefully, I would be able to tell that Ive become a better player. Long lets his mind wander a bit when speaking about the future. He sees a lot of potential in the Rams defensive line, and hes eager to watch it develop. Still, a question remains that will reveal much about the Rams success this season: How good can this young group of pass rushers be? We can be really good, Long said. We have a lot of speed. Robert Quinn looks really good right now. If he keeps working hard, the skys the limit for him. Ive always thought that, and I think hes on the cusp of being a pretty good player in this league. Hes got to go out and put it together. If guys like him take the next step, the skys the limit. If I take my next step, if we all try to take this next step, we can try to be tone-setters for this team. Long has shown that ability. His three-sack performance in a stunning victory over the New Orleans Saints last October was a highlight in an otherwise dreary final season under former coach Steve Spagnuolo. That afternoon at the Edward Jones Dome, Long showed that hes a maturing star whos creating his own legacy removed from his famous father. Chris, hes one of those lead-by-example guys, Fisher said. He goes and goes and goes. When you play that hard consistently play after play after play, you make plays. Young guys look up to you that way, and you can establish a standard of play on the defensive line. Fisher has tried to spark that spirit in others by challenging his defensive line to make history this season. He has said he wants the group to break the NFL record of 72 sacks set by the Chicago Bears in 1984. Consider: St. Louis had 39 sacks last season, tied for 15th in the league. Most likely, the gap will be too large to overcome to set a new standard. Still, the request shows how much faith Fisher has in Long and others on the defensive line. The trust is warranted. In an offseason of transition for the emerging defensive end, Long is eager to show that last season was little more than Act One. Last year, he turned it on real big, said Quinn, who finished with five sacks and 23 tackles as a rookie. Just making the o-linemen terrified of you when you do that, youve got the winning edge. Its definitely something I saw that he did last year.
Original Story:
http://www.foxsportsmidwest.com/06/13...
THE BACKYARD
BEST OF MAXIM
RELATED ARTICLES
ST. LOUIS (AP) St. Louis Rams defensive end Chris Long is hitting the playbook again, learning another defense. It's nothing new for the former No. 2 draft pick. "This is like my fourth system I've learned," Long, entering his fifth season, said Wednesday after the second day of Rams minicamp. "The fourth time around in a new system, I know how to study and...
New head coach of the St. Louis Rams, Jeff Fisher, has expressed his conifidence when the Rams drafted Janoris Jenkins. According to Fisher the Rams did a tremendous amount of research into Jenkins and he is sure they got a good NFL cornerback, in fact he expects Jenkins to start opposite Cortland Finnegan. While the Rams were
It looks like good news for St. Louis Rams' fans. In a live chat with Rams' VP of Football Operations and COO Kevin Demoff it was revealed that although DE Chris Long and LB James Laurinaitis will be free agent's after this season, the plan is to resign both of them. In fact, contract negotiations have already begun with each player. Thanks to an ongoing focus over the last...
Getty Images According to StLouisRams.com, Rams rookie cornerback Janoris Jenkins has been mainly working with the first-team defense along with veteran Cortland Finnegan.  This shouldn't come as a surprise, since Jenkins would've easily been a top-10 pick in this year's draft if he didn't have any off the field concerns. Working alongside a veteran like Finnegan should...
ST. LOUIS The old clich proves true for Rams defensive end Michael Brockers: What a difference a year makes. This time last year, Brockers was preparing for his first as a starter on the LSU defensive line. Now, the 6-5, 322-pound Brockers is a multi-millionaire experiencing his first taste of the NFL. The Rams selected the talented run-stopping Brockers with the No. 14 overall...
Wide receiver Brian Quick has signed a four-year deal with the St. Louis Rams. Financial terms were not disclosed. Fantasy Spin: The second-round pick out of Appalachian State will now enter minicamp competing for a starting job, and will have good odds of doing so as St. Louis has one of the weakest receiving corps in the NFL. Quick will have solid sleeper appeal if he ultimately...
St. Louis Rams running back Steven Jackson voiced words of support for new coach Jeff Fisher as the Rams prepare for the 2012 season. - Photo courtesy of Getty Images Over the years, St. Louis Rams stud running back Steven Jackson has matured as one of the leaders of the team and is literally the face of the Rams franchise. So when the running back went out of his way and told...
The Rams signed second-round pick Brian Quick to a four-year contract on Tuesday. Quick was the first player drafted in the second round of the 2012 draft. The 6-4, 220-pound Appalachian State product was viewed by some teams as a project. He made a strong first impression on quarterback Sam Bradford, whose receiving corps has been modest for his two-year tenure with the Rams...
At first glance, the four-year contract signed by St. Louis rookie defensive tackle Michael Brockers late last week conforms perfectly in terms of total value, allocation and signing bonus to the numbers allocated by the NFL for the No. 14 overall slot in the 2012 draft. However, the $9.52 million deal includes a few details that could make things downright devilish for some unsigned...
ST. LOUIS (AP) -- Steven Jackson isn't much for sitting around during the offseason. The St. Louis Rams running back, known for his exotic travels, visited Brazil, Argentina and Peru earlier this year and plans on hitting the road again once the Rams' three-day mandatory mini-camp ends Thursday. "I'll be going somewhere, doing something," Jackson said. &quot...
The Rams finally did a couple of things that we and many others have been calling for - they took the WR seriously early in the draft by selecting Brian Quick and they addressed my biggest gripe with them for years by drafting RB with Isiah Pead. This team has done a disservice to Steven Jackson by not providing him with a real backup. Remember when they played him in 2010 with...
The St. Louis Rams and outside linebacker Rocky McIntosh, a starter for most of six seasons with the Redskins, have signed a free-agent contract. The 29-year-old McIntosh could challenge for a starting spot in St. Louis, which has also signed Jo-Lonn Dunbar and Mario Haggan to contracts at the position. McIntosh was a second-round draft pick in 2006 and played under Gregg Williams...
NFL News

Delivered to your inbox

You'll also receive Yardbarker's daily Top 10, featuring the best sports stories from around the web. Customize your newsletter to get articles on your favorite sports and teams. And the best part? It's free!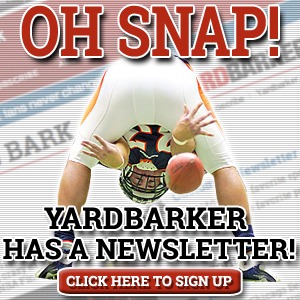 Latest Rumors
The Backyard

Today's Best Stuff

For Bloggers

Join the Yardbarker Network for more promotion, traffic, and money.

Company Info

Help

What is Yardbarker?

Yardbarker is the largest network of sports blogs and pro athlete blogs on the web. This site is the hub of the Yardbarker Network, where our editors and algorithms curate the best sports content from our network and beyond.