Found June 08, 2012 on WhoDeyFans:
With seven legitimate options to make up the linebacker corps and only six spots available, the Bengals will be forced to make a tough decision at some point. That decision may get delayed until October with a possible suspension looming over Dontay Moch, but it will have to come at some point.
Of course, Thomas Howard and Manny Lawson are locks, being starters. And with Brandon Johnson no longer on the roster, Dan Skuta becomes the team's jack-of-all-trades backup. After these three, however, things become interesting. But some tidbits of news have come out after OTAs about the position group that warrant a look.
Rey Maualuga: Rey is the starting middle backer by default, even with speculation that he could be suspended following his offseason arrest. But more concerning was his tendency to over-pursue plays and get himself out of position. A backer who runs himself out of the play is a deficit to the team, a fact that Rey knows well enough that he reportedly watched the draft with a bit of concern for his job.
According to Geoff Hobson, "Maualuga has been reminding everybody this is his first OTA as a middle backer." It would seem that the offseason work is doing Rey a lot of good.
Paul Brown Stadium observers are saying not only is Maualuga playing faster, but he's also playing with a smile on his face. Guenther says he doesn't recall Maualuga making a mental mistake in the OTAs.
Apparently the reps are doing Rey a lot of good. As are the changes to running the defense that have been made by his new coach, Paul Guenther, to better fit the way he plays the game so that he does not have to over-think plays. And so is being fully recovered from his ankle sprain.
"I felt like I was playing scared, or playing worried. At times you saw where I was getting cut-blocked, so every time someone would get low I would just give out and was just protecting my ankle first," he said. "I was playing wrong football, as far as I didn't want to reinjure my ankle and be done with the season."
Question: is this the year that Maualuga becomes the player that the coaches (and the fans) thought they were getting when they drafted him in 2009?
Vontaze Burfict: Fans who were frustrated with Maualuga's play last year were intrigued with the talented but self-imploded Burfict. It makes sense that Burfict would want to play for the coach who helped cultivate Ray Lewis, and many — myself included — love the prospect of cheering for the guy who was once lauded as possibly becoming the most dominant middle backer since Ray-Ray.
In the wake of Burfict's 18 month free-fall from high first rounder to undrafted college free agent, there was no guarantee that he would even make the Bengals' roster, especially if he gave the offseason workouts as little effort as he gave the Combine and his Pro Day. But reports are indicating that is not the case.
Burfict, who came in with the hard knocks of being undisciplined and lacking instincts, has drawn the praise of Guenther for how he continues to play fast even though he's been saddled with making the calls out of a foreign playbook. With what looks to be two backer spots available and players like 2011 third-round pick Dontay Moch and 2010 fourth-rounder Roddrick Muckelroy in the mix, Burfict has asserted himself as no longer a long shot. (emphasis mine)
I am on record as saying that, even though he won't just hand the kid a roster spot, Marvin wants Burfict on the team. Really wants him. If Burfict is willing to put in the work, Marvin will do anything he can to help him make the team. And why shouldn't he?
Question: what do you need to see before you buy stock in Burfict? Or are you already buying in?
Dontay Moch: Though the NFL has yet to confirm it, reports indicate that Moch will be suspended by the league for the use of a banned substance. Bobbie Williams was suspended for four games the same infraction. If the league is consistent, that means Moch will have missed his first 20 games as a pro after not seeing the field as a rookie due to a broken foot and migraine problems, which has definitely slowed his development according to Hobson.
"He's been here for a year and he's making mistakes that he shouldn't be making," said defensive coordinator Mike Zimmer this week. "He's sat in the meetings and heard stuff but that's not the best way for him to learn. He has to get out there and do it. He's behind schedule that way."
But all is not lost for the young SAM backer, who has begun to garner a bit of praise from the people who watched him play during OTAs.
"He can definitely get upfield," said linebackers coach Paul Guenther. "He's got value to us as a pass rusher, but we have to have confidence that we can play him on first and second down, too. And fourth down (special teams) is going to be very important for him."
Moch's athletic ability was compared to Jerome Simpson's, which is a loaded analogy. But there is no denying that Simpson had incredible talent — as evidenced by his touchdown flip — even if he was never able to fully harness it while on the team. So this comparison is not a slight of Moch or an insinuation that he is doomed to fail as a Bengal as Simpson did.
Simply put, Moch needs reps. He might have attended a year's worth of meetings, but his body is still a rookie. The good news for him is that his foot is healed and his migraines are now under control. So his development as the backup to Manny Lawson is in full swing.
Question: already behind in his development, will Moch be able to get back on the active roster if he is prevented from playing at the beginning of the season?
Roddrick Muckelroy: Despite my searching, I found no news to report about Muckelroy? It's hard to say if that is good or bad in terms of development, but no news about the Achilles tendon that he injured in the preseason last year is definitely good.
Roddrick's spot is the middle, where Maualuga and Burfict already are. The team will not have room for three MIKE backers. He could be moved to the strong side if needed (ie during a suspension of Moch). That puts pressure on Muckelroy to be productive at both spots, while Burfict and Moch can focus on just one. But Muckelroy has the advantage of having proven himself on special teams in 2010, something Moch and Burfict have not done.
As I said to begin the post, this is going to be an interesting camp battle to watch. Someone among the trio of Burfict, Moch and Muckelroy will eventually have to be let go. Whoever the odd man out is, he is unlikely to clear waivers. Who do you think he will be? The high-risk, high-reward Burfict? The athletically gifted Moch? Or the solid Muckelroy?
Original Story:
http://whodeyfans.com/2012/06/08/look...
THE BACKYARD
BEST OF MAXIM
RELATED ARTICLES
Vontaze Burfict. Undrafted free agent signed by the Cincinnati Bengals hours after the 2012 NFL draft. Somewhat controversial from his sloppy predraft process, which transformed early-round projections into a not-drafted-at-all reality. Beyond that. Nothing. Well let me rephrase. Nothing controversial. In fact most of the time that Burfict is participating during Cincinnati's...
[caption id="" align="alignnone" width="594" caption="Benard Scott is looking for more opportunities to make an impact for the Bengals in 2012."][/caption] On Wednesday afternoon, Bengals running back Bernard Scott revealed that he thought the offensive guard spot was a "weak point" for the team last year. Scott didn't exactly...
The Bengals got a pair of draft picks in exchange for Ochocinco Former Cincinnati Bengals wide receiver Chad Ochocinco was released yesterday by the New England Patriots after a single disappointing season in Foxboro. The Bengals received two draft picks in exchange for the former franchise WR. They spent the first one on S George Iloka, who has been impressive thus far in...
Now that OTAs are in the books and with mandatory minicamp set to begin, now is a good time to revisit the roster projections that I made last month and see how the battle leaders are changing. I have included the list with a few roster updates. As always, your thoughts on my breakdown are welcomed and encouraged. OFFENSIVE ROSTER PROJECTION Pos Starter Backup Practice Squad...
The Cincinnati Bengals made every fan question their reality and whether or not they were dreaming when they decided to pull the trigger, trading disgruntled quarterback Carson Palmer to the Oakland Raiders on October 18, 2011. What really made us all pinch ourselves was what we got for him. The Bengals got a first-round pick in the 2012 NFL draft, which they used on cornerback...
I hope you have enjoyed this look through this year's schedule so far. While nothing is certain in June, I think it shows that there is good reason for optimism that the Bengals will make a repeat showing in the playoffs when January rolls around. The Bengals do not face an AFC North opponent in the third quarter of the season. Instead, they tackle an NFC East team, then a trio...
The continuing availability of some free agent tailbacks like Cedric Benson, Ryan Grant and Jackie Battle has been a source of puzzlement in this space for some weeks now, but one AFC pro scout who has done some homework on the three did shed some light on the inability of the first of that trio to locate a new team so far. Benson, the scout emphasized, has put the ball on the...
Bobbie Williams turns 36 in September and, after December ankle surgery, his former team the Bengals added two new starters at guard this offseason, Kevin Zeitler and Travelle Wharton. He said earlier this week he was still only 85% and the Bengals did not offer him a contract after he worked out with them so it looked like he could be done. However, he is not done yet after signing...
The Ravens and 13-year veteran guard Bobbie Williams reached a two-year agreement in principle, the team announced Friday. Williams, 35, spent the past eight seasons with the Cincinnati Bengals, starting all 118 games in which he played. Originally selected by the Philadelphia Eagles in the second round of the 2000 NFL Draft, he has played in 151 career games, including 130 starts...
The Patriots have ended the Ochocinco experiment, releasing him today. The Bengals need a #2 wide receiver. You know the suggestion is coming. Could you? Take Our Poll
As we wrap up this all-too-early assessment of the 2012 schedule, we have seen that there are plenty of reasons to allow a sense of optimism and pride to ease the years of frustration and angst that have defined most of the Mike Brown era. As this team flexes its new muscles, we will find that they can keep pace with most of the heavy-hitters in the league. The NFL schedule makers...
As this piece is published, the Bengals do not have a clear cut favorite to become the number two receiver yet. The Patriots released former Bengal and six time pro bowler Chad Ochocinco today, and there has been the predictable discussion on could/should the Bengals bring Ochocinco back to Cincinnati. Don't count on it. According to ESPN AFC North blogger Jamison Hensley...
Bengals News

Delivered to your inbox

You'll also receive Yardbarker's daily Top 10, featuring the best sports stories from around the web. Customize your newsletter to get articles on your favorite sports and teams. And the best part? It's free!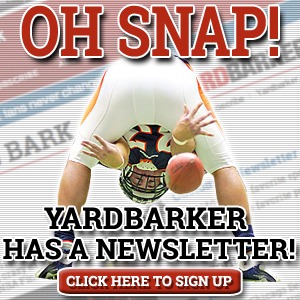 Latest Rumors
The Backyard

Today's Best Stuff

For Bloggers

Join the Yardbarker Network for more promotion, traffic, and money.

Company Info

Help

What is Yardbarker?

Yardbarker is the largest network of sports blogs and pro athlete blogs on the web. This site is the hub of the Yardbarker Network, where our editors and algorithms curate the best sports content from our network and beyond.