Found November 30, 2011 on The Jets Blog:
PLAYERS:
Plaxico Burress
,
Mark Sanchez
,
Santonio Holmes
,
Rex Ryan
,
LaDainian Tomlinson
,
Jeremy Kerley
,
Shonn Greene
,
Jim Leonhard
,
Darrelle Revis
,
Chad Pennington
,
Brett Favre
,
Emanuel Cook
,
Mike Tannenbaum
,
Tracy Wilson
,
Dexter Jackson
,
Brodney Pool
,
Nick Bellore
,
Mike Devito
TEAMS:
New York Jets
,
Miami Dolphins
,
Minnesota Vikings
,
Baltimore Ravens
FLORHAM PARK–Bills wide receiver Stevie Johnson was fined $10,000 for his touchdown celebration on Sunday. Plaxico Burress' response? "He can pay for it." And that, was that. For whatever reason, there are still communication issues, even 11 games into the season. The disconnect on third-and-two between Mark Sanchez and Santonio Holmes is just one example. Rex Ryan voiced confidence that the kinks will be worked out.  He said the two are, "Definitely working through it…It's things like that we're trying like crazy to clean up." Burress gave a similar statement. "It all works together," he said of the responsibilities that the receivers have to their quarterback. "Getting to the proper landmarks, be disciplined in our routes, Not cutting our routes two-to-three yards short." Mike De Vito was the only player held out of practice completely on Wednesday. Ryan has pretty much already ruled him out for Sunday. LaDainian Tomlinson and Jeremy Kerley were back on the practice field and prac
Original Story:
http://www.thejetsblog.com/2011/11/30...
THE BACKYARD
BEST OF MAXIM
RELATED ARTICLES
… OMG, that was the funniest thing I have ever seen. Where did Lebron think of that? To shoot himself in the leg like Plaxico Burress did that one time he accidentally shot himself in the leg? ******* Lebron, what a comedic genius. PS Seriously though, Lebron is that loser kid in middle school that repeats everyone's joke immediately after theyve been said trying to get a pity...
IRVING -- Since Jack Del Rio was fired as head coach of the Jaguars on Tuesday, there has been speculation that Rob Ryan could be a head coaching candidate in Jacksonville. There is no evidence stating there's interest from the Jaguars, but hiring Ryan wouldn't be a huge surprise. "He's a Ryan, so he has the pedigree, his whole family's been coaching, everybody...
The Jets are 6-5 and face an uphill climb to make the playoffs, but Rex Ryan says, "I think the best is yet to come."
Plaxico Burress says Steve Johnson has apologized for TD celebration.
But Moore's role won't change from consultant, Ryan said.
Jim Leonhard left no secret that he wasn't happy with the boobirds directed at Mark Sanchez before the Jets' 28-24 win to the Bills on Sunday. The veteran safety, one of the most well-respected and fan-friendly players on Rex Ryan's team, admitted on Tuesday that he took exception to the fans' ...
Johnson mocked WR Plaxico Burress' self-shooting incident
The New York Jets' offensive line will have its hands full this weekend at Washington. It has been a rough season for the five guys usually recognized as one of the league's best units and a major strength of the team. Next up is a big-time test against the Redskins and their sack-happy defense. After not allowing Mark Sanchez to be sacked last week against Buffalo, the...
Jets tight end Dustin Keller joined NBC SportsTalk on Thursday night, and he addressed a variety of issues. For starters, Keller addressed with Russ Thaler the ongoing criticism of quarterback Mark Sanchez.   "Any time something breaks down offensively, immediately all the pressure goes on Mark Sanchez, Brian Schottenheimer, our offensive coordinator, and that's absolutely not…
The Redskins actually play a very important game this week.  It's not the Giants, Eagles, or Cowboys who will line up across from them, but the New York Jets that come to town.  The Redskins have not dominated too many NFL teams of late, but the Jets (as well as the Cardinals and Bears) are the exceptions to the rule.  Since the NFL realigned in 2002, just three teams in the...
You have to have a long memory to remember a time when it was a coach of the Giants, not the Jets, making headlines for their performance in a press conference. It was Jim Fassel pushing all his chips into the middle of the table back in 2000 when he bet his own job on the team making it into the playoffs. It worked out and the Giants won the NFC, but since then it has been Herman...
Anyone else who saw the game on TV probably noticed that at the end of the game Sunday Sanchez was fired up about something on the sidelines, as he was obviously yelling at someone .. likely someone on defense.  From what I saw, he was standing next to Brodney Pool. but Cimini thinks his yelling was directed at someone else on the defense. Next, the cameras showed him stalking the...
NFL News

Delivered to your inbox

You'll also receive Yardbarker's daily Top 10, featuring the best sports stories from around the web. Customize your newsletter to get articles on your favorite sports and teams. And the best part? It's free!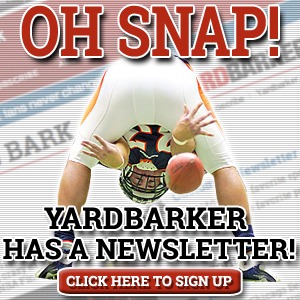 Latest Rumors
Best of Yardbarker

Today's Best Stuff

For Bloggers

Join the Yardbarker Network for more promotion, traffic, and money.

Company Info

Help

What is Yardbarker?

Yardbarker is the largest network of sports blogs and pro athlete blogs on the web. This site is the hub of the Yardbarker Network, where our editors and algorithms curate the best sports content from our network and beyond.