Found July 26, 2012 on Fox Sports Carolinas:
The Peyton Manning era in Denver drew closer Thursday morning as the Broncos opened training camp just four months after the future Hall of Fame quarterback was trying to prove he still had the goods. Released in March after 14 seasons with the Indianapolis Colts, a neck injury derailing his entire 2011 season and maybe his career, Manning found himself a man without a team for the first time in his career. But before he turned to Denver, he turned to Team Cutcliffe. Without Duke head coach David Cutcliffe, a longtime mentor, Mannings path back to the NFL might have turned out differently. The only guy for me to go see at that time was David Cutcliffe, said Manning, who last played under Cutcliffe at Tennessee in 1997 when Cutcliffe was the offensive coordinator. Hes a guy that has known more about my throwing motion and quarterback mechanics than anyone throughout my career. Manning likened working under the watchful eye of Cutcliffe to going home. Its kind of in some ways like going home, Manning said. Like golfers (going) back to that swing coach (they) always knew. Mannings trek to Englewood, Colo., began in Durham, N.C., and on the same practice fields Cutcliffes Blue Devils use. Even though Duke was around the corner from starting spring practice when Manning arrived, Cutcliffe still opened all of Dukes facilities to the legendary signal caller. There was no interference with the Devils, though. Manning gushes with gratitude for his mentors willingness to help. That he would give me the time and energy and make me a Duke football player for the time Im still a Tennessee Vol, no question about it but it just tells you about the kind of person he is, Manning said. The thing is, as much time as he gave me, it never took away from his football team. That he was multi-tasking tells you how much of a load he can carry. Nearly 20 years ago, Tennessee head coach Phillip Fulmer, assistant coach Randy Sanders and Cutcliffe made an in-home visit with the highly touted Manning. The coaches went through the usual pitch, but also spent quite a bit of time talking about things unrelated to football. Something stood out that evening to Archie Manning, though. After the coaches left, he told his wife, Olivia, he couldnt recall Fulmer saying much of anything to Peyton. He was a bit perplexed. Fulmer called Archie the next day acknowledging he hadnt spoken to Peyton much because Peyton and Cutcliffe were hitting it off so well he didnt want to mess it up. Fulmer was smart, because Manning and Cutcliffe were already developing a bond. Knoxville, Tenn., is a long way from New Orleans, and at times young Peyton got a little homesick. Cutcliffe, though, opened his home when students were gone and Peyton became a regular visitor. He even baby sat a few times. That bond also drew Eli Manning, who chose to play his college ball at Mississippi after Cutcliffe was named head coach in 1998. Fast forward to the Mannings NFL careers. If anything, their relationships with Cutcliffe have since grown in many ways. Peyton has periodically sent Cutcliffe film to review periodically during his career, and knows he will always get critically honest feedback. He still does some of the drills Cutcliffe taught him in the mid-1990s and also prepares somewhat the same. Peyton wants to go into every game feeling as he did in college, when he had a sense of calm that allowed everything to slow down on the field. From a preparation standpoint, Manning said, theres nothing more he could have done to get me ready to play every Saturday. Thats why when Eli needed to work out during last years NFL lockout and when Peyton faced his most recent football crisis, they chose Cutcliffe to help them move forward. Eli responded to one of his worst seasons by winning a second Super Bowl. Peytons career remains intact. Cutcliffe knew how to handle the sensitive situations because he knows the young men so well. Hes been a big part of my family for some time, Peyton said about Cutcliffe. And he and I have stayed close since I graduated. Cutcliffe may be the mentor and 21 years older at age 57, but he sees Peyton, Eli and Archie as friends. The only time he has seniority is when its evaluating and teaching time. I am happy for Peyton and his opportunity with the Broncos not as much as his former coach as I do being his friend, Cutcliffe said.
Original Story:
http://www.foxsportscarolinas.com/07/...
THE BACKYARD
BEST OF MAXIM
RELATED ARTICLES
Peyton Manning has dealt with pressure before. He has lived with the burden of carrying the Indianapolis Colts as the team's franchise player for 13 seasons. He knows what it's like to win a Super Bowl, and knows the sting of a Super Bowl loss. Even with all of his experience, Manning is entering uncharted waters in his career. The quarterback is coming back from significant...
The Denver Broncos' acquisition of Peyton Manning set the football world on fire in late March. The move was followed by instant rush to envision everything his decision would result in, ranging from how he would look in a Denver uniform (strange) to how he would change the team's previously run-focused offense. Many claimed that Denver, coming off of a playoff appearance...
Quarterback Peyton Manning took part in his first training camp practice with the Broncos on Thursday, calling it "another step" as he works toward returning to game action for the first time since 2010. Manning said he is passed the emotional part of leaving the Colts and is focused solely on getting prepared for the season. "I haven't gotten too nostalgic...
Peyton Manning's arm strength looks just fine. It's his timing with his new targets that's the biggest question mark facing the four-time MVP as he embarks on his comeback with the Denver Broncos. Manning doesn't appear bothered by the nerve injury in his neck that led to a series of operations, sapped his power and sidelined the league's most durable active...
The nation is looking forward to the emergence of the new and improved Denver Broncos, complete with star quarterback Peyton Manning. Columnists everywhere are lining up to predict the Broncos to take the AFC West. Question: How does Denver find a way to win the division after starting 1-6? Yes, that's right. They will be starting the season 1-6 and that is only if they are...
Reader Mark passed along this photo of Elisha wearing a watch under his wristband during practice reps. A required accessory to get Timex to sponsor your practice unis? Let's hope not. The folks at Citizen aren't paying Eli the big bucks to spread his shilling around town. Thanks to the ubiquity of cell phones, you can argue that wearing watches in general is little more than...
On Monday New York Giants quarterback Eli Manning was on 660 WFAN in New York with Boomer and Carton (via SportsRadioInterviews.com) and said that rookie David Wilson is the fastest running back they've ever had on the roster. "The thing about David Wilson is he's the fastest running back we've ever had," said Manning. "I mean, this guy's quick, he's explosive...
Anybody watching the NFL's coverage of the opening of training camps this week got an eyeful of Peyton Manning going through what amounted to quarterback calisthenics.    Not real exciting, but at least as interesting as regular season Major League Baseball.    Now, what might have made it more interesting than baseball is if Tim Tebow hadn't been dealt out of the...
Manning has been cleared for full participation in camp and no one expects a set back. The neck is strong and the nerves have regenerated. He's good to go...but you shouldn't discount the fact that this guy has had three neck surgeries and sat out a year.
Last Saturday, Denver Broncos quarterback Peyton Manning decided to make his first ever appearance at Mile High Stadium by attending a concert held by country superstar Kenny Chesney. Watch as Peyton and Denver Broncos coach John Fox get invited on stage to hang with Kenny who eventually receives a signed helmet from Mr. Fox: (Courtesy of Denver Post)
The Denver Broncos held their first training camp practice of the Peyton Manning era on Thursday morning and it didn't go without massive fanfare. The Broncos drew 4,372 fans, setting a record for the Broncos' Dove Valley location. The previous record set was on August 1st, 2010 when 3,103 fans came to see Tim Tebow in his rookie season. There were other tidbits of note...
Marylou Belles of Bethel, Conn. died back on July 13. According to her obituary which we read on the Daily Courier-Observer's website, she battled cancer for 27 years before passing away on Friday the 13th — which was described as a "perfect day" for it since she was a big Stephen King fan. Belles' obituary also said that she "gave cancer the finger," but that wasn't...
NFL News

Delivered to your inbox

You'll also receive Yardbarker's daily Top 10, featuring the best sports stories from around the web. Customize your newsletter to get articles on your favorite sports and teams. And the best part? It's free!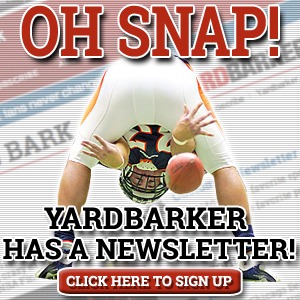 Latest Rumors
The Backyard

Today's Best Stuff

For Bloggers

Join the Yardbarker Network for more promotion, traffic, and money.

Company Info

Help

What is Yardbarker?

Yardbarker is the largest network of sports blogs and pro athlete blogs on the web. This site is the hub of the Yardbarker Network, where our editors and algorithms curate the best sports content from our network and beyond.