Found October 26, 2011 on Race Review Online:
PLAYERS:
Peyton Manning
,
Kerry Collins
,
Curtis Painter
,
Dan Orlovsky
,
Tony Dungy
,
Jim Sorgi
,
Jim Caldwell
,
Andrew Luck
TEAMS:
Indianapolis Colts
,
New York Giants
,
New Orleans Saints
,
Stanford Cardinal
There was an interesting piece that came out today on espn.com on Peyton Manning.  An article was written on why Manning should receive the NFL's Most Valuable Player award this season, even though he has yet to play a down.
Let us break this down for just one second.  Everybody knows that Peyton has won the award three times in his career already.  We all know what he has done in the NFL.  What would make someone think that he should win it in a year that he has yet to play?
To this point in the season, the Indianapolis Colts are 0-7.  Have there been some games they could have won?  Absolutely.  There have also been games that they were so far out that the grace of God couldn't have helped them.
Case in point, in a week seven matchup with the New Orleans Saints, the Colts went down 62-7.  62-7!!  That's not fair, even in the college ranks.  Yes it was the Saints they were playing, but an NFL team should never get pounded like that.
Before the season started when the Colts knew that Peyton would not be able to go, they brought in veteran starter Kerry Collins.  The Collins experiment ended tragically.  So much so, that as of Wednesday he was placed in season ending IR.  Yes folks, it is true, he has one foot in the grave.
Step in Curtis Painter.  While Painter has had moments that he has looked good, he has more of ineptitude.  In the second half of the Saints' game, he was benched in favor of Dan Orlovsky.
Where does this bring us?  It brings us back to the talk of should Peyton Manning be able to win the award of Most Valuable Player.  The award goes to the player that is most valuable to his team.  One could argue that since the Colts are off to such a disastrous start that yes, Peyton does deserve the award.
Let me play devil's advocate for just one second.  Since Peyton has been in the league, he arguably has total control of the Colts' offense.  There might as well not be an Offensive Coordinator on the team; much less a head coach while the Peyton ran offense is on the field.
Since Peyton has had so much control over that offense, you had to wonder how it would perform without him under center.  Is it the lack of his play calling skills and know-how of the line, or is it there has been no one groomed under Manning to take over the reins in his absence?
The argument could go either way.  Has Manning been in complete control of the offense for most of his career?  Yes.  Even dating back to the Tony Dungy era, Peyton has had the call of the plays from day one.  Have they groomed a quarterback to take over in Manning's absence?  No.  Case in point Jim Sorgi and now Curtis Painter.
Let me bring something else up that maybe no one has looked at.  Since Tony Dungy left, the team has been in a slow decline.  Nothing against Jim Caldwell, but maybe he is better suited to be a coordinator than a head coach.
Since Caldwell's first season with the Colts, where he led them to a 14-2 record and a Super Bowl appearance, the team is a less than modest 10-13.  Leads you to believe there is a problem from the top.
There have been many a time when Caldwell has looked lost on the sidelines like he didn't know what should come next.  When did you ever see Tony Dungy like that?  The answer is never; whether it was with Tampa Bay or Indianapolis.
While you can make a point that Peyton Manning is the most valuable player for his team, you can also make a point that there is an issue from the front office down.  Did Colts' ownership properly think ahead for the potential loss of Manning either via injury or retirement?  Did they plan to know what life would be like without their franchise player?
This season is a special one in the fact there is a college quarterback that everyone is coveting.  Andrew Luck of Stanford is the consensus number one pick on everyone's draft board.  It is so bad that there is a term in the NFL this season, "Suck for Luck", that is being thrown around for the worst teams in the league.
Picture this…the Indianapolis Colts end up with the worst record in the NFL this season.  In years past everyone would have said there is no way that Peyton allows the Colts to draft a quarterback number one overall.  How will that play out this season if that is the case.
Here is my overview of it all; if the Colts end up with the worst record in the League, trade Manning.  That's right, I said it; Trade Manning.  Pick up Andrew Luck and bring him in as your quarterback of the future.  With the players and/or draft picks you can get with trading Manning, imagine the team you could place around Luck.
Obviously the offense is not the only problem with the Colts.  The defense leaves a lot to be desired.  They have never really been known as a unit that has been a shut down defense.  Age is starting to take its toll on the unit.  It's another part of the team that needs revamped.
The point is Manning is not the only problem with this team.  To say that he deserves the MVP is almost ludicrous.  This team has more problems that honestly anyone would care to deal with.  If you're a Colts' fan and reading this, please take time to digest it.  Don't immediately get pissed off and want to write me.  Everything I have said is true.  The Colts are where they were just a short 12 years ago; a team in need of a lot of work.  It's up to ownership to figure it out.
Don't rush to call Peyton Manning this season's MVP.  Could he potentially make a difference?  Sure.  Is he the only problem with the Colts?  No.  There is a lot of work to do with the Indy team, and Manning is only part of the problem.
Photo courtesy of nesn.com
Original Story:
http://sports-at-work.com/20111027514...
THE BACKYARD
BEST OF MAXIM
RELATED ARTICLES
So exactly who is running the Indianapolis Colts? The man who used to quarterback them or the man who writes the weekly pay checks? It's obvious who quarterbacks the team and who this Colts franchise was designed around, but has QB Peyton Manning garnered just a bit too much power in Indianapolis? Former New York Giants QB Phil Simms appearing on inside the NFL which...
Wasn't it such a promising year for the Colts? Mr. Peyton Manning was definitely going to lead these guys to the playoffs and maybe even the promised land again.   But oh how things change.   Oh how not having one man on your team can make a difference.   I tell ya, if there's ever a season to award the MVP to a guy that's not playing it's clearly this one. Do you...
In the final segment of PFT Live, Mike Florio takes calls, emails and tweets on Andrew Luck, Matthew Stafford, Peyton Manning and more.
There's been a lot of speculation that the Colts are one of the teams in the running to take Andrew Luck in the 2012 NFL draft, however, Phil Simms said on Showtime's "Inside the NFL" there's "no way" Peyton Manning will let happen.
This has been an interesting NFL Season to say the least.  For the first time in two decades, there is no Brett Favre (surprisingly) or Peyton Manning.  Not only that, but the supposed "Dream Team" Philadelphia Eagles are in last place in the NFC East, the Detroit Lions are actually winning, and the Houston Texans might not finish 8-8 this season. With Week 7 wrapping up, here...
Eli Manning isn't sure if Peyton Manning will return this season but he believes his big brother will resume his future Hall of Fame career.
The NFL is a Quarterback driven league where one man can make or break your team. We've seen an obvious example this year with how the Indianapolis Colts have performed without Peyton Manning. The same arguement can be made for college football and there is no doubt that the QB is the most important position on the field. This year the majority of the focus in college has gone...
As quarterback Peyton Manning was struggling to recover from neck surgery performed in May, the team lured Kerry Collins out of retirement. And now Collins is likely heading back into retirement. The team announced today that Collins has been placed on injured reserve.  He suffered a concussion in Week Three against the Steelers.  Prior to…
Mike Florio talks with CSNNE.com Patriots Insider, Tom Curran about the Patriots upcoming match-up against the Steelers, as well as considering Terrell Owens. Also Mike talks calls, tweets, and emails from PFT Planet. Fans want to know what's to come for JaMarcus Russell, Peyton Manning, and Andrew Luck.      
NFL News

Delivered to your inbox

You'll also receive Yardbarker's daily Top 10, featuring the best sports stories from around the web. Customize your newsletter to get articles on your favorite sports and teams. And the best part? It's free!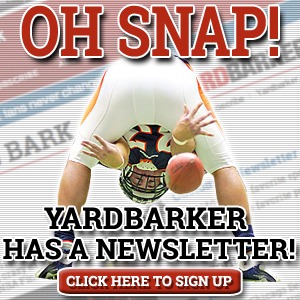 Latest Rumors
The Backyard

Today's Best Stuff

For Bloggers

Join the Yardbarker Network for more promotion, traffic, and money.

Company Info

Help

What is Yardbarker?

Yardbarker is the largest network of sports blogs and pro athlete blogs on the web. This site is the hub of the Yardbarker Network, where our editors and algorithms curate the best sports content from our network and beyond.