Found October 04, 2013 on The Rhino and Compass:
I've pretty much run this topic into the ground, but I haven't been able to touch on it since I was on vacation and the Vikings won in London. Anyone who thinks Matt Cassel should be the starter for the Vikings going forward, and believes he should be because the Vikings are a better team with him at the helm is flagrantly wrong. Let me highlight a few things based on their talent level and skill set first. Matt Cassel won last week, yes. The Vikings defense finally got a stop late in the game, where they hadn't in the previous two weeks against Cleveland and Chicago. It was the first time this season that Vikings' opposition scored less than 30 points. Neither Christian Ponder nor Matt Cassel play defense. I think it's valuable to look at the teams both quarterbacks have squared off against this season. Christian Ponder has faced teams that are 6-4 against teams that aren't the Vikings. Cassel's win came over a hapless Steelers team that hasn't won a game yet. It would be a surprise to listen to local fans to find out that Christian Ponder's QBR against Cleveland (a measure of a quarterback's contribution to a team's chance of winning) was higher than Cassel's against Pittsburgh. Then again, you would think that being competitive against a first place team (Cleveland) would take a little more skill than being competitive against a terrible, winless team (Pittsburgh). Oh, it has been pointed out to me that the Cleveland game was Ponder's best this season. He had 9 starts last season that would have surpassed Cassel's QBR of 52 last year. Matt Cassel had a total QBR of 36.4 in Kansas City last year. In fact. when he went to Kansas City, the highest QBR he ever posted for a season was 52. While I may have cherry-picked Ponder's best game this season, it certainly wasn't a fluke. And while you may say that Kansas City was a tough place for Matt Cassel to play, because all they had was a good running back with few targets to throw to, I say…. what was the difference between the Chiefs and Vikings, in that case? I would argue that after Percy Harvin was injured, Cassel had better targets to throw to than Ponder did. Sure, the Vikings had Peterson, but were the offenses that substantially different? Are they that different now, with Alex Smith running things? Why are the Chiefs playing so much better? Is Alex Smith really that good? On that same note, in response to those who say that Christian Ponder doesn't open up the field for Adrian Peterson, I say Adrian Peterson nearly broke an NFL record for yards last year. The field is plenty open. From the perspective of team building, I don't understand the yearning for Matt Cassel. At best, he gives the Vikings the same chance to win as Christian Ponder. In truth, it's just a matter of time before Cassel proves how bad he is. Will Ponder haters eat crow and call for him to come back?  Probably not, of course, because that's not how people work. Christian Ponder is still in his second full year as a starter, and he showed significant improvement last year. Why focus so intently on giving up on Ponder when the team has so many other obvious holes?
Original Story:
http://ryanhenning.com/?p=6875
THE BACKYARD
BEST OF MAXIM
RELATED ARTICLES
What do you know? It's another quarterback-intensive mailbag. At least there's some food for thought now after backup Matt Cassel played well in the Minnesota Vikings' first win of the season.But Minnesota coach Leslie Frazier's stance that Christian Ponder is "still our quarterback" had the fans up in arms. Without further ado, here's another round...
Former Minnesota Vikings QB Fran Tarkenton hasn't been a big supporter of injured QB Christian Ponder and believes current starter Matt Cassel gives the team 'the best chance to win.
Minnesota Viking coach Leslie Frazier talked about how the return of FB Jerome Felton improved the running game by blocking for RB Adrian Peterson against the Steelers.
MINNEAPOLIS -- The board overseeing construction of the Vikings' new stadium took a long-awaited, crucial step in the 975 million structure's development Thursday, signing off on two important documents that lay out its construction and lease terms. The Minnesota Sports Facilities Authority ratified the 65,000-seat football cathedral's development and use agreements...
EDEN PRAIRIE, Minn. -- Coach Leslie Frazier and the Minnesota Vikings knew they would have their off week to recover from playing in London on Sunday as teams get the chance to returning from the international series games and have a bye week afterward to recover emotionally and physically. Frazier didn't know his team would be sitting at 1-3 following Sunday's win against...
Remember that time when Tom Clancy almost owned the Minnesota Vikings? Because I sure don't. And it's not like it was decades ago, it was only back in ....... 1998 ... Which ... Oh God, that was 15 years ago?! What have I done with my life?! Anyway, this Daily Reminiscent is being brought up because Mr. Clancy passed away this week at the tender age of 66, the same age...
Pittsburgh Steelers rookie running back Le'Veon Bell only rushed for 57 yards Sunday in the loss to the Minnesota Vikings, but several of runs really showed what kind of skills and abilities he has. Below are a few that really stuck out to me when going back through the all-22 tape from the from. I have already recapped Bells touchdown run earlier in the week, but if you missed...
Today one of the best author's ever died in a Baltimore Hospital at the age of 66.  Back in 1998,  Tom Clancy who is best known for his books "The Hunt of Red October, and Clear and Present Danger" almost purchased the Minnesota Vikings. Clancy submitted the winning bid to purchase the Minnesota Vikings in […]
NFL News

Delivered to your inbox

You'll also receive Yardbarker's daily Top 10, featuring the best sports stories from around the web. Customize your newsletter to get articles on your favorite sports and teams. And the best part? It's free!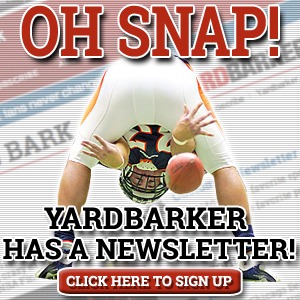 Latest Rumors
Best of Yardbarker

Today's Best Stuff

For Bloggers

Join the Yardbarker Network for more promotion, traffic, and money.

Company Info

Help

What is Yardbarker?

Yardbarker is the largest network of sports blogs and pro athlete blogs on the web. This site is the hub of the Yardbarker Network, where our editors and algorithms curate the best sports content from our network and beyond.