Found December 02, 2012 on Fox Sports:
PLAYERS:
Rex Ryan
,
Mark Sanchez
,
Tim Tebow
,
Greg McElroy
,
Jeff Cumberland
,
Kerry Rhodes
,
Patrick Peterson
,
Stephen Hill
,
Nick Folk
,
Ryan Lindley
,
Bilal Powell
,
Jeremy Kerley
TEAMS:
New York Jets
,
Arizona Cardinals
All season long, Jets fans have clamored for head coach Rex Ryan to demote quarterback Mark Sanchez, and on Sunday, they finally got their wish -- even if the guy who finally supplanted the struggling fourth-year starter wasn't the replacement they were hoping for. After nearly three quarters of yet another unfortunate showing by Sanchez, Ryan decided that Sanchez's downward spiral had dragged on too long, and, in a move that resonated like an act of benevolence as much as anything else, Ryan finally caved and radioed in for backup. With beloved but rarely-utilized reserve Tim Tebow inactive due to a pair of broken ribs, it was second-year man Greg McElroy who got the call, but in a season that has been unraveling since Week 2, any change was welcome for New York's aggravated fans. To be sure, the former Alabama star's NFL debut wasn't pretty, and there's plenty of room for improvement, but the little bit that McElroy did was exactly what the Jets needed -- and just enough to get the job done -- in their 7-6 win over the Arizona Cardinals. Ryan initially put Sanchez on notice when he made the switch with the Jets trailing 3-0 with 4:48 left in the third quarter. By the 14:55 mark of the fourth quarter, the Sanchez Era in New York ended for what should be for good with McElroy's one-yard touchdown pass to tight end Jeff Cumberland. After selling a third-down play-action fake, Cumberland broke loose into the end zone, and didn't have a Cardinals defender within 10 yards of him. Even still, McElroy rolled out and held onto the ball as long as possible and aimed it like a kid trying to throw a plastic ring around a water jug at the county fair. "I almost didn't want to throw it," McElroy joked later, "but I had to let it go." And in completing that one exceptionally easy pass, something Sanchez, who went 10-of-21 for 97 yards and three picks, didn't do nearly often enough, McElroy gave New York the lead and made as compelling an argument as any that he should be the Jets' man under center going forward. When asked, Ryan wouldn't say whether McElroy or Sanchez -- or Tebow, for that matter -- would start next week against the Jaguars as the Jets look to improve to 6-7 and stay in the playoff hunt, but after vehemently defending Sanchez one dreadful game after another, Ryan's passivity Sunday spoke volumes. "I'll let you guys know who's going to be the quarterback when I'm ready," Ryan said. "We'll evaluate our situation as the week goes on. ... Right now I'm just happy with the win. I believe in Mark. I believe in Greg. I believe in everybody we have." It only took one snap for Sanchez's day to fall apart against Arizona, as he threw an interception to Kerry Rhodes on the Jets' first offensive play -- and it only got worse from there. On New York's third drive, Sanchez threw another dart at Rhodes, who reeled it in it as a matter of self-defense before returning it to the Jets 48. At the end of the quarter, Rhodes had caught as many Sanchez passes as anyone on the Jets and, with 32 interception yards, would have been Sanchez's leading receiver. Things didn't any much better in the second quarter, and by halftime, the MetLife Stadium crowd was calling for Sanchez's head again. The Jets' fourth drive ended with a punt after a third-down sack, the fifth ended on another interception that, in Sanchez's defense, was the result of a great play by Patrick Peterson. Another Jets possession started with an errant screen pass to Stephen Hill, who was 10 yards downfield, not running a screen route. When the first half mercifully ended, New York, which had two Nick Folk field goal tries hit the upright, was lucky to only be down 3-0. The Jets had 146 yards of first-half offense to Arizona's 115, and both Sanchez (34.1) and Cardinals quarterback Ryan Lindley (18.8) went to the locker room with passer ratings that were an insult to anyone who ever played the position before them. The third quarter began much like the first half ended, and after three more stagnant drives, Ryan decided he'd seen enough and had McElroy hand his clipboard to Sanchez and start warming up behind the bench. "It's just something I sensed and felt," Ryan said. "When you're around this game long enough, you get that feeling that, 'I've seen enough, and it's time to make that change.'" Added Sanchez: "From the get-go, obviously the first play, it just wasn't my day. ... It's unfortunate, but I'm really happy for the team, and I'm happy for Greg. He came in and played his butt off." One thing should be made clear: McElroy didn't beat the Cardinals with his arm or his legs on Sunday. There's a reason that, after the game, everyone from Ryan down praised McElroy for his smarts and little else. On the game-winning scoring drive, McElroy completed two easy passes for nine yards while Bilal Powell did all the work, and from there, he only succeeded in not screwing up. After the touchdown toss, McElroy completed three out of four passes and got away with one indefensibly stupid throw when officials negated a would-be interception with an illegal contact penalty. He led a game-ending 7:55 drive that featured exactly one throw -- though, to his credit, it was a 13-yard, back-shoulder beauty to Jeremy Kerley on third-and-9. Had New York not been facing such an exceptionally sad-sack Arizona offense -- one led by a quarterback who even Jets fans wouldn't clamor for -- they'd have lost the game regardless of which one of their own quarterbacks was wearing a ball cap. Arizona managed just 22 yards in the second half, 16 of them coming on one play, and went 0-for-15 on third down. But what McElroy did bring to the table was a much-needed change in philosophy from the Jets, and the crowd recognized what Ryan finally benching Sanchez represented. When Sanchez sulked to the sideline and McElroy strapped on a helmet, a buzz started to build around the stadium, and when McElroy took the field, he received a huge, Tebow-esque ovation. Things had gotten so depressing in New York when Sanchez was on the field this season that you could make yourself believe that simply having someone new in the huddle made all the difference in the world. The Thanksgiving Day butt-fumble play notwithstanding, McElroy doesn't hand the ball off any better than Sanchez, but in desperate times like these, Jets fans are well within their rights to believe that he does. It was also refreshing to see a little enthusiasm in the backfield again. McElroy looked as excited to be in the game as you would expect a 24-year-old in his first NFL game to be, and his passion -- especially after hopping up from a third-quarter unnecessary roughness penalty that set up the score -- was a welcome change from the milquetoast personality Sanchez brings everywhere he goes. Regardless of how much credit he actually deserves for it, McElroy came in on Sunday and won the game, something the Jets haven't done with any consistency of late. McElroy's mere presence on the field shot a jolt through the Jets faithful, and at this point, it would be disrespectful -- forget impractical -- to both Sanchez and the fans to put Sanchez back in the starting role next week against Jacksonville.
Original Story:
http://msn.foxsports.com/nfl/story/ne...
THE BACKYARD
BEST OF MAXIM
RELATED ARTICLES
After another bad performance by quarterback Mark Sanchez, MetLife Stadium overflowed with "boos" and "Tim Tebow" chants. But around the NFL, other coaches are starting the best QB to win.  San Francisco coach, Jim Harbaugh, made the bold decision to start Colin Kaepernick over starter Alex Smith. The Jacksonville Jaguars have broken their losing streak by starting Chad...
According to Manish Mehta of the New York Daily News, Jets owner Woody Johnson prefers to have Greg McElroy start over Mark Sanchez..  Head coach Rex Ryan and general manager Mike Tannebaum however want Sanchez back under center this week. I'm told owner Woody Johnson prefers Greg McElroy to be starting QB. GM Mike Tannenbaum & OC Tony Sparano prefer Mark Sanchez this week...
Mark Sanchez has been replaced as Jets quarterback by third-stringer Greg McElroy in the third quarter after another miserable performance by the New York starter. Sanchez was 10 for 21 for 97 yards and three interceptions when he left with 4:48 left in the third quarter and the Jets trailing the Arizona Cardinals 3-0 on Sunday. McElroy, active for the first time in his two-year...
Third-stringer Greg McElroy stepped in for a struggling Mark Sanchez and energized the New York Jets to a 7-6 victory over the Arizona Cardinals on Sunday. With Tim Tebow inactive as he heals from two broken ribs, coach Rex Ryan pulled Sanchez for McElroy - as the crowd at MetLife Stadium cheered wildly - late in the third quarter. McElroy led the Jets (5-7) to their only points...
Rex Ryan finally figured out what everyone else in the world already knew — if you bench Mark Sanchez, the Jets will win. And win they did. Granted, the Jets' 7-6 victory came over the lowly Cardinals — led by overwhelmed rookie Ryan Lindley — but at this point, a win is a win. The Jets were trailing 3-0 midway through the third quarter when Ryan made the change from Sanchez...
After throwing three interceptions on 21 attempts with zero touchdowns and a fan base that has totally come down on him, the Jets finally pulled Mark Sanchez in favor of second year QB Greg McElroy. And in the very short time McElroy was given to prove himself running the Jets offense, the young QB out [...]
Perhaps the most memorable derp of the Mark Sanchez era in New York has been immortalized in jersey form, as it should be. It is important to not to let history pass us by. Unlikely though it may seem, there may a day in the distant future when the Jets stumble upon a respectable quarterback. It would truly be a shame if at that time the world, or even Jets fans, could be allowed...
New York Jets head coach Rex Ryan benched starting quarterback Mark Sanchez for backup Greg McElroy in the third quarter of Sunday's NFL game against the Arizona Cardinals. Ryan was left with no choice after Sanchez threw his third interception with only 95 yards passing and couldn't get the Jets onto the scoreboard. Upon entering the game, McElroy led the Jets right...
I'm loving New York Jets fans this season. They haven't given up on this team, they just continue to get more passionate. This "Buttfumble" jersey was spotted in the crowd during yesterday's victory over the Cardinals in which Mark "Buttfumble" Sanchez was benched in favor of Greg McElroy.  McElroy threw the winning touchdown pass in the 4th quarter giving his Jets...
The New York Jets (5-7) beat the Arizona Cardinals (4-8) 7-6, today at MetLife Stadium from East Rutherford, NJ. This was the most unwatchable game, and yet the Jets won the football game over the Cardinals in a ugly fashion way. Mark Sanchez had the worse game of his entire football career. He wasn't going to survive this game in way shape or form. In the third quarter...
EAST RUTHERFORD, N.J. -- Greg McElroy made his NFL debut after Mark Sanchez was benched following three miserable quarters and capped his first drive with a one-yard touchdown pass to Jeff Cumberland on the first play of the fourth quarter as the New York Jets edged the Arizona Cardinals, 7-6, in a remarkable battle of offensive ineptitude Sunday afternoon. McElroy went 5-for-7...
Lead writer Nick St. Denis and AFC East Daily contributors Dan Begnoche and Sean Donovan pick the New York Jets' home bout with the NFC's Arizona Cardinals. Nick's take: The Jets stink as of late, but there are worse teams. The Cardinals are one of them. Arizona is down to its third-string quarterback, a rookie sixth-rounder named Ryan Lindley, and his four-interception...
NFL News

Delivered to your inbox

You'll also receive Yardbarker's daily Top 10, featuring the best sports stories from around the web. Customize your newsletter to get articles on your favorite sports and teams. And the best part? It's free!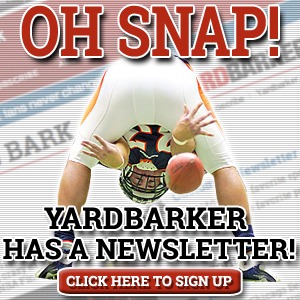 Latest Rumors
The Backyard

Today's Best Stuff

For Bloggers

Join the Yardbarker Network for more promotion, traffic, and money.

Company Info

Help

What is Yardbarker?

Yardbarker is the largest network of sports blogs and pro athlete blogs on the web. This site is the hub of the Yardbarker Network, where our editors and algorithms curate the best sports content from our network and beyond.