San Francisco 49ers quarterback Alex Smith has been
mediocre throughout his NFL career and as close to a bust
as it gets as a former No. 1 overall draft pick.
Would some of my Eye On Sports NFL fans please tell me what the hell is wrong with San Francisco 49ers quarterback Alex Smith!
The mostly mediocre, near draft bust, has done absolutely nothing throughout his, but suddenly felt the urge to rip Carolina Panthers' gifted signal-caller Cam Newton after helping the Niners go 13-3 this past season.
Despite the fact that his team finished 29th in passing a year ago – and lost to the New York Giants in the NFC title game – Smith used Newton as an example last week to say that throwing for big numbers is overrated when all that really matters is victories.
"I could absolutely care less on yards per game," Smith told a group of reporters. "I think that is a totally overblown stat because if you're losing games in the second half, guess what, you're like the Carolina Panthers and you're going no-huddle the entire second half. Yeah, Cam Newton threw for a lot of 300-yard games. That's great. You're not winning, though."
Now, maybe it's me, but I find it absolutely hysterical that Smith, a guy that has never, ever come close to living up to being the No. 1 overall draft pick back in 2005, would pick on a guy that is coming off the greatest single season campaign for a rookie quarterback in NFL history.
Also, prior to San Francisco turning things around under first-year head coach Jim Harbaugh, Smith had never led the Niners to more than seven victories in a single season, so it's pretty pathetic that Smith would try to make it seem like he's been winning double digit games every season. Even with last season's 13-3 record on his resume, Smith still sports an uninspiring 32-34 record as a starter, which puts him more in Rex Grossman company than Cam Newton's.
Smith has completed just 58.0 percent of his passes throughout his career while throwing 68 touchdowns and 58 interceptions. Smith is coming off the first 3,000-yard passing season in 2011, but clearly was not the driving force behind Frisco's success last season.
No, while Cam Newton completed 60.0 percent of his passes for a whopping 4,051 yards and did a fantastic job in leading Carolina to a solid 6-10 record in his first season, Smith was helped out by a defense that finished second in points allowed (14.3 ppg) and a head coach that asked him to just 'manage' the game.
In short, Alex Smith can try to make himself out to be the second coming of Tom Brady or somebody, but the fact of the matter is that Smith is as close to a 'bust' as it gets for a No. 1 overall draft pick – and he should be thanking his lucky stars that Harbaugh wasn't ale to find a better option last season or Smith surely would have been a backup – or more likely – playing for another team. 
Original Story:
http://eye-onsports.blogspot.com/2012...
MORE FROM YARDBARKER
NFL News

Delivered to your inbox

You'll also receive Yardbarker's daily Top 10, featuring the best sports stories from around the web. Customize your newsletter to get articles on your favorite sports and teams. And the best part? It's free!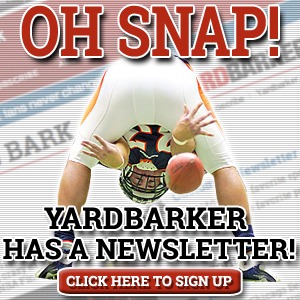 Latest Rumors
Best of Yardbarker

Today's Best Stuff

For Bloggers

Join the Yardbarker Network for more promotion, traffic, and money.

Company Info

Help

What is Yardbarker?

Yardbarker is the largest network of sports blogs and pro athlete blogs on the web. This site is the hub of the Yardbarker Network, where our editors and algorithms curate the best sports content from our network and beyond.