Found January 03, 2013 on Fox Sports Florida:
PLAYERS:
Dan Marino
,
Brian Hartline
,
Davone Bess
,
Anthony Fasano
,
Reggie Bush
,
Lamar Miller
,
Mike Pouncey
,
Daniel Thomas
,
Jake Long
,
Nate Garner
,
Jonathan Martin
,
John Jerry
,
Cameron Wake
,
Paul Soliai
,
Randy Starks
,
Karlos Dansby
,
Kevin Burnett
,
Koa Misi
,
Reshad Jones
,
Richard Marshall
,
Sean Smith
,
Jared Odrick
,
Brandon Fields
,
Dan Carpenter
,
Marcus Thigpen
,
Nate Kaeding
,
John Denney
,
Olivier Vernon
,
Michael Egnew
,
Matt Moore
,
Chris Clemons
TEAMS:
Miami Dolphins
,
New York Jets
A guy who wears No. 17 was the 17th quarterback to start for Miami since Dan Marino retired following the 1999 season. The Dolphins hope they wont need an 18th for a while.The 2012 season was all about rookie Ryan Tannehills development. And while theres not as much excitement in Miami as in rookie-quarterback cities Indianapolis, Washington and Seattle, what Tannehill did still has provided optimism that he can be the Dolphins first franchise quarterback of this century. He made a lot of progress, said first-year coach Joe Philbin. Theres no question about it. Im confident with the work ethic that he has, the passion that he has for the game. This kid wants to do well. You hope in coaching and, as I said to the players, in between your first and second year, you see that growth and development. Theres usually a pretty big curve and so were excited about the possibility of improvement for him. Tannehills stats werent overly impressive. He completed 282 of 484 passes (58.3 percent) for 3,294 yards with 12 touchdowns and 13 interceptions. But he rarely got rattled and he showed flashes at different periods during the season that he has what it takes to be an upper-echelon NFL signal-caller.Tannehill helped steer the Dolphins to a 7-9 record. Thats hardly eye popping but is one game better than last season and well above what many had projected, especially after Miami had looked so ugly during a 0-4 preseason.I think I grew in most areas, Tannehill said. Obviously with every rep you are going to get more comfortable. With every game you get more comfortable, so I feel like I grew in a lot of areas, but I still need to do a lot more growing. The Dolphins certainly can help Tannehills development by using the nearly 50 million in salary-cap room they are expected to have and the five draft picks they will have in the top 100 selections to bring in some more weapons. Tannehill needs to be surrounded by some playmakers to help a team that averaged just 18.0 points per game. But Tannehill at least has given the Dolphins what they hope will be a solid base for building. And thats more than can be said for most of Miamis seasons since Marino retired.Heres a look at the Dolphins in 2012 and how they stand moving toward 2013:OFFENSEThe good Tannehills development was helped by the continued progress of wide receiver Brian Hartline. He added some life to a Dolphins receiving corps that was deemed among the NFLs worst entering the season.Hartline caught 74 balls for 1,083 yards. He became just the eighth different player in Miami history to have a 1,000-yard season.The Dolphins might have had two receivers exceed 1,000 yards had Davone Bess, who gained 778 on 61 catches, not missed the final three games due to a back injury. Tight end Anthony Fasano was steady, catching 41 balls for 332 yards with a team-high five receiving TDs.In the backfield, Reggie Bush just missed becoming the third Miami player to have consecutive 1,000-yard rushing seasons. After being held to just 26 yards on eight carries in the finale at New England, he finished with 986 yards on 227 attempts for a 4.3 average.The Dolphins also were pleased with the development of Lamar Miller, a rookie running back from the University of Miami. He gained 250 yards on 51 carries, including looking really good with 73 yards on 10 carries in the next-to-last game against Buffalo. On the offensive line, the bright spot was center Mike Pouncey. Many thought the second-year man did enough to earn a spot in the Pro Bowl.The bad Tannehill still needs plenty of work in throwing downfield. It would help if the Dolphins could get him a big-play receiver during the offseason.Hartline and Bess are possession receivers, both having averaged less than 15 yards a catch. Fasano averaged just 8.1 yards per catch, down from 14.1 last season. The Dolphins are in desperate need of a deep threat who can stretch defenses.While Bush had his moments, he was inconsistent. During a five-game stretch in the middle of the season, he gained just 158 yards.It didnt help matters that Daniel Thomas, Bushs primary backup until Miller emerged, didnt progress in his second year the way the Dolphins had hoped. He gained 325 yards on 91 carries for a 3.6 average.On the offensive line, left tackle Jake Long missed the final four games due to a triceps injury. Nate Garner filled in, but didn't do anything special.The jury remains out on the young right side of the line. Tackle Jonathan Martin was a rookie and guard John Jerry a third-year man.The bottom line is the Dolphins didnt score enough points. They were just 27th in the NFL in that category.DEFENSEThe GoodCameron Wake, after a bit of a drop in 2011, showed hes clearly one of the best defensive ends in the NFL. Wake was fourth in the NFL in sacks and made the Pro Bowl for the second time in three years. Among others on the front line, defensive tackles Paul Soliai and Randy Starks were steady. They helped the Dolphins finish a reasonable 13th in the NFL in yards allowed on the ground. Middle linebacker Karlos Dansby talks a big game, having told FOX Sports Florida before the season he expects to be a Hall of Famer. Dansby, 31, never has made a Pro Bowl. But he did gain consideration in 2012 for leading the Dolphins in solo tackles with a career-high 101. Outside linebackers Kevin Burnett and Koa Misi also were solid. The Dolphins did a good job of going from a 3-4 under previous coach Tony Sparano to a 4-3. In the secondary, safety Reshad Jones emerged as a Pro Bowl candidate in his second year. Jones, who had a game-clinching interception and two fumble recoveries in penultimate game against Buffalo, might have made it had that performance not come after voting had concluded.The BadThe Dolphins had problems all season in the secondary. They ranked just 27th in the league in passing yards allowed.It didnt help that cornerback Richard Marshall, whose strong preseason led the Dolphins to trade Vontae Davis to Indianapolis, was lost for the year after just four games due to a back injury. Other than Jones, Miamis starters didnt distinguish themselves. Even well-regarded cornerback Sean Smith had his problems.The Dolphins were looking for big things out of defensive end Jared Odrick, a 2010 first-round pick who showed some signs of breaking loose in 2011. But Odrick didnt step up as anticipated. Even though he started 12 times, he had one less sack (5.0) in 2012 than he did when having started just seven times in 2011.While the Dolphins did have 42 sacks as a team, taking the ball away was a big problem. Miami had just 16 takeaways, 10 interceptions and six fumble recoveries. That led to their minus-10 differential ranking them 24th in the NFL.Thats one part of the program that needs to be addressed ASAP, Philbin said. Yeah, Im not happy with minus-10 When you have 16 (takeaways) for the season, youre going to have to look at a lot of different ways to create more.SPECIAL TEAMSThe good Punter Brandon Fields didnt make the Pro Bowl despite having one of the greatest seasons in NFL history.Fields led the NFL with a 50.2 gross average, not far behind Sammy Baughs 1940 NFL record of 51.4. It was the fifth-best average in NFL history and marked just the seventh time a punter hs averaged 50 or more yards in a season.Kicker Dan Carpenter had some shaky moments early in the season. But he bounced back to make 22 of 27 field goals on the season before missing the final two games due to a groin strain.Returner Marcus Thigpen, in his first NFL season after having played in Canada, proved to be a nice addition. He returned both a punt and a kickoff for a touchdown. His 12.2 average on punt returns ranked fifth and his 27.4 average on kickoff returns was eighth.The badCarpenter took the blame for a 23-20 home overtime loss to the New York Jets on Sept. 23. He missed a key 47-yard attempt in the fourth quarter and botched a 48-yard overtime kick that would have given the Dolphins the win.With Carpenter missing the final two games, he was replaced by Nate Kaeding. That didnt work out too well as Kaeding missed two of his three field-goal attempts. He misfired from 41 yards and had a 46-yarder blocked that was kicked low.Long snapper John Denney, who made the Pro Bowl two years ago, doesnt mess up much. But he had a bad snap on a punt in early in the 23-16 loss to New England on Dec. 2. That led to Fields bobbling the ball, and Patriots taking over at the 12 and soon scoring a touchdown.ROOKIE OVERVIEWThe Dolphins have no regrets about taking Tannehill with the No. 8 pick. Hes the first quarterback Miami has taken in the first round since Dan Marino in 1983, and the Dolphins hope he can bring some Marino-like stability to the franchise.Among players taken in the first four rounds, it generally was a good draft for the Dolphins. Second-round pick Martin moved in as a starter, third-rounder Olivier Vernon, a defensive end, was steady with 3.5 sacks, and fourth-rounder Miller showed promiseThe one big exception was tight end Michael Egnew, a third-round pick who so far has been a disaster. Egnew got off to a bad start when offensive coordinator Mike Sherman blasted him before the season on an episode of HBOs Hard Knocks. Egnew was inactive for the first 14 games and did next to nothing when he got in for the final two.FREE AGENTSThe Dolphins have 13 total free agents, a number of them key contributors.Heading the list on offense are Bush, who has said he wants to return, and Long, a four-time Pro Bowler. If the price isnt too high, figure on Bush being back. Long, however, might get an offer too rich for Miami to want to match.Two of Miamis top receivers are bound for free agency. But look for the Dolphins to seek to retain Hartline and Fasano.Figure on Miami needing to find a new backup quarterback. Matt Moore is a free agent, and hell likely want to somewhere with a better chance to start.On defense, the top two free agents are Starks and Smith. The Dolphins are expected to look to retain both.Safety Chris Clemons also is a free agent. But if the Dolphins emphasize significant reconstructing of any area on the team, it most likely would be the secondary.FINAL ANALYSISThe Dolphins might have improved by one game from their 6-10 finish of 2011. But there was a feeling they could have been much better and been a serious playoff contender.Miami blew double-digits leads on consecutive weekends in September in losing overtime games to the Jets and at Arizona. The Dolphins also lost a very winnable November game at Buffalo.Still, Philbins first year has to be regarded as more of a success than a failure. He seemed to quickly earn the respect of Miamis players.But the key to the season was the development of Tannehill. He showed enough as a rookie to generate ample optimism for 2013.Chris Tomasson can be reached at christomasson@hotmail.com or on Twitter @christomasson
Original Story:
http://www.foxsportsflorida.com/01/03...
THE BACKYARD
BEST OF MAXIM
RELATED ARTICLES
  When Brian Hartline was drafted in 2009, he fell into a mix with newly acquired Brandon Marshall, Greg Camarillo, Davone Bess, and pass catching tight end Anthony Fasano.  Fast forward three seasons and Brian Hartline is the main pass catcher for the Miami Dolphins after posting career numbers of 74 receptions and 1,083 yards receiving.  Marshall was traded for draft...
GARAGE DAYS RE-REVISITED
Former NFL standout Jason Taylor and his wife are being sued for allegedly not paying $11,619.50 for the installation of a pricey garage storage system.
Are the Miami Dolphins secretly looking for a new general manager?  This could go down as a Twitter hoax, but this afternoon Twitter was set ablaze by the following tweet: Most feel Jeff Ireland is safe, but #Dolphins Owner Stephen Ross met (discreetly) w/ Mike Giddings Jr. about GM position in the last 72-hrs. — PayneInsider.com (@PayneInsider) January 2, 2013 There is a large...
When the season ended I looked at Sean Smith, and in my mind I thought we should let him go and draft his replacement. I felt that after four years he has had his chance to prove his worth. This... Come here for the best Miami Dolphins blog on the web. We have all of the most up to date new and opinions on the Dolphins organization for its fans.
The Miami Dolphins just completed their 4th straight losing season.  Disappointing?  Yes.  Unexpected? No.  The Dolphins season was disappointing to all of us that love the team.  BUT, it's hard to say that the 7-9 campaign was all that unexpected.  After all, the Dolphins were coming off of a 6-10 season last year, brought in a rookie head coach and started a rookie quarterback...
Taking a look at the Offensive Line we all know that there is a major decision looming in Miami on what to do whith Jake Long. That being very true it also creates another decision for the front... Come here for the best Miami Dolphins blog on the web. We have all of the most up to date new and opinions on the Dolphins organization for its fans.
Wow! What a difference eight games can make. Eight games into the season the Dolphins had a record of 4-4. We were on the way to having a great chance of making the playoffs with the 5th at the... Come here for the best Miami Dolphins blog on the web. We have all of the most up to date new and opinions on the Dolphins organization for its fans.
They've always been one of my favorite cheerleading squads in the NFL.  And there's simply no changing my mind this year.  Despite the Miami Dolphins being a mediocre football team for a relatively long time now, you can't say mediocre when it comes to their cheerleaders. From community service to events to calendars to plain old making the fans happy, these women deserve...
With the 2012 regular season in the books, the focus has swung to the 2013 NFL draft for the teams that won't be playing January football. The first twenty picks of the draft have been finalized with the remaining twelve to be revealed over the course of the next month. Following their 7-9 finish to the season, the Miami Dolphins will own the 12th overall pick and assuming the...
Miami Dolphins offensive tackle Jonathan Martin started all 16 games of his rookie season. So first things first, he deserves credit for that.Martin wasn't stellar in his inaugural year, but he certainly didn't make a bad name for himself. He started his first 11 games at right tackle and moved to the left side when veteran Jake Long, who could be a goner after this season...
(source feed provided no summary content for this entry)
NFL News

Delivered to your inbox

You'll also receive Yardbarker's daily Top 10, featuring the best sports stories from around the web. Customize your newsletter to get articles on your favorite sports and teams. And the best part? It's free!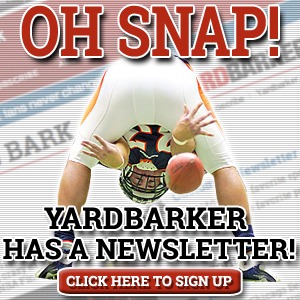 Latest Rumors
The Backyard

Today's Best Stuff

For Bloggers

Join the Yardbarker Network for more promotion, traffic, and money.

Company Info

Help

What is Yardbarker?

Yardbarker is the largest network of sports blogs and pro athlete blogs on the web. This site is the hub of the Yardbarker Network, where our editors and algorithms curate the best sports content from our network and beyond.