Found October 06, 2012 on 60 Max Power O:
Michael Vick served his time.
Michael Vick completed his probation.
Michael Vick is a free man with all the rights that come with that.
If he wants to get a dog for his children, he can do that because he went through the legal process and has no restrictions.
If I get arrested for robbing a bank? Can I not deposit money when I get out of jail? The reason all of this is happening is because of these two photos screen captured courtesy of Larry Brown Sports.
The first photo was Tweeted by Michael Vick and includes a box of Milk Bones in the picture which suggest he probably has a dog in the household.  Adam Reigner of WIP in Philly was the first to notice this. Vick realizing that people might figure out that meant he has a puppy deleted that photo and posted the second one sans Milk Bones Box.
I am not a hypocrite we live in a social media world now and that something like this will always be reported, if I saw it first I would have reported it as well.
But, we need to start using some common sense.
Michael Vick was financing a dog fighting ring and was put in jail because he lied about it. He was a very high profile name and the Feds like to take down high profile offenders.  He made a lot of mistakes which he was punished for, but I rather him run a dog fighting ring than beat his wife, drive drunk or be a drug addict.
I love dogs as much as anyone else, but I think it is unfair to continually punish Michael Vick for an offense on an animal when guys are getting 30 days for vehicular manslaughter while driving drunk, settling cases out of court when being accused of raping women or getting a slap on the wrist for a domestic violence.  Two wrongs don't make a right, but some wrongs are worse than others.
Before you throw stones from your  glass house, I would love to look into some of those who still criticize Vick to this day closets.
It is time for Michael Vick to stop apologizing and stop being ashamed.
Don't be afraid Michael, show your puppy with pride, because the ones that hate you, are always going to hate you no matter what you say or do.
Be sure to check out other great articles at BlackSportsOnline.
Original Story:
http://www.60maxpowero.com/patriots/c...
THE BACKYARD
BEST OF MAXIM
RELATED ARTICLES
Update to the previous post: Within minutes after my initial post about the show this morning, something came up that I now cannot be available, so you have my apologies.  However, starting 2 weeks from today, the plan is to do a weekly talk show. Feel like talking about Philadelphia Eagles football?  About the NFL in general?  Or perhaps you want some fantasy football advice...
Philadelphia Eagles left tackle Jason Peters believes there's a chance he'll play this season even though he ruptured his Achilles tendon twice during this past offseason. "I'm running, doing everything," Peters said, per Philly.com. Peters was then asked if his hopes of playing this season realistic, "yeah," he replied. Peters was asked if he has a timetable for his...
While most of the Philadelphia Eagles' players who entered the week banged up will be able to suit up today against the Pittsburgh Steelers, linebacker Akeem Jordan has been ruled out. Jordan is dealing with a hamstring injury and will be replaced in the Eagles' lineup by Jamar Chaney. Defensive tackle Derek Landri, safety Colt Anderson and offensive...
"The Battle Of Pennsylvania" definitely lived up to its name, as the game was a fight to the very end. The Eagles were looking to win back to back games while the Steelers were hoping to get their first win since Week 2. Unfortunately for the Eagles, the end was a Pittsburgh Steelers' victory. There are some good things to take away from the game thankfully, but there...
Obviously, whether or not Michael Vick is currently a dog owner would certainly cause a fair share of discussion. And if it were true, Vick would be on the receiving end of endless criticism and even absolute condemnation from individuals fervently against the Philadelphia Eagles quarterback ever being responsible for the care of another dog in light [...]
Depending on who you believe, the distance between Pittsburgh and Philadelphia is 300 miles, although either team's fans could be in each other backyard's regardless of where they live in Pennsylvania.It's been hard, if not impossible, for the Philadelphia Eagles to compete with the legacy of the Pittsburgh Steelers.Pittsburgh boasts six Super Bowl titles, whereas Philadelphia...
Ben Roethlisberger getting sucked into the ground? I don't mind. If it were to happen, the Eagles would of course wind up safely where Hines Ward lands in the clip. A girl can dream. Want more Philly Sports Muse? You can find me on Twitter at @sports_muse and on Facebook.
Losing a shoe while running is never fun. In Sunday's Keystone State battle between the Eagles and Steelers, the two Pennsylvania teams certainly got heated at various points during the game. While this may not be a hate-filled gesture, it did make some people go: huh? Pittsburgh's Antonio Brown caught a Ben Roethlisberger pass and showed some fancy footwork towards the endzone...
PITTSBURGH -- At some point, the Philadelphia Eagles' high-wire act to start the season was going to come crashing down. It was only fitting that it came at the hands of another comeback artist. Ben Roethlisberger engineered a game-winning drive that ended with Shaun Suisham's 34-yard field goal as time expired, and the Steelers edged the Eagles 16-14 Sunday at Heinz Field...
The Pittsburgh Steelers beat the Philadelphia Eagles 16-14 on Sunday and below are my first half notes from the game with the second half notes to follow soon. Nice bracket coverage on the early deep pass Jeremy Maclin by both Ike Taylor and Ryan Clark. The defense had the Eagles in a 3rd and long, but Jason Avant moves the chains after he is passed off from James Harrison to Cortez...
Eagles News

Delivered to your inbox

You'll also receive Yardbarker's daily Top 10, featuring the best sports stories from around the web. Customize your newsletter to get articles on your favorite sports and teams. And the best part? It's free!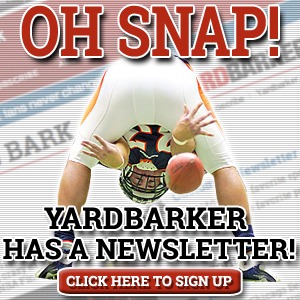 Latest Rumors
Best of Yardbarker

Today's Best Stuff

For Bloggers

Join the Yardbarker Network for more promotion, traffic, and money.

Company Info

Help

What is Yardbarker?

Yardbarker is the largest network of sports blogs and pro athlete blogs on the web. This site is the hub of the Yardbarker Network, where our editors and algorithms curate the best sports content from our network and beyond.