Found July 27, 2013 on Fox Sports Ohio:
BEREA, Ohio - It was a little more than 30 minutes into practice, three or four different groups of players were going through different but standard drills and suddenly two trainers came running from the sideline. Ryan Miller was down, and he wasn't moving. Within 30 seconds, the Cleveland Browns indoor practice facility was completely silent. Within five minutes, Browns staffers were telling the cameramen in the south side of the fieldhouse to stop filming and asking the gathered media to not report Miller's name until his family could be notified. It wasn't hard to think the worst. It was the worst nightmare of all 87 Browns players suited up for Saturday's training camp practice, the team's first in shoulder pads. It was a reminder that any snap could be somebody's last. Within seven minutes (by a very unofficial count), paramedics had loaded Miller onto a backboard, onto a cart and drove him to a waiting ambulance. Almost every Browns player stood nearby and tapped the cart on its way out. The Browns players then circled around head coach Rob Chuzdisnki and said a group prayer. Two minutes later, football resumed. Just like that. From eerily silent to pads cracking, whistles blowing, coaches yelling, guys competing for jobs. The NFL is the ultimate next man up league. It waits for no one -- and almost nothing. By early Saturday evening, the Browns had spread the good news that Miller was awake, resting comfortably and preparing to be released from the hospital. The diagnosis for now is a concussion, which isn't great news by any stretch but is better than what everyone watching around 4:40 p.m. on Saturday feared it might be. Chudzinski said he didn't see the play. Fellow offensive lineman Joe Thomas said he thought Miller took a shot to the head and was unconscious when the first help arrived, but he didn't know for sure. He just knew that once Miller was carted off, it was time to get back to work. "It's hard," Thomas said. "There are more important things than football, and sometimes it's hard to get back to focusing on football when things like that happen." But Thomas did. And his teammates did. "You try not think (that could have been me)," Thomas said. "But you worry about him. Later on we heard he was doing better, that he was up and moving. That was a relief." Later in practice, Chudzinski called the team together to pass along what was relayed from the hospital. The players breathed a collective sigh of relief, then they got back to work again. "We said a prayer, said we would keep Ryan in our thoughts and I said I would give them updates as we got them," Chudzinski said. "We needed to get back to work at that point and focus back on practice. "I thought they did a great job responding. It really says a lot about them, our coaches, our staff and our players to be able to do that. This team is a family and when something happens to a family member like that, it is tough. These guys did a great job of staying focused and getting a lot of work done that we needed to get done."The Philadelphia Eagles lost a top receiver (Jeremy Maclin) to a torn ACL on Saturday. The Baltimore Ravens might have lost their top tight end (Dennis Pitta) for the season to a dislocated hip. Seven years aggo, Cleveland native LeCharles Bentley played his last down of football ever when he injured his knee on the first day of training camp a few months after signing a 36 million deal with the Browns. These players know what they're signing up for. They know that probably 15-20 of the 90 players in camp won't ever play football again past the next four weeks, that each of the 53 full-time jobs each of the NFL's 32 teams offer are precious -- and not one of them is truly guaranteed. They know they're risking major injury every time they put on the pads, and they know that what happened to Miller on Saturday could happen to anybody. The Browns were already down a backup offensive lineman due to injury, so chances are by the time the players had showered following Saturday's practice, somebody in the front office had made a call to the first man on the team's list of available free agents. There's another practice Sunday at 4 p.m. As we were reminded on Saturday, the show always goes on.
Original Story:
http://www.foxsportsohio.com/nfl/clev...
THE BACKYARD
BEST OF MAXIM
RELATED ARTICLES
Reports from camp indicate that today's indoor session due to weather had a frightening moment for players and media alike. Browns' reserve second-year offensive lineman Ryan Miller suffered a concussion. Media reports indicated earlier that it was an offensive lineman and not much else because of the Browns wanting to notify Miller's family. This from ESPN Cleveland's Tony...
Browns offensive lineman Ryan Miller returned to the team's training facility on Sunday and began the NFL's concussion protocol after being knocked unconscious during practice. Miller was rushed to the Cleveland Clinic on Saturday after his frightening injury during a routine blocking drill brought the Browns' indoor workout to a standstill. The 6-foot-7, 320-pounder...
After yesterday's practice, Browns Head Coach Rob Chudzinski spoke on many different topics, focusing first on injured offensive lineman Ryan Miller. He did, however, mention running back Dion Lewis, a newcomer in the offseason via a trade with Philadelphia. "I think I'm just learning. He's a guy that we haven't seen a lot. Running backs really tend to show more when the...
BEREA There was some scary moments at Browns practice Saturday when Ryan Miller was either injured or collapsed during practice and was taken to the Cleveland Clinic by emergency medical personnel. Practice was stopped and the field house was silent for nearly 10 minutes as team trainers and medical personnel worked on Miller. He was then immobilized on a stretcher and put into the...
According to Mary Kay Cabot of the Cleveland Plain-Dealer, an unknown Browns player was taken off the practice field and taken to an area hospital in an ambulance. An unidentified Browns player was down on the field for nearly 10 minutes today in a scary scene at practice. The player was immobilized on a board and then carted to the ambulance. The team has asked that the player not...
A Cleveland Browns player has been taken to the hospital after being carted off the field during practice. The Browns have not yet released the player's name because they are trying to contact his family. A team spokesman said the player is ''awake, alert and has movement in all four extremities.'' Cleveland's players, wearing shoulder pads for the first...
Failed Marijuana tests before entering the NFL and a 2-game PED suspension is enough for the Cleveland Browns to keep an close eye on 2nd year receiver Josh Gordon. CEO Joe Banner says Gordon knows full well that he's basically running out of chances, and one slip up may very well cost him his status with the team. "He spent a fair amount of time talking to [head coach...
BEREA, Ohio (AP) -- Brandon Weeden says he's a changed quarterback. A wide-eyed rookie last year, Weeden says he feels "like a completely different player" as he enters his second NFL season with Cleveland. The 29-year-old had an up-and-down first season, but a coaching change, a revamped offense to suit his strengths and a new outlook have Weeden feeling confident...
   Top 15 Fantasy Running Back Monographs! Monograph – A highly detailed and thoroughly documented study or paper written about a limited area of a subject or field of inquiry. 6. Browns - Trent Richardson, Cle (10) recorded 267 carries for 950 yards (3.5 YPC) with 11 touchdowns and another 51 receptions for 367 yards and 1 receiving touchdown despite playing through a knee...
D'Qwell Jackson breaks up a pass in a red zone drill With practice moved inside yesterday due to weather, the Browns held their first full contact practice on Sunday afternoon in front of a record crowd in Berea. The Browns announced that 4,466 fans came through the gates. They were certainly the loudest group since training camp opened. Even though the players said they were excited...
Another NFL offseason has come and gone, and now the time has come for training camp. The Cleveland Browns, fresh off of a somewhat promising, yet ultimately disappointing, 2012 season, are ready to start anew under yet another new front office regime. New head coach Rob Chudzinski, as well as new coordinators Norv Turner and Ray Horton, are in the process of instilling their new...
NFL News

Delivered to your inbox

You'll also receive Yardbarker's daily Top 10, featuring the best sports stories from around the web. Customize your newsletter to get articles on your favorite sports and teams. And the best part? It's free!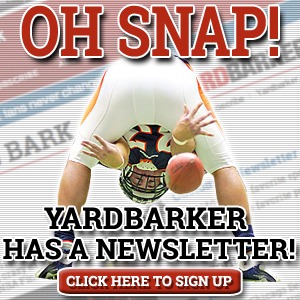 Latest Rumors
The Backyard

Today's Best Stuff

For Bloggers

Join the Yardbarker Network for more promotion, traffic, and money.

Company Info

Help

What is Yardbarker?

Yardbarker is the largest network of sports blogs and pro athlete blogs on the web. This site is the hub of the Yardbarker Network, where our editors and algorithms curate the best sports content from our network and beyond.