Denver, CO. When an NFL team has the #2 overall pick in any draft, the obvious hope is that the player chosen develops into an every down starter, and a star at his position. For the Denver Broncos in the spring of 2011, they decided to select a pass rush specialist named Von Miller. The Broncos had struggled getting to the quarterback for several seasons, so it was a logical choice, and one that few fans had any sort of issue with. Miller had shown in college that he had rare speed for a linebacker, and had also shown some serious ability to cause havoc in the opposing teams backfield. The Denver Broncos felt very secure in their decision to take him with the second pick in last years draft, and were confident that in a few years he would be an outstanding linebacker and a fixture within their defense for the next decade or so. But as the 2011 season began, it quickly became evident that Von Miller was very comfortable at the pro level, and his impact was almost immediate. As the season went on, #58 made some rookie mistakes, but he also showed many glimpses of how great he could eventually become. Now set to enter his second NFL season, Von Miller is ready to take the next step, and become one of the best pass rushers in the entire league.
Playing in the Big 12, Von Miller faced some of the best competition in all of college football. As a junior in 2009, he erupted onto the scene, amassing 17 sacks and winning the Dick Butkus award as the nations best linebacker. His stats in 2010 came down a bit, primarily because everyone now knew who he was, and were focusing their blocking schemes on stopping him. Nonetheless, he still totaled 10.5 sacks, as his athleticism and speed were quite obvious. As a rookie for the Broncos last year, Denver's front office knew they had a talented player, and one who they felt would make an impact at some point in the next few years. But as 2011 went along, it was becoming more difficult to keep this guy off the field. He did have his struggles in certain situations though, such as covering the tight end, or being in the right place to stop the run. However, his energy and athletic ability were impossible to ignore. The coaching staff had to know that he would continue to make some mistakes, as any rookie would, but this was necessary for him to grow as a player and it would ultimately benefit both he and the Broncos down the road. As Denver began to win several games that they really shouldn't have late last year, the rookie linebacker was getting better and better. Let us not also forget, late in November, Miller ending up breaking his thumb against San Diego. For the rest of the season, he would continue to play with a cast on, which covered his entire right hand. Imagine trying to tackle, shed blockers, and do all that was necessary in his position with basically just one hand. Von Miller would continue to make his presence known in December as the Broncos defied the odds and won games. As we all know, Denver stunned the NFL world, won the AFC West, and even won a playoff game. #58 totaled 11.5 sacks in 2011, and won NFL Defensive Rookie of the Year. Although much of the credit for last seasons success went to the QB that is now a New York Jet, the job done by the defense and the rookie from Texas A&M cannot be overlooked. Simply put, in the second half of last year, Von Miller busted through the typical rookie learning curve. Now fully healthy, and with a professional season under his belt, there is no telling what he could accomplish in 2012. A year where he leads the entire NFL in sacks is not out of the question, and it potentially could happen as soon as this year. "Orange Crush"…..a term that brings back so many great memories for long-time Denver Broncos fans. It harkens back to the 70′s and 80′s, where the defense would rise up, make huge plays at critical times, and secure countless victories over the years for this Broncos franchise. After the back to back Super Bowl years in the late 90′s, quite honestly, the defense in Denver has mainly been mediocre at best, and sometimes just downright bad. For the first time in many years, 2011 brought Broncos fans a few moments where it felt like the old days. Heading into this season, all indications point to this defense improving even more, and making more game-changing plays. How good can this side of the ball be in 2012? Hard to say for sure, but if Von Miller continues his rapid ascent to stardom, this new version of the "Orange Crush" could be one of the NFL's very best. Denver Sports by J Simp
The post Von Miller set to be elite NFL sack machine appeared first on Denver Sports Chat.
Original Story:
http://feedproxy.google.com/~r/Denver...
MORE FROM YARDBARKER
Broncos News

Delivered to your inbox

You'll also receive Yardbarker's daily Top 10, featuring the best sports stories from around the web. Customize your newsletter to get articles on your favorite sports and teams. And the best part? It's free!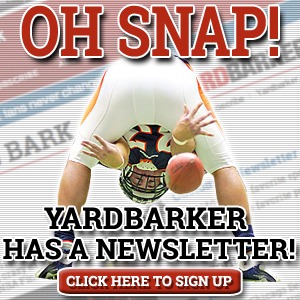 Latest Rumors
Best of Yardbarker

Today's Best Stuff

For Bloggers

Join the Yardbarker Network for more promotion, traffic, and money.

Company Info

Help

What is Yardbarker?

Yardbarker is the largest network of sports blogs and pro athlete blogs on the web. This site is the hub of the Yardbarker Network, where our editors and algorithms curate the best sports content from our network and beyond.