Posted July 18, 2012 on AP on Fox
Gov. Mark Dayton has a theory on why so many Minnesota Vikings and other NFL players have been in trouble with the law - he says they have too much time on their hands and they have similarities with soldiers returning from war. In an interview with Minnesota Public Radio on Tuesday, the governor said NFL players are off about half the year. He compares football to combat, calling it ''slightly civilized war.'' He said he doesn't excuse bad behavior, but adjusting to normal life is a challenge. Dayton calls Vikings running back Adrian Peterson ''an upstanding citizen and really fine role model.'' He notes that Peterson denies he was responsible for an altercation with an off-duty police officer at a Houston nightclub July 7.
Original Story:
http://msn.foxsports.com/nfl/story/mi...
THE BACKYARD
BEST OF MAXIM
RELATED ARTICLES
Minnesota Gov. Mark Dayton was a driving force behind the bill to build a new Minnesota Vikings stadium. Now, he's trying to defend the Vikings and offer his own thoughts on why arrests have become so prevalent with NFL players.Speaking on Minnesota Public Radio on Tuesday, Dayton was asked about a weekend St. Paul Pioneer Press report detailing the string of off-field incidents...
Minnesota Gov. Mark Dayton apologized Thursday for comparing NFL players in trouble with the law to veterans returning from war. The first-term Democrat said in a statement that he made a poor analogy when he used the comparison in an interview Tuesday with Minnesota Public Radio. In that interview, Dayton theorized on the troubles of professional football players, including Minnesota...
Vikings training camp previewTRAINING CAMP GOALS 1. Make Christian Ponder comfortable. Every move the Vikings made this offseason is worthless if their starting quarterback isn't finally up to speed in his second season. Ponder got a free pass last season because of the NFL lockout and the fact that he sat behind Donovan McNabb through the first six weeks of the season. This...
Minnesota governor Mark Dayton has an explanation as to why so many young NFL players have found themselves in trouble this offseason - idle time, he tells Brian Murphy of the St. Paul Pioneer Press. You see, these guys are just not your everyday scmucks like you and I, they're NFL players, and they need to be out clubbing unitl the wee hours of the morning; drinking, fighting...
It's been more than four years since Brett Favre last wore a Green Bay Packers uniform, but according to the three-time NFL Most Valuable Player, he still has no relationship with the franchise he spent 16 years leading to 172 wins and one Super Bowl championship."I don't really have one," Favre told Deion Sanders in an interview on the NFL Network. "It'...
This is the ninth in a series of 13 previews leading up to the Minnesota Vikings' July 27 start of camp.July 10: Quarterbacks July 11: Running backs and fullbacks July 12: Wide receivers July 13: Tight ends July 16: Offensive linemen July 17: Defensive linemen July 18: Linebackers July 19: Safeties July 20: Cornerbacks July 23: Specialists July 24: Coaches July 25: 5...
One of these days — though not anytime soon — the Packers plan on extending an olive branch toward Brett Favre, who spent 16 seasons solidifying his legacy in Titletown only to have it come down in one fell swoop. Although Favre departed on not-so-great terms, GM Mark Murphy wants to formally retire his number, as most teams do with its iconic players. The sentiment appears...
Despite their criminal track record being the TOPS since 2000, the Minnesota Vikings have actively been trying to dissuade their players (particularly rookies ... Get 'em while they're young!) from finding themselves in troublesome situations. Whether that's encouraging them not to be out late at a bar in Houston, suggesting they don't choke their significant others...
The Bears signed running back Lorenzo Booker to a one-year deal and released undrafted rookie Alvester Alexander. Booker, 28, wasn't tendered as a restricted free agent after 19 games over two seasons with the Vikings. A third-round pick in 2007, Booker was traded from the Dolphins to the Eagles in 2008. A third-down back with experiencing returning kickoffs and punts, Booker...
Remember 1972? It was a hell of a year. Dirty Harry was released in theatres, HBO launched it's first programming only so years later they could release "Game of Thrones," and PONG became famous. What a world we live in! Also, the Minnesota Vikings played the Pittsburgh Steelers in an NFL game, and some guy on YouTube put the entire game online. [youtube]RCtIst13GCY...
ALL PLAY AND NO WORK?
Minnesota governor Mark Dayton believes that the rash of arrests during the NFL offseason is related to lack of organized activity, saying, "Idle time is the devil's play."
Vikings News

Delivered to your inbox

You'll also receive Yardbarker's daily Top 10, featuring the best sports stories from around the web. Customize your newsletter to get articles on your favorite sports and teams. And the best part? It's free!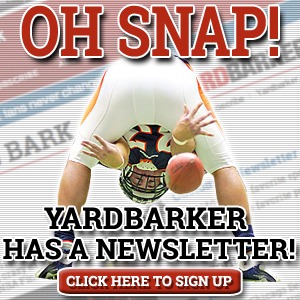 Latest Rumors
The Backyard

Today's Best Stuff

For Bloggers

Join the Yardbarker Network for more promotion, traffic, and money.

Company Info

Help

What is Yardbarker?

Yardbarker is the largest network of sports blogs and pro athlete blogs on the web. This site is the hub of the Yardbarker Network, where our editors and algorithms curate the best sports content from our network and beyond.