Found September 10, 2012 on NorthWest Sports Beat:
PLAYERS:
Pete Carroll
,
Russell Wilson
,
Matt Flynn
,
Marshawn Lynch
,
Robert Turbin
,
Ben Obomanu
,
Bobby Wagner
,
JR Sweezy
,
James Carpenter
,
Kellen Winslow
,
Zach Miller
,
Josh Portis
,
Ricardo Lockette
,
Reggie Bush
,
Kevin Kolb
,
Larry Fitzgerald
,
Early Doucet
,
Sidney Rice
TEAMS:
Seattle Seahawks
,
Arizona Cardinals
,
Dallas Cowboys
,
Miami Dolphins
,
New York Giants
Tough way to start
After a very promising preseason campaign, one in which the Seattle Seahawks saw plenty of upswing from their 2012 draft class, week one came, and all that pride seemed to be thrown out the window.
There were moments of greatness flashed during the loss at Arizona, but I think the play calling by Pete Carroll has to be questioned the most. Especially when we had 8 chances in the red zone to win the game, yet failed to do so.
This was a game that should have been a cake walk for the Seahawks. But once again, the dropped passes bug seems to be biting the Hawks.
With that, I give you my top 10!
10: Russell Wilson gets 1st start
If only Pete Carroll could have watched how Mike Shannahan sent out RGIII for his first set of downs, I think Russell Wilson could have had a more productive game.
Where was the tempo? Where was the flow?
The play calling was predictable, and even without a rookie QB, this will end up disastrous in your chances of winning ball games.
Wilson did have some hustle that I was impressed with though, namely, getting up field to throw a block, or busting by a blocker to leap on the fumble.
I don't see Matt Flynn doing either of those things.
9: Will he or won't he?
The Seahawks super star running back Marshawn Lynch was kept on the questionable list until moments before kickoff Sunday.
I know this is more of a nuisance for fantasy owners than anybody else, as I was forced to start Robert Turbin in one of my leagues thinking Lynch would not go.
Oh well, such is fantasy football.
But back to the real game. Lynch ended up being solid in week one, not great, not bad. My question still is why didn't he get a chance to win the game for us in the 4th though?
Why wasn't Marshawn Lych given the ball when the game was on the line?
8: Final cuts
In a surprise move last Friday, Pete Carroll opted to go with Ben Obomanu, leaving no place on the roster for Deion Butler.
Butler had the better final preseason game, which one would think was the deciding factor in the cuts, but I guess Pete saw something he liked more out of Obomanu.
7: 3 rookie starters for week one
With the above mentioned Russell Wilson starting at QB, the Seahawks also started MLB Bobby Wagner, and RG J.R. Sweezy.
And it showed at times on Sunday too.
6: Trickery
Though it wasn't planned in any way, shape, or form, the catch by Sidney Rice during the opening drive was amazing to say the least.
Wilson was trying for Lynch on a short slant play, over shot him, the ball went off of his hand, but a diving Rice was there to catch it and be the hero.
Now only if he could've caught one in the endzone at the end of the game he truly would be a hero.
5: Carptenter on his way back
James Carpenter finally made it onto the practice field last Monday. A sign that he will be hopefully joining the Hawks on game day real soon.
He did miss Sunday's game though.
4: TE cut
TE Kellen Winslow had a good stay in Seattle, but it was just a little on the short side.
The Hawks cut him shortly after the 53 man cuts were finalized, claiming his contract was too high for their liking.
This leaves concussion machine, and hunting enthusiast, Zach Miller as the go to guy for the Hawks at the TE position this year.
I still don't see the logic in this move.
Russell Wilson showed his mobility Sunday, but just couldn't get the win
3: Now introducing your 2012 practice squad captains
Okay, I know there's no such thing as practice squad captains, but if there were, these two guys would be them.
Josh Portis and Ricardo Lockette.
Both were released last Friday, but managed to get to keep their apartments in Seattle as they were added to the practice squad.
2: For the birds
The battle of the NFC West birds went to the Arizona Cardinals this time around.
Just like last time around too.
Hopefully we can get this fixed before we face a real opponent in the Dallas Cowboys next Sunday.
1: Suspect play calling
When given the opportunity to score late in the game to win the game, Pete Carroll has always been a magician. Even if the plays have been a little on the dirty side (think back to Reggie Bush being pushed into the endzone).
With 8 plays, and 4 time outs to get it done in the red zone with under two minutes to go, you would think we would be celebrating right now.
But out of those 8 plays, only one time did Carroll call for a play to Marshawn Lynch.
Get the ball to your best player when the game is on the line.
This goes for every sport, not just football.
Kevin Kolb did that when he entered the game. He found Larry Fitzgerald. He found Early Doucet. He found the endzone.
Horrible play calling when the game was on the line.
Pete Carroll is supposed to be better than this. That is why he is here, and Jim Mora is in Los Angeles right now.
Next up for the Hawks is a tough Dallas Cowboy team, coming off a win against the New York Giants.
Stay proud 12th man, it's only one game.
CLICK HERE CHECK OUT THE SEAHAWKS BLOG IN OUR CLUBHOUSE SECTION AT NWSB!
© Clinton Bell for North West Sports Beat, 2012. | Permalink | 2 comments |
Follow NWSB on Twitter or join US on Facebook for real-time updates OR... | Share This on Twitter | Share NWSportsBeat.com on Facebook
Post tags:
2012
,
Arizona Cardinals
,
Ben Obomanu
,
Bobby Wagner
,
Marshawn Lynch
,
NFC West
,
NFL
,
Pete Carroll
,
Russell Wilson
,
Seahawks Blog
,
Seahawks Moments In Time
,
seattle
,
Seattle Seahawks
,
Sidney Rice
,
Zach Miller
Original Story:
http://www.nwsportsbeat.com/seahawks/...
THE BACKYARD
BEST OF MAXIM
RELATED ARTICLES
Pete Carroll spent most of last season dealing with the Seattle Seahawks' inordinate amount of penalties. There were 138 to be exact, a franchise record and the second most in the NFL last season. So with the penalty problem being a point of emphasis, what did the Seahawks do in the season opener at Arizona? They committed 13 more infractions, tied for the most in Week 1. ...
GLENDALE, Ariz. (AP) -- Replacement officials in Sunday's game between the Cardinals and Seahawks made a potentially crucial mistake Sunday, awarding Seattle an extra timeout in the closing seconds. Seahawks coach Pete Carroll called timeout with 30 seconds left, but the officials had announced two plays earlier that Seattle used its last one when receiver Doug Baldwin was injured...
Of the 70 offensive plays the Seattle Seahawks ran against Arizona, more than half came in the Cardinals' half of the field. And that makes the Seahawks' 20-16 loss even more difficult for Carroll to accept. Seattle had plenty of chances, starting all the way back in the first quarter and ending when Russell Wilson's pass for Braylon Edwards at the goal line fell incomplete...
Well, that wasn't quite what we expected. Russell Wilson's first half left much to be desired, though he did bounce back and have a nice second half -- and incredible field position thanks to the kick return prowess of Leon Washington. But where was the red zone offense? Where were the conversion opportunities? And where was the pass defense? These are questions that need...
Step up time The Seattle Seahawks are headed down to University of Phoenix Stadium Sunday to take on division foe Arizona to start the regular season. Many feel it could be a trap game given the rookie factor surrounding this Seahawk team as well  as the injuries the team has sustained. With so many questionable players, it is hard to say exactly who will play in week 1. The ones...
No Game Balls Today! Seven, count 'em seven plays inside the red zone in the final minute for the Seahawks.  That is what went wrong. Correction; that is what went wrong in a nutshell. My unfortunate job is to crack open that nutshell, and breakdown the hurt and disappointment inside.  Why not get started! Offensive Woes The entire offense really struggled to get going during...
From Adrian Peterson, Trent Richardson and Stephen Hill to Robert Griffin III and Russell Wilson, we thought we knew what was going to happen during Week 1 of the NFL season. The first Sunday of the NFL season has finally come and gone. While many of us believed we knew what was going to happen, the results were normal for the first week, completely off from what we thought. ...
WORK IN PROGRESS
A misinterpretation of the injury timeout rules led to the Seahawks being given an extra timeout at a crucial time at the end of their game against Arizona.
I just want to again say thank you to a couple of people for hooking me up with tickets to the Cardinals v Seahawks game before I get into my recap. Thanks to@AZBirdgangMC for getting me in touch with @wildcard44 who was good enough to get me two lower level seats for the game. I had a blast and was able to take my dad with me, so it made it even more enjoyable as I was able to repay...
NFL News

Delivered to your inbox

You'll also receive Yardbarker's daily Top 10, featuring the best sports stories from around the web. Customize your newsletter to get articles on your favorite sports and teams. And the best part? It's free!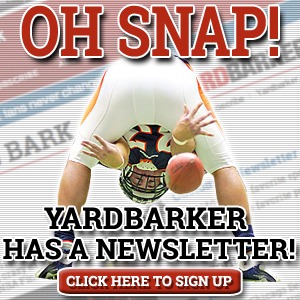 Latest Rumors
Best of Yardbarker

Today's Best Stuff

For Bloggers

Join the Yardbarker Network for more promotion, traffic, and money.

Company Info

Help

What is Yardbarker?

Yardbarker is the largest network of sports blogs and pro athlete blogs on the web. This site is the hub of the Yardbarker Network, where our editors and algorithms curate the best sports content from our network and beyond.