Found August 31, 2013 on Grits Blitz:
We are at the point of the season where I am ridiculously excited for the real action to start but also feel for those who are not making it to the final 53.  The roster has been massaged down to 62 players and we are waiting for the Turk to bump out nine remaining players.   I'm sure you heard about this one.  Best of luck to you, Brian Banks. After the jump we discuss what the current list means for those who are gone and those who are still here. Brian Banks.  Banks is certainly the most famous player cut, with his signing even making it on the prestigious Grits Blitz blog.  Sadly, the years he spent in prison made him the ultimate project.  The 28 year-old was plugged in to the middle linebacker spot pretty late in preseason games and was usually subbed out in clear passing situations.  He may be a long shot for the practice squad as well, as his age and position is short on the upside you would hope for on the practice squad.  There have been reports Arthur Blank wants to give Banks a job off the field in Atlanta, so perhaps not all is lost.  Everyone at Grits Blitz wishes Banks the best where ever he lands. What this means for Atlanta.  Along with fellow linebacker Pat Schiller, Atlanta has pulled in plenty of solid talent this offseason in UDFAs Paul Worrilow and Joplo Bartu.  It was pretty clear Atlanta hit on two guys who provide graet depth and should get plenty of play time on special teams and likely reps on our starting defense.   Sean Renfree.  Renfree, along with tight end Andrew Szczerba, were placed on injured reserve.  QB Renfree was our 7th round selection in the draft this year.  You could tell he was not quite ready to be a backup quarterback this year. What this means for Atlanta.  Both players will be stashed away on injured reserve.  Their respective injuries are unclear but it is common for teams to stash away players they like who would not play that year onto injured reserve with minor or non-season ending injuries.  Renfree should have a better shot next year after spending a year with the team. Charles Mitchell.  Mitchell was Atlanta's 6th round pick last year and played in spot duty and special teams through about 10 games last year.  His fate was likely sealed when Atlanta decided to draft Zeke Motta and Kemal Ishmael back-to-back in the 7th round this year. What this means for Atlanta.  Thomas Dimitroff may be a bit quicker to get rid of players he drafted that just aren't cutting it.  I tend to think Atlanta, like most teams, hold on to their drafted guys longer than they should, often letting a better but undrafted player go.  This was a quick turn around for a drafted guy who played last year.  It should also mean Atlanta likes either Motta and/or Ishmael. Peyton Thompson.  This corner was on our practice squad last year and had plenty of playing time in preseason.  Thompson needed to really fight for a spot because Atlanta was going to keep Asante Samuel, Desmond Trufant, Robert Alford and Robert McClain, with Dominique Franks likely sticking around to disappoint fans for another year.  Same goes for Terrence Johnson, a bottom-of-the-roster guy who became expendable. What this means for Atlanta.  Dimitroff doesn't want to keep around bad corner backs.  Thompson was baaaaaaaaaaad in preseason and Atlanta has more than enough young depth at the position. Everyone else.    This includes Theo Goins, Neal Huynh, former practice squad DT Micanor Regis, Alec Savoie, Jeremy Shelley and Ronnie Wingo.  These guys were outperformed by other fringe players.  We may see one or two signed to the practice squad. What this means for Atlanta.  We needed to cut some camp bodies or else we would have run out of players by the 3rd quarter in the last preseason game.  Other than that, it means we are not desperate at these positions. Why do we still have cuts to be made?  Let me toss on my General Manager hat for a minute.  Atlanta is likely still in discussion over who should stay and who should go.  I think it would be safe to assume Dimitroff wants to see who else gets cut in case there are a few players he has his eye on.   It would be far from preferable to, for instance, cut an offensive lineman for a roster spot for a safety only to have a better safety get cut elsewhere.  In that time you may lose that offensive lineman to another team.   Stay tuned to the Grits Blitz blog for more information on cuts.
Original Story:
http://www.gritsblitz.com/2013-articl...
THE BACKYARD
BEST OF MAXIM
RELATED ARTICLES
The Atlanta Falcons have signed eight players to their practice squad, including receivers James Rodgers and Darius Johnson. The list of players signed Sunday does not include linebacker Brian Banks, who was cut on Saturday. Banks was trying to launch his career after spending five years in prison on a rape conviction that was overturned last year. The Falcons also signed fullback...
ATLANTA The Falcons will release long shot linebacker Brian Banks, who spent more than five years in a prison for a crime of which he was falsely accused and later exonerated, according to FOXs Jay Glazer. Final cuts down to the 53-man roster are due by Saturday at 6 p.m. Eastern. However, Glazer also tweeted that Falcons owner Arthur Blank was so impressed with Banks that Blank...
FLOWERY BRANCH, Ga. Linebacker Brian Banks was not among the eight players added to the Atlanta Falcons' practice squad. The list included seven players who had spent time with the Falcons during training camp, including three undrafted college free agents quarterback Seth Doege, defensive tackle Adam Replogle, wide receiver Darius Johnson along with tight end Mickey Shuler...
Roddy White hasn't played a down since August 15th when he suffered an ankle sprain against the Baltimore Ravens.  Fortunately it was not a high ankle sprain which generally is considered more severe and his availability for Week 1 is no longer in doubt according to D. Orlando Ledbetter.  We had mentioned earlier this week that there was a little uncertainty of White playing...
If there was ever a player not on your favorite team, but you couldn't help but cheer for him.  It had to be former Atlanta Falcons linebacker Brian Banks. Yes, former; he was among the cuts that the Falcons announced on Friday. You would think that the possibility of being cut 
According to the Atlanta Journal-Constitution, Falcons coach Mike Smith expects receiver Roddy White (ankle) to be ready for Week 1.Fantasy Spin:"I think all of those guys (White, Stephen Nicholas and Matt Bryant) are on schedule to get back with us and be playing this week," Falcons coach Mike Smith said. "That's what we are anticipating at this point in time...
The Atlanta Falcons finalized their cuts yesterday to bring the roster down to the mandatory 53 men, and released the names of their eight man practice squad today. While much of the roster was predetermined before the preseason even began, there were a few surprises in both the cuts and those making the squad. Here's a look at what we predicted, and what the final tally actually was. Expect
ATLANTA -- With the conclusion of training camp and now the preseason in a 20-16 loss to Jacksonville on Thursday and final cuts looming less than 48 hours away, Falcons linebacker Brian Banks can say that he has no regrets.For the 28-year-old who spent five years in jail after being wrongly accused -- a crime of which he was later exonerated -- the opportunity was all that he had...
Key Additions RB Steven Jackson, DE Osi Umenyiora, CB Desmond Trufant (draft), CB Robert Alford (draft), DE Malliciah Goodman (draft), TE Levine Toiolo (draft), DE Stansly Maponga (draft) Key Losses RB Michael Turner, FB Mike Cox, OT Tyson Clabo, OT Will Sviek, C Todd McClure, DE John Abraham, DE Lawrence Sidbury, DT Vance Walker, CB Brent Grimes, CB Dunta Robinson...
Being cut by an NFL team isn't the end of the world and no one knows that more than Brian Banks. Banks who spent five years in prison after being falsely accused of rape will be released by the Falcons according to FoxSports.com. It's been a long road for Banks who was falsely accused of rape in 2002. After being convicted Banks spent five years in prison and another five...
ATLANTA (AP) -- Jacksonville's Jordan Todman and Atlanta's Josh Vaughn made strong final bids to win backup jobs by running for touchdowns as the Jaguars held on late for a 20-16 preseason win over the Falcons on Thursday night. Mike Kafka, Jacksonville's third quarterback of the game, threw a 13-yard touchdown pass to Jeremy Ebert early in the fourth quarter to give...
The final preseason game rarely has much in the way of a game plan or recognizable names, but the Atlanta Falcons still had some roster spots to be decided, and after yet another flat looking game against the Jacksonville Jaguars, there were a few guys who may have played their way out of the mix. Just as in the previous game against the Tennessee Titans, Atlanta came out looking stale, and
Falcons News

Delivered to your inbox

You'll also receive Yardbarker's daily Top 10, featuring the best sports stories from around the web. Customize your newsletter to get articles on your favorite sports and teams. And the best part? It's free!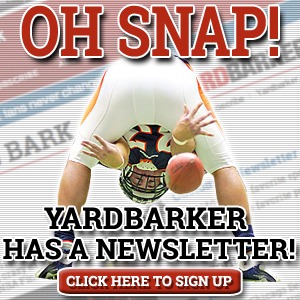 Latest Rumors
Best of Yardbarker

Today's Best Stuff

For Bloggers

Join the Yardbarker Network for more promotion, traffic, and money.

Company Info

Help

What is Yardbarker?

Yardbarker is the largest network of sports blogs and pro athlete blogs on the web. This site is the hub of the Yardbarker Network, where our editors and algorithms curate the best sports content from our network and beyond.