Found July 18, 2013 on Sports Blog Net:
PLAYERS:
Tony Romo
,
Mark Sanchez
,
Jason Garrett
,
Peyton Manning
,
Aaron Rodgers
,
Tom Brady
,
Drew Brees
TEAMS:
Dallas Cowboys
,
New York Jets
,
Denver Broncos
,
Green Bay Packers
,
New England Patriots
,
New Orleans Saints
,
New York Giants
When it comes to discussing the subject of Dallas Cowboys quarterback Tony Romo, there really is no common ground. A person is either a supporter or a hater. The supporters will say if it wasn't for Romo, the team would probably have a 4-12 or a 5-11 record besides the 8-8 record they've compiled in the last two seasons. The fact Romo's play has kept the Cowboys average isn't saying much for the performance of the rest of the squad. The haters will always go back to all of the crucial mistakes Romo has made in the team's biggest games since Romo became the starter during the 2006-'07 season. Personally, I can see both sides of the equation. Romo makes some plays that will make you think he's one of the best QBs in the league. Other times, he'll be neck-and-neck with New York Jets QB Mark Sanchez to see who will have the most "Not Top 10" plays. Regardless of what side people are on, here are some facts. Dallas has won one playoff game (2010) since Romo has been starting, which is also the only win since the 1996-'97 season. In the Dallas-Fort Worth metroplex, the expectation is to contend for a Super Bowl title every year. Fans and critics continue to ask if Romo is the man who can lead the Cowboys back to the glory days. Owner, president and general manager Jerry Jones thinks Romo is the answer if he's willing to sign him to a six-year, $108 million dollar extension. Included in the contract is $55 million in guaranteed money. This is definitely money that says Romo is an elite QB, but overall, that's highly questionable, especially considering Romo apparently wasn't having too much say so in the weekly game plans for the Cowboys' opponents. Nobody knows for sure what's going on behind the scenes, but there appears to be some trust issues within the coaching staff and the front office. Head coach Jason Garrett wants to remain the play caller, but Jones and new offensive coordinator Bill Callahan say differently. Even before Callahan got there, it seemed like Garrett didn't really want to turn Romo loose. I guess when a fan sees some of the turnovers Romo has committed over the years, one could understand why Garrett would be reluctant to do so. On Thursday, we heard what might be a little change in how things have been ran. Romo told the Racine Journal Times he thinks he'll be more involved in game-planning. If Romo wasn't more involved in the game plans before, why not? He's the starting quarterback of "America's Team." There's absolutely no reason to have Romo out there if the coach doesn't trust he can one, execute the planned attacks, and two, doesn't trust his input. It seems pretty clear the elite QBs, such as Denver Broncos QB Peyton Manning, Green Bay Packers QB Aaron Rodgers, New England Patriots QB Tom Brady, New Orleans Saints QB Drew Brees and New York Giants QB Eil Manning, among others, have a significant say-so on the game plan. If Romo is elite, he probably should have more of a say-so in the weekly game plans, assuming he hasn't been all that involved. Judging off of the rollercoaster that is Romo's overall play, having more say-so could be good or bad depending on the game. Personally, I think this is good because someone on the Cowboys need to step up and be a leader on the team. Who better than the franchise and nicely-paid QB? Every year is a put-up or shut-up year for the Cowboys, but it's especially true for this upcoming season. It's probably the case more for Romo than anyone else, who needs to show he can be more consistent. When a man gets signed for the money Romo was signed for, results are expected yesterday. The contract says Romo is elite. As the season approaches, we will soon find out if his play says the same thing. By Charles Taylor
Original Story:
http://bestkeptsecret.sportsblognet.c...
THE BACKYARD
BEST OF MAXIM
RELATED ARTICLES
Tony Romo is scheduled to take part in the Dallas Cowboys' first training camp practice Sunday afternoon in Oxnard, Calif. It will be Romo's first action in a practice setting since having a cyst removed from his back in April. Cowboys coach Jason Garrett said Saturday that Romo "looks great" and "looks lean" but added that his throws will be monitored...
Cowboys owner Jerry Jones and coach Jason Garrett said quarterback Tony Romo will be able to fully participate when training camp starts Sunday in Oxnard. Romo sat out all of the organized team activities and mini-camp in the off-season while recovering from surgery to have a cyst removed from his back. Romo and the team's brass downplayed his absence from workouts throughout...
As fantasy football is concerned, there's little not to like about Tony Romo, however disappointing he may be in big games and big moments in real life.The post Is Tony Romo Undervalued in Fantasy Football? appeared first on Gridiron Experts. Check out some of our Fantasy Football Team Names
The Dallas Cowboys' medical staff has cleared quarterback Tony Romo to begin practicing when training camp starts on Sunday, according to sources. Romo underwent minor surgery to have a non-cancerous cyst removed from his back in April. The surgery prevented Romo from participating in offseason workouts other than some light throwing in walk-through practices. Romo and team...
The Cowboys will keep an eye on how much quarterback Tony Romo throws in training camp, although they won't have a "pitch count" for him. "It's more communication – 'How you feeling?' – and also, you look at the ball," head coach Jason Garrett said Saturday in Oxnard, Calif., where the Cowboys are getting ready for their first practice on Sunday. "Does the...
Following a "kind of annoying" surgery, Dallas Cowboys quarterback Tony Romo will be ready to practice when training camp opens Sunday. Days before April's draft, the 33-year-old Romo underwent the knife to have a non-cancerous cyst removed from his back. Throwing 177 touchdowns, against 91 interceptions, for 25,737 yards since debuting in 2006, the 6-foot-2, 230 pound Romo...
Tony Romo is rested and ready. He has a big new contract and big new responsibilities. Now the Dallas Cowboys head to training camp trying to break out of a cycle of mediocrity that dates back to 1997. They're .500 since the start of that season, including a pair of 8-8 records in Jason Garrett's first two full seasons as coach. Dallas hasn't been to the playoffs since...
The Dallas Cowboys arrive Friday in Oxnard, Calif., where they will become the first NFL team to open training camp. No one loves the spotlight more than Jerry Jones, so expect a bravura performance at his opening news conference. But before Jerry has a chance to talk, let's take a look at five of the biggest storylines heading into camp: 1. Cowboys quarterback Tony Romo has...
QB Tony Romo (Dallas) In his career, Romo has completed 64.7% of his passes for an average of 7.9 YPA and 177 touchdowns to 91 interceptions, good for a career QB rating of 95.6, 5th highest all-time behind Aaron Rodgers, Steve Young, Tom Brady, and Peyton Manning. The 19 interceptions he threw last season, which led the league, tied a career high and was the same amount he threw...
DeMarcus Ware said he was misinterpreted in April when he seemed to imply during an interview on Sirius XM's NFL Radio that it's time for Tony Romo to "put up or shut up." The Dallas Cowboys defensive end wasn't only talking about Romo and the quarterback's new six-year, 108 million contract extension. Ware said he was referring to everyone on the Cowboys...
Introduction When the Cowboys signed Tony Romo to a 6-year, 108 million dollar contract extension with 55 million dollars guaranteed this off-season, it got a lot of criticism, as could be expected. After all, Romo is the media's favorite whipping boy, for whatever reasons. And, yes, when you compare it to the contracts of other top flight quarterbacks, it looks like an overpay...
NFL News

Delivered to your inbox

You'll also receive Yardbarker's daily Top 10, featuring the best sports stories from around the web. Customize your newsletter to get articles on your favorite sports and teams. And the best part? It's free!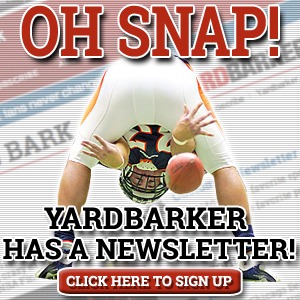 Latest Rumors
The Backyard

Today's Best Stuff

For Bloggers

Join the Yardbarker Network for more promotion, traffic, and money.

Company Info

Help

What is Yardbarker?

Yardbarker is the largest network of sports blogs and pro athlete blogs on the web. This site is the hub of the Yardbarker Network, where our editors and algorithms curate the best sports content from our network and beyond.