Found November 27, 2012 on Waiting For Next Year:
In a lot of ways, I'm happy that Mike Holmgren's services are no longer needed in Cleveland. Given the team's record over the last three years, I welcome the opportunity to have someone else lead this team. Still, I'm a bit taken aback by some of the outbursts on Twitter and on local talk radio that look to cast Mike Holmgren as public enemy number one. Yes, Mike Holmgren made a lot of money. No, Mike Holmgren's teams haven't won anywhere near enough games. Yes, he personally led a few of the biggest PR nightmares of the last few years between Seattle radio and not addressing Colt McCoy's concussion situation appropriately. Yes, Mike Holmgren almost undoubtedly hired the wrong coach when given the chance. Even all those things being said, I think memories are short for just how bleak things had become with Randy Lerner guiding the Browns. I've come to grips with the fact that Eric Mangini was a good coach in many ways and his replacement is not. The lesson of Eric Mangini in all reality is that even a proficient NFL football coach can't succeed in a leadership vacuum. The lesson of Mike Holmgren is similar in that we now know that a de facto owner, as Jimmy Haslam called Holmgren, couldn't succeed in a leadership vacuum either. Or at least he couldn't succeed in a three year period with any margin for error. Even with all that said, I don't understand why there is such vitriol for Mike Holmgren as he departs. The fact remains that Mike Holmgren gave this team structure where there wasn't any. Randy Lerner is to blame for the Kokinis/Mangini fiasco. Mike Holmgren was faced with cleaning it up. He was faced with putting a organizational structure in place where there hadn't been one since Phil Savage won the power struggle with John Collins. Holmgren brought in general manager Tom Heckert, as well as front office members like Bryan Wiedemeier, Gil Haskell, Jon Sandusky and John Spytek. Even though it hasn't shown up on the field yet in terms of wins and losses, there's little doubt that the Browns in 2012 are a significantly improved collection of talent than the ones left at the end of Romeo Crennel's tenure. Considering that many of those executives have only been on the job since February of 2010, it all seems largely unfinished for good reason. And that's the larger point here: Mike Holmgren wasn't the savior anyone fashioned, but there's no telling if anyone would have been able to do better under the vacuous hole – Lerner – that required Mike Holmgren to sell season tickets, attend ownership meetings and also turn around an historically bad team on the field simultaneously. This isn't to say Mike Holmgren did a great or even good job. This isn't even to give Holmgren a pass. This is to say that it's incomplete at best. Mike Holmgren was working on a five-year plan. You can argue that it should have and could have been a shorter timeline without a few of the decisions we deem mistakes today, and you might even be right. The point is that I'm not crazy enough to say that things aren't better than if Randy Lerner had continued in his role as hiring manager and absentee organizer of this football program as what led to Savage/Romeo straight into Mangini/Kokinis. This is currently a three win football team which is pretty abysmal, but at least they feel like they're on some kind of positive trajectory. As Mike Holmgren departs you can't feel that way about the roster while also just labeling his tenure with a blanket "Good riddance!" I don't think you can do that while being intellectually honest about the complexities of building any kind of organization. As I said on Twitter, Browns fans were dying of thirst after Kokinis was shown the door and Eric Mangini was seemingly alone in Berea. Maybe Mike Holmgren was a glass of dirty water, but it was still potentially life-sustaining water. Could anyone have done better? Maybe, but with Bill Parcells' legacy playing out in Miami and culminating with fan protests this off-season and Scott Pioli's playing out in Kansas City with Romeo Crennel, there's really no way to say for sure. Let's just say while I'm not ready to bow down and thank Mike Holmgren for his tenure in Cleveland I'm also not saying "Good riddance for being a lazy money-grubber with his heart in Seattle" like I've seen so many other people say over the last couple weeks. The truth is probably somewhere in the middle. The most appropriate thing to say today is probably, "Thanks for trying and good luck." Let's also remember that one of the alternatives for Mike Holmgren could have been Scott Pioli. Would you trade places with the Kansas City Chiefs today? – (AP Photo/Tony Dejak)
Original Story:
http://www.waitingfornextyear.com/201...
THE BACKYARD
BEST OF MAXIM
RELATED ARTICLES
I came in wanting to change this, and make it successful, give the fans something they deserve. My thinking is, that you'll see that in the next couple of years — that's my feeling. I don't think about legacy too much. In any job I've ever had, I've rolled up my sleeves and tried to do the best job I could do, be honest about it, and operate from a mutual respect and...
CLEVELAND -- Mike Holmgren can at least say he left Cleveland a winner.In a move that was coming but wasnt expected this soon, the Browns confirmed a report on CBS that Holmgrens last game with the Brown was Sundays 20-14 win over the Steelers.Holmgren will move on -- perhaps to coach Dallas, perhaps to retire in Seattle. His tenure with the team is over.The Browns record since Holmgren...
According to Tony Grossi of ESPNCLeveland.com, the Cleveland Browns have confirmed that president Mike Holmgren is now leaving the organization. #Browns actually confirmed Kevin Harlan's report that Mike Holmgren now departing organization. They didn't announce it. — Tony Grossi (@TonyGrossi) November 25, 2012 This isn't a complete surprise since he left the door open for...
The Cleveland Browns announced after Sunday's victory over Pittsburgh that team president Mike Holmgren has left the organization. Holmgren is scheduled to meet with the media on Monday to discuss his departure, and he presumably will be asked about his possible interest in the Cowboys and whether he plans to coach again. It had been reported some time ago that this would...
With new ownership in place, the Cleveland Browns had already decided to replace team president Mike Holmgren with Joe Banner. The move was announced mid-season but Holmgren is now finished with the franchise with Sunday being his last game with the Browns. Was this the swan song for Holmgren as he finds his way into the broadcast booth or will he return to the sidelines next season...
After the Browns' victory over the Pittsburgh Steelers on Sunday afternoon, the team announced that it was parting ways with former Team President, "quarterback guru", and "credible leader" Mike Holmgren.  The game against Pittsburgh is to be Holmgren's last with the team; he is scheduled to address the media with a departing press conference on Monday. #Browns announced...
Mike Holmgren's time as the president of the Cleveland Browns has ended. After the Browns win over the Pittsburgh Steelers, Holmgren said his goodbyes in the teams locker room. Reports circulated weeks ago that Holmgren had his eyes set on the head coaching job in Dallas. During Holmgren's time with the Browns there was a never ending carousel at the quarterback position. Holmgren...
BEREA, Ohio --Mike Holmgren said the only thing he knows for sure about his future is that Friday will be his last day with the Cleveland Browns. Ive already passed the baton, Holmgren said Monday in a brief appearance in the teams media room. He called reports that he would be interested in coaching the Dallas Cowboys if Jason Garrett were fired a misstatement, and said he will...
The Cleveland Browns have announced that today is Mike Holmgren's last day with the Browns. Following Jimmy Haslam III's appointment of Joe Banner as the new CEO, Holmgren previously announced this season would be his last in Cleveland. Everyone believed he would finish out the season though and the timing is certainly odd. Holmgren has been met by much criticism due to...
Mike Holmgren has left his post as President of the team after their win today against the Pittsburgh Steelers a team spokesman told at Associated Press. The Browns were sold to new owner Jimmy Haslam and he hired former Philadelphia CEO/President Joe Banner which left no role for Holmgren. The [...]
Browns president Mike Holmgren is leaving the organization immediately.
NFL News

Delivered to your inbox

You'll also receive Yardbarker's daily Top 10, featuring the best sports stories from around the web. Customize your newsletter to get articles on your favorite sports and teams. And the best part? It's free!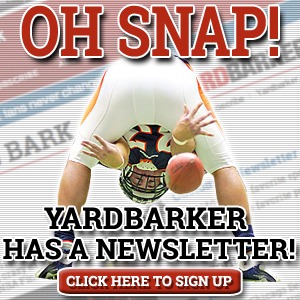 Latest Rumors
Best of Yardbarker

Today's Best Stuff

For Bloggers

Join the Yardbarker Network for more promotion, traffic, and money.

Company Info

Help

What is Yardbarker?

Yardbarker is the largest network of sports blogs and pro athlete blogs on the web. This site is the hub of the Yardbarker Network, where our editors and algorithms curate the best sports content from our network and beyond.