Found February 07, 2012 on Busted Coverage:
Via Busted Coverage: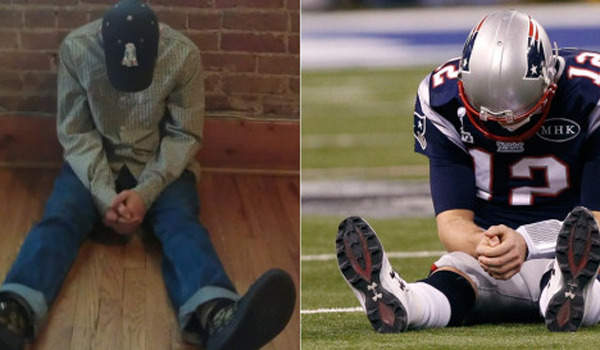 'Bradying' as defined by Busted Coverage: the act of being in the seated position, shoulders at 80-degree angle with the head slouching as if just dropped another catch and you can't play WR, too. Right hand in a fist while left hand acts as the Chipotle burrito shell. Feet perfectly at 90-degree angle. Forearms on thighs. And with that, America has its new rage – Bradying.
Click here to see people Bradying in-action!
Original Story:
http://bustedcoverage.com/2012/02/07/...
THE BACKYARD
RELATED ARTICLES
Tom Brady committed one of the costliest penalties in Super Bowl history - at least as far as the MGM Grand in Las Vegas is concerned. The quarterback of the New England Patriots drew a penalty for intentional grounding on the team's very first offensive play of the game. Because Brady was in the end zone and Justin Tuck of the New York Giants was bearing down on him, his heave...
BETTOR MAN THAN ME
The lucky fan who won $50,000 because of the Giants' safety in Super Bowl XLVI has told TMZ that he plans to give all his winnings to charity.
INDIANAPOLIS -- Patriots quarterback Tom Brady hunched over at his locker, still wearing his full uniform and covering his head with a towel, completely despondent after losing his second Super Bowl in the last five seasons. He eventually stood up and walked to the shower with no discernible emotion on his face. Brady was in complete disbelief as his Patriots fell to the Giants,...
The firestorm continues after Tom Brady's wife, supermodel Gisele Bundchen, blasted the New England Patriots receivers following the Pats' loss in the Super Bowl. But this time, the New York Giants' Brandon Jacobs is weighing in. "She just needs to continue to stay cute and shut up," he told reporters. Here's the video that sparked the outrage:
For a player who built much of his reputation on playing great in the biggest of games, Tom Brady has had a lot of recent playoff disappointments. With Sunday's loss to the Giants in Super Bowl XLVI, the Patriots have now lost four of their last six postseason games. Brady certainly didn't have a terrible…
Gisele Bundchen wasn't happy with the way husband Tom Brady's receivers let him down at crunch time during the New England Patriots' 21-17 loss to the New York Giants in last night's Super Bowl XLVI.
As a Philadelphia Eagles fan, there's nothing more bitter than watching the Giants win the SuperBowl. Champ is a long-suffering Raiders fan and at least got to root against Tom Brady, with whom, he has held a decade-long grudge against because of the tuck rule. However, I find Belicheat and the Patriots only slightly less-reprehensible than Brandon Jacobs and the rest of &quot...
INDIANAPOLIS (AP) -- Eli Manning and the Giants one-upped Tom Brady and the Patriots again, coming back with a last-minute touchdown to beat New England 21-17 Sunday night for New York's fourth Super Bowl title. It was a rematch of the 2008 NFL championship, when Manning led New York past New England to ruin the Patriots' bid for a perfect season. This was the first Super...
• Oh God! Oh God! M.I.A. gives 'USA' the finger! • Kate Upton took a sheet during halftime of XLVI • James Harrison LOLing at cheating Pats losing • Eagles reaction to Giants winning? Butthurt • Boston columnist compares Brady to Jim Kelly • Handbra Model Camille Washington A Sports Reporter? • Post-SB XLVI Chick To Calm Pats Fan: Natalia Velez • Gulp: Georgia...
INDIANAPOLIS (AP) - Back in August, back before the season began, Eli Manning was asked whether he considered himself an "elite" quarterback a la Tom Brady.Manning replied simply that he belonged "in that class." He was questioned and criticized for that, and _ shocking, right? _ it all became quite ...
window.dctile = Number(window.dctile) + 1 || 1; window.dc_ord = Number(window.dc_ord) || Math.floor(Math.random() * 1E10); if (dctile==1) {var vdcopt = 'ist';} else {vdcopt = '';} if (17>dctile) document.write('<script type="text/javascript" src="http://ad.doubleclick.net/adj/yb.brosome/;chan1=entertainment;chan2=gensports;rating=pg;dcopt...
RUMORS & GOSSIP
WIRE TO WIRE
Oxbow upset Orb to win the 138th Preakness Stakes, ending Orb's bid to win the Triple Crown. Watch a replay of the race.
Via
Sports-Glory
3 hours ago |
MONEY TALKS
The San Jose Sharks were fined the huge sum of $100,000 for GM Doug Wilson's comments on the Raffi Torres suspension. What did he say?
Via
Minus Twenty-Two
3 hours ago |
DON'T ASK, DON'T TELL?
Former Baylor Bears star Brittney Griner recently revealed that while playing for the school, she was told to keep her sexuality under wraps.
Via
Bush League Chronicle
5 hours ago |
ROAD TO RIO?
After leading Team USA to win gold at the 2012 London Games, Duke's Coach K announced he was stepping down from coaching the team. Now, however, he says he may have changed his mind.
Via
Gamedayr
6 hours ago |
REACHING OUT
Lions linebacker Stephen Tulloch says he was recently in contact with his old teammate, Titus Young, and Young acknowledged his mental disorder and need for help.
Via
BlackSportsOnline
9 hours ago |
CAUSE FOR CONCERN?
Mario Williams filed a lawsuit to recover an engagement ring given to his ex-fiancee, who's now brought up possible mental health issues concerning the former no. 1 pick.
Via
Down and Distance
9 hours ago |
SPOILING THE FUN
Fans have been sending letters and gifts to Louisville guard Kevin Ware after his horrific injury during March's tournament. However, even items such as dog toys aren't acceptable to the NCAA. Find out why.
Via
Sports-Kings
1 day ago |
TALK TO ME
An NBA Draft prospect reportedly would not give the Spurs his phone number. Find out why.
Via
Bush League Chronicle
1 day ago |
THE CONSEQUENCES
Nate Diaz was fined and suspended for using a gay slur in a tweet directed at another fighter. Read more about what he did.
Via
5thRound.com
1 day ago |
GREAT TIMING
Gymnast Aly Raisman says she was drug tested while preparing for the finale of "Dancing With the Stars." Read more about the story.
Via
Awful Announcing
1 day ago |
Latest Rumors
The Backyard
Going Viral

Today's Best Stuff

For Bloggers

Join the Yardbarker Network for more promotion, traffic, and money.

Company Info

Help

What is Yardbarker?

Yardbarker is the largest network of sports blogs and pro athlete blogs on the web. This site is the hub of the Yardbarker Network, where our editors and algorithms curate the best sports content from our network and beyond.