Found May 26, 2011 on Larry Brown Sports:
Via Larry Brown Sports: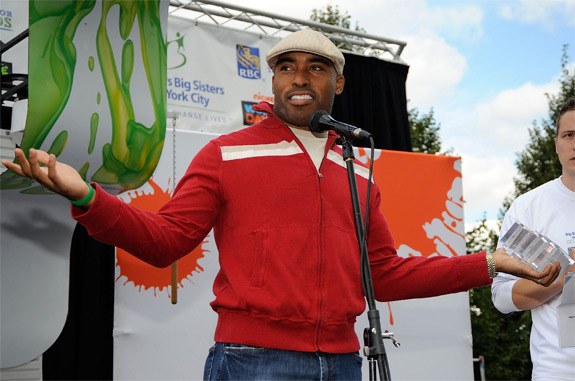 Former Giants running back Tiki Barber had a lengthy profile run in SI this week, and true to the pattern of anything Tiki-related lately, there was a controversy. The piece by L. Jon Wertheim is extremely well done and worth your time. In it you get a glimpse of who Tiki is and what some of his problems were. He comes across as a guy who tried hard to be a part of high society and make it a point to his teammates that he was different from them. High society accepted him until they learned he was a fraud, and now he's been left without much of a place. That's a big part of the reason he's trying to come back to the NFL.
But getting back to the interview, he made an extremely poor and despicable reference that has created a controversy. When describing what it was like hiding out from the media after news broke that he left his long-time wife for a 23-year-old NBC intern, Barber told the magazine that he and his girlfriend were at his agent, Mark Lepselter's house. "Lep's Jewish," Barber said, "and it was like a reverse Anne Frank thing."
That is such a stupid comparison to make. Anne Frank was hiding from the Nazis to protect her life. Barber was hiding from the New York press to protect his image and ego. The two are about on the same planes as asparagus and frisbees.
As Wertheim noted in his article, the horrendously ill-informed comparison was Barber writ small. "He has the wit and smarts to make an Anne Frank allusion and the artlessness to liken himself—an adulterer trying to elude gossip columnists—to a Holocaust victim," Wertheim wrote.
But that's not all about Barber. There's this description from former Giants lineman Roman Oben.
"But we'd beat the Cowboys and fly home. Guys are yelling, playing cards and watching movies. Tiki's sitting there, legs crossed, reading Wuthering Heights or whatever. Come on. Some guys let you know how bad they had it growing up. Tiki wanted you to know the opposite: Hey, I'm not from the hood."
Right now you no doubt have images of Kanye West's college dropout in your mind because Tiki will always have his degrees to keep him warm at night. I don't even know him and I want to punch based on that description.
The article also makes Tiki out to be a sad figure who lost his way after his divorce and firing from NBC. We're told "[Tiki] bought a Harley. He inked up his body, tattooing his mother's directive PLAY PROUD on his rib cage and FIERY-TEMPERED KING, the meaning of his name in an African dialect, on his chest."
Does that sound like Tiki to you? It sounds to me like someone who didn't know how to respond to all the issues in his life.
Barber also explained why he wants to return to the game. "It's about self-fulfillment," Barber says. "It's about having a goal, trying to do something that maybe hasn't been done before, returning to run the ball at a high level after four years away."
The whole article is worth a read because there's so much more than just one quote (first seen at Deadspin to promote the piece). Getting back to the crux of this post, this quote is not as much about an offense to Jews (even though it is). It just really shows how sophisticated Tiki tries to be but how unsophisticated he really is. Perhaps if he just tried to stay true to himself the way his brother has, he'd be a lot happier.
Also from Larry Brown Sports
Video: Mavs ditch reporter during postgame interview
Nike called Barkley about his negativity towards LeBron
Fan forced to take off 'Yankees Suck' shirt
Read More:
http://larrybrownsports.com/football/...
THE BACKYARD
NFL News

Delivered to your inbox

You'll also receive Yardbarker's daily Top 10, featuring the best sports stories from around the web. Customize your newsletter to get articles on your favorite sports and teams. And the best part? It's free!
RUMORS & GOSSIP
Back in June, former Olympian and Fox Sports Radio host Amy Van Dyken-Rouen was involved in an ATV accident in which her spinal cord was severed. It was a very scary situation, but Van Dyken-Rouen kept a sense of humor about the situation and vowed to walk again, despite what seemed to be impossible circumstances. This week, the impossible seemed possible as Van Dyken-Rouen stood...
Le'Veon Bell was a bit confused as to why he was getting a DUI after smoking weed. This could have been the effects of the weed or he just genuinely didn't know the law. I will let you decide from some details from the affidavit : Affidavit: @L_Bell26: "I didn't know you could get a DUI for being high. I smoked two hours ago. I'm not high anymore. I'm perfectly fine...
Johnny Manziel's $4.3 million signing bonus just took a small hit on Friday as the league fined him $12,000 for the Finger Seen 'Round the World. Per NFL.com's Ian Rapoport, Manziel is allegedly weighing an appeal. Johnny Manziel is still weighing whether to appeal his $12,000 fine for flipping the bird. #thebird — Ian Rapoport (@RapSheet) August 22, 2014 Why would the rookie...
The Boston Red Sox have won the Rusney Castillo sweepstakes. According to Jesse Sanchez of MLB.com as well as Ken Rosenthal and Jon Morosi of FOX Sports, the Red Sox and Castillo are "on track" to sign a six-year, $72 million deal. Source: Cuban outfielder Rusney Castillo on track for record-setting 6-year, $72 million deal […]
Jason Whitney New York Knicks star Carmelo Anthony was coaching a celebrity game at the Barclays Center when he dished out some details about his free agency this past July. Melo said that he was close to leaving New York, but ultimately decided to stay with the Knicks, agreeing to a five-year, $124 million contract. In fact, Anthony was […] Sports-Kings - The Kings of Sports...
Team USA's World Cup hero Tim Howard shared some disappointing news on his Facebook page on Thursday. Howard took to his page to announce that he would be taking a one-year break from the U.S. Men's National Team. Post by Tim Howard. The 35-year old Howard has been the team's starting goalkeeper for the last […]
Finally. Finally. The Kevin Love saga appears to be coming to an official end. Although the long rumored (and expected) trade cannot be announced until this Saturday, reports out of the Twin Cities appear to show the frame work for a three-team deal involving the Minnesota Timberwolves, Cleveland Cavaliers and Philadelphia 76ers could be completed soon.  Dan Barreiro of 100.3 KFAN...
Convicted Auburn tree poisoner Harvey Updyke will not make an appearance at a charity event in Mobile, Ala., after Dee Dee Bonner, the mother of Cincinnati Bengals and former Alabama quarterback AJ McCarron, and McCarron's wife, model Katherine Webb, received death threats on social media.  
Ric Bucher has a column up at Bleacher Report examining the aftermath of the Warriors sticking their toes in the "trade for Kevin Love" waters then deciding against jumping in. The column revolves around the notion that the Warriors were the aggressors in the talks with Minnesota all along until they ultimately decided that trading for Love wasn't in their best interest. Meanwhile...
V. Stiviano is getting down and dirty when it comes to her legal dispute with Donald Sterling. For her latest act, she accused the former Clippers owner of being gay. You may recall that the tension between Stiviano and Sterling began when Shelly filed a lawsuit trying to get back the cars, property and gifts […]
Latest Rumors
Best of Yardbarker

Today's Best Stuff

For Bloggers

Join the Yardbarker Network for more promotion, traffic, and money.

Company Info

Help

What is Yardbarker?

Yardbarker is the largest network of sports blogs and pro athlete blogs on the web. This site is the hub of the Yardbarker Network, where our editors and algorithms curate the best sports content from our network and beyond.