Found November 15, 2011 on Larry Brown Sports:
Via Larry Brown Sports: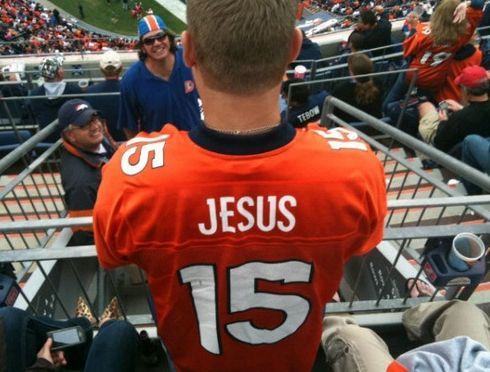 Remember the jersey that you see in the picture above? Of course you do, because back in the summer we made you aware that these bad boys existed. That's right, Broncos fans have come up with the brilliant idea of customizing Tim Tebow jerseys by putting the name of the most important man in Tebow's life on the back. As expected, the jerseys have drawn a mixed reaction from people who think it is disrespectful to the Christian faith and others who see it as humorous or a compliment.
"Sports is one thing, and Jesus is another thing," Traci Yown, a mom out Christmas shopping for her son, said according to KTVQ. "I like to have their names, their last names on the jerseys. I'm a Christian, but I mean I wouldn't want people going around having Jesus on the back of their jerseys."
Not all Christians share Yown's feelings on the matter, however. In fact, Rev. Marcus Buckley of the Riverside Baptist Church thinks people who have a problem with the name Jesus being printed on the back of a jersey must feel that it's wrong to express their love for Jesus.
"To me it just shows a cultural bias against Christ and Christianity," Rev. Buckley said. "It's not saying that he is Christ, it's saying he's trying to demonstrate and live that out and as Christians that's what we're supposed to do. You can pretty much believe whatever you want to in today's society. But as soon as you begin taking a stand for Christ, then that's not acceptable anymore."
There you have it: Two completely different opinions from people with similar religious beliefs. Whether you think Jesus jerseys or Tebowing are disrespectful or not, we can all agree that Tebow Nation has an interesting way of spreading the Christian faith.
Also from Larry Brown Sports
Anna Kournikova reportedly 'a nightmare' to work with
Tiger's former caddie says he should have left prior to scandal
Peyton Manning OK with Colts drafting a quarterback
Read More:
http://larrybrownsports.com/linkage/t...
THE BACKYARD
RELATED ARTICLES
The Tim Tebow Foundation and CURE International are teaming up to build a children's hospital in the Philippines, where the Denver Broncos quarterback was born. The Tebow CURE Hospital in Davao City on the island of Mindanao, a particularly poor area of the Philippines, will be a 30-bed surgical facility focusing on orthopedics. The groundbreaking will be held in January and...
WITH FRIENDS LIKE THIS...
Broncos coach John Fox was trying to give his QB a compliment, but his words came off more like criticism.
As the Denver Broncos fine-tune the playbook to fit Tim Tebow's style, they have become increasingly reliant on the ground game.
The Denver Broncos have completely altered their offense to fit Tim Tebow's strengths, and it helped produce a win over the Chiefs Sunday. Tim Tebow only attempted eight passes, and he completed just two of them. He did not attempt a pass in the first quarter, and his first completion did not come until late [...]
PFT Live: The Broncos ofense is being more taliored to Tim Tebow, so the team is running, running and running the ball only. (NBC Sports)
Does New York Jets cornerback Darrelle Revis think the option offense can work in the NFL?   Yes.Does he think Denver Broncos quarterback Tim Tebow can be successful at it? That's a negative."Yeah [the option can work], if you have … [visit site to read more]Jets Revis doesn't think highly of Tim Tebow - The Jet Press - The Jet Press - A New York Jets Fan Site - News, Blogs...
NFL head coaches do not specialize in being honest and forthcoming. Trying to get candor out of one of them is akin to trying to milk an anvil. This is why John Fox, head coach of the Denver Broncos, is today's hero. The honesty that somehow shot forth from his mouth wasn't even anything we all didn't already know -- but it's so honest, and thus, so refreshing, that...
Tim Tebow only completed two passes against the Chiefs on Sunday. It turned out one was all he really needed. The former Heisman Trophy winner connected with Eric Decker on a 56-yard touchdown pass in the fourth quarter, helping the Denver Broncos beat the Kansas City Chiefs 17-10 despite playing almost the entire game without their top two running backs. Willis McGahee went down...
Thursday night's Jets-Broncos game (on NFL Network) features an intriguing confluence at QB between the raw emotion, and ability, of Tim Tebow and the heavily scrutinized Mark Sanchez.
In his prime, Mark Brunell was one of the league's most mobile quarterbacks. Now the 41-year-old simply plays in practice, performing the Tim Tebow role in drills to help the Jets prepare for Thursday's showdown with the Broncos.
Broncos News

Delivered to your inbox

You'll also receive Yardbarker's daily Top 10, featuring the best sports stories from around the web. Customize your newsletter to get articles on your favorite sports and teams. And the best part? It's free!
RUMORS & GOSSIP
The Baltimore Ravens have responded to allegations by ESPN's Outside the Lines that the team led a campaign of misinformation in the months following the now infamous Ray Rice elevator incident in which he was arrested for domestic violence. You already know the story, so there is no reason to get into it here. Needless to say, both the Ravens and the NFL have drawn widespread...
Fresh off a disheartening 34-15 loss to the Kansas City Chiefs on Sunday, Miami Dolphins head coach Joe Philbin didn't seem prepared to commit to Ryan Tannehill as the team's starting quarterback for Week 4 (via Palm Beach Post). After being asked directly about Tannehill's status as the starting quarterback, Philbin responded… We'll utilize the players the best way we...
The Detroit Lions announced Monday that they will place veteran LB Stephen Tulloch on season-ending injured reserve with a torn ACL. Caldwell announced that Stephen Tulloch will be placed on injured reserve with an ACL injury. — Detroit Lions (@Lions) September 22, 2014 Tulloch suffered the injury while celebrating a sack on Packers QB Aaron Rodgers, so this is a very disappointing...
Derek Jeter may be retiring from baseball with a giant pile of farewell gifts from major league teams but, it seems the Yankees shortstop wasn't quite as generous with parting gifts for his one-night stands.The Captain claims he's never given gift baskets of signed memorabilia to his female "conquests," according to an article in this week's New York Magazine...
The Miami Dolphins have not looked good over the past two weeks after kicking off their season with an impressive win over the New England Patriots. They allowed 34 points against the Kansas City Chiefs on Sunday and 29 against the Buffalo Bills the week before. Neither opponent has what you would call a powerhouse […]
Peyton Manning drove the Denver Broncos 80 yards in 41 seconds for a score and hit Demaryius Thomas for a two-point conversion to tie the game.  But the Seattle Seahawks made sure the quarterback didn't touch the ball in overtime. Marshawn Lynch scored on a 6-yard TD run on the first possession of overtime and the Seahawks beat the Broncos 26-20 on Sunday in a Super Bowl rematch...
The soccer world is dealing with a bit of controversy this morning, as ESPN's Darren Rovell tweeted that a FIFA member is saying that Qatar has lost its 2022 World Cup bid. FIFA member now says he believes World Cup won't take place in Qatar http://t.co/y8NpciQAll — darren rovell (@darrenrovell) September 22, 2014 FIFA executive committee member Theo Zwanzinger, says that...
San Francisco 49ers WR Anquan Boldin was not happy with the officiating in Sunday's Niners-Cardinals game. The Niners were whistled for nine penalties for 107 yards, in a game that was called pretty tight by the officials. Boldin had some words about it. #49ers WR Anquan Boldin says the officiating has been one-sided, "The crap is costing us games." — Matt Maiocco (@MaioccoCSN...
WWE Night of Champions 2014 delivered one of the most entertaining special events in recent months. An unpredictable rematch between John Cena vs. Brock Lesnar for the WWE world championship and the return of Dean Ambrose highlighted a card which featured very good-great matches from start to finish.
The Philadelphia Eagles are 3-0 on the season, running teams out the building in the second half of games, but apparently, Cary Williams believes the Eagles do too much running. The veteran Eagles cornerback was salty after DeSean Jackson torched him for an 81-yard touchdown.  Despite his team showing grit in another come from behind victory, Williams wasn't interested in talking...
Latest Rumors
Best of Yardbarker

Today's Best Stuff

For Bloggers

Join the Yardbarker Network for more promotion, traffic, and money.

Company Info

Help

What is Yardbarker?

Yardbarker is the largest network of sports blogs and pro athlete blogs on the web. This site is the hub of the Yardbarker Network, where our editors and algorithms curate the best sports content from our network and beyond.