Found November 15, 2011 on Larry Brown Sports:
Via Larry Brown Sports: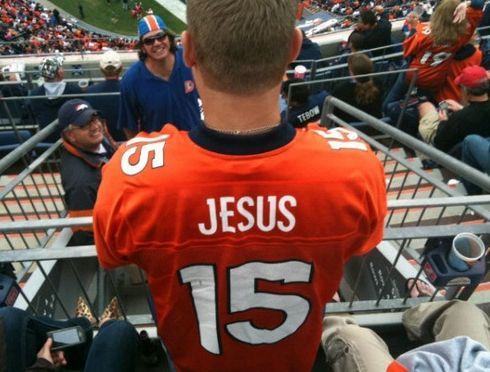 Remember the jersey that you see in the picture above? Of course you do, because back in the summer we made you aware that these bad boys existed. That's right, Broncos fans have come up with the brilliant idea of customizing Tim Tebow jerseys by putting the name of the most important man in Tebow's life on the back. As expected, the jerseys have drawn a mixed reaction from people who think it is disrespectful to the Christian faith and others who see it as humorous or a compliment.
"Sports is one thing, and Jesus is another thing," Traci Yown, a mom out Christmas shopping for her son, said according to KTVQ. "I like to have their names, their last names on the jerseys. I'm a Christian, but I mean I wouldn't want people going around having Jesus on the back of their jerseys."
Not all Christians share Yown's feelings on the matter, however. In fact, Rev. Marcus Buckley of the Riverside Baptist Church thinks people who have a problem with the name Jesus being printed on the back of a jersey must feel that it's wrong to express their love for Jesus.
"To me it just shows a cultural bias against Christ and Christianity," Rev. Buckley said. "It's not saying that he is Christ, it's saying he's trying to demonstrate and live that out and as Christians that's what we're supposed to do. You can pretty much believe whatever you want to in today's society. But as soon as you begin taking a stand for Christ, then that's not acceptable anymore."
There you have it: Two completely different opinions from people with similar religious beliefs. Whether you think Jesus jerseys or Tebowing are disrespectful or not, we can all agree that Tebow Nation has an interesting way of spreading the Christian faith.
Also from Larry Brown Sports
Anna Kournikova reportedly 'a nightmare' to work with
Tiger's former caddie says he should have left prior to scandal
Peyton Manning OK with Colts drafting a quarterback
Original Story:
http://larrybrownsports.com/linkage/t...
THE BACKYARD
RELATED ARTICLES
The Tim Tebow Foundation and CURE International are teaming up to build a children's hospital in the Philippines, where the Denver Broncos quarterback was born. The Tebow CURE Hospital in Davao City on the island of Mindanao, a particularly poor area of the Philippines, will be a 30-bed surgical facility focusing on orthopedics. The groundbreaking will be held in January and...
WITH FRIENDS LIKE THIS...
Broncos coach John Fox was trying to give his QB a compliment, but his words came off more like criticism.
As the Denver Broncos fine-tune the playbook to fit Tim Tebow's style, they have become increasingly reliant on the ground game.
The Denver Broncos have completely altered their offense to fit Tim Tebow's strengths, and it helped produce a win over the Chiefs Sunday. Tim Tebow only attempted eight passes, and he completed just two of them. He did not attempt a pass in the first quarter, and his first completion did not come until late [...]
Does New York Jets cornerback Darrelle Revis think the option offense can work in the NFL?   Yes.Does he think Denver Broncos quarterback Tim Tebow can be successful at it? That's a negative."Yeah [the option can work], if you have … [visit site to read more]Jets Revis doesn't think highly of Tim Tebow - The Jet Press - The Jet Press - A New York Jets Fan Site - News, Blogs...
NFL head coaches do not specialize in being honest and forthcoming. Trying to get candor out of one of them is akin to trying to milk an anvil. This is why John Fox, head coach of the Denver Broncos, is today's hero. The honesty that somehow shot forth from his mouth wasn't even anything we all didn't already know -- but it's so honest, and thus, so refreshing, that...
PFT Live: The Broncos ofense is being more taliored to Tim Tebow, so the team is running, running and running the ball only. (NBC Sports)
Tim Tebow only completed two passes against the Chiefs on Sunday. It turned out one was all he really needed. The former Heisman Trophy winner connected with Eric Decker on a 56-yard touchdown pass in the fourth quarter, helping the Denver Broncos beat the Kansas City Chiefs 17-10 despite playing almost the entire game without their top two running backs. Willis McGahee went down...
In his prime, Mark Brunell was one of the league's most mobile quarterbacks. Now the 41-year-old simply plays in practice, performing the Tim Tebow role in drills to help the Jets prepare for Thursday's showdown with the Broncos.
Thursday night's Jets-Broncos game (on NFL Network) features an intriguing confluence at QB between the raw emotion, and ability, of Tim Tebow and the heavily scrutinized Mark Sanchez.
RUMORS & GOSSIP
The San Diego Chargers came out with guns blazing and, before the final boom went off, the New York Giants playoff hopes were a foregone conclusion at Qualcomm Stadium Sunday.Asked to assess his team's future going into the last three games, head coach Tom Coughlin said the Giants must play "to regain some of the respectability we lost today."Coughlin's powerful post-game...
If you're wondering why the 49ers beat the Seahawks in Sunday's matchup, then according to CBS Sports Richard Sherman says he has the answer. Sherman spoke to the media about the loss. "We didn't project it to be this way. We expected to blow them out but they got the benefit of a few calls tonight throughout the game and that helps you especially on third down, we will see...
The great Roy Halladay is retiring from baseball, CBS's Jon Heyman reports. Heyman also reports that Halladay will sign a 1-day contract with the Toronto Blue Jays, so he can retire with the team he spent 12 years of his dominant career with. Halladay finishes his career with a 203-105 record, good for an amazing .659 winning percentage that puts him at 17th all-time. Doc's 65...
The Dolphins have been the laughing stock of the NFL this season, not because of their performance on the field — they are still in the playoff picture — but because of their off field follies. The bullying scandal that rocked the NFL earlier this season made a mockery of the Dolphins' locker room and had Dolphins general manager Jeff Ireland looking like a lame duck just waiting...
With the Houston Texans having fired former head coach Gary Kubiak last week, the usual big names have been flying around as potential candidates for the vacancy. Two of the more popular ones are Mike Shanahan and Jon Gruden. According to John McClain of the Houston Chronicle, neither Shanahan nor Gruden are a possibility. McClain […]
On Monday, an MRI confirmed that the low hit from Cleveland safety T.J. Ward resulted in a torn ACL and MCL for Rob Gronkowski.
Kobe Bryant played in his first NBA game in nearly eight months since tearing his Achilles, but he wasn't happy with the results. Bryant criticized himself following the Los Angeles Lakers' 106-94 loss to the Toronto Raptors on Sunday.  "I'm just insanely critical," Bryant said, via ESPNLosAngeles.com. "There was a bunch of things that I completely messed up on." Bryant...
Today, Peyton Manning became the first quarterback in 9 years to throw for 4 touchdowns in a game where the temperature was 32-degrees or below at the start of the game (Credit: Sports-Illustrated) When the Denver Broncos lost on a late game comeback against the New England Patriots two weeks ago, a number of critics called out Peyton Manning for his inability to play in cold weather...
From this morning, on the Fox Sports NFL pregame show, FOX NFL Sunday Jimmie Johnson on the NFC: "Seattle is going to have home field advantage throughout the playoffs. New Orleans is going to be the No. 2 seed – all they need to do is split the two games with Carolina. The third seed is going to be the Detroit Lions – they've got the best team and could win it all. Dallas...
Tweet Per a report by Yahoo! Sports Adrian Wojnarowski, the Toronto Raptors have traded Rudy Gay, one of their leading scorers, to the Sacramento Kings as part of a multi-player deal. Sacramento is sending John Salmons, Greivis Vasquez, Chuck Hayes and Patrick Patterson to Toronto in exchange for Gay. The Raptors are sending Quincy Acy and Aaron Gray...
Latest Rumors
The Backyard
Going Viral

Today's Best Stuff

For Bloggers

Join the Yardbarker Network for more promotion, traffic, and money.

Company Info

Help

What is Yardbarker?

Yardbarker is the largest network of sports blogs and pro athlete blogs on the web. This site is the hub of the Yardbarker Network, where our editors and algorithms curate the best sports content from our network and beyond.