Found January 09, 2012 on NESN.com:
Via NESN: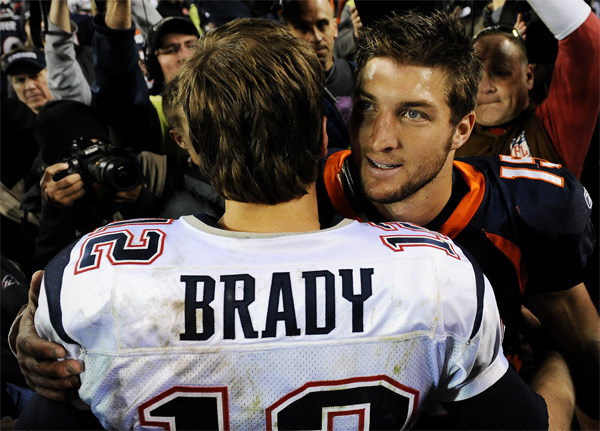 Tim Tebow's first meeting with Tom Brady didn't go too smoothly for the second-year quarterback, as the Patriots rolled to a 41-23 win in Denver.
After that game, when the two signal-callers greeted each other on the field, Brady told Tebow, "We'll see you again."
Tebow was reminded of that meeting on Sunday, and Boston Herald reporter Ian Rapoport noted that his reaction was downright biblical.
"He might've said something like that, so I guess he's a prophet, I don't know," Tebow said, according to the Herald.
Also from NESN
Canucks GM: Bruins' star is a dirty player
The 10 most surprising NBA players this season
Was NBA player banned from the White House?
Read More:
http://www.nesn.com/2012/01/tim-tebow...
THE BACKYARD
RELATED ARTICLES
If you think about what Tom Brady has been asked to do all season, an image should flash into your head of Atlas,...
Tim Tebow might have God on his side ... but he won't have the backing of some religious leaders in New England when the bible totin' QB takes on the Patriots in Foxboro Saturday.TMZ spoke with a couple of holy men who are not only backing Tom Brady ...… Permalink
The Broncos won today, beating the Steelers 29-23 in dramatic fashion. It was pretty nuts. Except… it's kinda what Tom Brady said would happen. Remember back on Dec. 18, when the Patriots destroyed the Broncos in the second half and took home a 41-23 win? After it ended, Brady met Tim Tebow at the 50-yard line, told him good things happen to good people, and then said this: "We'll...
""They're a very good team, one of the best players in football in Tom Brady playing for...
Tom Brady said he's looking forward to working again with new coaching assistant Josh McDaniels as the team prepares for "a big challenge"in Tim Tebow and the Denver Broncos on Saturday night.
FOXBORO - The Tom Brady you almost always see has a long memory for losses. He pores over them, lying awake at...
They were good enough to come from way behind against the Cowboys, do that in the fourth quarter and on the road when a loss was going to knock them out of the playoffs again. Before that they were good enough to win a fourth quarter off Tom Brady and the Patriots in Foxborough.
Quarterbacks DREW BREES of the New Orleans Saints, TOM BRADY of the New England Patriots and AARON RODGERS of the Green Bay Packers are the finalists for the FedEx Air NFL Player of the Year honors, while running backs MAURICE JONES-DREW of the Jacksonville Jaguars, LeSEAN McCOY of the Philadelphia Eagles and RAY RICE of the Baltimore Ravens are the finalists for the FedEx Ground...
RUMORS & GOSSIP
James Harden is struggling, and that is one of the reasons the Houston Rockets have put themselves in an extremely vulnerable position as they head to Portland in an 0-2 series hole against the Trail Blazers. Harden was just 6 of 19 from the field in Game 2, finishing with 18 points and five turnovers. […]
Joe Girardi believes ESPN was out of line and took it out on the mobile camera the "Worldwide Leader in Sports" network had perched on the dugout railing during Wednesday night's game against the Red Sox.After Michael Pineda was ejected for having pine tar on his neck, the camera swung around and focused in the tunnel. There, Pineda was engaged in a discussion with...
The NFL announced its 17-week regular-season schedule for 2014, which kicks off on Thursday night, September 4 in Seattle. The opener will feature the defending champion Seattle Seahawks hosting the Green Bay Packers at CenturyLink Field on Sept. 4 on NBC. Thanksgiving will feature the Chicago Bears at Detroit Lions (12:30 PM ET, CBS) then the Philadelphia Eagles at Dallas Cowboys...
Seahawks general manager John Schneider told Bruce Murray and Rich Gannon on SiriusXM NFL Radio why they traded for Terrelle Pryor. "We're always trying to improve competition at every position and we saw this as an opportunity to do that," Schneider said , via ProFootballTalk.com. "Rare athlete, size and speed. . . .  We're just excited about his upside and the type...
Getty Image Former UFC Middleweight Champion Anderson Silva suffered an injury so horrible in his last fight against Chris Weidman that a lot of us wondered if he'd ever be able to fight again. In case you've tried to scrub the memory from your brain with bleach, Silva basically snapped his leg in half on a kick against Weidman, and he crumpled to the ground in indescribable...
If his Los Angeles Angels teammates are to be believed — and frankly, why shouldn't they? — Albert Pujols called his 499th and 500th home runs hours before the team took the field to take on the Washington Nationals on Tuesday night. Both Erick Aybar and Mike Trout claim Pujols, who currently leads the league […] The post Angeles teammates say Albert Pujols called his 499th...
Phil Jackson is calling the shots for the Knicks as their new team president and it looks like he's taking shots at an old Western Conference foe. Jackson has been taking jabs at the San Antonio Spurs since 1999, when the then newly signed Lakers coach suggested that the Spurs championship should have an asterisk next to it because it occurred during a lockout shortened season...
South Carolina's Jadeveon Clowney took a ton of heat from scouts and pundits when he decided to terminate any future individual workouts for team a few weeks ago. But now Clowney's agent has come forward and claimed that it was his call to do so, since he believed teams had more than enough information on the phenomenal pass rusher. Clowney's agent, Bus Cook, was convinced...
A: Roger Clemens, Scott Kazmir, Tracy McGrady Q: Who are current or former pitchers for the Sugarland Skeeters, Alex. It's official, Tracy McGrady is a two-sport professional athlete.  The Sugarland Skeeters (Atlantic League, Independent) announced today that seven-time NBA All-Star and two-time NBA scoring champion Tracy McGrady has made their team as a pitcher.  The Sugarland...
After cameras caught Michael Pineda using an egregious amount of pine tar (or, according to Pineda, "dirt") on his palm against the Red Sox earlier this month, he tried to pull the same schtick again on Wednesday night at Fenway. Unfortunately for Pineda, John Farrell is not dumb enough to be fooled twice. Pineda was ejected from the game in the second inning after Farrell asked...
Latest Rumors
The Backyard

Today's Best Stuff

For Bloggers

Join the Yardbarker Network for more promotion, traffic, and money.

Company Info

Help

What is Yardbarker?

Yardbarker is the largest network of sports blogs and pro athlete blogs on the web. This site is the hub of the Yardbarker Network, where our editors and algorithms curate the best sports content from our network and beyond.