Found January 09, 2012 on NESN.com:
Via NESN: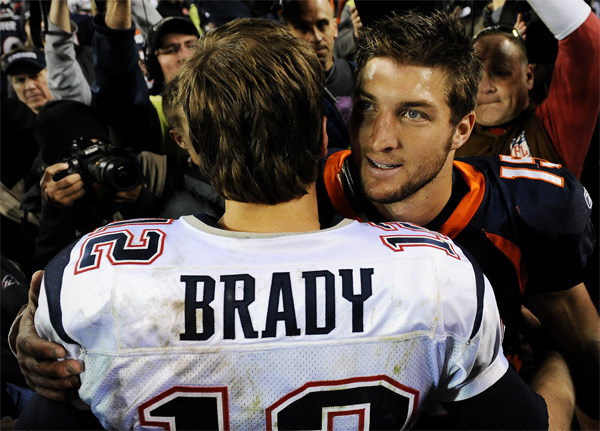 Tim Tebow's first meeting with Tom Brady didn't go too smoothly for the second-year quarterback, as the Patriots rolled to a 41-23 win in Denver.
After that game, when the two signal-callers greeted each other on the field, Brady told Tebow, "We'll see you again."
Tebow was reminded of that meeting on Sunday, and Boston Herald reporter Ian Rapoport noted that his reaction was downright biblical.
"He might've said something like that, so I guess he's a prophet, I don't know," Tebow said, according to the Herald.
Also from NESN
Canucks GM: Bruins' star is a dirty player
The 10 most surprising NBA players this season
Was NBA player banned from the White House?
Read More:
http://www.nesn.com/2012/01/tim-tebow...
THE BACKYARD
RELATED ARTICLES
If you think about what Tom Brady has been asked to do all season, an image should flash into your head of Atlas,...
Tim Tebow might have God on his side ... but he won't have the backing of some religious leaders in New England when the bible totin' QB takes on the Patriots in Foxboro Saturday.TMZ spoke with a couple of holy men who are not only backing Tom Brady ...… Permalink
The Broncos won today, beating the Steelers 29-23 in dramatic fashion. It was pretty nuts. Except… it's kinda what Tom Brady said would happen. Remember back on Dec. 18, when the Patriots destroyed the Broncos in the second half and took home a 41-23 win? After it ended, Brady met Tim Tebow at the 50-yard line, told him good things happen to good people, and then said this: "We'll...
""They're a very good team, one of the best players in football in Tom Brady playing for...
Tom Brady said he's looking forward to working again with new coaching assistant Josh McDaniels as the team prepares for "a big challenge"in Tim Tebow and the Denver Broncos on Saturday night.
I think we should just declare this Tim Tebow week right now.. Dude might shut down the interweb if he beats Tom Brady  and the Patriots this weekend..  Thanks to Carol and Craig for the heads up.. Wonder what Ozzy thinks of  the remake.-TO Tim Tebow Passes for 3:16 Yards Tebow Laughs at First Playoff Win
FOXBORO - The Tom Brady you almost always see has a long memory for losses. He pores over them, lying awake at...
They were good enough to come from way behind against the Cowboys, do that in the fourth quarter and on the road when a loss was going to knock them out of the playoffs again. Before that they were good enough to win a fourth quarter off Tom Brady and the Patriots in Foxborough.
Quarterbacks DREW BREES of the New Orleans Saints, TOM BRADY of the New England Patriots and AARON RODGERS of the Green Bay Packers are the finalists for the FedEx Air NFL Player of the Year honors, while running backs MAURICE JONES-DREW of the Jacksonville Jaguars, LeSEAN McCOY of the Philadelphia Eagles and RAY RICE of the Baltimore Ravens are the finalists for the FedEx Ground...
RUMORS & GOSSIP
Once there was a rumor that Lance Armstrong and former Full House star Ashley Olsen was dating. They were even spotted making out once. Ah but that was it… or was it? In a new tell-all book about Armstrong, New York Times writer Juliet Macur says that the two dated before his handlers warned him his relationship with her could negatively impact his cancer work. Armstrong was...
State Representative Pat Garofalo from Minnesota tweeted out the following statement earlier tonight: Let's be honest, 70% of teams in NBA could fold tomorrow + nobody would notice a difference w/ possible exception of increase in streetcrime — Rep. Pat Garofalo (@PatGarofalo) March 9, 2014 I don't know why he would think this was appropriate, correct, or even funny but...
Dallas Mavericks owner Mark Cuban told an interesting story while speaking at South by Southwest about how he once got Magic Johnson kicked off an airplane. A little background on the story: Mark Cuban has an unlimited airline pass that allows he and a guest to travel first class anywhere in the world. In one instance that pass conflicted with Magic's travel. Here's the story...
Would the Knicks be better off with Carmelo Anthony leaving next year? Despite the New York Knicks mini three-game win streak, the team still sits 3.5 games out of the eighth seed in the Eastern Conference. But the Knicks may have larger issues to face besides missing the playoffs this season. Star player Carmelo Anthony has stated that he will test the free agent market this season...
Ah those pesky Cavaliers. How can you not love them? Even though team owner Dan Gilbert trashed LeBron James after the star left the team for the Miami Heat in free agency — a widely unpopular move at the time that turned out to be a wise choice — the team still believes it has […]
With star cornerback Aqib Talib hitting free agency in just a few days, he's sure to have plenty of suitors.In our breakdown of those suitors, we had the Redskins as number two (behind the Patriots). They were heavily interested in Talib last year, and it appears that they are gearing up for another run.Karen Guregian, Boston Herald:It looks like the Patriots might have to duke...
Rashard Mendenhall has decided to retire from the NFL, and explained why in an essay on Huffington Post. Photo credit: zimbio.com It came as a surprise to many when running back Rashard Mendenhall announced his retirement from the NFL, mostly because the man is only 26 and had just come off a season  where had compiled over 800 yards and six touchdowns. Mendenhall had been hinting...
The Tennessee Titans aren't expected to bring back former superstar running back Chris Johnson next season, and reports are that they are beginning to shop him around in trade talks. It isn't likely that the Titans will find a trade partner, especially because they will likely cut him if they are unable to move him in a trade. There's no doubt that other teams will be interested...
More details are emerging on the arrest of Baltimore Ravens offensive lineman Jah Reid early Sunday morning. As previously reported, Reid was arrested on two counts of misdemeanor battery following an altercation in a bar in Key West, FL. Aaron Wilson of The Baltimore Sun is now reporting that that physical altercation involved security officials at the bar, which resulted in minor...
Ian Rapoport reports that the Vikings are re-signing DE Everson Griffen to on a "huge" five-year contract. The post Report: Vikings Re-Sign DE Everson Griffen To A Five-Year Deal appeared first on NFL Trade Rumors -.
Latest Rumors
The Backyard

Today's Best Stuff

For Bloggers

Join the Yardbarker Network for more promotion, traffic, and money.

Company Info

Help

What is Yardbarker?

Yardbarker is the largest network of sports blogs and pro athlete blogs on the web. This site is the hub of the Yardbarker Network, where our editors and algorithms curate the best sports content from our network and beyond.