Found February 02, 2012 on Sportress of Blogitude: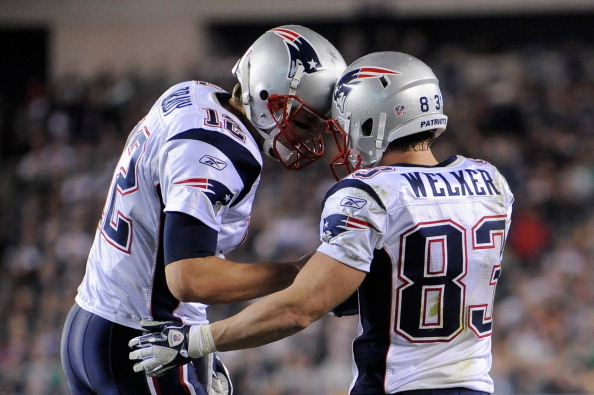 Among the more interesting and enlightening factoids to emerge from the wall-to-wall coverage at the Super Bowl is this little nugget from New England Patriots wide receiver Wes Welker, who took a moment to sing the praises of Tom Brady's premier potty facilities. According to Welker (via the Boston Herald's Inside Track), Tom Brady has just about the best toilet in the world and there is no throne comparable due to all its bells and whistles:
"You go over and use his toilet, and you press this button, and it sprays water on you and all this stuff, and I'm like, 'You gotta be kidding me.'" Wes told the press pack yesterday. "It's heated, it's all this stuff, and I'm like, 'This is crazy.'"
Crazy, indeed. Clearly, Brady's toilet has a built-in bidet, something somehow confirmed by the gossipy gals at Inside Track:
Well, the minute 83 divulged that gem we knew exactly what he was talking about! None other than the Toto Washlet Performance Toilet. The Cadillac Escalade of crappers. The potty di tutti potties.
Those are some awfully descriptive terms to describe toilets, so I'm not even going to bother to out-clever these ladies. There is a bevy of additional information in the story about the insane features some of these toilets have, including, in Inside Track's words, "heated seats that open and close automatically, jets of heated water, blow drying for your butt and vacuum jets and perfume scents to capture and destroy unwanted odors." Far out. Some apparently even feature mp3 players. For those extra-long sitting sessions, I reckon. Question: since the brand of the toilet in question is Toto, wouldn't it be perfect if the toilet played "Hold the Line" while you waited for the lid to open? And if not that song, how about "Rosanna", you know, since it's such a great tune. Moving on, Welker even admits to wanting to pop in over at Brady's house just to use the toilet (via Boston.com):
"He's going to be mad at me for bringing that up. He's always so humble and so everything," Welker said. "I don't know, sometimes I just want to go over to his house and use the restroom. … He lives a good life."
Welker is certainly right on that score. Bundchen and bidets: it doesn't get much better than that.
Also from Sportress of Blogitude:
Marlins Beat Writer Tweets Photos Of Aquarium Backstop At Team's New Ballpark
Full-Length Version Of Adriana Lima's Kia Super Bowl Commercial (Video)
Adrian Peterson Tweets That It Would Cost Him $1M To Change His Number

Read More:
http://www.sportressofblogitude.com/2...
THE BACKYARD
RELATED ARTICLES
The reason the gallery is so amusing is the fact that this guy is super rich, successful, handsome and gets to go share a bed with Gisele Bündchen. Wait. That's not amusing. That's not amusing at all. The entire 15-pic gallery can be found at Sports Pickle, so go there. But here are a few [...]
Don't worry, folks: the Super Bowl is almost here. These next three days will be long ones, but we'll all get through them together. Just think, when you finished watching the Giants overtime victory over the Niners back in January the big game was a full 14 days away. We're in the home stretch. But until that time comes, let's talk about Tom Brady's socks. In one of those...
New York Giants defensive end Jason Pierre-Paul isn't too worried about being able to rattle Patriots quarterback Tom Brady this coming Sunday. "Anybody can be rattled," said Pierre-Paul.  "Tom Brady is a great quarterback, but at the end of the day he's just a quarterback. It's not like he's God." Pierre-Paul is right,  the past couple of meetings between the Giants...
Giant and Patriots players were assigned Tuesday as their media day to answer questions and gawk at hot Latina news reporters. However that didn't stop two radio stations from talking to Pats QB Tom Brady and Giants WR Victor Cruz. Who cares that it isn't Tom Brady the NFL all-world quarterback with the devilish good looks or Victor Cruz, the standout speedster receiver. At the...
Plotting how to keep quarterback Tom Brady out of the clutches of the New York Giants' fearsome pass rushers will occupy most of Bill O'Brien's waking hours this week, and who knows how many of his dreams. But it's not his only worry.
There are inevitably times during Super Bowl week when we can't help but notice that PFT has come a long way since Florio starting pounding out posts in his mother's basements. Talking with Joe Montana about quarterbacks is one of those times. Here's one of the greatest of all time breaking down Tom Brady and…
Oh, Gisele Bundchen is a model too. Not as hot as Tom Brady though. Well a family friend just backstabbed the power couple by making Gisele's private e-mail to her open to the public. In an egotistical mawkish email (MUST CREDIT NEW YORK POST), Gisele Bundchen asked for some positive thoughts to be sent "Tommy's" way because he has a big day this weekend. ...
Quick, Wes Welker, spell Bill Belichick. Hey, Osi Umenyiora, know any other Elis besides that Manning guy? Rob Gronkowski, what's your favorite song by Madonna?
Just a few years ago the New York Giants stunned the football world by knocking off the undefeated New England Patriots in Super Bowl XLII.  Here we are four years later and the two teams will square off in a rematch for the Lombardi trophy.Last time out the Patriots were undefeated and had the highest scoring offense in NFL history.   The Giants were a wild card team from...
RUMORS & GOSSIP
A source with knowledge of the situation tells Andrew Abramson of the Palm Beach Post that the Dolphins want to go "heavy on offense" in this year's NFL draft and are considering their options at running back and wide receiver. Interestingly enough, Abramson's source mentioned that if the Dolphins were to draft a receiver, it would likely lead to Miami parting ways...
Former Pittsburgh Panthers quarterback Tom Savage is arguably the fastest-rising prospect in the entire 2014 NFL Draft class. Over the last month, he's emerged from a projected third-day selection (fourth to seventh round) to a potential late first round/early second round pick. On Thursday, it was announced that Savage had received an invitation to attend the draft (May 8-10)...
Paul Pierce was pumped up after hitting a clutch shot late in the fourth quarter to extend the Nets' lead to 7 during Game 1 against the Raptors Saturday, screaming "That's why they got me here," after nailing the shot. The post Paul Pierce Screams 'That's Why They Got Me Here' After Hitting Clutch Shot In Fourth Quarter (Video) appeared first on Beyond The Buzzer.
Houston Texans running back Arian Foster has been known to rub fans the wrong way but this time he cam through for a particular fan. About two weeks ago a fan tweeted out a picture that said it was her and the Texans running back. Foster soon responded to the girl to let him know it was not him, and the tweet went viral. Ran into @ArianFoster at Pub Fiction last night! So blessed...
(Credit: NY Daily News) Jeff Van Gundy has never been shy about his opinions. And during today's game, he said he believes NBA players should be able to buy more fouls. After Andre Iguodala picked up a controversial fifth foul during the third quarter of the Warriors' game against the Clippers Van Gundy said,             "I think you should be able to buy an extra...
Former NBA player Larry Hughes has been accused of rape in New York. Hughes reportedly met the 22-year-old woman at Greenhouse nightclub and left with her around 4AM Friday morning. The two walked back to his hotel at the Trump SoHo.   Video shows the two of them walking to the nearby hotel. Sources said he did not appear to be forcing her. After she left the hotel she went to...
Photo: @sportingnews The Nationals had a closed door meeting Thursday night, after they were blown out by the St. Louis Cardinals. Now it hasn't come out exactly what was said in that meeting, however it seems that maximum effort was something stressed. Matt Williams told reporters after the game that Harper had been benched for "lack of hustle." In the bottom of the 6th inning...
Carmelo Anthony was frustrated with the way the New York Knicks' season went and called the 37-45 record that resulted in the team missing the playoffs a "failure." He has the opportunity to become a free agent this summer and wants to return to the Knicks, but he also wants to win. Before committing to […]
On the surface you could look at all the recent success for the San Francisco 49ers and easily assume they're well on their way to being perennial contenders for a long time to come. But despite their 36-11-1 record over the last three years which included a Super Bowl trip in 2012 and NFC Championship game appearances in both 2011 and 2013 under Jim Harbaugh, the team seems to...
This week Craig Sager's son revealed on Twitter that his father was to undergo treatment for leukemia just as the NBA Playoffs were set to begin.  Turner Sports has yet to have an official statement on the matter, but they have released a statement from Sager himself. It's a short statement, but it possesses his trademark sense of humor and even makes reference to his tete a...
Latest Rumors
The Backyard

Today's Best Stuff

For Bloggers

Join the Yardbarker Network for more promotion, traffic, and money.

Company Info

Help

What is Yardbarker?

Yardbarker is the largest network of sports blogs and pro athlete blogs on the web. This site is the hub of the Yardbarker Network, where our editors and algorithms curate the best sports content from our network and beyond.