Found February 02, 2012 on Purple Jesus Diaries:
Welcome to the offseason doldrums at Purple Jesus Diaries! To pass the time, we're introducing a new feature called "Much A-Poo About Nothing," which will chronicle a variety of Vikings players throughout history in comparison to bowel movements. What? Yes. Referencing the de facto Poop-tionary "What's Your Poo Telling You?" by Josh Richman and Anish Sheth, M.D., we'll be comparing Vikings players to medically described craps, all the ups, downs, messes, misses, and pains you can imagine. Read any A-Poo's you've missed by clicking here, and continue on for today's feature on Chad Greenway:
The Man: Chad Greenway is quit simply, a stupefying player. He does nothing fantastic but everything ... decent? Not quite solid, but ... fine, kind of like Elisabeth Moss' level of sexiness. In his years with the Vikings, he's shown he can consistently get burned by tight ends running open on pass plays, and he can't contain running backs sprinting out into the flats for a short gainer either. He's not exactly physically imposing, and doesn't have a face that would strike fear into the hearts of men and terrorists like Ray Lewis has. It's not JUST because he's white, either (although that'd likely a huge part of it!). Despite all of this, Greenway has led the team in tackles four years straight, with the only year he didn't lead being his rookie year when he came in third. I mean, REALLY?! Is this some kind of crazy magic? How is Greenway able to pull this off?!
The Poop: Just as mysterious is the poop that Richman and Sheth have named "The Clean Sweep," also known as "Wipless Poo," "The Perfect Wipe," and "Mr. Clean." Here's what they have to say about this sorcerer bowel movement:
On rare and special occasions, you engage in the entire stooling process from engagement to deployment and note, in the cleanup phase, that amazingly there is no poo residue on the toilet paper! Despite coming up clean on the first wipe, some skeptical souls wipe one more time just to make sure there isn't a poo illusion at play. Some experts consider the "wipeless" poo to be the pinnacle of poo performance. You may depart the restroom feeling extra clean after this type of poo.
"This is in direct contract to the other times when you use half the roll of toilet paper and feel as if you haven't made any progress. What's worse is that those moist, multi-wipe poss seem to occur at the most inopportune times - e.g., in a crowded public restroom where you only have a few inches of cheap, single-ply, essentially transparent toilet paper. In these instances, wiping can be so unsuccessful that you end up putting toilet paper between your butt cheeks to avoid painting your underwear with skid marks. These situations, juxtaposed to Clean Sweeps, remains us that although there is little discernible difference during the exit, the cleanup can have dramatic variation."
Yes, but HOW does this relate to Chad Greenway?? (See how I made that background color an off-brown? MIND BLOWN!)
See How This Works? Greenway is like the Clean Sweep in numerous ways. First, whenever the Clean Sweep happens, it's always a surprise. This is much the same feeling you get when you check the box scores after a game or at the end of a Vikings season. You end up finding Greenway as your leading tackler, and you ask yourself how the hell did he ever get all of those? And are these tackles impactful? The problem, like with the Wipeless Poo, is that people put too much stock in a single action, rather than the overall package. Hey, not having to wipe after a dump is cool, as are tackles, but there's a whole lot more to a bowel movement (and football!) than just this one stat. How about straining of the stomach, solidity of the feces, chaffing of the buttocks (solid pass coverage, tackles behind the line of scrimmage, and turnovers)? The juxtaposition here is obviously that, sure, Chad Greenway could go down during the season and we'd lose all those tackles, then I'd really feel like a multi-wipe poo. But you know what? Plug a back-up into Greenway's spot and, as Richman and Sheth say, there may be little discernible difference.
That's why, in the lore of poop, Chad Greenway is ... THE CLEAN SWEEP!
Thanks to Josh Richman and Anish Sheth, M.D., for their great book "What's Your Poo Telling You?" available for purchase on Amazon.
[follow]
Original Story:
http://purplejesusdiaries.com/2012-ar...
THE BACKYARD
BEST OF MAXIM
RELATED ARTICLES
NOTHIN' BUT A NUMBER
Adrian Peterson was considering changing his number, that is until he heard he'd have to pay over a million dollars to Nike to do so.
In a series of tweets Wednesday, Minnesota Vikings running back ranted over the fact that he was apparently informed that he would have to pay the jaw-dropping price of one million bucks if he chose to change his jersey number. Wait. What? It all started on Jan. 20, when Peterson tweeted that he was considering [...]
Former Minnesota Vikings quarterback Donovan McNabb isn't done with the NFL, JUST YET, as it's being reported that he's eyeing three NFL teams that would keep from retiring from football.According to NFL.com, McNabb, who's entering his 13th season in the NFL, spoke about his vision of staying in the NFL during an interview at "Super Bowl Live", on Wednesday...
Minnesota Vikings running back Adrian Peterson was hoping to change his number from 28 to either 23 or 21, but it looks like he's not willing to pay the price of $1 million. Peterson said the following on Twitter, "So here is the deal with the number change! So I received a call and I was informed that I would've to buy all jerseys that's been produced … Thus far! N the...
Adrian Peterson will still wear No. 28 for the Minnesota Vikings - for now. The star running back said in a series of posts on his Twitter page on Wednesday that he balked at switching because he was told he would have to pay $1 million to buy out the unused inventory of the jerseys already produced with his current number. The NFL says a player must apply to change his number...
During an interview with "Super Bowl Live", Donovan McNabb said he does not think he is done. The former Eagles, Redskins, and Vikings quarterback is still confident he can help an NFL team. "I see three teams in the NFL, right now, that I feel like I can add a little bit of flavor to it from what they have," McNabb said. "I won't mention those teams. But, if the...
Minnesota Vikings punter and favorite local video game nerd (sorry, Meagan Marie), Chris Kluwe, dropped another recent guest article over at GameTrailers.com, a website which I believe offers much more on video games than just video game trailers. He has appeared again in a sub-article category called "Side Mission" where he espouses on a variety of different video game...
A number of big-name wideouts could be available come March 13.
Adrian Peterson wanted to change his number from 28 to 23. But for a million bucks? The Vikings' star running back explained in an epic Twitter rant why that's outrageous to him.
    BY ROY CUMMINGS The Tampa Tribune TAMPA – Free agent quarterback Donovan McNabb says there are three teams he believes he could "add a little flavor to'' and would be interested in playing for next season. The Bucs should be hoping they're one…
Vikings running back Adrian Peterson has talked about changing jersey numbers, but he revealed today that he decided not to when he found out how much that would cost him. Peterson said he wanted to switch from wearing 28 to 23, which he thought he could do at the time that Nike takes over the…
Vikings News

Delivered to your inbox

You'll also receive Yardbarker's daily Top 10, featuring the best sports stories from around the web. Customize your newsletter to get articles on your favorite sports and teams. And the best part? It's free!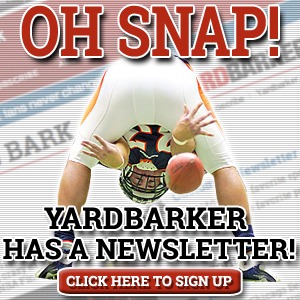 Latest Rumors
Best of Yardbarker

Today's Best Stuff

For Bloggers

Join the Yardbarker Network for more promotion, traffic, and money.

Company Info

Help

What is Yardbarker?

Yardbarker is the largest network of sports blogs and pro athlete blogs on the web. This site is the hub of the Yardbarker Network, where our editors and algorithms curate the best sports content from our network and beyond.