Found November 15, 2012 on State of the Texans:
The Houston Texans are one of the few teams that can go into their second string players, and not fall off in overall team production. Majority of analyst realized that the Texans had a solid roster heading into the 2012, and after a seeing how the team responded in 2011 with their rash of injuries, the team was set for bigger growth this season. The injuries of the 2011 season was a blessing in disguise because players who had no reason being on the field got much needed playing time, which now is paying huge dividends in the 2012 season. This season the Texans are playing far from perfect games but are still good enough to be at 8-1 this season. If the Texans ever hit that perfect game, it could mean bad news for whoever that opponent maybe, but we know it is coming. There is a new breed of Texans that are bringing that "culture" of winning to Houston and will be here for some time. The New Blood Brooks Reed Only in his second season, Reed was a pleasant surprise for the Texans in 2011, when he was able to fill a void as a rookie and be a solid starter. In 2012, he has expanded his game to being more than just a pass rusher, he plays inside linebacker when need in goal line and nickel situations and covers from the outside linebacker position. The thing that Reed brings is his relentless pursuit on the field, he may not get to the quarterback all the time, but he is not afraid of contact and play the edge with the best of the them in run support. Reed has that blue collar approach to the game of football and it is something that Texans fans can respect and appreciate.   J.J.Watt No doubt the next face of the franchise after Andre Johnson decides to hang them up, Watt was the start of the type of player you can expect to see here in Houston. Players that strive for their own personal greatness, but not at the expense of the team. Watt is everything you want in a football player and to think that he is done growing as player is not accurate. Not even two full seasons in the NFL, Watt could arguably be the best defensive lineman in Texans history. The sky is the limit and to see what else he has in store while here in Houston is exciting to think about.   Earl Mitchell One of the players that get lost in the shuffle, but the Houston native is a player to watch for the coming seasons. Mitchell has improved his game so much at the nose tackle, he will be commodity for the Texans to resign when his current contract comes up. He added weight to hold up better against the run in the offseason, but he has also gotten stronger and not lost any of his quickness. It is hard to pick out Mitchell in the middle of the pile, but he has been impressive playing technique and causing some issues for offenses in the middle. With Cody's injury issues, Mitchell is more than ready to take a bigger role for this team.   Garrett Graham We have been tough on Graham, but he has been a pleasant surprise this season with what he been able to do on offense. He has improved every week as a blocker and shown he can catch the football, but he has taken snaps away from Owen Daniels to keep him fresh late into the season. Graham has the skill set to be a key piece of this offense, and a fixture at the tight end position, he fits exactly what Gary Kubiak likes in his players. He is a Daniels clone who needs some more polishing, but his 2012 season has been better than anyone expected.   Derek Newton Plenty of people have been tough on Newton at right tackle, but we think he is getting some unfair treatment. You are looking at a player who played limited snaps in 2011, and now is a starter for one of the top teams in the NFL. He is average a 2 to 1 ratio in snaps compared to his back up Ryan Harris, but he has held his own. He has clashed with some of the leagues best in 2012 at defensive end, but to think he is a complete drop off from last year right tackle is not a fair assessment. Newton has the skill set to be better as a player, and in his second season he too has what it takes.   Ben Jones The surprise of the draft class, Jones has been more than what they expected this season. He played his first snaps a guard during the last preseason game, and before anyone knew it he was rotating with Antoine Caldwell at right guard. Now he is the starter next to Newton and if those two can develop together the right side of the offensive line could be set for years to come. Jones has showed his speed and strength as a rookie, but he still need more time to develop. His excels in pass protection, but he is still learning the zone scheme and the technical part of it, but Jones is making an impact as a rookie. He will be a cornerstone of the offensive line for this Texans offensive line.   Bryan BramanWe have been the biggest Braman haters here, but what he does on special teams is really something to watch. He has turned himself into a pro bowl player since coming to Houston undrafted, and he is by far the best special teams player on the field. From helmet less tackles to relentless pursuit, Braman is fun to watch, and special teams warriors are easy to root for and he is that guy. The Texans would like to get him involved more on defense, but his value on special teams is what will keep him in Houston. You can follow Patrick on Twitter.  He is the Editor of State of the Texans.  
Original Story:
http://www.stateofthetexans.com/?p=9171
THE BACKYARD
BEST OF MAXIM
RELATED ARTICLES
Texans defensive back Danieal Manning is shocked at Chicago fans for booing him for doing his job and intercepting a Jay Cutler pass. Sometimes you just can't win, it's not personal, it's Chicago. Danieal Manning was selected by the Chicago Bears with the 42nd pick in the 2006 NFL Draft from Abilene Christian University. In 2008, Manning led the league in kickoff return...
The Texans need to pay attention this week and not think ahead to their Thanksgiving day match-up. After a rough Week 10, I'm sitting at 92-54-1.  Who wants to keep track of a tie. Let's see if I can turn this around this week. Arizona at Atlanta - The Cards need to get some production from the QB position if they want any chance to make playoff this season...
Houston tight end Owen Daniels (hip) will miss Week 11 against Jacksonville, according to Ryan O'Halloran of The Florida Times-Union.Fantasy Spin:Jacksonville figures to be able to get past the woeful Jaguars without Daniels and this will give him more time to be ready for the Thanksgiving Day game at Detroit. Daniels has five touchdown receptions in his last six games and is...
Brett Hartmann, a former punter with the Houston Texans, is suing the owners of Houston's Reliant Stadium for negligence regarding an injury he suffered to his non-kicking leg late last season, his lawyer announced Thursday. Hartmann alleges he suffered a career-threatening knee injury last December when his foot was caught in a seam between grass pods, attorney Greg Egdorf...
During the recent elections, one of the local measures on the ballot I filled out was for funding of a new athletic field that would have been constructed with field turf. I voted no. One of the reasons why is because I believe kids should play on grass because it is safer. Field turf is [...]
Last week: 2 (+1) Record: 8-1 I guess the Texans move into the #1 spot at Chicago's expense with their win over them, but you have to wonder what the outcome would have been had Cutler not gotten hurt (he threw an interception on a promising drive immediately after suffering that concussion). It's a shame that Cutler had to get hurt in what seemed like it would be the most revealing...
HOUSTON (AP) -- Former Houston Texans punter Brett Hartmann has sued the county agency that operates Reliant Stadium, blaming "unsafe turf" for a possibly career-ending knee injury. The 6-foot-2 Hartmann signed with the Texans as an undrafted free agent in July 2011. He played in the first 12 games last season before tearing his left anterior cruciate ligament and fracturing...
Houston Texans linebacker Tim Dobbins will be fined a $30,000 fine for his hit on Chicago Bears quarterback Jay Cutler on Sunday night, ESPN reported. Cutler suffered a concussion after the helmet-to-helmet hit and didn't return after halftime. Dobbins was penalized for unnecessary roughness. On the play, Cutler was scrambling and was called for an illegal forward pass when...
Tied for the NFL's best record, the Houston Texans continue to inch closer to a second straight AFC South crown. A matchup against the division's worst team seems unlikely to slow them down. The Texans aim for a fifth consecutive victory over the visiting Jacksonville Jaguars, who try to avoid matching their longest losing streak in franchise history Sunday. Houston (8...
The Texans moved to 8-1, tying the Atlanta Falcons for the best record in the NFL, with their sloppy 13-6 win over the previously 7-1 Chicago Bears. While it was not a pretty game by any means, the Texans went into Chicago and beat the Bears outdoors in bad conditions. The statistics for this game may not look very impressive, but this game was more about toughness and making big...
Texans News

Delivered to your inbox

You'll also receive Yardbarker's daily Top 10, featuring the best sports stories from around the web. Customize your newsletter to get articles on your favorite sports and teams. And the best part? It's free!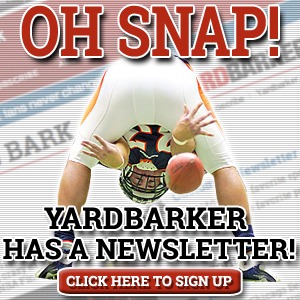 Latest Rumors
Best of Yardbarker

Today's Best Stuff

For Bloggers

Join the Yardbarker Network for more promotion, traffic, and money.

Company Info

Help

What is Yardbarker?

Yardbarker is the largest network of sports blogs and pro athlete blogs on the web. This site is the hub of the Yardbarker Network, where our editors and algorithms curate the best sports content from our network and beyond.