Found September 16, 2012 on Boston Sports Then & Now:
PLAYERS:
Pete Carroll
,
Bill Parcells
,
Bill Belichick
,
Drew Bledsoe
,
Terry Glenn
,
Tedy Bruschi
,
Willie McGinest
,
Peyton Manning
,
Jake Plummer
,
Dave Brown
TEAMS:
Seattle Seahawks
,
Arizona Cardinals
,
New England Patriots
,
Boston Red Sox
,
Dallas Cowboys
,
New York Jets
The last big moment of the Pete Carroll era in New England was a win over the Arizona Cardinals.
The New England Patriots host the Arizona Cardinals for Week 2 of the NFL season, and it would be just a little bit of a stretch to say Patriots-Cardinals is a matchup rich in history. We'd have to switch sports and do Red Sox-Cardinals for that. But as I went back through the recent games between New England and Arizona, one thing did stand out—the Patriots' win over the Cards in 1999 will go down in the books as the last high point of the Pete Carroll era.
I suppose that does require some further clarification.  Even though Carroll would later turn USC football into the nation's best college football program in the 2000s (and then later get them on NCAA probation), his Patriot career was less than stellar and saying his "era" found its "apex" is the  nice way of saying this '99 win in Arizona was the last high point of a three-year stretch where New England regressed every year. Still, Carroll is still a notable, if minor figure in Patriot lore and his  last high point is timely this Sunday, so let's look back on the context surrounding New England's 1999 visit to Arizona.
Carroll inherited a team that had reached the Super Bowl in 1996, but had an opening after Bill Parcells clashed with Bob Kraft and left for the New York Jets, taking prized assistant Bill Belichick with him. The '97 Patriots won the AFC East, but lost in the second round. The '98 Pats slipped to 8-8, though they got into the playoffs and lost the opening game. Another regressive step meant no playoffs.  Carroll needed to change the direction back the other way if he wanted to keep his job.
Drew Bledsoe was at the helm of the offense and he had 25-year-old wide receiver Terry Glenn, about to embark on his only Pro Bowl season as the prime target. The rest of the roster was a mix of players who were past prime, and others who would eventually become notable, but not until Belichick came back to town. Examples of the latter include Tedy Bruschi and Willie McGinest. Examples of the former included 31-year-old running back Terry Allen. He'd been a productive player on good Minnesota teams in the early 1990s, made a Pro Bowl with Washington in 1996, but was clearly on the downside of his career. Ben Coates had also turned 30, and left tackle Bruce Armstrong was 34. It wasn't a bad team Carroll had to work with, but it was striking fear in opposing locker rooms either.
Nonetheless, New England played with a sense of urgency to start the season. In a fall where the region would endure another Red Sox defeat at the hands of the Yankees, this one in the ALCS, the Patriots owned New York early, winning home games against the Jets and Giants. They won at Cleveland and they also beat Indianapolis in a year where the Colts would have their first breakout playoff season with Peyton Manning at quarterback. We should also note that in the three-divisional alignment each conference used prior to 2002, Indy was in the AFC East, so this 4-0 September start included three divisional victories.
A couple close losses to Kansas City and Miami temporarily set the Pats back, but Carroll's team immediately came back with their most impressive win yet, a 24-3 thrashing of Denver that moved them to 5-2 and set the stage for the trip west.
Shawn Jefferson caught two long passes from Drew Bledsoe to help blow out the Cardinals early.
Arizona had come into 1999 with big expectations. The historically inept franchise—going back to its days in St. Louis and Chicago—had a breakthrough year in '98, making the playoffs and then upsetting the Dallas Cowboys in the first round. Quarterback Jake Plummer was thought to be a rising star. But as the Cards awaited New England, those hopes were mostly in ashes. Arizona had lost five of the first seven and the starting quarterback for this game would be Dave Brown. There's a good reason you've probably never heard of him before.
It's still the kind of game that a hopeful team could trip up on, as we see every year in the NFL. But Bledsoe did not allow that to happen. After an early touchdown put the Pats up 7-0, the gunslinging quarterback opened up and hit Shawn Jefferson on a 64-yard strike and then again from 35 yards out. Even with a missed extra point, it was 20-0 at halftime.
Allen helped New England control the ground attack and he produced 88 yards on 21 carries. It was one part of a good comeback season for Allen, in which he rushed for nearly 900 yards. Indeed , 1999 would be his last hurrah as a productive NFL player.
Terry Allen had his last good year as an NFL running back for the '99 Pats.
After Arizona kicked a field goal in the third quarter, Bledsoe tossed one final touchdown pass to Terry Glenn, this one from 36 yards, as the Patriots continued to successfully go over the top. Bledsoe finished the game 14-for-22 with 276 yards and zero interceptions. And his Cardinal counterpart? Brown went a forgettable 12-for-33 for 107 yards and two picks. Arizona fared no better on the ground with Adrian Murrell (I know, another name you've never forgotten) was held to 47 yards on 13 carries. New England had zero turnovers and was flagged just four times for an inconsequential 36 yards.
The planes headed east with New England at 6-2 and heading into their bye week. But the good times were over. When they returned to the field, the momentum was gone. They lost consecutive AFC East games to the Jets, Dolphins and Bills. A win over Dallas temporarily lifted everyone's spirits, but three more losses, the last an overtime defeat to Buffalo, dropped them to 7-8. A win over Baltimore to end the season got them to .500, but it was not enough to save Carroll's job.
Pete Carroll's New England career peaked in Arizona in 1999, and at the end of that Week 8 game twelve years ago, no one could have guessed that he had many more wins in the desert ahead—but it would be as a Pac-10 coach. And surely no one could have guessed that both he, and the incoming Patriots' coach would go on to become the dominant college & NFL coaches of the next decade.
Original Story:
http://boston.sportsthenandnow.com/20...
THE BACKYARD
BEST OF MAXIM
RELATED ARTICLES
For one of the rare times since coming back to the NFL, Pete Carroll saw the exact style he wanted the Seattle Seahawks to play with in their 27-7 rout of Dallas. The Seahawks were aggressive, physical, controlled possession and wore down the Cowboys Sunday. While it may draw him a fine, no play was more emblematic of the physical style the Seahawks tried to impose than Golden Tate...
The NFC West looks to be competitive this year. The division boasts two undefeated teams in Arizona and San Francisco, and two 1-1 teams in Seattle and St. Louis.Let us not forget that the Cardinals finished the season 8-8 last season and won tough games down the stretch last year that seem to have transferred over to the 2012 season.The Seahawks were a sleeper pick for many analysts...
NFL News

Delivered to your inbox

You'll also receive Yardbarker's daily Top 10, featuring the best sports stories from around the web. Customize your newsletter to get articles on your favorite sports and teams. And the best part? It's free!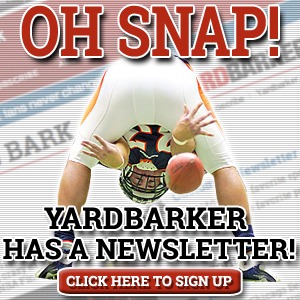 Latest Rumors
The Backyard

Today's Best Stuff

For Bloggers

Join the Yardbarker Network for more promotion, traffic, and money.

Company Info

Help

What is Yardbarker?

Yardbarker is the largest network of sports blogs and pro athlete blogs on the web. This site is the hub of the Yardbarker Network, where our editors and algorithms curate the best sports content from our network and beyond.