Found October 17, 2013 on isportsweb.com:
The New Orleans Saints offense has been one of the most prolific and consistent unit in the NFL since Drew Brees and Sean Payton took over in 2006. There have been many players who have come and gone which isn't unusual in today's NFL with free agency. However, other than Brees and Payton, the one constant has been Marques Colston. Colston, a model of consistency, has vanished the past two games posting a total on 26 yards in two games. On the season, he has only reached in the end zone one time and has had only one game where he has posted over 75 yards. The nature of the wide receiver positions lends itself to inconsistency, but Colston the past two games has not been heavily targeted like he usually has. It is puzzling why one of Brees' favorite targets has had his looks and production decline lately. With the year Jimmy Graham and Darren Sproles are having, defenses have been diverting all their attention to the middle of the field where they reside. All the diverted attention has led to more single coverage towards Colston which means more favorable match-ups for the 6'5" Hofstra product. Despite this, Colston hasn't been able create the separation needed to get the ball. This is unacceptable from a veteran receiver of Colston's caliber. Though there has been a lack of overall production from all the receivers, it is Colston who is the most experienced and should be setting an example for the younger Kenny Stills and Nick Toon. And they will need their production to meet their goals this season. The Patriots showed that the Saints have a tough time getting production from the other guys if Graham and Sproles are taken away. It is a copycat league, so one can expect that when the Saints play the NFC's elite teams they will try to lock up Graham with their top corner whether it be Seattle's Richard Sherman and Brandon Browner or San Francisco's Carlos Rogers. When this happens, Colston, as well as the other receivers must win their matchups. Though the Patriots Alfonzo Dennard is a fine player, he should not be shutting down someone like Marques Colston. Whatever the reason for Colston's disappearance, it needs to be remedied immediately. The Saint's offense is at its most dangerous when Colston is productive since the defense can't overload on one part of the field. Colston is a veteran and needs to step up, especially with a possibly hobbled Graham. You can expect that this will be an area of focus as the Saints try to improve over the bye week because without Mr. Colston the Saints have no chance of beating the NFL's elite.
Original Story:
http://feedproxy.google.com/~r/isport...
THE BACKYARD
BEST OF MAXIM
RELATED ARTICLES
A year ago the New Orleans Saints defense was well on their way to becoming the worst defense in NFL history. A year later a 'leopard can change its spots,' so the saying goes. Ranked 17th in the NFL in total defense, the unit has become an asset for the team known for its potent offense. Defensive coordinator Rob Ryan is one of the reason for the turnaround as the brash...
Last week: 3 (+0) Record: 5-1 The Saints are no longer undefeated, but they lost in a game that was literally as close as could be and on to the road to another top-5 team. They should still finish with 12 or 13 wins and be this year's team to goes from out of the playoffs to a first round bye. Because of the nature of the two team's home field advantage, whether or not they...
After watching six games this season, I feel really good about the defense and special teams. It turns out offense has been less impressive, mostly due to poor play by the offensive line and the wide receivers. If you asked me right now who the Saints match up best with, it would be a poor defensive team. That's because Brees can still light teams up and the Saints have proven...
Do you remember when there was this whole narrative about the Saints being awful after a bye week under Sean Payton? It used to be a major issue before things got turned around. Here is how the Saints have done in the Sean Payton era coming off a bye: 2006- Lost at home to Ravens 22-35 2007- Lost at home to Panthers 13-16 2008- Lost on the road to Falcons 20-34 ...
I don't do this often but a few of you were interested in getting my take on some questions you had about the team so I was happy to oblige below. This was fun, we will definitely do it again. I greatly appreciate the participation. 1. Judy Champagne asked: "What's going on with "Mr. Soretoe"??? That was supposed to have been fixed over the summer...&quot...
With Halloween on the horizon how fitting that the New Orleans Saints got tricked into a loss against …
Friday is a sad day in both the football world and in the Wade Phillips household as former Houston Oilers and New Orleans Saints head coach Bum Phillips passed away just a little while ago at the age of 90. The Breaking News stems from his sons Tweet.   Bum is gone to Heaven-loved and will be missed by all -great Dad,Coach, and Christian — Wade Phillips (@sonofbum) October 19...
HOUSTON — Bum Phillips, the folksy Texas football icon who coached the Houston Oilers and New Orleans Saints, died Friday. He was 90. "Bum is gone to Heaven," son Wade Phillips tweeted Friday night. "Loved and will be missed by all – great Dad, Coach, and Christian." Phillips died at his home in Goliad. Wade Phillips is the Houston Texans' defensive coordinator. Thumbnail...
FOXBOROUGH, M.A.– According to several reports, linebacker Jerod Mayo is feared to be lost for the rest of the season. Mayo tore his pectoral muscle late in the fourth quarter against the New Orleans Saints. Yahoo! Sports first reported that Mayo underwent surgery for the injury and could be out for the rest of the […]
New England Patriots-New Orleans Saints review: Aqib Talib moves up cornerback rankings by shutting...
Morning Kids More catching up on the NFL from Week 6. This time it is the New England Patriots against the New Orleans Saints. Lets grab some bench and go tot he fist quarter/ ***First  and Second Quarter Patriots – 17 and the Saints – 7 Saints to kick off – Patriots to start at the 28 yard line Patriots – 1 and 10 throw, incomplete, 2 and 10 throw , 1 and 10 hand...
NFL News

Delivered to your inbox

You'll also receive Yardbarker's daily Top 10, featuring the best sports stories from around the web. Customize your newsletter to get articles on your favorite sports and teams. And the best part? It's free!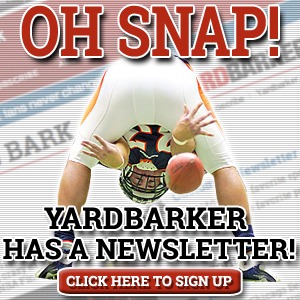 Latest Rumors
Best of Yardbarker

Today's Best Stuff

For Bloggers

Join the Yardbarker Network for more promotion, traffic, and money.

Company Info

Help

What is Yardbarker?

Yardbarker is the largest network of sports blogs and pro athlete blogs on the web. This site is the hub of the Yardbarker Network, where our editors and algorithms curate the best sports content from our network and beyond.