Found June 27, 2013 on isportsweb.com:
(Photo credit: Nick Laham/Getty Images Sport) Before anything, this is all Warren Sapp's fault. To take a page out of ESPN's Rick Reilly, if Sapp hadn't opened this mouth, this article would not exist, but nevertheless… Sapp told the Tampa Bay Tribune that his former Tampa Bay Buccaneer teammate, Simeon Rice was better than New York Giants legend Michael Strahan. Sapp's evidence to back up his conjecture was that Strahan was lined up on the weak side which made it easier for Strahan to have success, unlike Rice who was lined up against left tackles, the strongest tackles on the offensive line. Rice was an excellent pass rusher without a doubt. He recorded 122 sacks in his 12-year NFL career, while recording double digit sacks in eight of those twelve seasons. Rice was the second fastest player to join the 100 sacks club behind legend Reggie White. He also played a major role in the Buccaneers' Super Bowl season in 2002, narrowly missing the Super Bowl MVP honors to teammate Dexter Jackson. It is no question he has hall of fame caliber numbers, but the counterexample to Sapp's conjecture is Rice is not comparable to Strahan. It is without question that Strahan was a better defensive end the Rice and the numbers prove it. 854 tackles. which is almost twice the number of tackles Rice amounted in his career. 141 sacks, which placed Strahan fifth all-time including the 2001 season where Strahan broke the record for most sacks with 22.5. Both have a Super Bowl championship, but Rice didn't attain his ring against an undefeated Tom Brady like Strahan did. So Sapp, if Strahan had it a little easier, then why do his numbers immensely eclipse Rice? This isn't about Strahan and Rice, it's about Sapp trying to downplay all of Strahan's success. It's clear Sapp doesn't like Strahan. It all began when Strahan broke the record for most sacks in a single season given that the record-breaking sack appeared to be given to him as Brett Farve fell to the ground as Strahan sacked him. Watch the video and then come back to the article. Now, let's review. Imagine if the sportscasters said nothing about Farve and Strahan being buddies or that the play looked design. Think back to what quarterbacks are told to do when they know they are about to be sacked. See, this rivalry between Sapp and Strahan didn't start because Strahan broke the record, but because of two ordinary people's perspective on a play that was fundamental, not scripted. Their opinion sparked the controversy, which sparked Sapp's comments about Strahan not earning the record, which now brings us to June 27th, 2013 where we are still talking about Sapp's dislike for Strahan twelve years later. What's funny about this whole Sapp vs. Strahan debacle is that Sapp was elected into the Hall of Fame before Strahan. What does putting a former teammates of his over his rival do for him, a hall of famer? Nothing, except make Sapp look like, to quote former Giants running back Tiki Barber, "an idiot." At the end of the day, this isn't about Rice, it's about Sapp continuing to try to cement himself to be better than Strahan when all Strahan does is allow his play, his accolades, and his image speak for itself instead of his mouth. Strahan earned his success and will earn the vote into the Hall of Fame. Because right now, by talking about Strahan, Sapp is only validating just how good Strahan really was.
Original Story:
http://feedproxy.google.com/~r/isport...
THE BACKYARD
BEST OF MAXIM
RELATED ARTICLES
Former NFL defensive tackle and current NFL Network analyst Warren Sapp has been spouting off over the past week about Simeon Rice being a better play than former Giants defensive end Michael Strahan. Like myself, New York Giants Senior Vice President of Communications Pat Hanlon seems to be sick of Sapp and took a dig at him on Twitter last night. Warren Sapp should take Brian...
Warren Sapp felt that it was important for him to further explain why he believes Simeon Rice was a better player than Michael Strahan on the NFL Network tonight. "For all of the people who are not historians of football as I am, Michael Strahan started his career at right defensive end in New York to replace Lawrence Taylor – the great Lawrence Taylor," Sapp said, via Ralph...
Former New York Giants running back Tiki Barber gave his opinion on the favorite to win the team's RB starting job - David Wilson. Barber thinks that Wilson is as explosive as any RB the Giants have had on their roster ever. Wilson's superb breakaway speed separates him for running backs of the past, now all he has to do is fill that potential. "He is as dynamic a player...
Former Giants running back Tiki Barber believes that David Wilson will be able to erase the records he once set. "He is as dynamic a player at that position that the Giants have ever had," Barber said this week via ESPNNewYork.com, via NFL.com. "… I didn't have breakaway speed like he does. I wasn't the athlete like he is. I worked hard to get where I was. As long as...
Giants defensive end Justin Tuck told ESPNNewYork.com that he's kept in contact with Jason Pierre-Paul and he's doing well after undergoing back surgery. "I speak to him all the time," Tuck said. "[He's] doing well." Tuck said other people also believe he's doing well. "Everybody is [also] telling me he is doing well," Tuck later added. "I have seen him walking...
New York Giants defensive end Justin Tuck told ESPNNewYork.com that Victor Cruz "did the smart thing" by signing his restricted free agent tender. Tuck believes that Cruz signing his tender will help the Giants and his representatives get a deal done. "I really think that is going to expedite things," Tuck said. "I hope it does. Obviously, everybody wants to see Victor...
Earlier this week Elliot Harrison of NFL.com posted his most recent power rankings and the tumultuous offseason in New York has taken it's toll on the Giants. While OTA season is hardly the time to overreact, there weren't a lot of positives coming out of Giants camp. His concerns appear to be justified, though, as the Giants have received bad news on a number of fronts this offseason...
Amanda Bynes loves to troll the internet via Twitter, which clearly has to be a cry for help. She has attacked Drake, Rhinnana, and the girl from Modern Family and now New York Giants linebacker Keith Rivers. It's been confirmed that while Rivers was at USC the two dated and well now she is claiming that he happens to have the gift that keeps on giving. She of course deleted the...
In the NFL there is one thing worse than being injured and that's getting suspended. In the case of New York Giants wide receiver Brandon Collins a failed a drug test lands him on the shelf for the first four games of the 2013 season. The question now comes what did Collins use and how will this affect him making the Giants' 53 man roster.
Warren Sapp annoyed many people who are connected to the New York Giants organization last week when he made the argument that former Tampa Bay Buccaneers defensive end Simeon Rice deserves the make the Hall of Fame before Michael Strahan. Sapp framed the comments in a way that they were just as much of an [...]
Former NFL defensive tackle Warren Sapp, who will be inducted into the Pro Football Hall of Fame in August, reiterated Tuesday why he thinks Simeon Rice is better than Michael Strahan. Sapp made the same argument on the NFL Network as he did last week when he said Strahan's 
Giants News

Delivered to your inbox

You'll also receive Yardbarker's daily Top 10, featuring the best sports stories from around the web. Customize your newsletter to get articles on your favorite sports and teams. And the best part? It's free!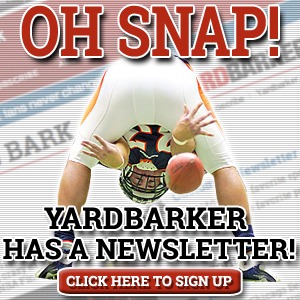 Latest Rumors
Best of Yardbarker

Today's Best Stuff

For Bloggers

Join the Yardbarker Network for more promotion, traffic, and money.

Company Info

Help

What is Yardbarker?

Yardbarker is the largest network of sports blogs and pro athlete blogs on the web. This site is the hub of the Yardbarker Network, where our editors and algorithms curate the best sports content from our network and beyond.