Found July 26, 2012 on Turn On The Jets:
TJ Rosenthal gives a closer look at what the New York Jets need from their head coach in 2012. Make sure you are following TJ both here and here. And if you didn't read them yet, check out his interviews with Evan Silva and Connie Carberg.  For three seasons Rex Ryan thumped his chest. Guaranteeing Super Bowls in restaurants, at Knicks games, and hockey games, and probably even supermarket aisles to whoever would listen to him. He's flipped off fans, and cursed out others at offseason events and halftime tunnels. After an 8-8 crash though, Ryan had to swallow the bitter pill that came from understanding that even WITH two AFC Championship appearances on his resume, some things had to change. Embracing a new emphasis on the value of  toning the bravado down while doing a better job of taking the temperature of his own players, that second chance has now arrived. Training camp kicks off in Cortland today for the New York Jets. Few if any in the entire organization can help this franchise by bouncing back from a down year more than Ryan can. Jets practices over the next two months will be a rock star gathering each and every day but will also be a place where many will be seeking redemption for their performances and behavior last year. Like Mark Sanchez. Wayne Hunter and the entire offensive line. The rushing attack. Santonio Holmes. The pass rush. The list goes on, but nobody's personal turnaround may be more vital to the Jets success than Rex Ryan. Last season's disappointing results should not be seen as the fault of one player or coach. In the NFL though, much of both the success and struggles of a club are seen through the lens of the head coach. Right or wrong. For Ryan, the buttons he was able to push in his players when he had to came more easily in 2009 and 2010 than they did in 2011. The son of Buddy Ryan, whose apple clearly fell inches from the tree, now owns the task of having to reinvent himself as the team's leader. One who must trim the edges in places yet remain the same guy that he has been for three years. Loud. Confident. Cocky. A believer in his system, players, and an organization that didn't believe in itself the way it has since he barreled through the Florham Park doors. Declaring that he didn't sign on to kiss anyone else's rings. As the Jets face the challenge of imparting a new "old" look on offense while adding more variety on defense, as they work Tebow into the mix as a flex player, they will have to lean on the guidance of Ryan. Especially early on. A tough schedule awaits the Jets in September. The potential for a divisive quarterback controversy looms during that period as well. Especially if the club doesn't take a stand with how they feel about Sanchez. Both hurdles call for an improved Ryan to be on the top of his game. On the gridiron and at the podium. Rex has to get his team, still with a core nucleus that can help him thanks to names like Revis, Scott, Harris, Mangold, Ferguson and such, out of the gates and alive in October. Not buried at 1-4 like many naysayers predict. Ryan has to be firm if and when Sanchez struggles, so as not to play into any media games that will attempt to make as big of a story out of the Sanchez Tebow thing as humanly possible. Finally, Ryan has to monitor himself. The line between confident leader and entertaining showman can't be crossed the way it was in 2011 when Ryan hurt his own club by empowering some of the other opponents at times. Like the Giants for example, who made it known after their Christmas day victory in the "Battle of New York," that covering trophies and Ryan's smack talk motivated them in the most pivotal game of the year for both teams. Ryan's ability to grade out well in those key areas may mirror the Jets ability to be in position to grow into a club that truly can back the words Ryan once used to love to spew. Even if he keeps those thoughts more to himself at times this year.
Original Story:
http://turnonthejets.com/2012/07/new-...
THE BACKYARD
BEST OF MAXIM
RELATED ARTICLES
Rex Ryan is a talker. That's just what he does. Whether it's proclaiming the Jets to be the favorites to win the Super Bowl or flat out guaranteeing a Super Bowl victory, talking (and being wrong) is just his thing. So it shouldn't surprise you that he's starting off this season talking once again. But this time, he's shying away from the team orientated declarations. Guess...
Rex Ryan has exactly the team he wants, with Mark Sanchez at quarterback, Tim Tebow in various roles, and Tony Sparano as offensive coordinator. So let the pot-stirring and criticism fly. Ryan is ready for it because he has ''a blueprint in place right now, no question.'' Ryan was gushing about the current makeup of the New York Jets after a spirited, high-tempo...
And he has finally broke his silence. Rex Ryan has been relatively quiet this past offseason. There have been zero predictions about the New York Jets reaching the Super Bowl, nothing about how he has the best team in the league, and no run-ins at concerts with middle fingers wagging. He has been busy losing [...]
Rex Ryan knows the pressure's on him and his team to prove that last year's disappointing season was merely a bump in the road. The New York Jets reported for training camp Thursday at SUNY Cortland refreshed and eager to get started on what they hope is a special season. Ryan says his biggest task is to build a team over the next 45 days ''that's in a certain...
Everyone at the New York Jets' opening day of training camp Thursday was on their best behavior and Rex Ryan intends to keep it that way.  The team— which seems to have more dramas than an episode of "Dallas"— has a quarterback controversy ready to boil over and the head coach wants his players— specifically Santonio Holmes— to turn down the heat. Ryan publicly...
New York Giants defensive end Osi Umenyiora indicated that they weren't too happy about all of bold predictions that Jets head coach Rex Ryan's made last season before they played the Jets on Christmas Eve. "I didn't play that game but I was in the meetings and all that stuff, man, they didn't like that at all,'' Umenyiora said Tuesday on WFAN, making the media rounds...
Santonio Holmes is stirring the pot again. Rex Ryan is telling him to shut it. Ryan spoke out against Holmes on Thursday, saying he'd prefer that the Jets wide receiver take care of his own game rather than comment on New York's highly publicized quarterback position, according to ESPN New York. Holmes told the NFL Network last week that he didn't like the idea of a two...
Getty Images New York Giants defensive end Osi Umenyiora indicated that they weren't too happy about all of bold predictions that Jets head coach Rex Ryan's made last season before they played the Jets on Christmas Eve. "I didn't play that game but I was in the meetings and all that stuff, man, they didn't like that at all,'' Umenyiora said Tuesday on WFAN, making...
No more bold Super Bowl predictions. No more empty promises. This is the new toned-down, slimmed-down Rex Ryan. But the New York Jets coach is still plenty confident, and eager to get this season going. Having Tim Tebow in green and white isn't the only reason. ''I think I'm looking forward to it more than any season in my life,'' Ryan said. ''I...
The Turn On The Jets 12 Pack is back after a packed week of content here on the site. A big thanks to our writing staff who is the best in the business: Chris Gross, Mike Donnelly and TJ Rosenthal. In case you weren't following, here is what you missed - Interview With Evan Silva of Rotoworld - TJ Rosenthal New York Jets: The Glass Half Full – Joe Caporoso Trade For Jeff Otah...
Jets News

Delivered to your inbox

You'll also receive Yardbarker's daily Top 10, featuring the best sports stories from around the web. Customize your newsletter to get articles on your favorite sports and teams. And the best part? It's free!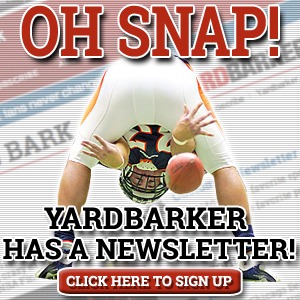 Latest Rumors
Best of Yardbarker

Today's Best Stuff

For Bloggers

Join the Yardbarker Network for more promotion, traffic, and money.

Company Info

Help

What is Yardbarker?

Yardbarker is the largest network of sports blogs and pro athlete blogs on the web. This site is the hub of the Yardbarker Network, where our editors and algorithms curate the best sports content from our network and beyond.