Found March 12, 2013 on Turn On The Jets:
It's not always easy for fans to sit back and watch as other teams climb all over one another for a chance to sign the most highly-touted free agents on the market. Unfortunately for some Jets fans, inactivity early in free agency equates to failure. And while many understand that this "inactivity" is an intelligent non-move by Jets General Manager John Idzik, there's been enough overreaction on Twitter on the first day of free agency to warrant my writing of this article. But that's why we're here…to help you see the bigger picture. More importantly, we're here to help you avoid ruining your evening (week, month or entire offseason) sulking over the fact that the Miami Dolphins signed Mike Wallace, or that Seattle is paying Percy Harvin more than $11M per year (I know he's not a free agent…but those numbers are just too absurd to ignore), while the Jets are now without guys like Mike Devito and Sione Po'uha. The fact is, the Jets don't have a ton of spending cash. After releasing Po'uha and reworking Santonio Holmes' contract, some cash was free'd up, but it's highly unlikely that the Jets will blow away anyone's doors with a big time free agent signing. The more likely scenario is that Idzik & Co. will sit back and wait a day or two…or three, and eventually walk away with a few mid-range free agents, capable of filling some of the many holes on this roster. Yes, it hurts to see a guy like Devito sign with Kansas City (Bob Sutton is a ruthless, ruthless man), or hear that Laron Landry is meeting with Indianapolis (they could use some meat and potatoes on that defense). But this is what happens in a pro sport with a salary cap. It's a tough business. Guys move on. Guys you don't want to leave, leave. It's not about what they've done for you in the past…it's about finding cheaper talent that can do the same for you in the future. That's the issue the Jets face. After spending a few years with a "win now" mentality, the organization and its fans are paying the price. Backloaded contracts to free up cap space, high priced free agents and traded draft picks are what teams do when they see their window closing. And it's what former GM Mike Tannenbaum did. He mortgaged the future for the good of the present. But it's now how you sustain success in the NFL. Building through free agency is great if you have a talented team on the cusp of winning. But when you're looking at a team heading into a "rebuild mode", overspending on a wide receiver or inside linebacker just doesn't make sense. It's why Idzik is considering trading Darrelle Revis–because draft picks and cap space have value. And it's why a guy like Victor Butler has more value to the Jets than Wallace or MLB Danell Ellerbe (who signed a 5 year, $35M deal with Miami Tuesday). If History Tells Us Anything… Around this time last year, the Bills were being lauded as the new power in the AFC East after locking up the top free agent on the market, Mario Williams, with a massive deal that made him the highest paid defensive player in NFL history. Now, it's Miami who's holding the belt late on Day 1. I think it's safe to assume that a lot the people who are fired up about the Jets' lack of activity thus far in 2013, were just as upset at this point in 2012. But I have to remind you, rarely do you see the winners of free agency carry end up as Super Bowl winners. It's a point that can't be stressed enough after witnessing Miami make the most noise of any team on Day 1 of free agency. While Tuesday's signings may help Miami, they in no way guarantee them a 12-win season in '13. That team has plenty of issues, and this free agent splurge appears to be more of an effort from GM Jeff Ireland to save a job that many thought he wouldn't still have at this point, than it is the missing piece to a Super Bowl run. So What Now? Aside from waiting to hear about the next "imminent" Revis trade rumor? Well…lets hope the Jets continue the approach of building with mid-level free agents. This team is desperate for players–the cheaper the better. The 2013 NFL Draft will be the best way for the Jets to fix some issues on the roster, with the singing of undrafted free agents in the following week another opportunity at loading up on young, cheap talent. But remember, tings could be worse, Jets fans. I know you want activity and improvement…we all do. But spending money for the sake of spending isn't the smart move. This organization has seen much darker times than what we're currently witnessing. Be patient, remain optimistic, and maybe say a few Hail Mary's. Things will get better.
Original Story:
http://turnonthejets.com/2013/03/new-...
THE BACKYARD
BEST OF MAXIM
RELATED ARTICLES
Mike Devito and Sione Pouha are gone. Laron Landry is visiting the Colts and the impending doom that Revis Island is on his way out hangs over the fan base like a guillotine. David Garrard is now a Jet. Affordable "Upside potential" players like Mike Goodson and Brandon Gibson are coming to visit. That may not enough for some Jet fans but they better get used to it. Rebuilding...
According to Manish Mehta of the New York Daily News, the Jets are expected to trade away cornerback Darrelle Revis within the next week or so. The Daily News has learned that Gang Green is poised to trade the Pro Bowl cornerback in the coming days at the right price in its first significant step to re-build the franchise. Sources have told the News for weeks that owner Woody Johnson...
The New York Jets announced today that they've signed veteran David Garrard. #RL The New York Jets have announced this afternoon they have signed 9-year veteran QB David Garrard. — New York Jets (@nyjets) March 11, 2013 I'm sure Garrard will have a chance at competing for the Jets' starting quarterback job, but there's a report out that says Mark Sanchez has a leg up on...
Just a year after signing Sione Po'uha to a three-year, $15 million contract the Jets have released the 34-year-old nose tackle.Back issues were a constant problem for Po'uha last season and when he was actually able to get on the field he didn't resemble anything close to the Po'uha of year's past, as he constantly got pushed around.Releasing Po'uha frees...
The Tim Tebow talk is at an all time low, but those in the business still feel the need to offer their opinion.   Bill Polian was a successful NFL general manager for many years, and now as an analyst for ESPN, knows a thing or two about football. Polian told ESPN that "Tebow is not an NFL quarterback, and his career might be done unless he switches positions.' "Tim Tebow's...
Receiver Santonio Holmes is staying with the Jets after restructuring his contract, according to Adam Schefter of ESPN.Fantasy Spin:Holmes has been a malcontent over the last two years had only played four games in 2012 before a foot sprain ended his season. New York will have the same QB issues in 2013 so we aren't high on Holmes' fantasy prospects.
Ahmad Rashad blew this one in spectacular fashion. Sale Johnson, got over $100 million from her divorce with Jets owner Woody Johnson. All Ahmad had to do was chill, be a good house husband and he could have spent her money, until he was in an old folks home, but he wanted to hang out with MJ and Tiger Woods. From that point on, Sale started to change the security codes and locks...
As the Darrelle Revis trade circus continues, the Bucs continue to waste time and opportunities to land other free agents. And after the latest report from the New York Post, it sounds like Tampa Bay should just move away from Revis island. Brian Costello of the New York Post writes: The Jets are not committed to trading Revis as has been reported, The Post has learned. According...
As Mark Sanchez and the Jets' left-for-dead passing attack search for answers, new offensive coordinator Marty Morhinweg is ready to change the dynamics of the team's sputtering passing game with a shift in scheme and philosophy.
The AFC East is in need of receivers, and former St. Louis Ram Brandon Gibson might join the party.Gibson will take a trip to Florham Park Wednesday to visit with the New York Jets, according to Manish Mehta of the New York Daily News.Gibson hauled in 174 receptions for 2,090 yards and nine touchdowns in four seasons with St. Louis.The Jets reportedly are working on a restructured...
After a busy first day of free agency, the Miami Dolphins are not slowing down.  Adam Schefter reported this morning that free agent tight end, Dustin Keller will meet with the Dolphins today.  Keller is believed to be the 2nd best tight end available in free agency.  The Dolphins missed out on the best tight end available, when Jared Cook signed a 5 year deal worth $35 million...
BY NICK ST. DENISIn not-so-news-to-us, Mark Sanchez will enter the New York Jets' 2013 quarterback competition as the favorite.When speaking to the media Monday via conference call, new Jets offensive coordinator Marty Mornhinweg put Sanchez at the pole position."Mark will probably have just a little bit of a leg up it would appear," he said, via Brian Costello of the New...
NFL News

Delivered to your inbox

You'll also receive Yardbarker's daily Top 10, featuring the best sports stories from around the web. Customize your newsletter to get articles on your favorite sports and teams. And the best part? It's free!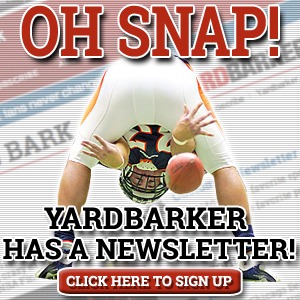 Latest Rumors
The Backyard

Today's Best Stuff

For Bloggers

Join the Yardbarker Network for more promotion, traffic, and money.

Company Info

Help

What is Yardbarker?

Yardbarker is the largest network of sports blogs and pro athlete blogs on the web. This site is the hub of the Yardbarker Network, where our editors and algorithms curate the best sports content from our network and beyond.