Found August 04, 2012 on Turn On The Jets:
PLAYERS:
Santonio Holmes
,
Stephen Hill
,
Jeremy Kerley
,
Chaz Schilens
,
Nick Mangold
,
Brandon Moore
,
Wayne Hunter
,
Tim Tebow
,
Quinton Coples
,
Shonn Greene
,
Rex Ryan
,
Aaron Maybin
,
Calvin Pace
,
Antonio Allen
,
Garrett McIntyre
,
Ricky Sapp
,
Dustin Keller
,
Brian Schottenheimer
,
Mark Sanchez
,
Bilal Powell
,
Antonio Cromartie
,
Braylon Edwards
,
Patrick Turner
,
Jordan White
TEAMS:
New York Jets
Mike Donnelly provides a recap of today's Green and White scrimmage. Make sure to give him a follow on Twitter and check back tomorrow for Chris Gross' overview of the Jets options at wide receiver with Santonio Holmes likely being out for 4-6 weeks with a broken rib.  With today's first Jets Green and White scrimmage taking place, the important thing to remember is that today is August 4th and the season doesn't begin for another five weeks. So getting too up or too down about certain players or position groups on this team based on one glorified practice is a pretty futile exercise. That being said, there would be no fun in keeping a level head and not breaking down the action that we saw, heard, or read tweets about this afternoon. The main thing to know about today's scrimmage was that in addition to learning a whole new system on the fly, the Jets offense was without wide receivers Stephen Hill, Jeremy Kerley, and Chaz Schilens, plus 3/5 of their starting offensive line were out. (Nick Mangold was off in London to watch his sister compete in the Olympics, Brandon Moore was out watching Curtis Martin get inducted into the Hall of Fame, and Wayne Hunter was not playing, which would usually be good thing until you remember his backups are even worse, but that's a whole other issue). Oh, and they were only going against arguably the best defense in the NFL. No big deal. That of course won't stop many "experts" and commenters from bashing the offense and making unfunny Twitter jokes, but the fact is, the defense is supposed to dominate in situations like that. So for the purposes of this article, I'm going to be looking at all of the positives that came out of today's scrimmage and not taking petty shots at anyone; not even at Tim Tebow, i promise. Let's break this down in easy-to-read fashion with random thoughts: Quinton Coples – I guess all the fans ready to call him a Gholston (it seemed like some actually want him to fail so they can say "I told you so", which blows my mind) can exhale and actually, you know, give the first round pick more than 6 practices before writing him off. On the very first play of the scrimmage he beat his man, knifed in, and stuffed Shonn Greene behind the line of scrimmage. After that, by all accounts he played very well and should only build off this performance. Flashes of the new Defense – Rex Ryan started to show some wrinkles he's incorporating into the new 46 defense this year, and came in with many different looks. Aaron Maybin was all over the field lining up at many different positions, and we even saw some looks where Calvin Pace and Coples were standing up next to each other on the same side of the line. It's very easy to get excited about this defense, especially when you read things like… Antonio Allen, Garrett McIntyre, and Ricky Sapp all looked great – Three guys who are all under-the-radar and unknown to casual fans all have had very strong camps and continued that today. Allen has looked like an absolute steal as a 7th round pick, and Sapp and McIntyre are proving that the Jets are not as thin at OLB as many would think. Those Stock Watch Buys of Sapp the past few weeks are looking like money makers so far! Dustin Keller – Keller caught 3 passes for 31 yards against the first string defense, which is a very positive sign. It appears as though new offensive coordinator Tony Sparano got the memo Brian Schottenheimer never got around to reading, about Dustin Keller being a legit weapon for this offense and if put in the proper position can really do well. Better late than never I suppose. Speaking of Sparano.. Sparano makes adjustments, Sanchez looks sharp - After getting it handed to them early in the scrimmage, when the offense came out for the first drive after halftime, they looked totally different. Mark Sanchez looked great as he went 7-9 for 52 yards during a 60-yard drive that culminated in a touchdown pass to Bilal Powell. That halftime adjustment already gives Sparano one more than Schotty had in six years here as coordinator. Sad, but true. Santonio Holmes broke his ribs – Oh wait, that's not a positive at all. But it looks as though that is the case, as he was apparently leveled by #2 wide receiver Antonio Cromartie — yes, Antonio Cromartie made a big hit. Seriously. — and came out of the scrimmage. If the rib is indeed broken, his status for week 1 is very much up in the air. The options to replace him from outside the organization are downright putrid now that Braylon Edwards just signed with Seattle, so someone has to step up. If there is a silver lining to all of this, it will give players like Chaz Schilens, Patrick Turner, Jeremy Kerley and even Jordan White the opportunity to step in and show the coaching staff something. It remains to be seen whether or not they will do so, but if all else fails, I guess we can just look forward to watching a 57-8 run/pass ratio in week 1, right? Curtis Martin going into the HOF – Not part of today's scrimmage, but definitely worth mentioning. One of the greatest Jets of all time is heading into the Hall of Fame tonight, and we couldn't be happier for him here at TOJ. If you missed my column on why Curtis deserves this honor so much, you can check that out here.
Original Story:
http://turnonthejets.com/2012/08/the-...
THE BACKYARD
BEST OF MAXIM
RELATED ARTICLES
Kenrick Ellis remembers the sound of the metal prison doors clanking shut behind him. The New York Jets' defensive lineman says that ''was the scariest moment ever.'' Ellis was released last month after spending 23 days in prison for an assault and battery charge stemming from a 2010 fight while attending college in Virginia. He has 22 more days to serve after...
When the New York Jets introduced the idea of black practice jerseys going to the offense or defense each day based on which unit had a better practice the day before, most brushed it off as a silly tactic not worth much attention. The Jets defense has been ahead for the majority of the start of training camp, but the offense was able to earn the black jerseys for today's practice...
In order to be a good quarterback in the NFL, a player needs good throwing mechanics, a good arm and the ability to read defenses. In order to be a great quarterback, however, a player needs intangibles. Perhaps one of the biggest influences on both a quarterback's physical and intangible skills is something slightly out of his control -- confidence. And that's exactly why...
Head coach of the New York Jets Rex Ryan is claiming that the Jets top wide receiver Santonio Holmes may have broken his ribs in Saturday night's Green and White scrimmage. According to Newark Star-Ledger, Holmes walked off the field with a trainer, as he wasn't wearing his jersey after the scrimmage. Ryan says that Homes was hit in the ribs after a catch. It appears that the...
Again, I still want to call this guy 'Shonne Green'.  This is gonna drive me nuts all year.  It was announced that Shonn Greene will not be the third down running back heading into the 2012 fantasy football season.  Now I was fully prepared for him to battle Tim Tebow for goal line supremacy but this was a wrinkle that rankles with me.  What's funny is when I googled him...
New York Jets center Nick Mangold says he's ''very proud'' of his sister Holley after watching her finish 10th in women's super heavyweight weightlifting at the London Olympics. The NFL star left Jets training camp to be there. Mangold says: ''The fact that she has only been doing this for a handful of years and here she is on a world stage at the...
Not sure if this guy is on his way home from NY Jets training camp, but I think it is safe to assume he has more of an allegiance to Tim Tebow than anyone else. Note the stick alongside the "TEBOWIN" license plate, just in case anyone was confused about what it said. H/T Deadspin
Mark Sanchez led the New York Jets on an impressive touchdown drive, while Time Tebow mostly sputtered during the team's intrasquad scrimmage.
Hot News for WR Santonio Holmes
New York Jets safety Jim Leonhard (36) is tackled by Washington Redskins safety Reed Doughty (37) on a punt return during second half action in Landover, Maryland, December 4, 2011. (REUTERS/Joshua Roberts) The Denver Broncos have signed free agent safety Jim Leonhard to a one-year deal, NFL.com's Jason La Canfora reported via Twitter. Leonhard is seven-year player who spent the...
Hot News for S Jim Leonhard
Jets News

Delivered to your inbox

You'll also receive Yardbarker's daily Top 10, featuring the best sports stories from around the web. Customize your newsletter to get articles on your favorite sports and teams. And the best part? It's free!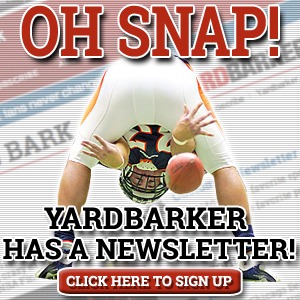 Latest Rumors
Best of Yardbarker

Today's Best Stuff

For Bloggers

Join the Yardbarker Network for more promotion, traffic, and money.

Company Info

Help

What is Yardbarker?

Yardbarker is the largest network of sports blogs and pro athlete blogs on the web. This site is the hub of the Yardbarker Network, where our editors and algorithms curate the best sports content from our network and beyond.