The NFL's "Offseason" is a bit of a misnomer – for any given team's front office, at least. For owners and managers, the months between February and August comprise the busy season. The NFL is a business, just like any other, so managers and owners spend this time sifting through scouting reports and financial statements, all while analyzing the utility of prospective player and staff acquisitions. Some organizations are models for the rest of the league, due to their innate ability to make sound, critical decisions; others seem to fall short in this regard. But each spends their energy aiming at improvement – most of them at least. The Jets - to the great dismay of their fans and the immense amusement of everybody else – are an enigma in this respect. It seems as though every offseason is spent being absorbed in a circus of media-manufactured tabloid stories or displaying the sheer managerial incompetence and inefficacy of the team's decision-making structure. This year has been no exception; and to worsen matters, the stakes are higher than ever. After the media frenzy (or as I like to call the "Nuclear Bomb") that was and is Tim Tebow, the incessant buffoonery of Rex Ryan, and all the utterly perplexing quips Woody Johnson has given the New York media, the Jets can still salvage some semblance of decency and integrity. There is an even bigger situation at hand that must be dealt with; and for the Jets sake, it must be dealt with quickly. There is a player on the Jets that I'm sure most of you have heard of. His name is Darrelle Revis. For those that don't know, when at full strength, he may arguably be the best defensive player in the NFL, and on any given day can eliminate anyone's #1 receiver. He's a 4-time Pro Bowler and 3-time First Team All-Pro, with 19 career interceptions in 6 seasons. If you want to dig deeper than stats, just ask any receiver in the league – they'll tell you all you need to know. The major headline entering into this offseason concerned Darrelle Revis and his contract situation. Due to questions about his health and the amount of money he will supposedly be looking for, this story has evolved over the last couple months into, "Where will Revis be traded to?" Now, this is where the Jets can save some face and do something for their fans. After this past season of just flat-out lying through their teeth to not only their fans (ex. Rex's famous " 2012 Jets might be the best team I've had") but even their own players (ex. the Tim Tebow situation), they have an opportunity for redemption. They must keep Revis and even considering letting him go would be a crushing blow to the fan base and all involved with the Jets. Thus far, the Jets have handled this situation incredibly poorly. Woody Johnson, as he loves to do, said a little too much, by saying he wasn't sure the Jets would be able to retain Revis due to the money he wants, and the Master of Ceremonies himself put this whole situation into motion. After he made Jets fans wait two and half weeks to find out who the new General Manager would be, he wanted to stir the pot a little bit (Because what are the New York Jets if they're not the center of controversy). He dropped the "Revis Trade" bomb in the couple of days leading up to the John Idzik press conference, forcing his brand new GM to field questions about a superstar and his contract, without even having spoken to him – not a very enviable situation. And seems to clear up why it took so long for someone to actually want the job. Idzik admirably responded to the questions and didn't go to an extreme on any level of the situation, something that didn't seem so "New York Jets" at the time. The Jets have remained tight-lipped throughout this situation; but reports from insiders have indicated Revis will, in all likelihood, bid farewell to the Jets and depart from New York. Now, as a fan, I'm not overly concerned by the fact that I don't know the plan the New York Jets have for this situation. That's why I'm a fan and not the General Manager (although, sometimes I think I should be). But the New York Jets have also left Revis totally in the dark about what his standing in the organization actually is and what the future holds for the superstar and that fact is creating a major issue. Darrelle Revis can be stubborn, brash and frankly downright cocky, as you see he never backs down to challengers on the field or on the web (check out his twitter). And it is completely evident is that this situation has been a shock to his system, and a bit of bruise on his ego. This in some respects is probably something he needs. The major issue that is brewing is, as it seems to me, that Darrelle Revis is starting to resent the New York Jets, due to the way they do business. Which, quite frankly, I can't blame him for. A few years ago, he said he looked up to figures like Derek Jeter, who came to New York, represented and conquered it and stayed with his team for his entire career. Now, Revis is saying he doesn't care who he plays for, he just wants a resolution. That doesn't sound like a man who knows where he belongs and knows where he wants to be. When you think about all the players who have come and gone, there are a few players who are synonymous with the team they play for. Not just in football, but in all sports. Ray Lewis: Ravens, Derek Jeter: Yankees, Mike Ditka: Bears, and the list goes on. Darrelle Revis is supposed to be one of those players. He's supposed to be the player who – no matter the situation, will always lead and anchor the defense of Gang Green (Dare I say, the new-age Joe Namath?). The most troubling effect of any trade is that he will never be thought of or remembered as a Jet again. As someone who's coming off a major ACL injury in the early stages of his prime, his future is contingent upon the health of that knee. If he is traded, he will always go down as the guy who was traded and blossomed or the guy who was traded and couldn't stay healthy due to lingering health issues. Either way, it's too heinous of an idea to even comprehend. Even if he was to get hurt while staying with Jets, at least his reputation will stay intact because his accolades would live on through Jets fans. It would be an absolute shame if they got rid of him, and would spawn a dark chapter going forward for the New York Jets. "The Jets need to get draft picks and build for the future." "Revis isn't going to stay healthy." "Revis wants too much money." These are all legitimate concerns. But as far as draft picks are concerned, if the Jets brain trust is going to be a collaboration between John Idzik, Rex Ryan and Woody Johnson, then I don't see, given Ryan and Johnson's pasts, why we should expect anything good coming out of the draft. And that's not to mention, this is one of the weaker draft classes in recent history. In terms of the contract that Revis wants, coming of a torn ACL, he's not exactly in a position to be demanding anything. And that's why the Jets need to stop playing these games and commit themselves to Revis. At this point, he just wants to know what the plan is. The New York Jets have an incredibly decision on their hands. The longer they wait to make the decision, the more that decision becomes a problem. The Jets like to play with fire, but if you stick your hand over a flame, you are going to get burned. And with the route the Jets are going, they're throwing gasoline on the fire. The blatant incompetency of the New York Jets' front office should have been the total apocalypse for the organization. But the "Football Gods" have decided otherwise, and have given the Jets one last chance. Let's just hope they don't blow it. The post New York Jets: Offseason starting with Darrelle Revis appeared first on New York Sports Kings.
Original Story:
http://nysportskings.com/new-york-jet...
MORE FROM YARDBARKER
NFL News

Delivered to your inbox

You'll also receive Yardbarker's daily Top 10, featuring the best sports stories from around the web. Customize your newsletter to get articles on your favorite sports and teams. And the best part? It's free!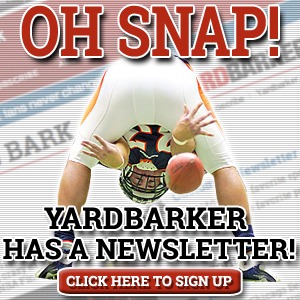 Latest Rumors
Best of Yardbarker

Today's Best Stuff

For Bloggers

Join the Yardbarker Network for more promotion, traffic, and money.

Company Info

Help

What is Yardbarker?

Yardbarker is the largest network of sports blogs and pro athlete blogs on the web. This site is the hub of the Yardbarker Network, where our editors and algorithms curate the best sports content from our network and beyond.