Found November 17, 2011 on Race Review Online:
The New York Jets, just over half-way through their season, stand at 5 wins and 4 losses. They are just one game behind their division rivals from New England and, on the face of things, it would appear that they are well-positioned to remain a factor in the playoff picture as the season progresses.
Appearances, though, can be oh so deceiving.
The gulf between New England and New York in the standings, at just one game, would seem to be a sum that any team could make up. The Jets, of course, could very well rebound from this past week's drubbing at the hands of the Patriots and make things uncomfortable for their rivals, and the Patriots could implode and hand the division over to the Jets.
Jets' fans, with a long history of disappointments to reflect on, know that while anything is possible, especially from this current, Sybilesque team, some things are simply not all that probable.
Defensively, the Jets are capable, from week to week, of being the kind of shut down force that Rex Ryan has fashioned them to be. They have speed, the ability to pursue, and they can defend the run and pass quite effectively as a unit. The issue, though, is consistency, and it is this box of chocolates reality that makes predicting their performance difficult. The defense, though, is not the central issue facing this team, not by any measure whatsoever.
The issue, rather, is identical to that which has plagued this franchise ever since Joe Namath left for Los Angeles, specifically the lack of a quarterback that has the ability to singlehandedly reverse the fortunes of his team.
Mark Sanchez, despite the hype and big-college pedigree, is simply not equipped to consistently succeed in today's NFL, and we mean that in a physical sense. Specifically, he does not have the arm strength or the downfield accuracy that is essential to overcome the overall speed of even the average defense of today. This is no small issue, because the strength of the Jets offense is its running game, and a running game is only as effective as its passing game will allow.
In today's NFL, linebackers run like yesterday's defensive backs and defensive linemen run like yesterday's linebackers. The amount of speed in the game has increased dramatically over the past twenty years or so, and as a consequence there is less chance of even the most cerebral quarterback thriving in the modern NFL.
In other words, not even the great Joe Montana would be a sure thing if he lined up behind center this coming Sunday. This is not to compare Sanchez' overall game to that of Montana's - there is no comparison in that regard - but rather to suggest that the two had relatively similar levels of arm strength. Arm strength is not a generational element, meaning that every generation has had the cannon-armed quarterback, and so with arm strength being a constant over the decades it is fair to point to increased foot-speed as a major impact on the performance of a quarterback.
Montana, who relied on short, slanting pass routes that softened the defense and made them vulnerable to the downfield option, ultimately was facing slower defenders in his day. This gave him the extra half-second or so necessary to get a ball into a spot that allowed his receivers to tack on yardage. It was also a contributing factor that allowed him to get the ball downfield and beyond the safety's once opposing defenses began adjusting to the slants and running game.
Sanchez, however, despite being equipped with arm strength that is comparative to Montana's, at least in a relative sense, does not have the luxury of that half-second, nor does he have the accuracy to compensate for his deficient arm. Moreover, Sanchez is even less effective with medium range throws, those targeting 15-30 yards downfield, as both his lack of arm strength and accuracy issues undermine this element of his game. In no uncertain terms, Mark Sanchez is a major issue for the New York Jets.
For long time fans of the team, this is not a new story. Whether it's choosing Ken O'Brien over Dan Marino in 1983 or Blair Thomas over Junior Seau in 1990, the Jets have a long history of passing over talent. In 2006, when they had an opportunity to choose Jay Cutler, universally acknowledged as possessing a true rifle of an arm, they instead chose to go with D'Brickashaw Ferguson. Ferguson is without question an elite offensive lineman, however with free agency being what it is in today's NFL it is much simpler to supplement your respective lines than it is to find an elite-armed quarterback.
And so the Jets find themselves three years into the Mark Sanchez experience. While Sanchez has performed impressively in the postseason, better than anticipated for sure, his skills do not translate long term. The team did win 11 games a season ago, however it is often forgotten that they scratched and clawed their way to those 11 wins and very often barely escaped losses to much less talented teams.
Part of the reason they struggled to overcome even lesser opponents in 2010 was the inability of the offense, read Sanchez, to put away opponents when the opportunity existed. It wasn't for a lack of killer instinct that this was so but rather due to the lack of the skills required to consistently drive an offense.
It remains to be seen if the 2011 version of the Jets outperforms the 2010 version, of course, however it is the future of the very franchise that is in jeopardy with Sanchez at the helm of the offense. Barring a trade of some sort or a miraculous transformation by Sanchez, the Jets can anticipate seeing the Mark Sanchez of today through at least 2014. It will rarely be a pretty sight.
Original Story:
http://sports-at-work.com/20111117775...
THE BACKYARD
BEST OF MAXIM
RELATED ARTICLES
OFF THE MARK
Time Keeps on Ticking, Ticking, Ticking...Is This the Future?Let me just get it off my chest. I'm starting to get more than a little frustrated with Mark Sanchez. Tomorrow night in Denver will do little to sway me one way or the other. However, I've tried to step back of late and really assess my thoughts on the quarterback the Jets selected with the #5 pick in the 2009 NFL...
Let's start with something comforting Despite a recent rough patch of games, Mark Sanchez still is on the exact same pace that Eli Manning was on to start his career and we see how Eli has turned out. Sanchez is not without blame, he is inconsistent, inaccurate and gets jittery in the pocket. However, I am still of the belief that he has the physical tools and leadership abilities...
Mark Sanchez brushed off the recent criticism from Jets coach Rex Ryan, saying the botched timeout against the Patriots was "a stupid play."
For Mark Sanchez, two AFC championship games in his first two years as a pro hasn't been enough to silence his doubters. Tim Tebow took over a 1-4 Broncos team that is now 4-5 under his leadership. Instead of admiring Denver's re-entry back into the AFC West race since Tebow got behind center, detractors question his ability to throw the football. When the Jets and Broncos take...
DENVER — Mark Sanchez couldn't beat Tim Tebow last night. And that's about all you really need to know about him. Blame him for the loss. He said so himself. "It's just an embarrassing day for me," Sanchez said after the Jets' 17-13 loss to the Broncos last...
QB Problem?  Who says the New York Jets have a QB problem?For head coach Rex Ryan, it's Mark Sanchez or nothing."Shoot, I'm extremely confident," Ryan said  about his quarterback on a conference call, Friday. "I'll go out there … [visit site to read more]Rex Ryan says Jets Sanchez will be QB "as long as I am here" - The Jet Press - The Jet Press - A New York Jets...
After a humbling defeat at home to division rival New England in prime time on Sunday, the Jets have ot man up for another AFC matchup on Thursday. Can Mark Sanchez and co rebound?
DENVER — Jets coach Rex Ryan had a message yesterday for everyone blaming quarterback Mark Sanchez for the team's problems: Get off his back. The day after a crushing 17-13 loss to the Broncos that included a killer interception for a touchdown from Sanchez, Ryan stood by his signal-caller. "This...
Well I can't say I didn't see this coming, a short week after a deflating Sunday night loss where there were a few key injuries incurred but I'm not going to make this an "I told you so" type of post because those are unproductive and douchey (doo-shee). However, I am here to assess our chances of righting the ship and salvaging what has been a season characterized by...
This analysis is based on watching and re-watching TV footage. As such, it is not always possible to accurately determine everything that was going on. However, every effort has been made to ensure that the information below is as complete and correct as possible. Coming up after the jump, an analysis of the catastrophic setback in Denver last night, including details on Garrett...
NFL News

Delivered to your inbox

You'll also receive Yardbarker's daily Top 10, featuring the best sports stories from around the web. Customize your newsletter to get articles on your favorite sports and teams. And the best part? It's free!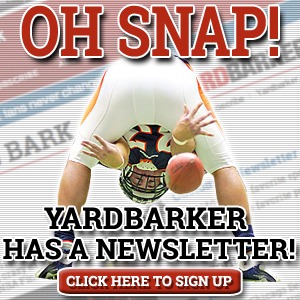 Latest Rumors
The Backyard

Today's Best Stuff

For Bloggers

Join the Yardbarker Network for more promotion, traffic, and money.

Company Info

Help

What is Yardbarker?

Yardbarker is the largest network of sports blogs and pro athlete blogs on the web. This site is the hub of the Yardbarker Network, where our editors and algorithms curate the best sports content from our network and beyond.