Found February 09, 2012 on Turn On The Jets:
Lost in the commotion of Santonio Holmes being guaranteed his contract for the next two years and the Linsanity in New York City, is the fact that the Jets didn't release right tackle Wayne Hunter yesterday. As a matter of fact, they guaranteed his 2.45 million base salary for the 2012 season. Yes, the same Wayne Hunter who was the human turnstile this season, nearly got Mark Sanchez killed on multiple occasions, and was ranked the fifth worst offensive tackle in football by Pro Football Focus. One of my main memories of this past season was watching the Jets/Eagles game with my good friend who was an All-American college football lineman and is currently an offensive line coach for a prep school in Philadelphia. After watching Jason Babin embarrass the Jets entire line, he commented he had never seen a NFL lineman both look so confused and have worse technique than what he saw from Hunter that day. So… If your initial reaction is that Mike Tannenbaum is 0-1 to start this off-season, that is okay because he very well may be. Yet, let's try to figure out the real motivation for keeping Hunter since I have to assume somebody in the Jets building watched some game tape this year. Depth was a major problem for the Jets offensive line last year. Hunter was a very good depth player the few years leading up to him being a starter. He can handle being a backup tackle and playing in short yardage packages. With Robert Turner coming back, the Jets have the potential to have two quality backups on their offensive line. Nevermind if Caleb Schlauderaff and Austin Howard develop in any way or if that Ducasse guy ever becomes good enough to be a #7 or #8 lineman on a NFL roster…hey it isn't like we spent a 2nd round pick on him, right? More seriously, I think Tannenbaum realizes free agency isn't going to be filled with quality right tackles and he probably isn't spending a round one or round two pick on one. He needs to pay a backup quarterback, wide receiver, linebacker and safety this year. Unless the Jets swing a trade, there aren't getting a big money, top-tier tackle this off-season. Most likely, they will sign a middle tier player and spend a mid-round pick on one and have the two compete with Hunter, who will provide insurance. They are also likely hoping that Tony Sparano can have some type of positive impact on him. Hunter has been decent in spurts, he has just had no consistency and can't handle elite pass rushers one on one. Sparano might…might be able to coach around his deficiencies by doing a better job giving him help. You can't have it all this off-season Jets fans. You aren't getting a big time WR, a backup quarterback that pushes Sanchez, a premium right tackle, another running back, a ball-hawking safety and a pass rushing outside linebacker all in one off-season. Be prepared to be disappointed in some areas. Right tackle just might end up being one of them.
Original Story:
http://turnonthejets.com/2012/02/new-...
THE BACKYARD
BEST OF MAXIM
RELATED ARTICLES
There are plenty of New York Jets fans calling for the head of Santonio Holmes today. It isn't happening. It was never going to happen. Yes, they are now on the hook for not just his 7.75 million this year but also his 7.5 million next year and honestly it was a no brainer for the organization not to release him today. You have every right to be pissed off with his 2011 season...
The New York Jets are banking on wide receiver Santonio Holmes and quarterback Mark Sanchez working out their differences. A clause in Holmes' five-year contract was trigged Wednesday morning, guaranteeing the wideout $7.5 million for the 2013 season. Holmes, who just completed his second season with the Jets, was already assured of guaranteed money for 2012. The fractured...
The Jets have maintained that Santonio Holmes was going to return next season despite his highly publicized rift with quarterback Mark Sanchez. Now that Holmes is still a Jet Thursday, there's little doubt he's going anywhere.
Despite being benched for the final game of the regular season and feuding with QB Mark Sanchez, WR Santonio Holmes remains a member of the New York Jets. This morning was the deadline for the New York Jets organization to make a decision on Santonio Holmes and whether or not he would remain on the club due to a trigger in his contract. If he remained on the roster as...
The Jets made good on their promise to keep wideout Santonio Holmes on Wednesday morning, and their wallet is a lot lighter because of it.
It appears Santonio Holmes is sticking around - just as the New York Jets said he would.
It appears Santonio Holmes is sticking around _ just as the New York Jets said he would.
NEW YORK (AP) -- It appears Santonio Holmes is sticking around -- just as the New York Jets said he would.
It appears Santonio Holmes is sticking around -- just as the New York Jets said he would.
Before Tuesday, the Jets owed receiver Santonio Holmes $7.75 million in guaranteed base salary in 2012.  They now owe him another $7.5 million in guaranteed base salary in 2013. A report from Brian Costello of the New York Post prompted a second look at Holmes' contract.  The $7.75 million for 2012 already was guaranteed.  The…
NFL News

Delivered to your inbox

You'll also receive Yardbarker's daily Top 10, featuring the best sports stories from around the web. Customize your newsletter to get articles on your favorite sports and teams. And the best part? It's free!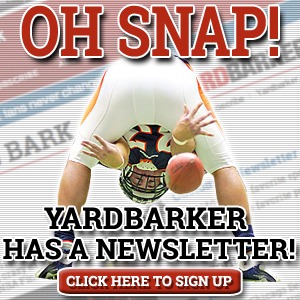 Latest Rumors
Best of Yardbarker

Today's Best Stuff

For Bloggers

Join the Yardbarker Network for more promotion, traffic, and money.

Company Info

Help

What is Yardbarker?

Yardbarker is the largest network of sports blogs and pro athlete blogs on the web. This site is the hub of the Yardbarker Network, where our editors and algorithms curate the best sports content from our network and beyond.