Found May 30, 2013 on NFL Draft Zone:
The New York native K.J. Stroud was once a member of the Rutgers football team coached by Greg Schiano, but after a short hiatus he is back in New York.  Both Stroud and Eddie Poole left the University and transferred to Bethune-Cookman in Daytona Beach, Florida.  In his first year Stroud excelled as a pass wide receiver. In his senior year, the stats seemed to drop off, but not because he wasn't playing, but more because the team went to a run first offense.  After a decent senior year, Stroud knew he would have to do something to put himself on the map. Stroud was able to get into the Rutgers pro day and the Regional Combine in New York, which ultimately was what lifted him up to the NFL level.  K.J. always had the talent to play in the NFL, but it was about getting exposure again.  Now that he is back in NY, he is happy. Check out our interview with K.J. below: How many teams were recruiting you coming out of high school and how did you make your decision? I went to school in Brooklyn New York. Coming from the city football is not a very popular sport. But when I left high school I only had 3 schools offer me a scholarship, and I wasn't a qualifier out of high school  so I went to prep school down at Fork Union Military Academy where I had the opportunity to be coached by John Shuman. He prepared me and got my name out there and I ended up leaving prep school with 25 offers. Has it always been your dream to be an NFL football player? Its been a dream ever since I was a little boy. I will forget I was 9 and watching Mike Vick in the sugar bowl against Florida State. From that moment on I knew that playing college football was a dream of mine and I knew I wanted to play in the NFL. Who was your favorite NFL team growing up, and did you have a player you rooted for? Growing up my dad watched a lot of the 49ers so I remember watching a lot of 49ers games. But my first ever football jersey was Randy Moss. He was a player I admired the most growing up. At your position, how do you break down film, please inform our readers what you look for when breaking down film? When I first break down an opponent, I look at the size of every defender in the secondary from the starting 4 guys all the way down to the nickel to everyone in the 2 deep roster. I then watch the guy who I'm expected to see most on the field and I look at his back pedal. I also look to see if he can he tackle, has ball skills, and how good he is against double moves. Does he come up in run support, and is he a physical corner who likes to press or is he a guy that comes up shows press than bail. I look at all those things and then during practice week I get a plan together of different releases I may want to use against him. Going towards the middle of the week I slowly eliminate whether or not I will use the technique. What is the best accolade/award you have ever received from playing football? My biggest accolade I received from playing college was winning a conference championship my senior year. I had come to Bethune Cookman when they had just finished coming off a HBCU National Championship so my hunger to leave college with a championship was big on my list. When did you really feel you had a good chance of making your dream come true? I had two moments when I felt like I had a good chance. First was when the Giants came to my school and watched my practice. Secondly I had the pleasure to work with DJ McMarthy. He coached Brandon Marshall when he played at UCF and he also coach at LSU where he coach Brandon Lafell, and Trindon Holliday. He told me that I have all the skills in the world to get a shot to play at the next level. Hearing it from him, meant a lot, especially since he has worked with the best of the best.  It then went from being a star studded dream to a vision that I started to see so much clearer. What is your favorite food? I have two favorite foods, honestly. If I'm out and I need something quick Mcdonald's has always been my first choice but if I'm home and my mother asks if I want her to chef up a meal my first choice is Country Fried Steak with Spanish style Rice and Beans. Do you have any pre game rituals? I'm a real emotional guy, I run straight to the opposite goal post and just talk to myself and say a prayer. I always give thanks to my lord and savior Jesus Christ for the position he has blessed me with and the opportunity to play this amazing game that I love. If you could compare your play to someone in the NFL, who would it be? If I had to compare my game to an NFL player now I would say Marques Colston. What is the most tragic event in your life that has happened and how did you bounce back? The most tragic event that has happened to me was having to watch all my closest friends on National Signing Day sign letter of intents to their new universities knowing that I had the skills to play division one ball and I had to take another route to prep school to make my dream come true. Who has had your back through the good and the bad as you've moved on balancing life as a student athlete? I have to say my Parents; I have been blessed to have both parents in my life. They have allowed me to stumble but not to the point where I couldn't retrieve myself. I have always learned from my mistakes and would not make them again. My mom is the parent who always enforced getting my education, and making sure I kept my academics up. My father was the disciplinarian, where if my grades slipped he would take things away from me. So to balance everything I did not want to disappoint my parents or have anything taken away so I've done my job with keeping up my end of the deal. Everyone asks this question but I'm curious to know what will you buy first with your first NFL pay check? My first NFL Paycheck, I would buy my mother a home. Finish this sentence for me, Come July 2013 I will be___ ______________? In the NFL continuing my football career. Make sure you follow KJ on twitter @KSTROUD_10, he would love to hear from new fans.  Good luck in your career KJ, May the big man protect you.
Original Story:
http://feedproxy.google.com/~r/nfldra...
THE BACKYARD
BEST OF MAXIM
RELATED ARTICLES
Connor Rogers continues our series of breaking down the New York Jets undrafted free agents, with a look at Chris Pantale from Boston College. Make sure to give Connor a follow on Twitter and to check back tomorrow for our next installment from Dalbin Osorio.  Name: Chris Pantale College: Boston College Size: 6-5 / 254 Position: Tight End Speed: 4.99 (40 yard dash) College...
Dalbin Osorio continues our series of breaking down the New York Jets undrafted free agents, with a look at Keith Stroud from Bethune Cookman. Make sure to give Dalbin a follow on Twitter. Name: Keith "KJ" Stroud, Junior. College: Bethune Cookman Position: Wide Receiver Size: 6'3″, 205 pounds 40 Time: 4.51 Vertical: 38 1/2 College Career – Recruited out of Brooklyn...
Mark Sanchez refuses to picture a scenario in which he opens this season on the New York Jets' bench. The maligned quarterback is in for what's expected to be a tight competition with rookie Geno Smith. He's confident, though, and insists he's up to the challenge. ''I'm planning on playing,'' Sanchez said Thursday. ''I'm planning...
New York Jets rookie quarterback Geno Smith has no concerns about questions surrounding the process in which he picked an agent, saying ''Jay-Z didn't recruit me.'' Smith fired his former agency, Priority Sports, shortly after the NFL draft last month and announced last week that he signed with the hip-hop star's Roc Nation Sports. Smith also said his contract...
Joe Namath has become one of the Jets biggest critics. It appears that he doesn't like the decisions they make, and now, he's gone so far as to say the Jets have been lying to their fans. "I want to be honest. I think they've been deceptive," Namath told WFAN-AM on today, per the New York Daily News. Namath also went on to slam the use of personal seat...
The question begs is it Sanchez's job to lose? Depending on who you talk to, the job is for Geno Smith's to lose and Sanchez will only get a chance if Smith falters during preseason. Sanchez for his part says he has no worries. Mark Sanchez believes he'll be the starting quarterback when the Jets open the season. When asked Thursday about the possibility of him being on the...
The NFL Players Association has sent a letter of inquiry to Roc Nation agent Kim Miale, concerning Jay-Z's involvement in recruiting New York Jets quarterback Geno Smith. According to Around The League, Miale will need to write the NFLPA a letter responding to the allegations, and depending on the facts, the matter then could be referred to the Committee on Agent Regulation...
Joe Namath is a New York Jets legend, but is not good terms with the franchise he brought a championship to.  Namath acknowledges that he's not on speaking terms with the owner, Woody Johnson. Namath was on The"Boomer and Carton" radio show, and said that he "hasn't spoken" to new general manager John Idzik, and blasted the Jets for what he described as 'deceptive"...
Former New York Jets superstar Joe Namath believes that his beloved organization has misled and deceived its fans regarding its motivation to put together a good lineup.
After going on injured reserve late in 2012 Ben Obomanu probably knew his time in Seattle would be coming to an end. It was mostly due to the fact his salary for 2013 was 2.3 million dollars. But Obomanu has been productive as a receiver, catching 67 passes from 2010-11, and should serve as immediate depth for a WR corp lacking quality options. Obomanu can also play special teams...
According to Davis Fleming of ESPN The Magazine, people within Tim Tebow's camp believe his NFL career is over. Even now, after Tebow cleared waivers unclaimed and with members of his camp privately admitting that his NFL run is probably over, the football world remains as divided as ever over him. It's nearly impossible to find a teammate who will say anything bad about Tebow...
The New York Giants and New York Jets have refiled a lawsuit to block developers from expanding a planned megamall near the northern New Jersey stadium where they both play. The move comes two weeks after New Jersey's sports authority approved a new master plan for the American Dream megamall in the Meadowlands. A lawsuit in New Jersey against developer Triple Five and the...
NFL News

Delivered to your inbox

You'll also receive Yardbarker's daily Top 10, featuring the best sports stories from around the web. Customize your newsletter to get articles on your favorite sports and teams. And the best part? It's free!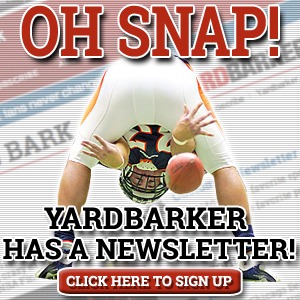 Latest Rumors
The Backyard

Today's Best Stuff

For Bloggers

Join the Yardbarker Network for more promotion, traffic, and money.

Company Info

Help

What is Yardbarker?

Yardbarker is the largest network of sports blogs and pro athlete blogs on the web. This site is the hub of the Yardbarker Network, where our editors and algorithms curate the best sports content from our network and beyond.