Found November 12, 2012 on Fox Sports:
This was system failure, maybe system overload for the NFL. You get a big game like Sunday night, Houston at Chicago, and hope to see statements made, questions answered. We got statements, all right. When Houston linebacker Tim Dobbins cheap-shotted Jay Cutler -- in the officials' opinion -- by going helmet-to-helmet after Cutler had thrown a pass, Dobbins was allowed to stay in the game. That was a statement about NFL rules. It should be an automatic ejection. Cutler stayed in the game, too, and then got hit in the head again on the next play. He stayed in for six plays after that, too, before sitting out the second half with a concussion. That was a statement, too. Did the Bears think about taking him out after the first hit? Cutler reportedly has suffered six concussions in his career. "Didn't have any symptoms, no,'' Bears coach Lovie Smith said. "There were a lot of hard hits out there today. You can't start taking guys out for that. When they're injured, then we take them out.'' You can't start taking guys out of the game after they take a hard hit to the head. Statement. The system isn't protecting these guys well enough. To some extent, it just isn't possible. But Sunday was a terrible day for Roger Goodell and the NFL image. Michael Vick was knocked out of his game with a concussion, and Alex Smith was knocked out of his with one, too. The Bears also lost defensive end Shea McClellin to a concussion, but no one will even notice that. When stars are knocked out, people notice. And next week, Monday Night Football is supposed to have Cutler vs. Smith. Imagine the statement if neither quarterback of Super Bowl-contending teams can play because of concussions. Look, I get sick of hearing about concussions, too. There is not a lot new to add to the discussion: The game is rough. The brain is vulnerable. Former players can't go for a walk because they can't find their way home. Kids are getting concussions, too, while parents dream of their son becoming a star. (That's the sickest part, actually.) But Sunday's Bears-Texans game was just such a study in how concussions are played in a gray area. And Goodell is going to have to act again somehow, like before next Monday. It was the second quarter Sunday, when Dobbins hit Cutler. On the same play, Cutler was penalized for crossing the line of scrimmage before throwing the ball. Once he crosses the line, isn't he somewhat fair game, treated as a running back? On the other hand, when Cutler let go of the ball, Dobbins was 4 yards away. He didn't lower his head till after Cutler threw. "No,'' said Dobbins, who says he doesn't think he should be fined for the hit. "I felt like it was on time.'' Do you think your hit was what gave Cutler the concussion? "I have no idea,'' he said. "No clue. But it was good that he was out, though. You always want to take the quarterback out of the game.'' Think about that: Dobbins was just asked about Cutler's concussion, a brain injury that has become a defining issue for football. And his response was that he was glad Cutler had been knocked out of the game. Dobbins said that he normally would have tried to hit Cutler in the hip, knocking out his legs. But because Cutler was trying to throw, he aimed higher to disrupt the play. He said he hit Cutler in the chest, and was nowhere near the head. Replays show otherwise. After the play, the game was stopped while the replay official decided whether Cutler had actually crossed the line before throwing. Cutler went over to the sideline. There was plenty of time to start asking him questions, gauge where his brain was. Cutler ran the ball on the next play, and didn't slide before getting hit in the head again. "He should slide when he should slide,'' Smith said. "That's about it. We don't want him taking any extra shots. That's part of it.'' Cutler would end the drive with an interception, and it's hard to say if that was just a bad throw or a confused one. But Smith was insistent that Cutler didn't show any symptoms until halftime. "He took some shots,'' Smith said. "It (a concussion) could happen any time. We just know that at that half, that's when he did have some symptoms.'' What symptoms? "Whatever the symptoms are for a concussion,'' Smith said. "I mean, I wasn't in there. I'm going to let the doctors handle that. I try not to be Dr. Smith very often.'' I'm not saying that the Bears chose to play Cutler while knowing that he had a concussion. They clearly didn't, as they took him out in a close game at halftime. But it just seems that there should have been so much more caution shown, from Smith and from the league. If officials rule that a player cheap-shotted another one in the head, then he should be kicked out. Without Cutler in the second half, it was hard to draw football conclusions from the game. It had rained all day in Chicago, too, and the field was slop. Houston won 13-6. And maybe it proved that a dome team can win in the elements against a good team on the road. The Bears have beaten up on an incredibly soft schedule all year. But the defense held up against a good team in the second half. That's about it. The next statement needs to come from Goodell.
Original Story:
http://msn.foxsports.com/nfl/story/ja...
THE BACKYARD
BEST OF MAXIM
RELATED ARTICLES
It's déjà vu all over again for Chicago Bears fans in 2012.  The Chicago Bears went on a long winning streak which had people talking about them as a top team in the NFL, just like last season.  Now Jay Cutler is hurt, just like last season.  The question now is whether or not Cutler will miss extended time, and how Jason Campbell will perform in his absence. It could be seen...
SEEING STARS
The constant rain has turned this Sunday Night Football game between the Houston Texans and Chicago Bears into an utter slop fest.  But even then it's not without its big plays.Tim Dobbins made a play to get after Jay Cutler and unfortunately for Cutler, despite absorbing a massive hit, it was all for nothing.  Cutler had barely crossed the line of scrimmage, making the pass...
Jay Cutler left the game against Houston at halftime having also been diagnosed with a concussion, but, for me the issue poses a bigger question than whether or not Jason Campbell can do enough to lead the Bears to victory (I'd suggest it just got quite a bit harder for them). The question is why wasn't a concussion test administered on Cutler before he went to the locker...
Join the guys for their observations and insights on Sunday night's loss to Houston on the next edition of "Bears Claws".  They'll discuss Jay Cutler's injury, the Bears offensive struggles, and whether they can rebound  next Monday night on the road in San Francisco. It will be a lively 30 minutes of blocking, tackling, and tongue-in-cheek humor, so make sure [...]
Coach Lovie Smith says the Chicago Bears properly handled quarterback Jay Cutler's concussion on Sunday night. Smith says trainers immediately examined Cutler during a replay review after he took a helmet-to-helmet hit from Houston's Tim Dobbins late in the second quarter of a 13-6 loss to the Texans. He says Cutler showed no symptoms of a concussion immediately after the...
Bears quarterback Jay Cutler has left Chicago's game against the Houston Texans because of a concussion. A scrambling Cutler took a helmet-to-helmet hit from Tim Dobbins after unleashing a pass on third down at midfield late in the first half Sunday night. There were offsetting penalties on the play. Cutler got called for an illegal forward pass because he was beyond the line...
Late in the second quarter on Sunday night, with the Chicago Bears down 10-3 to the Houston Texans, Jay Cutler stepped out of the pocket and eventually crossed the line of scrimmage to make a pass to Devin Hester. The play would be called back, and a review of whether Cutler stepped over the line would ensue. Bears fans everywhere would also soon suffer from scary memories of...
The Chicago Bears are expected to sign quarterback Josh McCown with Jay Cutler's status in doubt because of a concussion, ESPN Chicago reported Monday. Cutler sustained a concussion after taking a hard hit during the Bears' 13-6 loss to the Houston Texans on Sunday night. Jason Campbell replaced Cutler for the second half of the game. The Bears will need another backup...
With Chicago Bears' QB Jay Cutler likely doubtful for Monday night's matchup against the San Francisco 49ers the Bears made sure they had an insurance policy. They announced today the signing veteran QB Josh McCown to a one-year deal. McCown spent three games with the team after the Caleb Hanie experiment in 2011. McCown who started two games a year ago completed 35 of 55...
Jay Cutler suffered a concussion and didn't return in the loss to the Houston Texans on Sunday night and backup Jason Campbell could only muster a field goal in relief.  However the biggest exposure for the Bears in this game may didn't come from the QB position, rather the offensive coordinator.   Mike Tice is learning on the job and he's not progressing from...
A reader pointed us to this Facebook update from "Chicago's Premier Boutique Wedding & Boudoir Photographer": One of the most requested 1/2 outfits at Jenny Taylor Boudoir Photography Use 1 word to describe this photograph. Meow? – Two Bears fans got married at a tailgate just before the team's loss to the Texans. Now it's clear that their marriage is toxic and any...
I know why you're here. Week 10 has created so many question marks for teams heading in to Week 11. The biggest of all being at the quarterback position with injuries to the dominant Jay Cutler, Alex Smith, Ben Roethlisberger, and Michael Vick. Let's get to it! Fantasy Football Week 11 Waiver Wire Pickups Nick Foles, QB, PHI (Yahoo! 5%, FOX 1.2%) The big question for a lot of...
NFL News

Delivered to your inbox

You'll also receive Yardbarker's daily Top 10, featuring the best sports stories from around the web. Customize your newsletter to get articles on your favorite sports and teams. And the best part? It's free!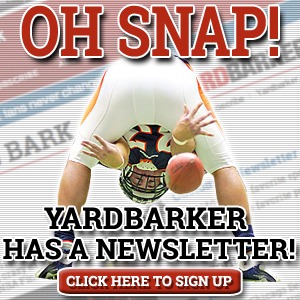 Latest Rumors
The Backyard

Today's Best Stuff

For Bloggers

Join the Yardbarker Network for more promotion, traffic, and money.

Company Info

Help

What is Yardbarker?

Yardbarker is the largest network of sports blogs and pro athlete blogs on the web. This site is the hub of the Yardbarker Network, where our editors and algorithms curate the best sports content from our network and beyond.