Found June 13, 2012 on Down and Distance:
Adam "Pacman" Jones is known for his exploits off the field more than his talent on the field. He's been arrested numerous times and missed entire seasons due to suspensions since being drafted by the Tennessee Titans in 2005. He's the poster child for what an NFL team should be wary of when drafting a player with character issues. Arrests and suspensions have become synonymous with Adam "Pacman" Jones, and now the NFL wants to use him as an example for the incoming rookie class of 2012 in an attempt to keep them from making the same mistakes that he has.
The often troubled cornerback, who now plays for the Cincinatti Bengals, told the team's website that the league has asked him to be part of a panel discussion at the rookie symposium and that he agreed to participate. He also told the website:
"The message is … this is no joke. At the end of the day you have to treat it like a business. And you're a business owner, and every decision you make is a reflection of you. What you do on the field, what you do off the field, it's all a reflection of you. Going to the club here, going to the club there. Having 100 people with you. Checking your advisers, your accountants. Just basic stuff."
something tells me the rookies don't need a lesson in how to get drunk and punch a stripper
The question here, though, is… is Adam Jones really the man you want giving a lecture to your rookies about not letting fame and fortune get to your head? Do you really want a man with six documented arrests telling impressionable rookies that what you do is a reflection of yourself? Let's take a look at this guy's brushes with the law quickly… and be aware this is just his record since joining the NFL.
July 13, 2005- Arrested and charged with assault and felony vandalism after a nightclub altercation.
September 5, 2005- Jones was a guest at the annual Nashville Sports Council Kickoff Luncheon. After a loud verbal tantrum in which he was told to wait in line for his vehicle, Jones was counseled by the police. He refused to pay for any valet services used that evening, because he did not have money.
October 2005- State of West Virginia filed a petition stating that Jones had not been contacting his probation officer and that he had not reported his July 2005 arrest. The judge extended the probation for just 90 days.
March 23, 2006- Charged with marijuana possession in Fayetteville, Georgia. He fhen claimed that he knew how to beat the NFL's drug test.
August 25, 2006- Arrested for disorderly conduct and public intoxication after being ordered by the cops to leave a Murfreesboro night club several times. Jones claimed a woman stole his wallet. The woman claimed that Jones spat on her. The judge in the case gave him six months probation and told him to stay away from the club.
October 26, 2006- Jones was issued a citation for misdemeanor assault after a female student from Tennessee State University claimed that Jones spit in her face at a Nashville night club.
Feburary 19, 2007-  Jones was in the middle of a fight and shooting at a strip club in Las Vegas that left one man paralyzed and two more wounded. The fight broke out after Jones showered strippers on stage with $81,000 dollars. The club owner claims Jones was beating a strippers head against the bar while claiming to kill one of the club's employees.
January 3, 2008- Pacman is accused of punching Wanda S. Jackson in the face at an Atlanta strip club called the Body Tap Strip Club.  Jackson says Jones reached over the counter and punched her in the left eye.
October 8, 2008- Jones got into an alcohol related incident which turned into a physical confrontation with bodyguards that had been assigned to him by the Dallas Cowboys, his former team.
July 2011- misdemeanor charges of disorderly conduct while intoxicated and resisting arrest. documents filed in court accuse Jones of being disorderly and shouting profanities in a downtown bar and trying to pull away as officers arrested him. The charge of resisting arrest was later dropped.
The above time line doesn't include his sentence of one year in prison for a bar fight in Morgantown, West Virginia while in college. The sentence was later suspended in exchange for two years of probation.
After seeing his laundry list of issues since coming into the league in 2005, I'll ask the question again. If you were an owner/coach/GM, would you want this guy lecturing your rookies on how to stay out of trouble? Maybe if he had turned it around and seemed like he had turned over a new leaf I would be a bit less critical of the idea, but it hasn't even been a year since his last arrest. I'm curious as to how this man isn't completely banned from the league yet and now he's being asked to talk to the rookies about making good decisions? Something's fishy here if you ask me…
Make sure to like me on facebook
follow me on twitter
and go back and look at all our other D&D articles!!
Tad Johnson
Original Story:
http://sports-kings.com/downanddistan...
THE BACKYARD
BEST OF MAXIM
RELATED ARTICLES
The Tennessee Titans are looking to get back into the playoff hunt in 2012. The AFC South appears to be a two team race between the Titans and Texans and Tennessee fans believe their team can challenge. When looking at the roster of the Titans, like most teams, it has players that don't get the credit they deserve and other players that get too much credit. Who on the Titans...
I see where he was trying to go with the analogy, but he is way off. Lebron would have been more like Peyton Manning before he got his ring. Johnson appears to have been motivated by people saying he fell off after last season decent, but sub-par numbers for him. He is using The King as an example of how to bounce back strong. After a disappointing 2011 season, Tennessee...
Getty Images After a disappointing 2011 season, Tennessee Titans running back says that he feels like he can relate to LeBron James after the criticism he's received. "I kinda put us in the same category," Johnson said Tuesday, via NFL.com. "He gets a lot of criticism just like I do. I like how he bounced back the year after he got a lot of criticism. Came back, got MVP...
Getty Images According to Jim Wyatt of the Tennessean, Titans rookie wide receiver Kendall Wright left practice early and didn't return after suffering a shoulder injury.  Head coach Mike Munchak believes he won't practice during next week's three-day minicamp. "His shoulder is sore from falling on it," Munchak said. "He went for a ball, trying to make a play – that...
Getty Images Tennessee Titans 20th overall pick in the 2012 draft, Kendall Wright, is blowing them away with how quickly he is learning their offense and the wide receiver "X" position they are now having him learn two more positions, the "F" and "Z"; creating the possibility of moving him around to where he is needed throughout the season. "At some point he will get...
As first reported today by Adam Schefter and subsequently confirmed by Mike Munchak in his press conference today, the Tennessee Titans have released tight end Daniel Graham. While the Titans haven't officially released the news, Adam Caplan reports the transaction was officially turned in to the league office today.When the Titans selected Taylor Thompson in the fifth round...
The Titans lost one stud cornerback this offseason and they apparently do not want the same thing to happen next offseason. The Titans have entered extension talks with Jason McCourty, who will become the Titans #1 cornerback in 2012 after the loss of Cortland Finnegan. A 6th round pick in 2009, McCourty has well exceeded his draft range. As the Titans #2 cornerback last season,...
Michael Griffin is still an unsigned franchise player, but unlike other unsigned franchise players, guys like Matt Forte, Dwayne Bowe, Ray Rice, and Drew Brees, Griffin is still attending the Titans' minicamp. Minicamp is mandatory for all of those players under contract and since Griffin is technically not under contract, he doesn't have to be there. In fact, he doesn't have...
Getty Images We just reported earlier that Tennessee Titans wide receiver Kendall Wright suffered a shoulder injury during practice today.  The good news is that it looks like his injury isn't that serious. According to Terry McCormick of TitanInsider.com, a source has told him that Wright's shoulder injury isn't that serious.  He's still expected to miss next week's minicamp.
Photo Credit: DenverBroncos.com The Tennessee Titans are cutting ties with veteran tight end Daniel Graham, according to ESPN's Adam Shefter. The 6-3, 257-pound former first-round pick was drafted 21st overall in the 2002 NFL Draft by the New England Patriots. Graham, 33, has been very consistent on the stats sheet for the majority of his 10 NFL seasons. In his rookie campaign...
Hot News for TE Daniel Graham
NFL News

Delivered to your inbox

You'll also receive Yardbarker's daily Top 10, featuring the best sports stories from around the web. Customize your newsletter to get articles on your favorite sports and teams. And the best part? It's free!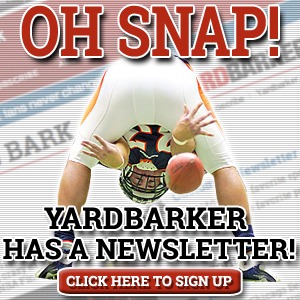 Latest Rumors
Best of Yardbarker

Today's Best Stuff

For Bloggers

Join the Yardbarker Network for more promotion, traffic, and money.

Company Info

Help

What is Yardbarker?

Yardbarker is the largest network of sports blogs and pro athlete blogs on the web. This site is the hub of the Yardbarker Network, where our editors and algorithms curate the best sports content from our network and beyond.